26 September 2014
St Pancras Intelligencer no. 35
Welcome to the latest edition of the St Pancras Intelligencer, our weekly round-up of news about news - stories about news production, publications, apps, digitised resources, events and what is happening with the newspaper collection (and other news collections) at the British Library.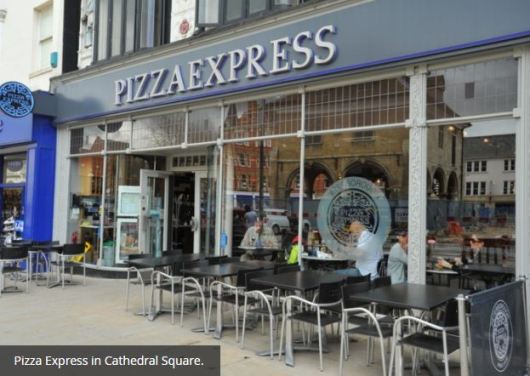 Restaurant review: My first reaction was 'wow': The most heartening news story of the week has been the unpretentious review by student Holly Aston of her local Pizza Express for the Peterborough Telegraph. It rapidly went viral, not because people were laughing at it but because they recognised its charm. She has now been offered work experience by the Daily Mirror.
News from the community: The Newsroom blog looks at hyperlocal news websites, seeing parallels in their short history with the history of early newspapers, and announces plans for archiving them by the British Library.
Journalists are becoming propaganda – and we must do more to protect them: In the wake of British photojournalist John Cantlie appearing in an Islamic State video and the attacks on BBC staff in Russia, Hannah Storm considers the current dangers faced by journalists worldwide.
Comic, Curious and Quirky: The British Library has just published Comic, Curious and Quirky News Stories from Centuries Past, by Rona Levin, a collection of bizarre and humorous stories taken from British newspapers from the 1700s to the 1900s.
Tool called Dataminr hunts for news in the din of Twitter: The New York Times looks at Dataminr, which analyses Twitter postings for patterns that indicate breaking news stories.
Trove Traces: Trove Traces brings together some of the thousands of webpages that include links to articles in the National Library of Australia's Trove database (including its newspaper archive). A marvellous way of showing how a digital resource gives birth to so much scholarship and sharing of information.
News for the Minecraft generation: American media company Gannett, in partnership with the Des Moines Register, is experimenting with turning news stories into virtual reality experiences, using the Oculus Rift headset. First up is a tour of an Iowa farm rather than anything too contentiously dramatic or controversial.
Why do the best jobs go to men?: Eleanor Mills at British Journalism Review calls for greater opportunities to be given to women in newspapers (the last woman to edit a daily broadsheet was Rosie Boycott at The Independent from January to April 1998).
How wearables are already delivering the news: Journalism.co.uk on how media outlets are experimenting with wearable devies such as Samsung Gear S, Google Glass and smart watches.
Can Longform.org become a Netflix for journalism?: Chris Dannen at Fast Labs looks at the increasingly popular Longform website and app which curates non-fiction articles from across the Web.
Trinity Mirror agrees to pay compensation to ten people over phone-hacking at national titles: It never was going to be just the News of the World...
'F*** it, I quit': Charlo Greene, a reporter for Anchorage's KTVA, dramatically quit live on air (to the delight of the online world) following an item on marijuana saying that she was leaving to focus on marijuana legalisation in Alaska. She explains why to Huffington Post (which has the clip).