27 February 2015
St Pancras Intelligencer no. 37
Here's the latest edition of the St Pancras Intelligencer, our now monthly round-up of news about news. So here are the highlights from February 2015. It's been a full month, what with one thing and another - Peter Oborne quitting the Telegraph, NBC's Brian Williams exposed, the Future of the BBC report, 10 million digitised newspaper pages, plunging circulations, and 64 ways t0 make a news homepage. Plus newspapers as poetry. Read on...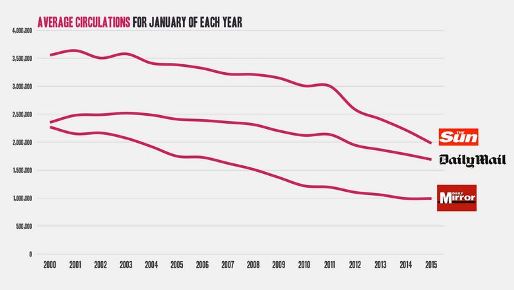 The UK's biggest newspapers are all dying: Graphic of the month from Dadaviz appears to say it all. As Roy Greenslade noted at The Guardian, regional newspaper titles are also suffering yet more substantial sales declines.
How the New York Times works: Terrific long article by Reeves Wiedeman at Popular Mechanics, with great illustrations, on how the New York Times gets published. Essential reading.
Why I have resigned from the Telegraph: Political commentator Peter Oborne quit the Daily Telegraph with this incendiary post from OpenDemocracy, in which he accuses the paper's owners, the Barclay Brothers, of suppressing reports about the HSBC scandal.
The Telegraph's promise to our readers: After Peter Oborne's explosive denunication of his former employers, the Telegraph came up with this much-commented-upon statement of principles.
Snapchat stories: Nieman Lab looks at how six news organisations are making use of the app whose messages disappear after your've read them. But, asks Mathew Ingram at Gigaom, are media companies building another house of cards on SnapChat?
Someone is handing out hand-drawn copies of The Guardian and no one knows why: Mysterious hand-drawn copies of The Guardian from four years ago were being handed out at London Bridge station. It turned out to be the work of artist Charlotte Mann.
Green Party's Natalie Bennett gives 'excruciating' radio interview: Natalie Bennett, leader of the Green Party, gave an agonisingly awkward radio interview for Nick Ferrari on LBC in which she struggled to answer basic questions about the party's economic policy.
NBC's Brian Williams recants Iraq story after soldiers protest: Scoop of the month came from American military paper Stars and Stripes, which revealed that NBC Nightly News anchor Brian Williams was not on board a helicopter hit and forced down by fire during the invasion of Iraq in 2003, as he had long claimed.
Brian Williams has gone, but false news is bigger business than ever: Emily Bell looks at the acceleration of untrue news stories in the web world, following the exposure of Brian Williams.
64 ways to think about a news homepage: Fantastic illustrated post from Melody Joy Kramer on different ways to present the news online - actual, or potential.
Cassetteboy remix the news: Irresistible mash-up of BBC news clips from the Cassetteboy remixing duo.
Jon Stewart to leave The Daily Show: Jon Stewart, host of Comedy Central's The Daily Show - an essential news source for many in America (and beyond) - is to step down.
Future of the BBC: The Culture, Media and Sport Committee's report Future of the BBC addresses the hot topic of the broadcaster's relationship with and effect upon regional newspapers, and comes up with these recommendations:
The BBC must not expect to receive others' news content without providing something in return. We are attracted by the idea of exchanges of content and information, where the BBC local websites link to the source of local material they have used, and in return the BBC allows others to use its content and embed BBC clips on their sites, where these would be of local interest, under a licence agreement. There need not be a financial transaction. However, we also see the case for the BBC outsourcing the supply of some local content on a commercial basis, where there is an ongoing requirement for such material, and it is a more cost-effective way of meeting this need. We recommend this be ensured by extending the BBC's independent production quota to cover local news.
Why is the BBC just so bad at TV news?: Meanwhile, a provocative opinion piece from Michael Church at The Independent, comparing the BBC News channel to Al Jazeera.
Fox News site embeds unedited Isis video showing brutal murder of Jordanian pilot: To show or not to show? Fox News chose to; The Guardian, reporting on this, and most other news sites, did not.
10 million newspaper pages are now fully searchable at the British Newspaper Archive: The British Newspaper Archive, which is digitising newspapers from the British Library's collection, has reached the magic milestone of 10 million digitised newspaper pages.
How about a search of only original news reporting on Google?: Hmm, interesting proposal from Jeff Jarvis, writing at Medium.
If UK newspapers wrote unhinged Twitter poetry: And finally, Journalism.co.uk offers us some poetic renditions of British newspapers, taken from their Twitter feeds, using the Poetweet site. Here's @MailOnline expressed in rondel form...