05 May 2015
Microfilms at Boston Spa
It's great to be able to announce a major step forward in offering equal access to our news collections across both our sites, at St Pancras in London and Boston Spa in Yorkshire. As of today, all British Library newspaper titles held on microfilm will be available to order into the Boston Spa Reading Room.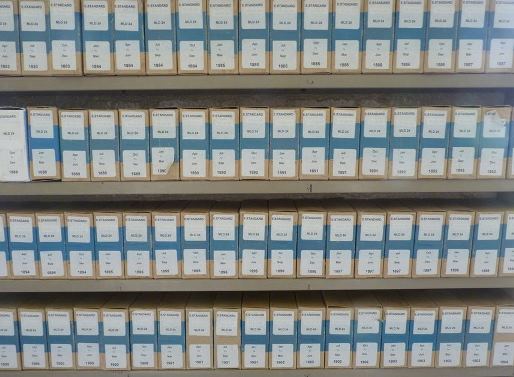 Microfilms
When our new Reading Room at Boston Spa opened in September 2014 it offered reader access to all of our print newspaper collection (the vast majority of which is stored at Boston Spa) and all our many digital news services. But the microfilm access copies were stored at St Pancras and there was no mechanism for being able to transport them up to Yorkshire. As approximately one third of our newsppaer collection is held on microfilm, and as we have a firm rule that no access can now be provided to a print newspaper where a microfilm surrogate exists, this meant that we were offering a significantly reduced service for Boston Spa readers.
No more! We can now offer microfilm access at Boston Spa within 48 hours, which is the same period of time as we guarantee access to print newspapers. The only difference now between the two sites is that microfilm access at St Pancras is guaranteed within 70 minutes, and the 15 open access national titles such as The Times and The News of the World  that we provide at St Pancras (i.e. immediately available titles) can't be offered to Boston Spa users (though it's something we're looking into, and for a number of them we provide twin-site access to their digital archives in any case). We have installed two of the digital microfilm viewers at Boston Spa, devices with which regular users of the Newsroom at St Pancras will be familiar.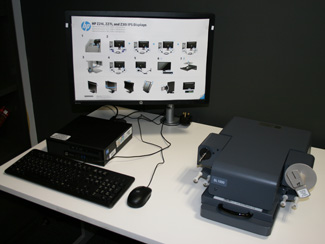 Microfilm viewer installed at Boston Spa
As said, a third of our collection is available on microfilm, and over 60% of the Reader requests we receive at St Pancras are satisfied via microfilm. Providing access via microfilm greatly helps preserve the precious newspaper originals. Digital access to the collection is growing all the time, of course, with nearly 11 million pages now available via the British Newspaper Archive (access to which is free at either of our sites). But we have over 400 million pages in our newspaper collection, so we have some way to go to match the approximately 130 million newspaper pages we can offer on microfilm.
We want very much to provide comparable access to our news collections at both St Pancras and Boston Spa, even though the Newsroom in London is our dedicated centre for the study of news across all the different media (print, TV, radio, Web). Having the microfilmed newspapers (with the new viewers) now on both sites, with almost equal access for both, is a great step forward.