15 June 2015
UK General Election 2015 - the broadcast archive
The UK General Election of 2015 was decided by television. Despite the ardent advocacy of some newspapers, and for all the claims being made about it being a social media election, television dominated perceptions, debates and the presentation of policies. A Panelbase survey of the UK audience said that 62% found TV coverage had been the most influential in informing them about the general election and the policies of the political parties, far more than newspapers at 25%, websites at 17% (mostly the BBC news website), radio at 14%, speaking to family and friends at 14%, and only 11% social media (primarily Facebook). 38% of the audience said they were influenced by the broadcast debates, 23% by TV news coverage and 10% by party political broadcasts.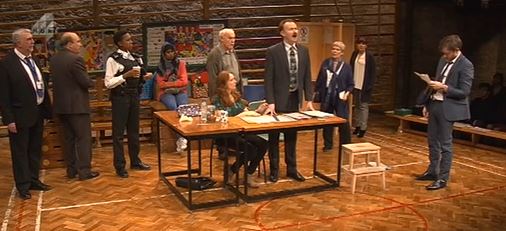 James Graham's The Vote, broadcast on More4 on election night 7 May 2015, with Judi Dench, Catherine Tate, Timothy West and Mark Gatiss
It is important therefore that to have an archive of what was broadcast on television over the general election period. The British Library's Broadcast News service usually takes in around 30 hours of TV news and 18 hours of radio news each day, from 22 channels. We expanded this significantly to capture every debate, party political broadcast, manifesto launch, campaign event, press conference, interview, leader profile and documentary that we could, plus the full election night broadcasts of each of the main broadcasters (including those from BBC Scotland, BBC Northern Ireland, BBC Wales and STV), as well as coverage given to the election from CNN, France 24, Al Jazeera English and RT (Russia Today). We also recorded the relevant TV dramas (Coalition, The Vote) and comedies (Ballot Monkeys, Newzoids, Have I Got News for You etc).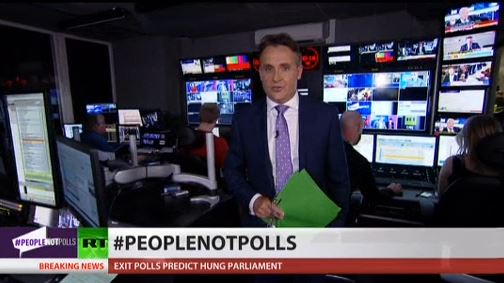 From RT's general election night coverage
Overall, between 26 March (the date of the first of the TV debates) and 8 May 2015, we recorded 1,775 television and radio news programmes. Not all touched on the election, but most did, and it makes for compelling evidence for how much energy and calculation went into using television as the forum for a national debate.
All of these recordings are available via the British Library's Broadcast News service, accessible at our St Pancras (London) and Boston Spa (Yorkshire) sites. We're also making available here a spreadsheet listing every programme we recorded between 26 March and 8 May. They are listed by date, medium, channel, type of programme, title, description and duration, and the data can be sorted by anyone interested to undertake some preliminary analysis or simply to see in one list which party political broadcasts were recorded.
Download Recordings 2015_general election

The programmes are also listed on a new Special Collections page on the Broadcast News site, with links to all the main recordings. Please note that these general election recordings do not as yet appear on the British Library's main Explore catalogue (but will do eventually).
We would be interested to hear from any researchers using this archive. Do get in touch via [email protected].