30 May 2014
Welcome to the latest edition of the St Pancras Intelligencer, our weekly round-up of news about news - stories about news production, publications, apps, digitised resources, events and what is happening with the newspaper collection (and other news collections) at the British Library.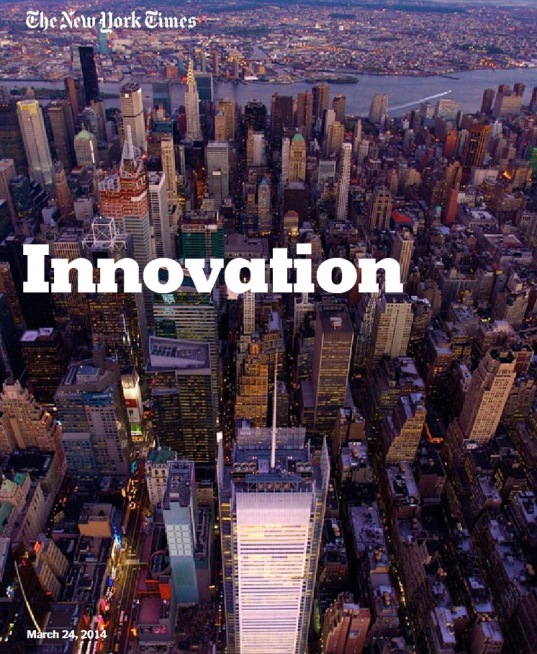 For the Times' innovation report to stick, its journalists need to be on board: Fascination with the leaked New York Times' digital innovation report continues unabated. Emily Bell from the Tow Center for Digital Journalism argues that journalists themselves are the crucial element behind any innovation plans.
The New York Times KPI's: In another piece on the NYT report, Frederic Filloux at Monday Note comes up with this thought-provoking quote: "In theory, the Times can get rid of print. Digital revenue far exceeds the cost of running the newsroom..."
The New York Times and innovation: are they asking the right question?: And there's more. George Brock points out that nowhere in the Innovation report does is say what journalism is, or that its authors graps that it is changing. He asks:
Is it actually possible for a big, mainstream newspaper to make the transition to being, principally, a digital platform for journalism? Not just make the transition slowly, painfully and with embarrassing mistakes but…not make it at all.
UK daily newspapers have doubled in price since 2004 and shrunk in size - no wonder sales are down: William Turvill at Press Gazette looks at the rise in cover prices for UK daily and Sunday national newspapers over the past ten years.
How Niuzly wants to put control into the hands of journalists: Journalism.co.uk reports on publishing platform Niuzly which  allows writers to sell their articles to readers on for individual micropayments.
Guardian launches redesigned app: The Guardian has issued a new version of its app, available across all Android and iOS phones and tablets running Android 4 and iOS 7, with increased personalisation features and incorporating the user-generated content platform GuardianWitness.
BBC issues new guidance for journalists on using Twitter: 'Don't do anything stupid': Sage advice after head of the BBC newsroom Mary Hockaday tweeted "#WhyImVotingUkip – to stand up for white, middle class, middle aged men w sexist/racist views, totally under represented in politics today", just ahead of the European elections. She subsequently took no part in the BBC's election coverage.
With Farage on the loose, broadcasters and newspapers must realise they are no longer king-makers: Reflecting on the results of said European elections in the UK, Ian Burrell at The Independent observes that the media's assumed power to influence voting (no UK national newspaper came out in support of UKIP) is waning.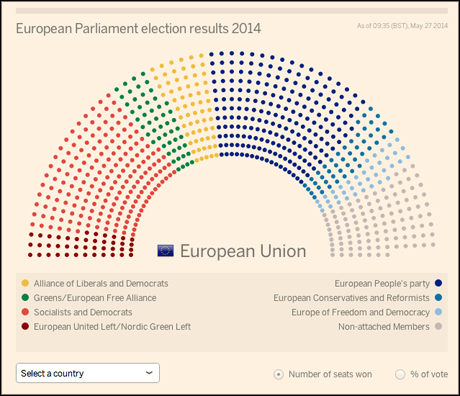 Screenshot from FT.com
7 engaging ways news outlets covered the European election: More on the elections for data visualization fans, from Journalism.co.uk.
Metaio unveils Thermal Touch technology for making user interfaces out of thin air: Let's face it, we're all still hoping for our newspapers to become fabulously interactive. German company Metaio may have made a significant step towards this by developing its 'Thermal Touch' interface concept which could make any surface a use interface through a combination of thermal imaging and augmented reality. Applications they see for this include newspaper ads with clickable links. We'll just have to wait five years until they develop it.
Watch Skype translate a video conversation in real time: Another potentially transformative technology is speech-to-text (coverting audio files into printed words), which could have a huge impact on the use of audiovisual news archives. Microsoft are applying the technology - along with translation software - to Skype. Watch the video on the Quartz site and ponder the possibilities.
Royal privacy row as German tabloid publishes picture of the Duchess of Cambridge's bare behind when her skirt blew up during Australia tour: Because it is news about news, we have to report the furore over the German magazine Bild's decision to publish a photograph of the Duchess of Cambridge's backside, and the decision by British newspapers not to do so. The Daily Mail report features a pixilated version of the image.
We're all aggregators now: Anyone can become a news publisher online simply by aggregating the news produced by others. Ann Friedman at Columbia Journalism Review comes up with three simple cardinal rules of being an ethical aggregator.
Preserving early periodicals and newspapers of Tamilnadu and Pondichery: The British Library's Endangered Archives Project has made 10,000 issues of rare periodicals from Tamilnadu & Pondicherry dating back to 1892 available online.
We just aggregated over 15.000 historical newspaper issues from Poland: More on digitised newspapers, which were already online but have now been incorporated in the Europeana portal. The Europeana Newspapers blog gives the background to these Polish additions.
John Humphrys offers advice to aspiring journalists: 'Don't do it': Today programme presenter John Humphrys tells Press Gazette he is advises not to go into journalism as a profession. "I am deeply pessimistic for the future of serious print journalism and I tell my own children and grandchildren to train for a profession where they're more likely to get a decent job with some hope of security". But Piers Morgan, Jon Snow, Ian Hislop, John Witherow and Kay Burley  and many others all disagree.
A journalist goes missing nearly every day in Ukraine: The week's most sobering news media statistic, from The Independent.
18 April 2014
Welcome to the latest edition of the St Pancras Intelligencer, our weekly round-up of news about news - stories about news production, publications, apps, digitised resources, events and what is happening with the newspaper collection (and other news collections) at the British Library.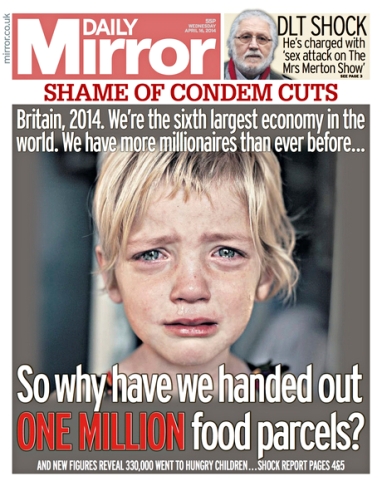 Daily Mirror, 16 April 2014
The Mirror's Crying Child Photo – Not All That it Seems: Ethical conumdrum and news image of the week was the Daily Mirror's hotly debated selection of an image of a crying child for a front page story on food parcels in Britain.  Blogger Dan Barker points out that the children isn't hungry (she was crying over an earthworm), she's American, and it was taken in 2009.
Pulitzer Prizes Awarded for Coverage of N.S.A. Secrets and Boston Bombing: Some would imprison them; others hand them garlands - The Washington Post and The Guardian have been awarded the Pulitzer Prize for public service for their reports based on the National Security Agency documents leaked by Edward Snowden. The Boston Globe won the breaking news prize for coverage of the Boston Marathon bombing, a year ago this week.
To the Snowden story system a crowning Pulitzer might have gone: No prizes should be awarded for the grammar in the title of Jay Rosen's article for his PressThink blog, but he argues that how the Snowden story was developed and shared internationally, outflanking national attempts to prevents its publication, is what merits a Pulitzer prize.
Tusrkey is a case study in the value of citizen journalists, thanks to the ones behind @140journos: Fascinating account by Mathew Ingram on how journalists use social media  in some countries when the traditional news media are perceieved to have failed - here the example of a citizien journalism initative in Turkey, crowdsourcing verification of poll results.
Appeals court says blogs are not only media, they're an important source of news and commentary: Mathew Ingram again, on the implications of a legal decision from a Florida court case on the status of blogs in a defamation case.
Digital journalism: we're still waiting for the third model of news publishing: Emily Bell asks what the recent launches in America of news sites such as Vox.com and the FiveThirtyEight mean for the development of the news media. 
Vox.com 's Melissa Bell: 'This is a chance to do journalism differently': Talking of which, Vox's co-founder Melissa Bell explains what the sites aims are, and what explanatory news (its special selling point) aims to achieve.
The IMPRESS Project's plans for press regulation: Journalism.co.uk reports on a crowdfunding initative to create a regulator for small regional and hyperlocal publishers.
Pathe Gazette's report on the evacuation from Dunkirk (1940), filmed by Charles Martin
British Pathé releases 85,000 film on YouTube: The British Pathé newsreel has released its entire archive of 3,500 hours of newsfilms 1896-1970 on YouTube. The films have all been available on the site www.britishpathe.com for twelve years, but this bold gesture should greatly increase their reach and profile.
A ... is for Advertising: The Newsroom blog gets its scond contributor, Jaimee McRoberts from the British Library's newspaper reference team, who kicks off an A-Z series on newspapers with Advertising.
The only way is ethics: Will Gore at The Independent is very interesting on the reporting of the Oscar Pistorious trial by the South African media, with its more permissive approach to what gets reported - and the different news imperatives between print and web news outlets.
Data journalism in Venezuela: Philip Smith at Media Shift tells how data journalism is developing in Venezuela, despite all of the hurdles:
... a visual history of violence in Venezuela; the relationship between Venezuela and Columbia in the trafficking of cocaine; analysis of various epidemics and outbreaks; live-tracking of how long ships sit in ports waiting to be unloaded of much-needed staples like sugar; an investigation into the paper shortage facing newspapers; a Twitter analysis of candidates in a recent election; and deep search into the network behind several Venezuelans who were charged in the U.S. for finance-related crimes, which was not well reported in Venezuela itself.
An enthusiastic, engrossing account.
Pickles pursues the wrong policy as people reject local newspapers: Thought-provoking piece from Roy Greenslade on the closure of a local paper (the Fulham & Hammersmith Chronicle), the supposed competition from the local council's free paper, and how demographics are as much of a theatre to local newspapers as rival news sources.
BBC is the most-shared news brand on Twitter: 96 million unique users in March 2014;  user figures up 26 per cent on the monthly average of 76 million; news stories shared 2.71 million times across the month on Twitter - the BBC website marches on, having celebrated its 20th anniversary last week. The Drum reports.
A print newspaper generated by robots: The Guardian has been experimenting with a limited edition printed newspaper - called #Open001 - that is produced by algorithms based on social-sharing activity. So the robots are gathering the stories, not writing them. Yet.
Well, this is hawkward: Hmm, how good are robots at spotting humour? Press Gazette gleefully reports how The Guardian was fooled by a Vatican April Fool's Day story (about hiring a hawk to protect the Pope's doves).
14 April 2014
Today's blog post marks the start of an eclectic A-Z of Newspapers which we hope you will find to be a stimulating if not invaluable resource. We begin with A for Advertising.
Advertising seems to be everywhere these days, and I personally cannot seem to go more than a few paces on my daily commute without coming across another advert. Whether it's a poster, billboard, digital screen, projector, ticket barrier, or even a human with advertising strapped to their bodies or leaflets to hand out, there is an advert every couple of steps in some of our daily lives.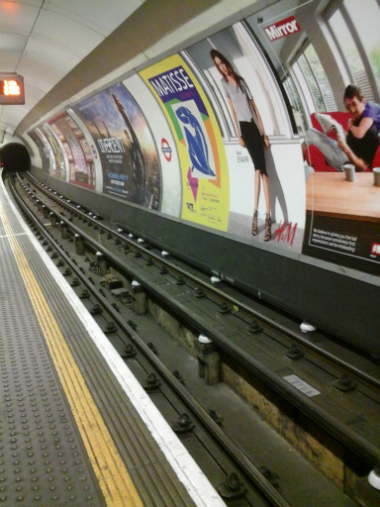 Just a photo taken during a small portion of my commute home
The history of advertising is as old as newspapers themselves: Jackson's Oxford Journal, dated 5 January 1799, features a fantastic advertisement for lozenges (amongst others) – although whether or not the integrity of the benefits offered by the product is entirely true is up to the readers' discretion.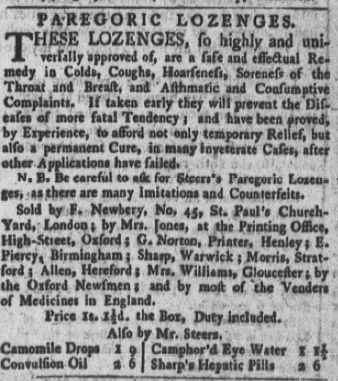 Oxford Journal, 5 January 1799. Image © D.C.Thomson & Co. Ltd. Image created courtesy of THE BRITISH LIBRARY BOARD.
Advertising has been essential to the success of newspapers as a whole, as the payment received for adverts allows them to employ their writing staff, editors, photographers, and for the actual physical publication itself, including all of the printing costs. Investigative journalism, which can impact on a papers readership, is especially made possible by these funds. This is why many feel that print newspapers will continue for a while yet, instead of being superseded by news blogs.
The evolution of advertising is dramatic, and the history of advertising in newspapers is no different. In the past, newspapers were dominated by advertisements, and it wasn't until 6 May 1966 that The Times actually published news on the front page. Until then, the front page of every issue was solely devoted to advertising.
These days, most advertisements in newspapers are inserted on a portion of the page, rather than taking up the entire page (although there are some full-page and double-page advert spreads). Generally speaking, these adverts blend into the background, although occasionally there are some ad placements which seem to contradict an article that lead to a fair bit of amusement.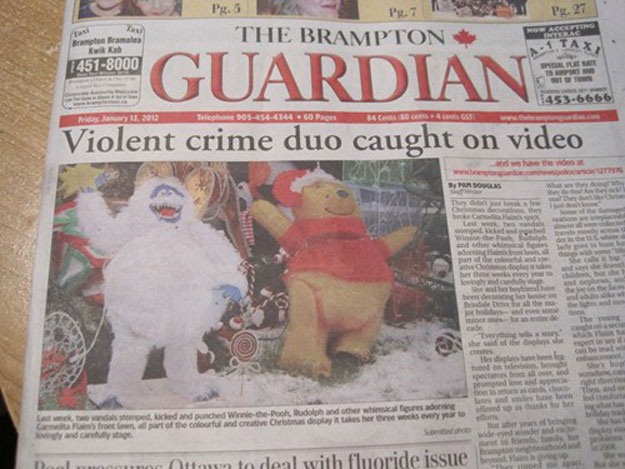 This crime duo may not be part of an advertisement but this image illustrates the inopportune layouts that some newspapers fall victim to. Image courtesy of BuzzFeed.
Advertisements today must adhere to certain regulations and are kept in line by regulatory bodies such as the Advertising Standards Agency and the Competition and Markets Authority (formerly the Office of Fair Trading). Where advertisements are found to be misleading or promotions
are falsely advertised they can be investigated and made to change their advertisements or promotions, such as certain 'free' offers in certain national newspapers or misleading statements on products' manufacturing location.
This wasn't always the case and untruthful, boastful, and downright ridiculous adverts used to dominate the newspapers. Here are some of the more delightful examples I have come across:
These cigarettes are 'so safe, agreeable, and beneficial, as to be patronized extensively by the Medical Faculty of Paris. [...] The Diseases in which they have been hitherto employed and found so useful are, difficulty of Breathing, tightness of the Chest, Spasmodic Asthma, Catarrhs, Hoarseness, Sore Throats, Ear-aches, Rheumatism of the Jaws, and Tooth-Ache.'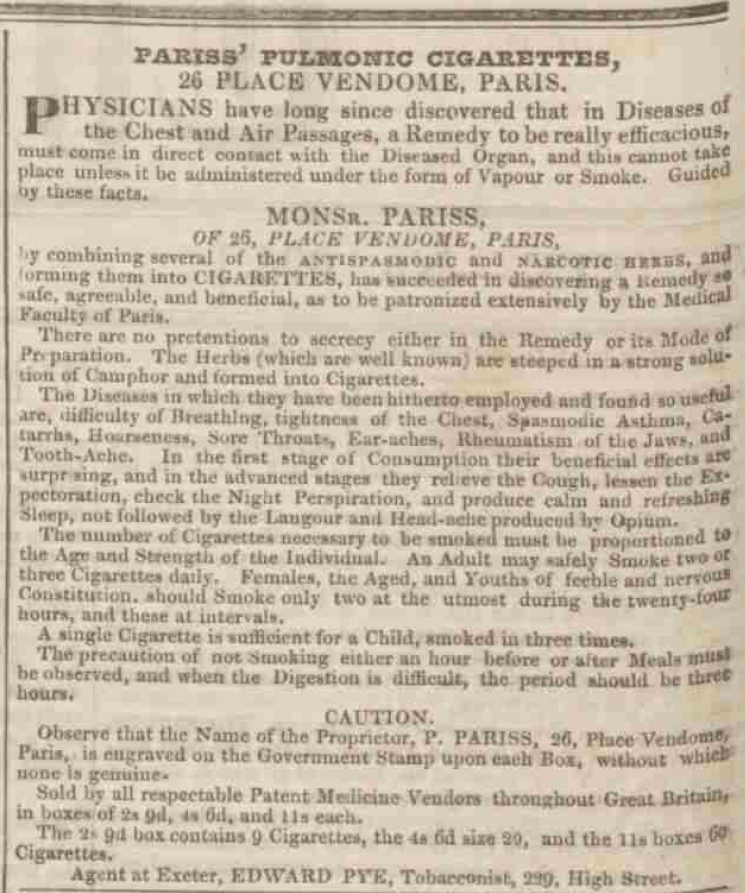 The Western Times, 29 May 1847. Image © D.C.Thomson & Co. Ltd. Image created courtesy of THE BRITISH LIBRARY BOARD.
Perhaps one should consider taking this 'grand discovery' after trialling the previous cigarettes, as 'Dr. Kiesow's Elixir of Life' advertises that 'a sudden Indisposition, a disorder of the Digestion, is AT ONCE removed by A SINGLE SPOONFUL'.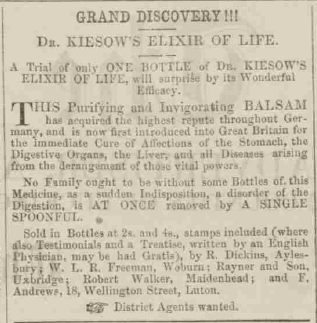 Bucks Herald, 7 April 1860. Image © D.C.Thomson & Co. Ltd. Image created courtesy of THE BRITISH LIBRARY BOARD.
Could this be one of the first instances of modern-day 'spam'?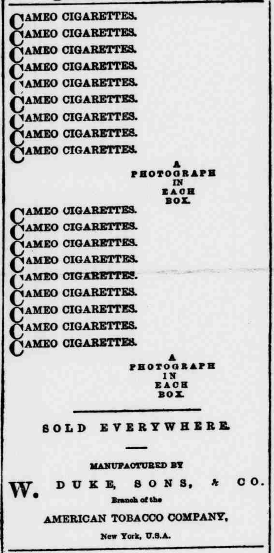 Yorkshire Evening Post, 15 August 1893. Image © D.C.Thomson & Co. Ltd. Image created courtesy of THE BRITISH LIBRARY BOARD.
I guess I can skip next years' flu shot, so long as I have plenty of hot beefy 'power' in my kitchen cupboards!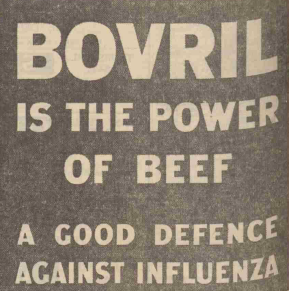 Hull Daily Mail, 14 March 1935. Image © D.C.Thomson & Co. Ltd. Image created courtesy of THE BRITISH LIBRARY BOARD.
Further Reading:
Dictionary of nineteenth-century journalism in Great Britain and Ireland edited by Laurel Brake & Marysa Demoor, 2009.
'Advertisements', p139-163, From Grub Street to Fleet Street by Bob Clarke, 2004.
A History of English Advertising by Blanche Beatrice Elliott, 1962.
Advertising in Britain: a history by T.R. Nevett, 1982.
The Newsroom blog recent posts
Tweets by @BL_newsroom
Other British Library blogs