20 May 2020
We are publishing a series of posts on favourite books about newspapers. We have asked members of the British Library's news collection team and some outside experts each to name three books about newspapers that they treasure and would recommend to others. The books can be wholly or partly about newspapers, they can be fact or fiction, they can be familiar or unfamiliar. No book can be picked twice, and no one taking part can choose one of their own books.
We hope readers will enjoy the series and seek out some of the recommendations. The choices below have been made by Dr Stephen Tate, Blackburn College University Centre.
My Life's Pilgrimage, Thomas Catling. London. John Murray, 1911.
The recollections of Thomas Catling provide a welcome insight regarding the practicalities of nineteenth-century newspaper journalism. Catling spent most of his working life on Lloyd's Weekly Newspaper in London, rising from compositor to editor. He joined the Sunday newspaper in 1854 and retired in 1906. It is a book with a rich seam of enlightening anecdote and opinion.
All three books in my selection are memoirs of newspaper journalists. They would not have been published had the authors not tasted success. But all three experienced work at the humdrum level of journalism before talent and luck saw their careers advance. In my endeavour to rescue the world of the workaday reporter from a surprising neglect in contemporary press historiography, books like Catling's have opened up avenues of research and moments of understanding.
The author touches upon the pounds, shillings and pence of his trade; the career path from composing case to the editorial room; the role of the sub-editor; the interaction of the press with the worlds of theatre, fiction-writing, the law and politics; the mechanics of production; the practicalities of reporting crime; edition structures. The narrative is piecemeal, discursive, meandering . . . but there are dates, names, events and situations. What a feast!
Memoirs of Robert Patrick Watson: A Journalist's Experience of Mixed Society, Robert P Watson. London. Smith, Ainslie and Co, 1899.
For a historian researching the trade of the sporting journalist, the above title offers few clues as to its worth. But its 500 pages are packed with detail outlining the at times rambunctious, disorderly world of sport in the second half of the nineteenth century.
Watson was born in 1848 and the book covers his reporting assignments for Sporting Life, Bell's Life in London, Sportsman and Sunday Referee, covering pugilism, pedestrianism, water sports, wrestling, cycling, billiards, endurance feats and much else besides. His dalliance with sports periodical proprietorship is also covered.
Watson worked at a time when the reporter was often called upon to act as referee and stake-money holder in prize contests and he foregrounds his role as event judge and occasional organiser, nowhere hinting at any pride in writing style or journalistic prestige. For the author and his paymasters the role of reporter is subsidiary. It is an unwitting testimony to the uncertain status of the sports reporter before the adoption by the cheap popular press of codified team games as part of its editorial agenda.
The Macadam Road, John Macadam. London. Sportsmans Book Club, 1957 (originally published London. Jarrolds, 1955.)
This is a fragmented, anecdotal stroll through the author's career as Greenock shipyard apprentice, provincial newspaper telephone boy, drama critic, sub-editor and, eventually, leading Fleet Street sports reporter. Its leitmotif is perhaps best summed up in a sense of drift through the 1920s to the 1950s and that drift captures, I think, the essence of the stories of many journalists' working lives.
Macadam suggests his book, and thereby his career, '. . . goes nowhere in particular from nowhere very important', with '. . . accidents and divergencies along that road'. But (despite a concluding element of whimsy) it provides a valuable understanding of how some careers take shape, together with the pinched circumstances of weekly paper existence, the happenstance of job moves and the excitement and pressure associated with the quest for sports story exclusives to fuel the national newspaper juggernaut. He describes the 'harrowing experience' of being among the press pack on an England football international tour, the newsmen '. . . watching each other like cats for fear of the unconsidered trifles of news that might have escaped their own eyes'.
Steve Tate
23 April 2020
We are publishing a series of posts on favourite books about newspapers. We have asked members of the British Library's news collection team and some outside experts each to name three books about newspapers that they treasure and would recommend to others. The books can be wholly or partly about newspapers, they can be fact or fiction, they can be familiar or unfamiliar. No book can be picked twice, and no one taking part can choose one of their own books.
We hope readers will enjoy the series and seek out some of the recommendations.  The choices below have been made by Luke McKernan, Lead Curator News and Moving Image at the British Library. 
Citizen Hearst: A Biography of William Randolph Hearst. W.A. Swanberg. London: Longmans, 1962 [orig. pub. 1961]
This was the first book about newspapers that I read. It is still one of the best. William Randolph Hearst (1863-1951) was the terrifying titan of American newspapers, whose eye for sensationalism and lurid headlines, concocted with a sometimes cavalier sense of ethical responsibility, had a profound effect on the modern era of news. He was among the most powerful men of his age, stood for President (unsuccessfully) and built up a vast, multi-media news empire that continues to this day as Hearst Communications. For many he lives on as the model for Charles Foster Kane in Orson Welles' 1941 classic film Citizen Kane.
American biographer W.A. Swanberg's life of Hearst matches up to the man. Scrupulously researched but dramatically expressed, it reads like the Great American Novel. The man, his times, and the media he controlled interweave in a compelling narrative. He is able to view Hearst sympathetically while at the same type making us shudder at his vanity, his greed and his cruelty. As Swanberg astutely concludes, "He was ... a Prospero and a Caliban, and the lucky ones were those who saw only his angelic side".
Notoriously, Swanberg's book was denied a Pulitzer prize, despite the recommendation of the advisory panel, supposedly because the trustees of the award did not consider Hearst a worthy subject for such a prize.  To read just one page of Citizen Hearst would prove how very wrong that judgement was.
The Press and Its Readers: A Report Prepared by Mass-Observation for The Advertising Service Guild. London: Art & Technics Ltd, 1949
"There's something I dislike about newspapers, and that is that they don't tell the truth ... There's so much stuff not worth looking at, adverts, scandal, and all that stuff that isn't news"."
"Reading passes the morning, to tell the truth."
It is extraordinary how little attention most books on newspapers give to their readers. We learn about how the news has been written, financed, its personalities, its political influence and its ideology, but we seldom see newspaper history from the point of view of those at whom all this effort was directed. The Press and Its Readers is a marvellous corrective to such an attitude. Produced by the social research organisation Mass-Observation, it asks some basic, sensible questions: What kind of newspapers do people want to read? Do they believe what they read? Do they remember what they read?
The result is a bracing challenge to any belief that what is published is the same as what is read. Evidence is provided of indifference, scepticism, ignorance and sharp understanding, ranging from readers who cannot be bothered with the news to those who find their lives governed by it. It covers popular and 'quality' newspapers, dailies and weeklies, national and regional press, combining snippets from frank reader interviews with useful statistics and some striking statements that make it clear just how pervasive the newspaper was in the 1940s ("The Daily Express is read by one adult in every four ... The News of the World ... is read by every second adult").
The report is filled with entertaining nuggets alongside much practical information. It is of as much value to the researcher today as it was to the advertisers, politicians and publishers at whom it was originally aimed. It tells us that without an understanding of readers, we cannot understand the news at all.
Pictures on a Page: Photo-Journalism, Graphics and Picture Editing.  Harold Evans, in association with Edwin Taylor. London: Pimlico, 1997 [orig. pub.  1978]
Pictures on a Page was one of a series of books written in the 1970s by Harold Evans, editor of The Sunday Times, on the practical business of producing newspapers. Titles such as Editing and Design, Handling Newspaper Text and News Headlines were to be found (and can still be found) on many a newsroom desk, but Pictures on a Page broke through to popular acclaim. It is simply the best-looking book on newspapers yet published. Evans's theme is the practices and principles of photo-journalism. He shows how news photographs are made, what makes a news photograph, and how presentation and context are everything. Over 500 classic photographs and newspaper pages make the book compellingly browsable.
What is particularly thrilling about Pictures on a Page is its demonstration of the expert editorial eye. Evans illustrates through a series of marvellous examples how selection, enlargement, cropping, arrangement alongside text and layout have bought out the drama in a news story, to the extent that the news history of our times is one that might be told more readily through images that text, because it is pictures that have captured the moment and the meaning.
Evans steers us wisely through the ethical issues and the troubled relationship between the photograph and reality. It is a book to make us realise just how selective and manufactured this thing called news really is. Yet at the same time we see how compelling the news image can be, what deep feelings it stirs within us. To make us both question and yet cherish photo-journalism is the book's great achievement.
20 April 2020
We're starting up a series of posts on favourite books about newspapers. We have asked members of the British Library's news collection team and some outside experts each to name three books about newspapers that they treasure and would recommend to others. The books can be wholly or partly about newspapers, they can be fact or fiction, they can be familiar or unfamiliar. No book can be picked twice, and no one taking part can choose one of their own books.
We hope readers will enjoy the series and seek out some of the recommendations. We start with the choices of Beth Gaskell, Curator Newspaper Digitisation for the British Library's Heritage Made Digital programme.
The Dictionary of Nineteenth-Century Journalism. Laurel Brake and Marysa Demoor (General Editors). Ghent: Academia Press and London: British Library, 2009.
For anyone researching the nineteenth-century press, the Dictionary of Nineteenth-Century Journalism (DNCJ) is the go-to reference work. It defines key concepts, introduces numerous important people and titles, and uncovers some of the connections that underpinned the media environment of the time.
It describes itself as providing a 'snapshot of British and Irish journalism in the nineteenth century', acknowledging that the scale of media production at the time makes it impossible to cover everything in one volume. However, the examples that have been chosen for inclusion cover a huge range of formats, frequencies, readerships, economic and ownership models, and political alignments; important sub-categories of the press such as trade publications, and the religious press; as well as concepts such as distribution, 'class publications', and anonymity and signature. The result is that the volume's sum total paints a fairly comprehensive picture of the nineteenth-century press.
The DNCJ's dictionary format means that this is not a reference work to be read cover-to-cover, but something to be dipped into frequently. I have a copy of my desk that I refer to almost every day.
The First Casualty: The War Correspondent as Hero and Myth-Maker from the Crimea to Iraq. Phillip Knightley. 3rd Edition. Baltimore, Maryland: Johns Hopkins University Press, 2004 [orig. pub. 1975]
This incredibly readable book by Phillip Knightley charts the history of war correspondents, exploring their origins, investigating their experiences in various nineteenth and twentieth-century conflicts, and analysing the often conflicting roles they play in providing true accounts, boosting morale and negotiating censorship.
The Firsts Casualty has been a particularly significant book for me. Reading it sparked my interest in news and war reporting, inspiring me to undertake a project on the reporting of the Vietnam War during my A levels. Then, when I started my PhD, researching military newspapers and periodicals, it was the first thing I was suggested to read by my supervisors. I felt like I had come full circle.
It is a great resource for anyone interested in the history of war correspondents, war reporting, and the interaction between the media, the military, and civil society during conflicts. It also has useful notes and a great bibliography of further reading.
The Dawn of the Cheap Press in Victorian Britain: The End of the 'Taxes on Knowledge', 1849-1869. Martin Hewitt. London: Bloomsbury Academic, 2013.
While this book would appear to focus on a very limited twenty-year period in the mid-nineteenth century, its coverage and its implications are actually much wider. It gives a thorough background to the taxes and censorship that were imposed upon newspapers by the government, from the invention of the printing press through to the late nineteenth century. It is an essential read for anyone interested in the financing of newspapers and in the history of press freedom.
It is also a great read for anyone interested in the wider political landscape of the nineteenth century, in industrialisation and trade history, and in shifting historical ideas about reading, education, and the dangers and benefits of cheaply available information.
Beth Gaskell
Curator, Newspaper Digitisation
08 June 2016
Today's news may not always be happy, but it is often beautiful to look at. A new book, Visual Storytelling: Infographic Design in News, by Lu Yikun and Dong Zhao, shows how the rise in data journalism and reusable data sources has led to an explosion in infographics and data visualisations. These have been created by a skillful set of designers who can turn raw data into eye-catching illustrations that make better sense of the world while delighting the eye.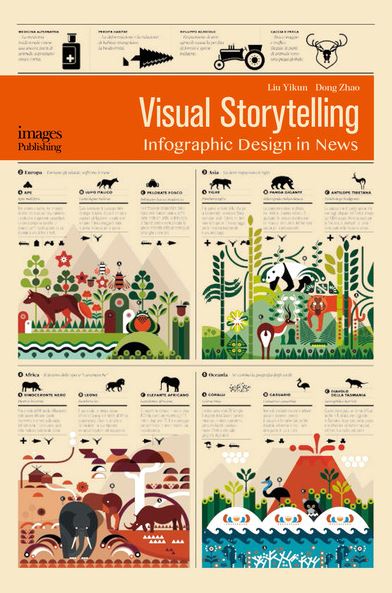 The book provides a background to the different types of data journalism design - pie charts, bar charts, radar charts, word clouds, 3D graphs, real-time maps and heat maps - and gives some of the history of the form. Mostly it is given over to sumptuous examples of news infographics produced by designers across the world. The index of artists at the back of the book provides web addresses, from which you can  discover the extraordinary array of work being done by what is, in effect, a new branch of professional journalism. Here are some examples (all of them illustrated in the book).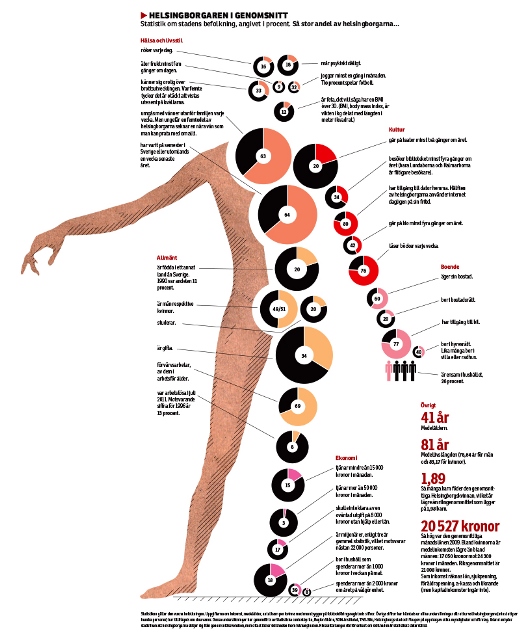 Erik Nylund, 'The Average Resident in Helsingborg'. Reproduced with permission.
Erik Nylund is an infographics designer and illustrator, from Malmö, Sweden. His infographic, 'The Average Resident in Helsingborg', produced for Swedish newspaper Helsingsborgs Dagblad, takes data about the residents of Helsingborg and appositely presents the numbers as part of the anatomy of the resident (even down to one of four fingers conveniently expressing a figure of 26%).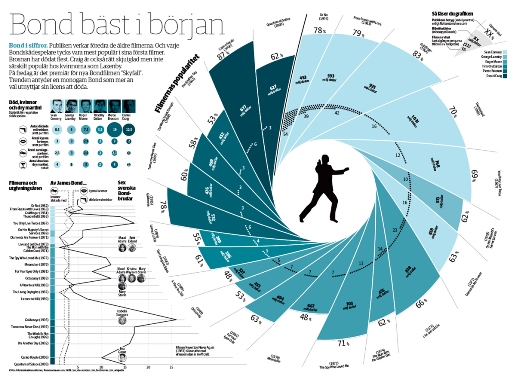 Erik Nylund, 'Statistics about James Bond Movies'. Reproduced with permission.
Nylund produced this infographic in response to a competition from the www.informationisbeautiful.net website, which provided data about James Bond movies and invited designers to express it creatively. It was published by the Swedish newspaper Sydsvenska Dagblade in 2012.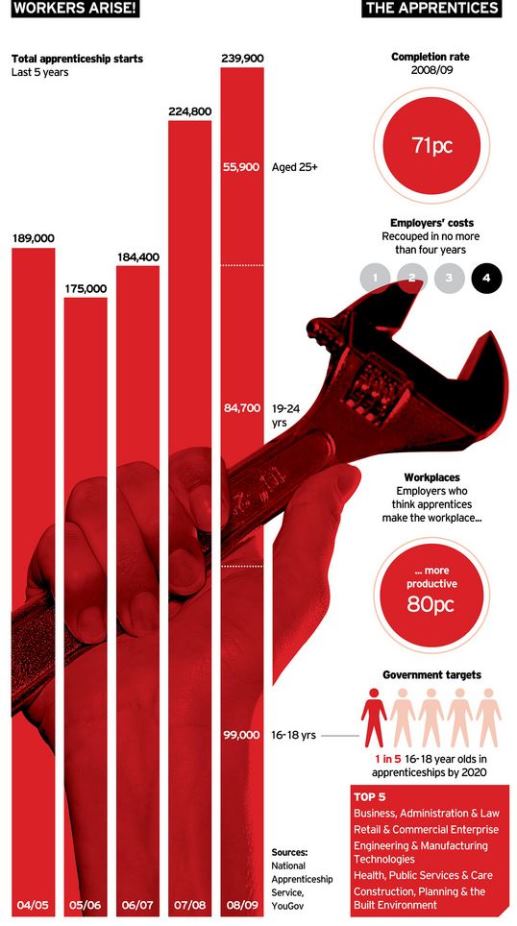 Ciaran Hughes, 'Workers Arise!' Reproduced with permission.
Ciaran Hughes is a Irish artist and designer, who has produced infographics for many newspapers, public and commercial sector clients. His 'Workers Arise!' was a front page graphic for the Daily Telegraph that accompanied an article on apprentices in the workplace. Its inspiration was the work of the great Russian graphic designer Alexander Rodchenko, and it makes powerful, symbolic use of the red bars and the worker's hand gripping a wrench - a model example of the coming together of theme and form.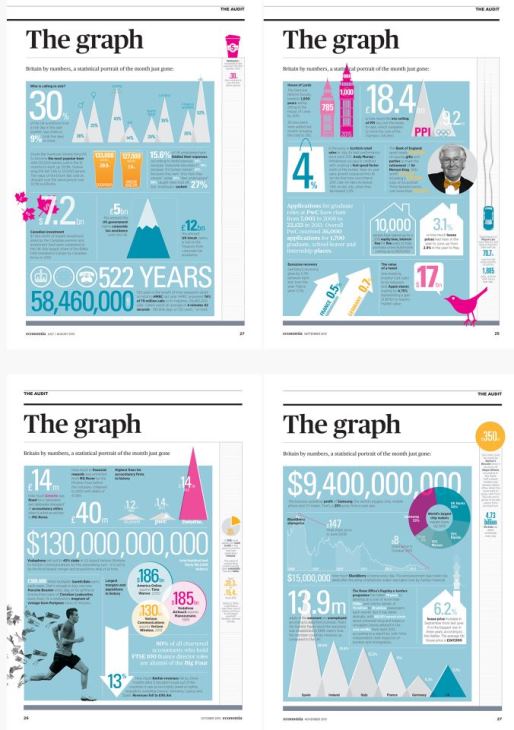 Henrik Petterson, images from his series 'The Graph'. Reproduced with permission.
Henrik Petterson producers a regular infographic series for economia magazine, entitled 'The Graph'. Subtitled 'Britain in numbers: a statistical portrait of the month just gone', it illustrates not only how news information can be dynamically visualised, but shows by its regularity how it can function as a news service.
If you are interested to see more of the work of news infographic designers, here are some links to the individual designers mentions, some designer showcase sites and prominent news data sites:
Visual Storytelling boldly claims that "data journalism is the future of journalism".  It has certainly become an indispensable part of modern news production, and given the predicted rise in automated or robot journalism, we are likely to be seeing more and more of it. However, a robot is probably only going to provide us with bar charts. For wit, design flair, and deeper understanding, we are dependent on a talented group of designers, who like all good journalists, take raw observation and convert it into information and insight.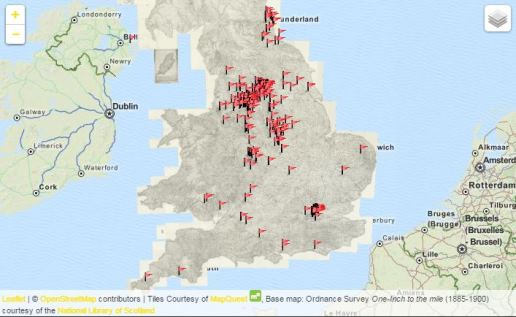 Political Meetings Mapper, produced using Open Street Map
A final thought is why the skills applied to create infographics out of current news data are not applied more often to historical news data? More and more is being done by researchers, here at the British Library and elsewhere, to undertake analyses of large-scale historical news data sets. There have been some visualisations produced, such as the maps generated by Dr Katrina Navickas for her Political Meetings Mapper project on 19th century Chartist meeting found in our newspaper archives. Machines are good at producing maps, but what more could be done if infographic designers could get their hands on such data? It's something we need to be exploring further.
26 September 2014
Welcome to the latest edition of the St Pancras Intelligencer, our weekly round-up of news about news - stories about news production, publications, apps, digitised resources, events and what is happening with the newspaper collection (and other news collections) at the British Library.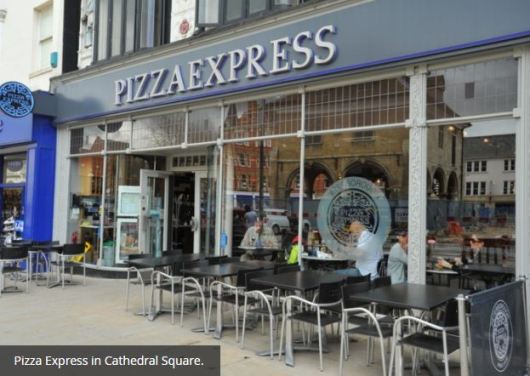 Restaurant review: My first reaction was 'wow': The most heartening news story of the week has been the unpretentious review by student Holly Aston of her local Pizza Express for the Peterborough Telegraph. It rapidly went viral, not because people were laughing at it but because they recognised its charm. She has now been offered work experience by the Daily Mirror.
News from the community: The Newsroom blog looks at hyperlocal news websites, seeing parallels in their short history with the history of early newspapers, and announces plans for archiving them by the British Library.
Journalists are becoming propaganda – and we must do more to protect them: In the wake of British photojournalist John Cantlie appearing in an Islamic State video and the attacks on BBC staff in Russia, Hannah Storm considers the current dangers faced by journalists worldwide.
Comic, Curious and Quirky: The British Library has just published Comic, Curious and Quirky News Stories from Centuries Past, by Rona Levin, a collection of bizarre and humorous stories taken from British newspapers from the 1700s to the 1900s.
Tool called Dataminr hunts for news in the din of Twitter: The New York Times looks at Dataminr, which analyses Twitter postings for patterns that indicate breaking news stories.
Trove Traces: Trove Traces brings together some of the thousands of webpages that include links to articles in the National Library of Australia's Trove database (including its newspaper archive). A marvellous way of showing how a digital resource gives birth to so much scholarship and sharing of information.
News for the Minecraft generation: American media company Gannett, in partnership with the Des Moines Register, is experimenting with turning news stories into virtual reality experiences, using the Oculus Rift headset. First up is a tour of an Iowa farm rather than anything too contentiously dramatic or controversial.
Why do the best jobs go to men?: Eleanor Mills at British Journalism Review calls for greater opportunities to be given to women in newspapers (the last woman to edit a daily broadsheet was Rosie Boycott at The Independent from January to April 1998).
How wearables are already delivering the news: Journalism.co.uk on how media outlets are experimenting with wearable devies such as Samsung Gear S, Google Glass and smart watches.
Can Longform.org become a Netflix for journalism?: Chris Dannen at Fast Labs looks at the increasingly popular Longform website and app which curates non-fiction articles from across the Web.
Trinity Mirror agrees to pay compensation to ten people over phone-hacking at national titles: It never was going to be just the News of the World...
'F*** it, I quit': Charlo Greene, a reporter for Anchorage's KTVA, dramatically quit live on air (to the delight of the online world) following an item on marijuana saying that she was leaving to focus on marijuana legalisation in Alaska. She explains why to Huffington Post (which has the clip).
09 May 2014
It's a shorter edition this week of the St Pancras Intelligencer, our weekly round-up of news about news, as your blogger is on holiday, following the heady events surrounding the opening of the Newsroom at the British Library. But the news goes on, even if one is sunning oneself and sipping coffee at some Parisian boulevard, so here are a few of the week's links that have caught our eye.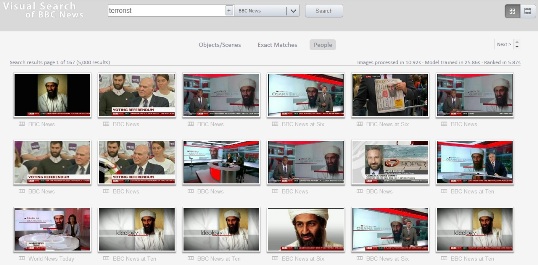 Search results for the term 'terrorist' using the BBC/Oxford University Face Recognition Prototype
Face recognition and new ways to search the archive: The tremendously bright people at BBC R&D are doing some remarkable work exploring ways in which to improve the discovery and use of television and radio archives in a digital age. Their latest venture is into face recognition, where they have been collaborating with a team from Oxford University. You can have fun testing out their Face Recognition Prototype which uses images of faces taken from BBC News programmes from the last 5 years.
Mail Online has grown ten-fold since its 2008 relaunch, but is it journalism?: Bethany Usher at Press Gazette marvels at how Mail Online has achied a 690 per cent increase in audience in the first five years since its relaunch, but is news aggregation of the kind practised on the site really journalism?
Inside the Financial Times' digital strategy: A really interesting piece from Ricardo Bilton at DigiDay on how the Financial Times has built its digital business around an audience-driven subscription model.
Pro-Kremlin journalists win medals for 'objective' coverage of Crimea: The Guardian reports that President Putin has awarded medals of the "Order of Service to the Fatherland" to 300 journalists for their Kremlin-friendly coverage.
Brown Moses, his alter ego Eliot Higgins, and the rise of the self-trained journalist: Mathew Ingram at Gigaom (one of the most stimulating media analysts out there) tells the story behind the success of citizen journalist Eliot Higgins - aka Brown Moses - who without any journalism background chose to write about the Syrian conflict and to uncover data one the use of weaponry through assiduous analysis of online sources. Ingram writes:
Eliot is living proof not only of the idea that the tools of journalism are now available to anyone, but that the skills and functions that used to be included in that term are effectively being disaggregated or unbundled. Just as the eyewitness reporting part of a journalist's job can be done by anyone, the fact-checking or research function that backs up this reporting can be quite easily done by someone who is smart, methodical and motivated like Eliot Higgins...
The future of media isn't about breaking news scoops, it's about credibility and trust: Also from Ingram, his take on the controversial and much-discussed comments made by Feliz Salmon on the cult of scoops in the news industry (which matter a lot to journalists while their readers care not a jot whose scoop it might be).
News drones over El Salvador: Jamie Stark at Global Post reports on the use of drones for news-gathering in El Salvador and other Latin American countries, something not possible in the USA, which (currently) bans the use of drones for news and comercial purposes.
Why LinkedIn is morphing from a social network into an online newspaper: Leo Mirani at Quartz looks at how the professional social network LinkedIn is looking to bring meaningful information to the millions of professionals worldwide now signed up to the service. "They would like guys like you and me to look at our LinkedIn newsfeed as part of our morning ritual, the same way some people look at Twitter" says one commentator.
Why we should celebrate journalism of the past, present and future: Tony Harcup, author of the forthcoming Oxford Dictionary of Journalism, rejoices in journalims in all its "gloriously messy" forms, while being unsure of what it's future will be. Only two things he is sure of:
1. Journalists will always hark back to a mythical golden age that seems to coincide with when they were young, and which has now gone for ever.

2. Anything with the temerity to be called a dictionary of journalism will always provoke journalists to scour it for omissions, errors or slights to prove that the author knows nothing about anything.
21 March 2014
Welcome to the latest edition of the St Pancras Intelligencer, our weekly round-up of news about news - stories about news production, publications, apps, digitised resources, events and what is happening with the newspaper collection (and other news collections) at the British Library.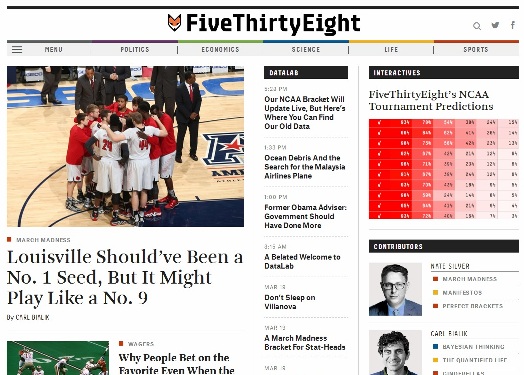 fivethirtyeight.com
Why do we expect so much from Nate Silver?: American data guru Nate Silver (he of the book The Signal and the Noise) launched a new data journalism site, FiveThirtyEight (backed by ESPN), which has been much discussed in the American media. Benjamin Wallace-Wells at New York Magazine profiles the man. Mathew Ingram at Gigaom wondered if there was a broad enough market out there for numbers journalism. John McDermott at DigiDay takes a look at reaons behind the rise in data-driven, exploratory journalism, as does Roger Yu at USA Today. And Ben Thompson at stratechry ponders Silver's success in 'FiveThirtyEight and the end of average', looking at the bell curve of news consumption, and concluding with this startling line: "the challenge of our time is figuring out what to do with a population distribution that is fundamentally misaligned with Internet economics."
Gawking at a foreign disaster: The disapperance of Malaysian Airlines flight MH370 has gripped the world, over and above the crisis in Crimea, but Nicholas Quah at Salon finds that the coverage (chiefly American)  too often has painted "an offensive picture of an ill-understood country".
How journalism is facing its own battle in Ukraine: With the Russian television channels spouting the Kremlin line, many in the Ukraine are turning to social media for their news, reports Alastair Reid at Journalism.co.uk.
Could robots be the journalists of the future?: The Guardian's Generation Y week tielded some interesting pieces on the (possible) futures of news and journalism. GUARBOT, using an algorithm to extract relevant data relating to quinoa, would seem to need some work before it replaces a living journalist, to judge by these results:
The crime-ridden family of quinoa has taken US by storm this month. According to Peru, New York has confirmed that quinoa is more story than anything else they've ever seen. Quotes from top Yotam Ottolenghi eaters suggest that "crop" is currently clear top, possibly more than ground black pepper. Experts say both Salt and University need to traditionally grow to strengthen a common solution. Finally, it is worth slightly rattling that this article was peeled until it made sense.
In five years' time, all news articles will be a single coloured icon that fires out info-nuggets: Inevitably, Charlie Brooker's contribution to Generation Y was a caustic look at our news futures which is all too plausible to be that funny. Surely someone has already produced 'The Ten Gravest Crimean Developments You Simply Won't Believe'?
#newsHACK II: the 2014 News Industry Innovation Event: The BBC has announced a #newsHACK 2014 competition for news organisation and academic institutions from across the British Isles tto prototype news experiences and journalism tools of the future.
Reading all about it: Here at the Newsroom blog we took a look at three recent books on news production past and present: Andrew Pettegree's The Invention of News, Alain de Botton's The News: A User's Manual, and George Brock's Out of Print. They all connect, somehow.
Survey of nearly a thousand web pages looks at interactive features for news: Interesting results from the Engaging News Project at the University of Texas, looking at how polls and various share buttons are being treated by newsroom developers.
Newspaper paywalls spring up, but not much is concrete: Subscription? Metered access? Free? Peter Preston thinks that is remains very unclear what business model for newspapers online will actually work.
Why venture capitalists are suddenly investing in news: Adrienne La France at Quartz investigates why the money is flowing into online media ventures like Buzzfeed, Vox Media and Upworthy.
Newspaper ill-advised to let police post their own online story: Roy Greenslade is worried about the implications of Torquay Herald Express,  letting Tobay police post a story on its website.
How the Daily Mail escaped censure for its false immigration story: Roy Greenslade again, this time on how the Press Complaints Commission has dealt with some of the more tendentious reports about Romanian and Bulgarian immigrants published at the end of 2013.
World editors hit out at UK over press freedom: The World Association of Newspapers and News Publisher (WAN-IFRA), which has been visiting the UK, is concerned over the UK's plans for a state-sponsored news regulator with Royal Charter, Hold the Front Page reports.
Washington Post to offer free digital access to other papers's subscribers: An intriguing twist on the previaling business models for online news, reported on by Press Gazette.
"I feel sorry for dogs. They learnt to fetch newspapers, but newspapers are dying. Killed by an internet driven by cats." News tweet of the week from @BinaryBad.
19 March 2014
There are many books on news and current affairs, but most are aimed at an academic or professional audiences. There has been a notable lack in the past few years of books aimed at a general readership on news and news history. Recently, however, three significant titles have appeared which each touch on the fundamental role news plays in society. Each is highly readable, and each is a reflection of the current turmoil in news production worldwide.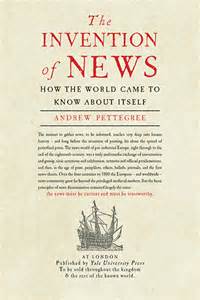 Andrew Pettegree's The Invention of News: How the World Came to Know About Itself (Yale University Press, 2014) is a history of how the thirst for news developed and was commercialised from 1400 to 1800. It shows how in the pre-industrial era news was shared orally, then through handwritten texts delivered by messengers in the service of church, state or business, then how it was radically transformed in its audience, content and impact through the introduction of print, starting with news-sheets before gradually evolving into the newspaper form that remains with us today.
What is paticularly refreshing about this history is its focus on those for whom the news was produced. News histories have a tendency to take the consumers of that news for granted. Here there is a vivid understanding of who wanted news, the ways in which they were prepared to pay for it, the degree of trust they placed in it, and how their world was changed by exposure to news. The background to this is clearly laid out, so one sees a modern Europe emerging, bound together by networks of information and with a public that gained greater power the more it became informed of the world about it. News is both a by-product of, and the catalyst for profound changes in society. 
All of this gives Pettegree's history a real relevance to news and communication today. News exists because of our great desire to belong. The communication revolution of 1400 to 1800 feels very much like the communication revolution we are going through today, not least because we can recognise ourselves in those times. It is a particularly enjoyable and well-written history.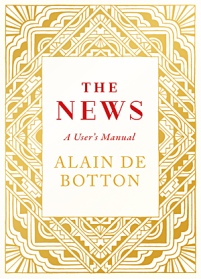 Alain de Botton's The News: A User's Manual (Hamish Hamilton, 2014) is the popular philosopher's attempt to question why we have the news that we do have, and what impact it has upon society. It is quite unlike the usual books on news or current affairs, in its elegant design quite as in its approach. De Botton's critique of news as presently constituted, and how it fails to find space for consideration of underlying causes or a more positive view of human activity, has been greeted with much scorn among news professionals and academics, not least for this lyrical call for a different definition of news:
"It is also the cloud floating right now unattended over the church spire, the gentle thought in the doctor's mind as he approaches the patient's bare arm with a needle, the field mice by the hedgerow,  the small child tapping on the surface of a newly hard-boiled egg while her mother looks on lovingly, the nuclear submarine patrolling the maritime borders with efficiency and courage..."
De Botton's call for a different kind of news is likely to find greater favour among some readers and viewers of news who are repelled, distressed or even simply bored by the common round of news stories. In doing so he may be tapping into a reluctance to engage with the news that has more to do with world-weariness and angst, a wish that the world were other than it is. He wants a form of news that will help make us better people, which is a dubious  - not to say improbable - goal. His understanding of news itself is unclear, sometimes seeming to be triggered by newspaper headlines, sometimes by TV news highlights, sometimes by web news sites, but with criticisms directed hapazardly at all three. Many news services are very good at providing the background context that he craves, and the diversity of news stories that he would like to see already exists: it just requires an active engagement with the different news sources available. But if news services end up serving themselves more than they serve their audiences, then there is a case to be answered.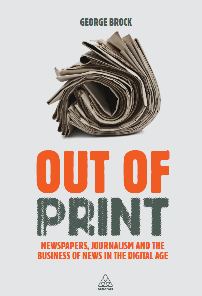 Our third title, George Brock's Out of Print: Newspapers, Journalism and the Business of News in the Digital Age (Kogan Page, 2013) is written by a former journalist turned journalism professor, but it is written in a very accessible way that should appeal equally to a public readership as to the student. It certainly touches on themes that are relevant to all of us. This is a guidebook for the world of news as we now have it, and for what it may be turning into.
As all will be aware, newspapers face an uncertain future, as the internet and digital technologies have completely overturned how news is distributed and consumed. This demands a complete rethink on what journalism is, what value it holds, and how it can be maintained. Brock provides a handy historical summary of news production in Britain from the Middle Ages to the present day, then introduces the reader to a clear and stimulating overview of the new world of social media, citizen journalism, news aggregators, pay walls, and information overload.
We have no inalienable right to good journalism. As Brock observes, in his introduction: "Journalists in the 21st century rarely stop to recall that 'mainstream' journalism has only been a short period in the history of public information. The supply of information to democratic societies only matured as a mass-market industry in the 20th century, allowing journalism to be practiced and controlled in more concentrated and organized ways. Journalism of an earlier era was smaller scale, more intimate, opinionated and much of it resembled the social networks now carried out by the internet."
Is news production as we have understood it, as something composed by journalists and transmitted by news organisations, only a phase in how public information is communicated? What connection is there between the world of the Internet and the social networks of earlier centuries that Andrew Pettegree describes? Do news organisations ignore the troubled thoughts about engagement with the news as we now have it that Alain de Botton identifies, or have they discovered the key to their future in socially-driven news aimed at young audiences, as exemplified by such vogue-ish services as Buzzfeed, Upworthy, Now this News and Reddit? If the latter, then who generates the news that gets shared, and if we want journalists to do so, then who will pay for them if the advertising revenues fall and too many expect to find their news for free?
The answers - whatever they may be - lie in best understanding our enduring "hunger for information" (in Andrew Pettegree's phrase), something that all three books address in different, but complementary ways. There is no more important debate than the one we are now having about news. It is what binds us together.
31 January 2014
Welcome to the third edition of the St Pancras Intelligencer, our weekly round-up of news about news - stories about news production, publications, apps, digitised resources, events and what is happening with the newspaper collection (and other news collections) at the British Library.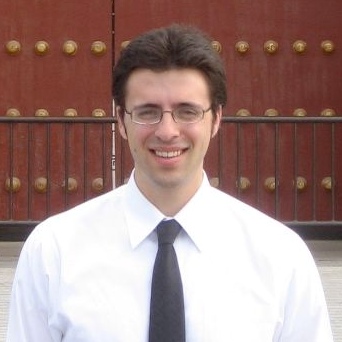 Ezra Klein (Wikimedia Commons)
Vox is our next: Generating much discussion in America has been the move of celebrated journalist and political blogger Ezra Klein from the Washington Post to Vox Media with plans to develop a news site that (so far as one can tell from the sketchy ideas offered so far) will draw out the historical content behind news stories from content online. The New Yorker lauds the rise of the digital journalist (Klein is 29); the always interesting Mathew Ingram at Gigaom looks at the advertising model that could support it.
The newsonomics of why every seems to be starting a news site: Ken Doctor looks at the economics of why Klein and others are getting into the online news game and hiring journalists. Essentially the risks are high but the entry costs are low.
Q&A with newspaper researchers: Leon Saltiel: The latest in Europeana Newspapers' fine series of interviews with researchers using newspaper archives is with Leon Saltiel, who is researching World War Two in Thessaloniki
So much for 'news without the boring bits': Trinity Mirror's The People set up a Buzzfeed-style site with aim of publishing news without the boring bits and with ambition to be entirely funded by "native content". It lasted three months
You won't believe why the Victoria Line is currently suspended: But Trinity Mirror's other Buzzfeed-style effort, UsVsTh3m is flourishing with such viral stories as fast-setting concrete in the signalling room holding up the Victoria Line
Introducing #GuardianCam on Instagram: Guardian journalists will be taking over its Instagram account each week to showcase stories from around the world
World War One: The British Library has published its World War One resource, based around key themes from the war, and amply illustrated with over 500 digital objects, including manuscripts, illustrations, photographs, maps, letters and newspapers
LBC to go national: On 11 February LBC will go national and become the UK's first commercial news talk radio station.
What is the news? Philosopher Alain de Botton argues in this video (and in a Newsnight discussion)  that the news is a "powerful questionable art form" the comprehension of which needs to be taught in schools (thereby annoying the media studies community who are dedicated to doing just that). De Botton has a book out on on the theme, and Ian Jack's review in The Guardian is scathing ("A kind of fluent ignorance is at work that might be innocence in disguise." Ouch)
Cardiff Uni to run free online community journalism course: Hyperlocal news sites now being all the range, Cardiff are going to offer a free MOOC (Massive Open Online Course) in community journalism
Facebook announces Paper: Anyone can publish their own version of what's news, and attractively so. On February 3 Facebook launches the nostalgically-named Paper, a customisable news reader app similar to Flipboard
The News Academy: News UK (News International as was) has launched the News Academy to train teenagers keen to become journalists
A faster, easier way: Twitter, CNN and Dataminr are working together to develop an alert system for journalists, reports the Twitter blog
Hacking trial: The sorrier side of the news was laid bare once again with the evidence supplied by self-confessed phone hacking journalist Dan Evans, formerly of the Sunday Mirror and News of the World. Even the "office cat" knew about what was going on, he claims
Broke French crime reporter turns to hold ups: The news about news story of the week has to be the tale of Jean-Michel, the former crime reporter who tried to turn his knowledge to bad use when he turned criminal (unsuccessfully). The story was reported by his former newspaper, naturally.
The Newsroom blog recent posts
Tweets by @BL_newsroom
Other British Library blogs