31 August 2022
2022 marks a special anniversary for the Newspaper Collection at the British Library. 200 years ago, in April 1822, the British Museum's Department of Printed Books began systematically collecting newspapers. From that foundation the Library's newspaper collections has continued to grow, and now comprises more than 36,000 titles from the UK and overseas, or 60 million individual newspaper issues. 
The Old Newspaper Reading Room in the British Museum, Bloomsbury. Sell's Dictionary of the World's Press 1893
Like many of the British Library's collections, newspapers were originally part of the British Museum's Department of Printed Books. However, from the Museum's founding in 1753, until the 1820s, news publications were not seen as a distinct collection in their own right, and weren't part of any concerted collecting effort. The impetus for changing this came in 1818, when a large collection of early newspapers, compiled by Dr Charles Burney (1757-1817), was purchased by the Museum. The Burney Collection of newspapers 1603-1818, when added to the Thomason Tracts (a collection of newspapers and news-books from the English Civil War period, which had been purchased for the museum by George III in 1762), formed a significant collection of early newspapers; enough for the museum to start considering the form in its own right.
In April 1822, after negotiations by Henry Baber (1775-1869), Keeper of the Printed Books, the British Museum began to collect newspapers in a systematic fashion. This was achieved via an arrangement with the Stamp Office, who at the time collected all newspapers published in Britain for purposes of registration and taxation. They kept the newspapers for two years, in case they were needed for legal cases, but agreed to pass them on to the British Museum after this period had elapsed. The first newspapers to arrive at the library were London papers for the years 1818 and 1819, and the first consignment contained sixty complete sets for these years, and twenty-one imperfect sets. Provincial newspapers were added to those deposited by the Stamp Office in 1832, and Scottish and Irish newspapers were sent from 1848. 
British Museum Trustees Standing Committee: Minutes of Ordinary Business, 13 April 1822.
There are very few surviving records of this early arrangement between the Stamp Office and the British Museum. The image above, showing a short notice of thanks to the Stamp Office after the first consignment of newspapers arrived, which was recorded in the minutes of the Trustees Standing Committee. This is the only know record held at the British Museum/British Library, and there is no list of which newspapers arrived in that first delivery. Records for this period from the Stamp Office do not survive. Therefore, we have no certainty about which newspapers were the first actively collected by the British Library, but we can make some educated guesses. Below is an image of the front page of The World, which began publication in January 1818. This newspaper has annotations, including the publishers name and address, which were made by clerks at the Stamp Office. This indicates that it was originally the Stamp Office copy, and it was published in one of the first years deposited at the British Museum, so it is likely that this is one of the titles handed over during the first year of the arrangement.
The World, Vol. 1, No. 1, 4th January 1818.
Newspapers arrived at the British Museum from the Stamp Office via this arrangement until 1869, when Legal Deposit laws were introduced. From that date onwards a copy of each newspapers produced in the country legally had to be deposited at the library by the publishers. The British Museum was now entirely responsible for its own newspaper collecting, and began building up a sizeable and (mostly) comprehensive collection of British newspapers.
The rate of newspapers publication from the late nineteenth century quickly led to storage problems for the British Museum, and from 1905 many newspapers were stored offsite at Colindale in north London. In the early 1930s this offsite newspaper storage depot was expanded, and a reading room was added, with the new Newspaper Library at Colindale opening to readers in August 1932.
In 1973 the British Library was established, and while newspapers, along with the other collections of the Department of Printed Books, were transferred to the new institution, they continued to be housed at Colindale until 2013. Newspapers then travelled up to Boston Spa, a site that had been used by the British Museum and then the British Library since 1962. A dedicated newspaper reading room was open at St Pancras in 2014, and the state of the art National Newspaper building designed especially for storing newspapers was opened in 2015.
Newspaper continue to be an important part of the British Library's collections, with around 1,000 newspapers added to the collection each week. Alongside this, the Library now collects radio, broadcast, and internet news, creating the national news collection. Curators also continue to work to preserve and make accessible the newspapers from the Museum's earliest days of collecting. Many of the first newspapers to arrive in 1822 have been recently digitised as part of the Heritage Made Digital project, and are now freely available to view via the British Newspaper Archive.
Sources:
Esdaile, Arundell. The British Museum Library. London: George Allen & Unwin Ltd, 1946.
Harris, P. R. A History of the British Museum Library, 1753-1973. London: The British Library, 1998.
                        The Library of the British Museum: Retrospective Essays on the Department of Printed Books. London: The British Library, 1993.
Gaskell, Beth and McKernan, Luke. 'British Library News Collection'. In Breaking the News: 500 Years of News in Britain. London: British Library, 2022.
Beth Gaskell, Newspaper Curator
09 August 2021
We are delighted to be announcing a major development for newspapers digitised from the British Library's collection. From today, one million pages on the British Newspaper Archive site have become free to view, so not requiring any subscription payment. These one million pages will be followed by one million more each year for the next four years, creating a substantial free historical newspaper resource which should greatly expand the use of and understanding of historical newspapers.
Special 'golden' issue of The Sun, 28 June 1838, marking the coronation of Queen Victoria
This has been made possible through a new partnership agreement between the British Library and Findmypast, the family history company which manages the British Newspaper Archive. The BNA has over 44 million newspaper pages, mostly British and Irish titles, ranging from 1699 to 2009, or just under 10 per cent of all newspapers held by the British Library. The BNA is a subscription site, the payment made by users helping to digitise and preserve yet more newspapers.
The Colored News, 15 September 1855
It has long been the goal of the British Library to make some of its digitised newspapers freely available online, but we also want to see the BNA succeed as it has been doing, without which we could not have reached such a huge collection overall of digitised newspapers, nor the rate at which they are being produced (currently around half a million pages are being added to the BNA every month).
The 'free to view' solution keeps the successful model in place, while making a significant and varied selection of titles freely available to all, to view and to download, without charge. There are 158 titles on offer, ranging from 1720 to 1880. The latter date is significant. All of the newspapers that make up the 'free to view' offer are out-of-copyright. The British Library keeps to a 'safe date' when determining when a newspaper can be considered to be entirely out-of-copyright, which is 140 years after the date of publication.
The newspapers selected come from four British Library projects, plus some selected by Findmypast themselves.
Barbados newspaper The Barbadian, 1 January 1827
So, what is on offer? The full list of titles is given below, but these are some of particular interest:
There a few things to note about the free to view service. Users will still need to sign up with the British Newspaper Archive to be able to access them, though no charge will be made for their use. The fact that we consider newspapers made before 1881 to be in the public domain does not mean that we can make all pre-1881 digitised titles available for free – the BNA is dependent on subscriptions to maintain the considerable effort required to sustain it, and the one million pages per year arrangement is intended to protect that model.
We will be adding more free-to-view titles over the next four years at least, but we cannot say as yet what those titles will be. However, we are aware that the current list has a bias towards London/national titles and the north of London and will be rectifying the geographical imbalance in subsequent free-to-view releases.
Radical 'unstamped' newspaper The Poor Man's Guardian newspaper with its famous motto 'Knowledge is Power', from 23 July 1831
We hope that this is the start of a significant change in the study of British newspapers, and the study of so many topics as reported in those newspapers. Our list includes newspapers that are of established importance in understanding the nineteenth century, but also titles that currently do not feature as strongly as they might in research. Digitisation should not only make the familiar more readily available, but bring to new life the unfamiliar. There is so much to be discovered here, and much more to follow.
More information on discovering and using the 'free to view' titles is available on the British Newspaper Archive at https://blog.britishnewspaperarchive.co.uk/2021/08/09/introducing-free-to-view-pages-on-the-british-newspaper-archive.
See also a blog post on the Alan Turing Institute's Living with Machines project: https://livingwithmachines.ac.uk/sharing-the-benefits-free-to-view-newspapers-on-the-british-newspaper-archive/
People reading newspapers in the Crystal Palace Reading Room, London, from The Lady's Newspaper, 24 March 1855
List of titles
Below is a complete listing of all newspaper titles on the initial 'free to view' list of one million pages, including changes of title. Start and end dates are for what is being made freely available, not necessarily the complete run of the newspaper. For a few titles there are some missing issues for the dates given. A PDF copy of the list is available here:  Download Free to view British Library newspapers list 9 August 2021.
The Age (1825-1843)
Alston Herald, and East Cumberland Advertiser (1875-1879)
The Argus, or, Broad-sheet of the Empire (1839-1843)
The Atherstone Times (1879-1879), The Atherstone, Nuneaton, and Warwickshire Times (1879-1879)
Baldwin's London Weekly Journal (1803-1836)
The Barbadian (1822-1861)
Barbados Mercury (1783-1789), Barbados Mercury, and Bridge-town Gazette (1807-1848)
The Barrow Herald and Furness Advertiser (1863-1879)
The Beacon (Edinburgh) (1821-1821)
The Beacon (London) (1822-1822)
The Bee-Hive (1862-1870), The Penny Bee-Hive (1870-1870), The Bee-Hive (1870-1876), Industrial Review, Social and Political (1877-1878)
The Birkenhead News and Wirral General Advertiser (1878-1879)
The Blackpool Herald (1874-1879)
Blandford, Wimborne and Poole Telegram (1874-1879), The Blandford and Wimbourne Telegram (1879-1879)
Bridlington and Quay Gazette (1877-1877)
Bridport, Beaminster, and Lyme Regis Telegram and Dorset, Somerset, and Devon Advertiser (1865, 1877-1879)
Brighouse & Rastrick Gazette (1879-1879)
The Brighton Patriot, and Lewes Free Press (1835-1836), Brighton Patriot and South of England Free Press (1836-1839)
The British Emancipator (1837-1840)
The British Liberator (1833-1833)
The British Luminary; or, Weekly News and General Advertiser (1818-1818), The British Luminary and National Intelligencer (1818-1818), The British Luminary and Weekly Intelligence (1818-1820), The British Luminary, or Weekly Intelligencer (1820-1820), The Weekly Intelligencer, and British Luminary (1820-1821), The British Luminary and Weekly Intelligencer (1821-1823)
British Miner and General Newsman (1862-1863), The Miner (1863-1863), The Miner and Workman's Advocate (1863-1865), The Workman's Advocate (1865-1866), The Commonwealth (1866-1867)
The British Press; or, Morning Literary Advertiser (1803-1826)
Caledonian Mercury (1720-1799), Caledonian Mercury (1800-1859), The Caledonian Mercury and Daily Express (1859-1860), The Caledonian Mercury (1860-1867)
The Cannock Chase Examiner (1874-1877)
The Central Glamorgan Gazette, and General, Commercial, and Agricultural Advertiser (1866-1879)
Champion (1836-1836), The Champion and Weekly Herald (1836-1840)
The Charter (1839-1840)
Chartist (1839-1839)
Chartist Circular (1839-1841)
Cleave's Weekly Police Gazette (1835-1836), Cleave's Weekly Police Gazette and Journal of News, Politics, and Literature (1836-1836)
Cobbett's Annual Register (1802-1804), Cobbett's Weekly Political Register (1804-1836)
Colored News (1855-1855)
Cradley Heath & Stourbridge Observer (1864-1864), The Observer, Cradley Heath, Halesowen & District Chronicle (1864-1866), The Stourbridge Observer, Cradley Heath, Halesowen & District Chronicle (1866-1879)
The Darlington & Stockton Telegraph, Richmond Herald, South Durham and North York Review (1870-1870), Darlington & Richmond Herald (1873-1874)
Denton, Haughton, & District Weekly News, The (1873-1874), Denton & Haughton Weekly News, and Audenshaw, Hooley Hill, and Dukinfield Advertiser (1874-1875), Denton Examiner, Audenshaw, Hooley Hill and Dukinfield Advertiser (1875-1878), Denton and Haughton Examiner (1878-1879)
The Dewsbury Chronicle, and West Riding Advertiser (1872-1875)
The Dorset County Express and Agricultural Gazette (1858-1879)
The Examiner (1808-1880)
The Express (1846-1869)
The Forest of Dean Examiner (1875-1877)
The Glasgow Chronicle (1844-1857)
Glasgow Courier (1802, 1844-1866)
Illustrated Sporting News and Theatrical and Musical Review (Illustrated Sporting News, Theatrical Review (1862-1865), Illustrated Sporting and Theatrical News (1865-1870)
The Imperial Weekly Gazette (1808-1810), The Imperial Weekly Gazette and Westminster Journal (1818-1823), Imperial Gazette (1823-1825)
The Jamaica Mercury and Kingston Weekly Advertiser (1779-1780), The Royal Gazette (1780-1836), The Royal Gazette and Jamaica Times (1838-1840), The Royal Gazette of Jamaica (1840-1840)
Jewish Record (1868-1871)
The Kenilworth Advertiser (1872-1879)
The Lady's Newspaper and Pictorial Times (1847-1863)
The Lady's Own Paper (1866-1872)
The Lancaster Herald, and Town and County Advertiser (1831-1832)
The Liverpool Standard and General Commercial Advertiser (1832-1854), Liverpool Standard and General Advertiser (1854-1855), Liverpool Standard and General Commercial Advertiser (1855-1856)
Liverpool Weekly Courier (1867-1879)
Lloyd's Companion to the "Penny Sunday Times and Peoples' Police Gazette" (1841-1847)
London Dispatch and People's Political and Social Reformer (1836-1839)
The Manchester Examiner (1848-1848)
Manchester Times (1828-1829), The Manchester Times and Gazette (1829-1848), Manchester Times and Manchester and Salford Advertiser and Chronicle (1848-1848)
The Midland Examiner and Times (1877-1877), The Midland Examiner and Wolverhampton Times (1877-1878)
Mirror of the Times (1800-1823)
The Morning Chronicle (1801-1865)
Morning Herald (1801-1869)
The National Register (1808-1823)
The New Weekly True Sun (1836-1836)
The News (1805-1835), The News and Sunday Herald (1835-1837), The News and Sunday Globe (1837-1839)
The Northern Daily Times (1853-1857), Northern Times (1857-1860), The Daily Times (1860-1861)
The Northern Liberator (1837-1840), The Northern Liberator and Champion (1840-1840)
Northern Star and Leeds General Advertiser (1838-1844), The Northern Star and National Trades' Journal (1844-1852), The Star and National Trades' Journal (1852-1852), The Star of Freedom (1852-1852)
The Nuneaton Times (1878-1879)
The Odd Fellow (1839-1842)
The Operative (1838-1839)
Pictorial Times (1843-1848)
Pierce Egan's Life in London (1824-1827)
The Pontypridd District Herald and Rhondda Valley, Llantrisant, Caerphilly, and Mountain Ash News (1878-1879)
The Poole Telegram (1879-1879)
The Poor Man's Guardian (1831-1835)
The Potteries Examiner (1871-1879)
The Press (1853-1866)
Runcorn and Widnes Examiner (1870-1876), Runcorn Examiner (1877-1879)
The St. Helens Examiner, and Prescot Weekly News (1879-1879)
The Saint James's Chronicle (1801-1866)
Shropshire Examiner and all round the Wrekin Advertiser (1874-1877)
The South Staffordshire Examiner (1874-1874)
The Southern Star and London and Brighton Patriot (1840-1840)
Stalybridge Examiner, and Ashton, Dukinfield and Mossley Advertiser (1876-1876)
The Star (1801-1831)
The Statesman (1806-1824)
The Stockton Examiner, and South Durham and North Yorkshire Herald (1879-1879)
Stockton Gazette and Middlesbrough Times (1860-1865), Middlesbro' & Stockton Gazette and General Advertiser (1868-1868), The Middlesbrough Gazette and General Advertiser (1869-1869), Middlesbrough & Stockton Gazette and General Advertiser (1869-1876), The Weekly Gazette for Middlesbrough, Stockton, Hartlepool and Cleveland District (1876-1879)
Stockton Herald, South Durham and Cleveland Advertiser (1858-1879)
Stretford and Urmston Examiner (1879-1879)
The Sun (1801-1871)
Swansea and Glamorgan Herald, and South Wales Free Press (1847-1879)
The Tamworth Miners' Examiner and Working Men's Journal (1873-1873), The Tamworth Examiner and Working Men's Journal (1873-1876)
The Warrington Examiner (1885-1878), The Warrington & Mid-Cheshire Examiner (1879-1879)
The Weekly Chronicle (1836-1851), The Weekly News and Chronicle (1851-1854), The Weekly Chronicle (1855-1855), The Weekly Chronicle and Register (1855-1864), The Weekly Chronicle and Register of Banking, Insurance, Railway and Mining Companies, Trade and Commerce (1864-1867)
Westminster Journal and Old British Spy (1805-1810)
The Weymouth, Portland and Dorchester Telegram (1862-1878)
Widnes Examiner (1876-1879)
Wolverhampton Times and Bilston, Willenhall, Wednesfield, and Sedgley Journal (1874-1875), The Wolverhampton and Midland Counties Advertiser (1875-1876)
24 May 2021
We are very pleased to be able to announce that the British Library and family history website Findmypast have extended their partnership operation of the British Newspaper Archive.
British Newspaper Archive
The BNA was originally launched in 2011, with the aim of digitising newspapers from the British Library's collection, making these available  on the website, and delivering a digital preservation copy back to the British Library. An ambitious goal of 40 million pages was set for the ten-year arrangement, one which has now been reached.
The archive features four centuries of newspapers (currently 1699-2009), regional, national and international, digitised from both print and microfilm holdings. The advantage of the digital archive is not just the increase in access, but the long-term protection it guarantees for the fragile print newspapers themselves, as the handling of them becomes greatly reduced.
The BNA is aimed primarily at family history researchers, to whom it has been of huge benefit, but it has also attracted many academic researchers, becoming an essential reference source for almost any modern history topic. The regular flow of new content (currently around 400,000 pages are added to the site every month), makes the return visit essential, whatever your discipline. If the answer is not there today, it could well be tomorrow.
The extension of the partnership will mean a further fourteen million pages will be added to the BNA over the next three years. The BNA is a subscription site, but also promised is that one million pages to be made free-to-access each year. The launch date for this development can't be announced as yet, nor the titles that will feature, but they will all be out-of-copyright and therefore from the late nineteenth century and earlier. We are expecting this to have a major effect on how our digitised newspapers are used, and who uses them.
This free offer comes from plans being developed at the British Library to open up our news collections where we can. Complementing the free access to selected newspapers on the BNA will be open datasets on our Research Repository, presenting the digitised texts alone in a form that will benefit the new generation of researchers interested in 'big data', enabling them to seek new answers to old questions, and to tackle new questions that we had not been able to ask before now.
Much has changed in the world of newspaper research over the past ten years. There will all the more change in the next three years, as digitisation continues to have an immense impact on how we care for, present, and understand our historical news archives.
British Library press release: https://www.bl.uk/press-releases/2021/may/british-library-and-findmypast-announce-renewal-of-long-term-partnership
Findmypast press release: https://www.findmypast.co.uk/blog/new/british-library-renewal
07 March 2021
The mass digitisation of historic newspapers has had a huge effect on many areas of research. Theories have been confirmed or overturned, new discoveries are made daily, evidence is available in abundance. One area in which digitised newspapers have had a marked effect is film studies. In this guest post, film and theatre historian Barry Anthony describes the use of newspapers by early film historians twenty years ago and how things have changed today.
Frame still from 1895 film known as Dancing Dog (National Fairground and Circus Archive)
In 2009 the National Fairground and Circus Archive received an exciting donation. The George Williams collection was a hoard of fragile nitrate films dating back to the last decade of the 19th century. Several had been made for Thomas Edison's Kinetoscope peepshow, a device that revealed 40 second motion pictures to individual customers about a year before the first projectors introduced the cinema experience to mass audiences. Some subjects had been shot at Edison's New Jersey studio, but others were among the earliest known British films. Dating from 1895, they depicted actors dressed as a sailor and a policeman detaining a criminal; a moderately sized kangaroo sparring with a small boy; and an animal trainer presiding over a display of talented dancing dogs. They had been filmed with a camera developed by electrical engineer Robert Paul and photographic expert Birt Acres (the individual contribution made by each man remaining a source of some controversy). Given a dearth of information about this earliest period of British filmmaking it seemed unlikely that the participants in these productions, particularly the cavorting canines, would ever be identified.
Eight years later, in The Kinetoscope; a British History, the late Dr Richard Brown and myself told, for the first time, the story of the device's exploitation in the UK. It was a detailed account which would not have been possible without the research possibilities made available by the British Newspaper Archive. Back in 1999 we had produced A Victorian Film Enterprise a thorough examination of the massively financed and highly prestigious British Mutoscope and Biograph Company. In the time before the digitisation of newspapers and other archival material, much of the research required for the book entailed numerous visits to newspaper archives. Countless hours were spent poring over the contents of dusty bound volumes or straining our eyes in front of flickering microfilm reader screens. It was a process analogous to mining, tunnelling onward through page after page in the hope of unearthing nuggets of relevant material.
Richard and I were both experienced researchers and had a few short cuts which we could employ. But this in itself was problematical. The book aimed to place British Biograph in a broad historical context, looking at the economic, social, and aesthetic aspects of its development and exploitation. In concentrating our searches on periodicals dedicated to entertainment (itself a massive task) we located much detail about the company but missed a wider and more diffuse range of comments in other publications. Our attempts to cope with these tangential areas were of necessity far more selective. A case in point concerned the company's peepshow machine. Whilst Biograph films shown to audiences at music halls and other venues were usually impressive views of news events or foreign scenery, the Mutoscope viewer lived up to its 'What the Butler Saw' nickname by offering sexually titillating material. Across the country there were howls of indignation as hundreds of cast-iron mutoscopes were installed in arcades, railway stations, shops, and seaside promenades. Such scandalised protests were, of course, recorded by provincial newspapers with the details of offending subjects carefully noted. Faced with reports scattered across many local publications it became extremely difficult to locate sufficient material to be able to accurately assess the scope of public concern about an important feature of British Biograph's exhibition policy. Had we possessed the online search facility later provided by BNA, merely entering the titles 'Why Marie Blew Out the Light' or 'Should Ladies Wear Bloomers?' would have provided a universal view of the controversy.
A mutoscope and a denunciation from the Sheffield Evening Telegraph, 16 August 1899
To assemble a chronology of Biograph exhibitions outside London, we were fortunate that entertainment periodicals such as The Era, The Music Hall and Theatre Review, and The Stage usually listed the content of music-hall shows throughout the UK. It took weeks to search a six-year period, leaving us with an end result that was extensive, but not exhaustive. A similar chronology of exhibitions in The Kinetoscope was more complex because, unlike the Biograph projector, the device was not owned by a single company. Despite the involvement of many showmen often pursuing diverse exhibition practices, the Kinetoscope listing proved easier to assemble. The simple process of searching 'Kinetoscope' (and other spelling variants) on the BNA resulted in a virtually day-by-day record of exhibitions during the period 1894-1895. For the first time it was possible to establish that a large part of the population had its first exposure to motion pictures months before the introduction of projected films. Reviews and advertisements in local newspapers enabled several previously unknown exhibitors to be identified by name and their progress around the UK traced. Venues ranging from rowdy country fairs to genteel church bazaars were established; together with numbers of machines employed, durations of stay and prices charged. By following up on the further keywords revealed, it quickly became possible to present a rounded picture of a previously unrevealed (and largely unexpected) chapter of British entertainment history.
An analysis of the films mentioned in newspaper reports show that the overwhelming majority were American subjects issued by Edison. The limited number of films that were produced by Acres and Paul during their brief, bitter association (about 20 subjects) was reflected by very few references in the press. Some titles are known by a series of adverts that Paul (without crediting Acres) placed in The Era in April and May 1895 ‒ Oxford and Cambridge Boat Race, Pickpocket Arrest, Railway Station Scene, Bootblack Scene and others described only as by 'Sundry Performers'. Returning to the films donated to the National Fairground and Circus Archive, it was possible to recognise Pickpocket Arrest from the Era adverts. The lively contest between boy and marsupial could also be identified from another 1895 advert, The Boxing Kangaroo published in The English Mechanic (a periodical sadly not yet digitised by BNA). But those dancing dogs were elusive, with no references found in 1895 although the nature of the film clearly indicated that it was a product of the Acres/Paul association. The challenge of finding out more about the film took on a disproportionate importance, a test of our own research capabilities and the comprehensiveness of original sources. We examined accounts of various troupes of performing dogs (amazingly popular in the 1890s); looked at circuses appearing in the London area; and, of course, scrutinised the BNA for any possible clues. Eventually we hit our publication deadline and our search was abandoned.
Report from the Wharfdale and Airedale Observer for 10 January 1896, and a Kinetoscope
Following Richard's death in 2020 I decided to resume the hunt. Altering the BNA search parameters very slightly, things suddenly became clear. In a description of a New Year Conversazione held at Saltaire in West Yorkshire, the Wharfdale and Airedale Observer for 10 January 1896 reported that 'the Kinetoscopes give excellent illustrations of last year's Derby race, a performance by Lorenzo's skipping dogs (recently exhibited at the Royal Aquarium, London, where the photograph was taken), etc.' A further search soon revealed that 'Professor' Lorenzo was a noted trainer whose troupe consisted of dogs, 'Educated' ponies, goats, and monkeys. One of his top turns was a boxing kangaroo who fought against a boy billed as 'Young England'. It was an inconsequential discovery, but one which demonstrated the scope and potential of the BNA. We had gone from building a detailed, multi-layered picture of the earliest years of moving pictures to revealing a single music-hall act that had played a minor part in their development. Identifying an entertainment industry in the making or a group of dancing (or skipping) dogs – all had become one.
Barry Anthony
Barry Anthony is the co-author (with Richard Brown) of A Victorian Film Enterprise: The History of the British Mutoscope and Biograph Company, 1897-1915 (1999) and The Kinetoscope: A British History (2017). His other works include The King's Jester: The Life of Dan Leno, Victorian Comic Genius (2010); Chaplin's Music Hall: The Chaplins and their Circle in the Limelight (2012) and Murder, Mayhem and Music Hall: The Dark Side of Victorian London (2015). There is information on the George Williams Collection at the National Fairground and Circus Archive at https://www.sheffield.ac.uk/nfca/collections/georgewilliams.
14 April 2016
Denise Bates is a writer on social history whose latest book, Historical Research using British Newspapers, is a guide to using newspaper archives in research, particularly the British Newspaper Archive. In this guest blog post, she describes what led her to write about using digitised newspapers.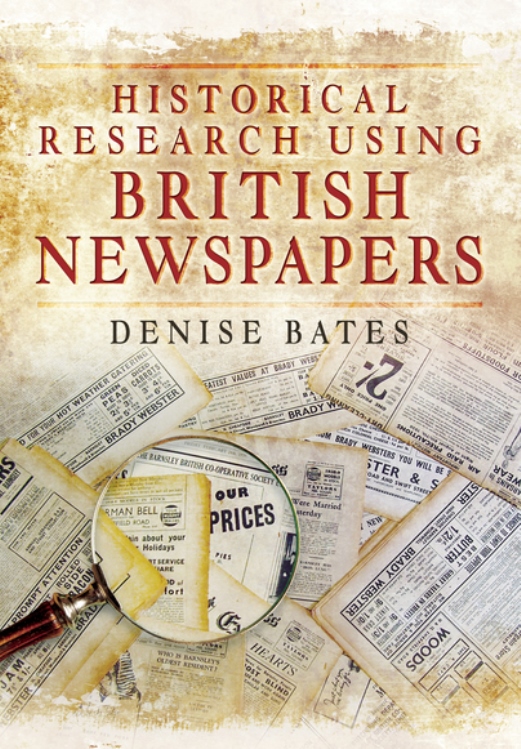 The inspiration for Historical Research Using British Newspapers was a very modern concept; the blog. I used old newspapers extensively whilst researching my first two books, Pit Lasses and Breach of Promise to Marry. The positive reaction to my blog for the British Newspaper Archive about the differences between national and local newspapers surprised me as I had not expected this to be new learning. After more investigation I realised that twenty-first century historians have an exciting new resource, digitised, on-line newspapers, but little information about using them effectively. The seeds of my next project were planted.
When I first started using old newspapers, like many researchers I was learning on the job and made mistakes along the way. These included not knowing which titles were the best ones to consult first and thus wasting time trying to understand a topic that was well-covered in a different publication. I also made unrealistic assumptions about how much time was needed to locate and study reports. I decided on a book which brought together the many issues that are relevant to users of old newspapers, including the history of the press, how to find good quality information, how to use it productively and the pitfalls to avoid.
Digitised newspapers have a growing fan-base. Their preserved pages contain a rich vein of forgotten material, allowing researchers to broaden their enquiries from the standard sources on many topics and to cite new examples, rather than recycling the same few. Newspapers sometimes offer an unorthodox view of the past, with content which challenges the version that has been handed down in exam syllabuses and popular histories alike. For topics that have not been studied or written about, newspapers are an accessible way of rediscovering aspects of the past that have been forgotten.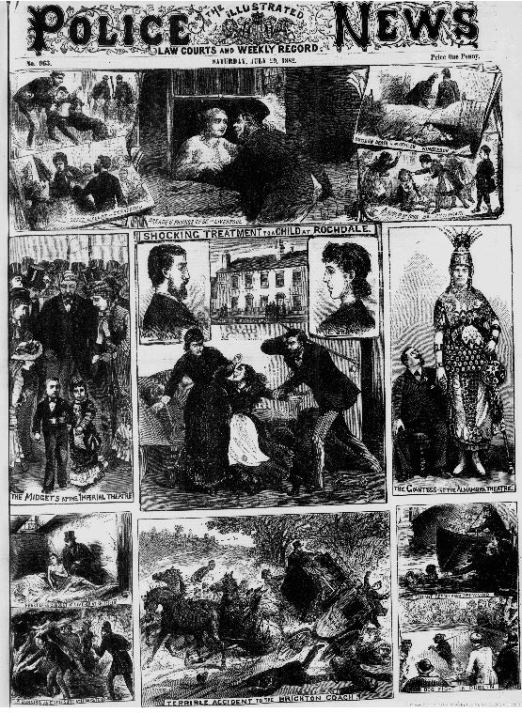 Illustrated Police News 29 July 1882. An artist's impression of a breach of promise case and a case of child cruelty.
Unanticipated discoveries have changed my understanding of the nineteenth century. When I used court reports to delve into the archaic world of the jilted women and men who sued a former fiancé for compensation, I found that no-win-no fee lawyers, who I had previously believed to be a product of the late twentieth century, ran flourishing practices as early as the 1820s. When I looked at several cases involving child cruelty or neglect in the 1890s, I entered a world of high-minded social workers who could not comprehend how the people they were trying to help had to live. Amongst some very serious and indisputable instances of ill-treatment, were several shocking but unwarranted accusations of laziness, selfishness and drunkenness made against caring parents whose wages were too low to feed and clothe their children properly, even though they had been instructed about cleanliness and nutrition. Suddenly I knew the roots of the fear that haunted working-class families as I grew up in the 1960s, that if you didn't do as 'they' said, 'they' might take your children away.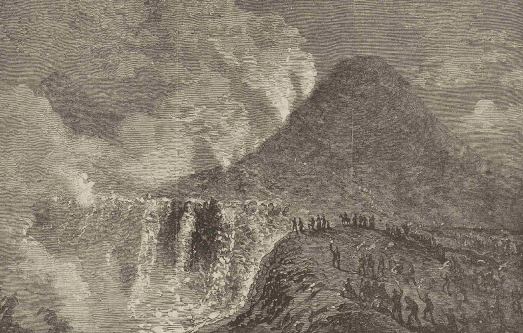 'Eruption of Mount Vesuvius', Penny Illustrated Paper, 17 October 1863. This scene would have been a revelation to most readers of the time.
Every type of material has its drawbacks and old newspapers are far from being the perfect resource. The number of pages that are already on-line can make them unwieldy to handle if a query produces a large number of matches. It is possible to become overwhelmed by detail and miss important information or insight. There are plenty of places in the news chain where error can creep into a report and sometimes they cover a topic in a very superficial way. Occasionally a researcher may strike lucky and quickly locate an editorial or journalist's investigation that provides a complete answer. More usually it will be necessary to find, collate and analyse a number of individual reports in order to uncover the full story or unlock relevant learning.
Almost all sources are affected by bias and newspapers are no exception. They have been subjected to censorship, may have printed propaganda or portrayed opinion as fact. These problems are not insurmountable, but users need to know how to recognise and manage them in order to avoid jumping to false conclusions.  
When newspapers were first published, they opened up a wider world to the literate people of the day. Reproduced digitally, they are now allowing twenty-first century researchers to immerse themselves in the past in a way that no other resource can and make new discoveries.
Denise Bates (www.denisebates.co.uk)
23 March 2016
Dean Kirby is a journalist who has been covering the news in and around Manchester, his home city, for nearly 20 years. His debut book, Angel Meadow: Victorian Britain's Most Savage Slum, published by Pen & Sword, is the first history of Angel Meadow, the 19th century Manchester slum so vile and dangerous that it was described by Friedrich Engels as "hell upon earth". To find out more about the book, visit www.angelmeadowbook.com. Here, Dean tells how he used British Library newspapers at the British Newspaper Archive to uncover the horrors of Angel Meadow.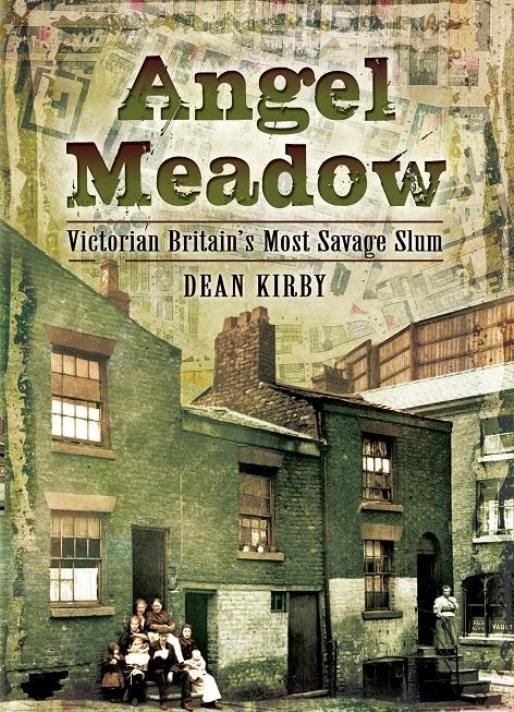 When Manchester was the powerhouse of the Industrial Revolution, Angel Meadow was the city's vilest and most dangerous slum.
A wild and brutal borderland at the northern edge of Cottonopolis, it was home to 30,000 workers who struggled for survival in conditions so appalling that it was described by Friedrich Engels as "hell upon earth" in 1845.
I became fascinated by the story of Angel Meadow when I discovered that my Victorian forefather, an Irish immigrant named William Kirby, had washed up there after surviving the potato famine.
In 2012, archaeologists investigating Victorian Manchester's horrors made a startling discovery while digging up a car park in Angel Meadow – my  ancestor's home.
They gave me permission to clamber down a shaky ladder to touch the still-sooty bricks of William's fireplace and the paper-thin walls that separated his 10ft-square, one-up-one-down from the house next door.
As I searched for clues about my ancestor's life in Manchester's archives and began formulating the idea of writing a book, I started to drift off to the slum in my imagination.
I descended into damp cellars, stumbled through backyard pigsties and came face-to-face with scarred and tattooed street fighters or "scuttlers" in the slum's smoke-filled beer houses.
I crept into dingy lodging houses where new arrivals were forced to sleep naked with strangers because it was the only way to keep their clothes free from lice.
The more I read, the most astonished I became by my ancestor's survival in this hellish place – leading to my own existence more than a century later in the city that his blood sweat and tears had helped to create.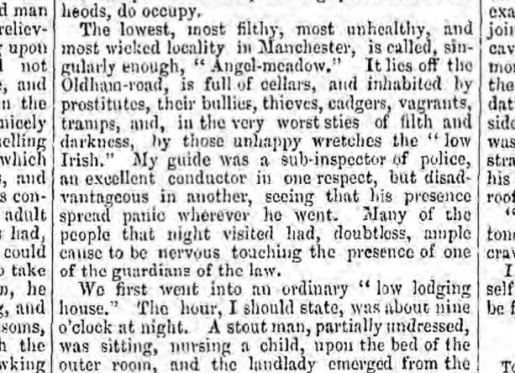 Morning Chronicle, 12 November 1849
My journey of discovery was led by an army of Victorian journalists who walked those streets for real, and whose words have survived among the millions of pages in the British Newspaper Archive.
They included men such as the Fleet Street journalist Angus Bethune Reach, who told readers of the Morning Chronicle in 1849 of his descent into one of Angel Meadow's many inhabited cellars, where he found an old man asleep in a shallow cave no bigger than a coffin scooped out of the wall.
"The lowest, most filthy, most unhealthy and most wicked locality in Manchester is called, singularly enough, Angel Meadow," he wrote. "It is full of cellars and inhabited by prostitutes, their bullies, thieves, cadgers, vagrants, tramps and, in the very worst sties of filth and darkness, by those unhappy wretches, the low Irish."
Another journalist from the Manchester Evening News, my former newspaper, found himself on the run from the police in 1874 after entering a beerhouse disguised as a rogue with a criminal named Mack acting as his guide.
The terrified reporter fled into a lodging house operated by a notorious thief-trainer named Cabbage Ann and found her superintending a wake for an eminent pick-pocket or "gun".
"The place looked squalid and miserable," the journalist later wrote, "and the people in it were of poor, miserable appearance, as if they found it hard to live at all."
Searching the newspaper archive like an investigator hunting for further clues, I slowly managed to piece together the real identity of Cabbage Ann, and other slum dwellers with exotic names such as Jemmy the Crawler, the Badger and Long Dick.
Beautifully-written nineteenth century court reports allowed me to follow every twist and turn of their lengthy criminal careers, while useful snippets such as weather forecasts helped me to say whether it was raining in Manchester when they committed their crimes.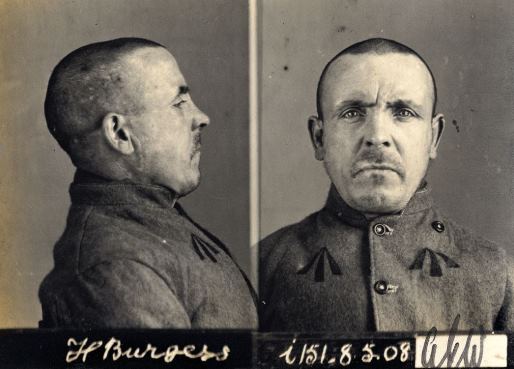 Henry Burgess, from Staffordshire Record Office
I also used census documents and prison archives held by findmypast.co.uk to create pen pictures of the most notorious criminals – right down to their eye colour and tattoos.
One man in particular jumped out from the pages. He was called Henry Burgess (Harry to his relatives) and he was a scuttler who, at just 5ft-tall and with steel-coloured eyes, was the most feared man in Angel Meadow.
Burgess, a neighbour of my ancestor William Kirby, had more than 40 convictions to his name including shop-breaking, rioting and assaults on police. No-one was safe including his partner, Mary Ellen Burns, who lost an eye when he attacked her with an iron poker.
Thanks to the stories in the archive, I eventually managed to track down a prison mugshot of Burgess in which he stares with cold, hard eyes and shaven head towards the camera.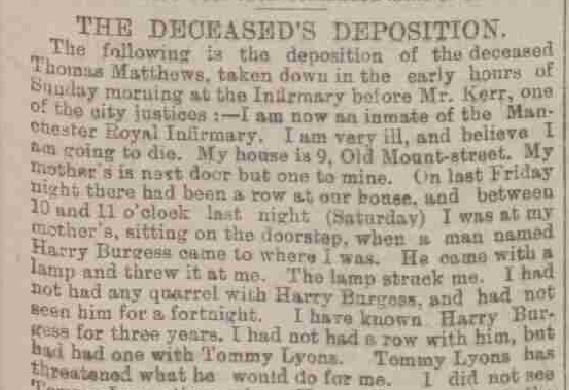 Manchester Courier and Lancashire General Advertiser, 9 May 1893
In all of the hundreds of pages of newsprint that I read during my research, one story involving Burgess perfectly symbolised the horrors of Angel Meadow.
On Saturday, May 6, 1893, as Britain was sweltering under a drought, Burgess got into a row with a rival named Thomas Matthews in the streets of the slum.
He took a paraffin lantern from his sister's parlour, marched down the street and, planting his feet on the cobbles, threw it at Matthews and turned him into a human fireball.
Matthews, a father to a young daughter, died from horrific burns at Manchester Royal Infirmary in the early hours after giving a statement to the police identifying Burgess as his killer.
Matthews' final words were immortalised in black newspaper ink in one of the many columns, just a few inches long, that had been carefully preserved in the British Newspaper Archive.
I was perhaps the first person to read those words, spoken by Matthews with badly burned lips and tongue, in more than 120 years.
"I am very ill," he said, "and I believe I am going to die."
Dean Kirby
01 April 2015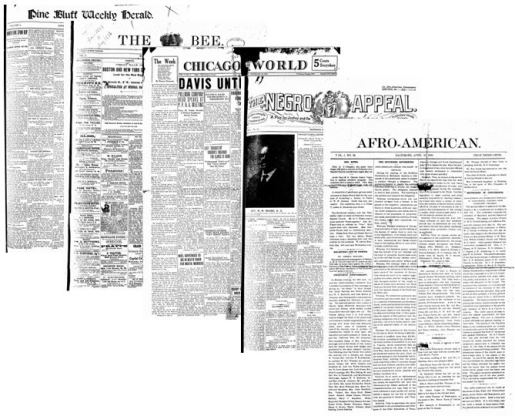 African-American newspapers
Users of the British Library's newspaper collections have three main choices: if they have a Reader's Pass, they can come to the Newsroom at our St Pancras site, or use the reading room at our Yorkshire site in Boston Spa; or they can subscribe to the British Newspaper Archive, the service that provides access to our digitised British and Irish newspapers - 400 titles, and now over 10 million pages. We also have historic newspapers available via Gale Digital Collections. All electronic newpspaers resources to which we contribute or to which we subscribe are freely available to anyone with a Reader's Pass who comes to either our St Pancras or Boston Spa sites.
It is possible, however, to access some newspaper collections remotely i.e. wherever you might be sitting, and without payment. A small number of newspaper collections that we have licensed from third parties (so not newspapers from our physical collections that have been digitised) are available via the British Library's Remote Eresources service. This isn't so well known about, and is more than worth highlighting. It's a service available to anyone with a Reader's Pass, and all you need to do is enter your username and password, agree to the conditions of use, and you're in.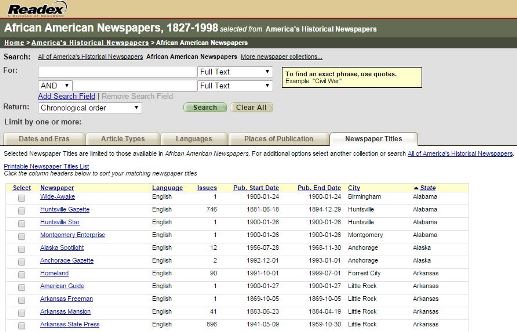 The newspapers all come via Readex, who provide a wide range of online research resources to academic libraries. Their newspaper and news-related offerings that we can provide access to remotely are:
African American Newspapers, 1827-1998 - provides online access to approximately 270 U.S. newspapers chronicling a century and a half of the African American experience. This unique collection features papers from more than 35 states - including many rare and historically significant 19th century titles.
Early American Imprints, Series I: Evans 1639-1800 - contains virtually every book, pamphlet and broadside published in America during the 17th and 18th centuries.
Early American Newspapers, Series I - reproductions of hundreds of historic newspapers, providing more than one million pages as fully text-searchable facsimile images. 
Latin American Newspapers Series 1, 1805-1922 - part of Readex's World Newspaper Archive, this database provides access to more than 35 fully searchable Latin American newspapers including key titles from Argentina, Mexico, Chile, Brazil and Peru.
World Newspaper Archive: African Newspapers, 1800-1922 - part of Readex's World Newspaper Archive. African Newspapers includes over 30 fully searchable African newspapers including key publications from Ghana, Kenya, Mozambique, Nigeria, Sierra Leone, South Africa and Zimbabwe.
We have other news-related resources available via Remote Eresources:
Foreign Broadcast Information Service. Daily Reports 1974-1996 - US government operation which translates the text of daily broadcasts, government statements, and select news stories from non-English sources. Covers: Middle East & North Africa, 1974-1987; Near East & South Asia, 1987-1996; South Asia, 1980-1987; Sub-Saharan Africa, 1974-1996; China, 1974-1996; Asia & the Pacific, 1974-1987; Eastern Europe, 1974-1996; Soviet Union, 1974-1996.
US Congressional Serial Set - reports, documents and journals of the US Senate and House of Representatives in full text, 1817-1994. 
For more on our Remote Eresources, and what you can and cannot do with them, see our FAQs page.
27 February 2015
Here's the latest edition of the St Pancras Intelligencer, our now monthly round-up of news about news. So here are the highlights from February 2015. It's been a full month, what with one thing and another - Peter Oborne quitting the Telegraph, NBC's Brian Williams exposed, the Future of the BBC report, 10 million digitised newspaper pages, plunging circulations, and 64 ways t0 make a news homepage. Plus newspapers as poetry. Read on...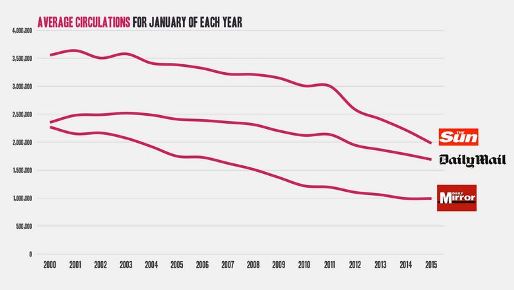 The UK's biggest newspapers are all dying: Graphic of the month from Dadaviz appears to say it all. As Roy Greenslade noted at The Guardian, regional newspaper titles are also suffering yet more substantial sales declines.
How the New York Times works: Terrific long article by Reeves Wiedeman at Popular Mechanics, with great illustrations, on how the New York Times gets published. Essential reading.
Why I have resigned from the Telegraph: Political commentator Peter Oborne quit the Daily Telegraph with this incendiary post from OpenDemocracy, in which he accuses the paper's owners, the Barclay Brothers, of suppressing reports about the HSBC scandal.
The Telegraph's promise to our readers: After Peter Oborne's explosive denunication of his former employers, the Telegraph came up with this much-commented-upon statement of principles.
Snapchat stories: Nieman Lab looks at how six news organisations are making use of the app whose messages disappear after your've read them. But, asks Mathew Ingram at Gigaom, are media companies building another house of cards on SnapChat?
Someone is handing out hand-drawn copies of The Guardian and no one knows why: Mysterious hand-drawn copies of The Guardian from four years ago were being handed out at London Bridge station. It turned out to be the work of artist Charlotte Mann.
Green Party's Natalie Bennett gives 'excruciating' radio interview: Natalie Bennett, leader of the Green Party, gave an agonisingly awkward radio interview for Nick Ferrari on LBC in which she struggled to answer basic questions about the party's economic policy.
NBC's Brian Williams recants Iraq story after soldiers protest: Scoop of the month came from American military paper Stars and Stripes, which revealed that NBC Nightly News anchor Brian Williams was not on board a helicopter hit and forced down by fire during the invasion of Iraq in 2003, as he had long claimed.
Brian Williams has gone, but false news is bigger business than ever: Emily Bell looks at the acceleration of untrue news stories in the web world, following the exposure of Brian Williams.
64 ways to think about a news homepage: Fantastic illustrated post from Melody Joy Kramer on different ways to present the news online - actual, or potential.
Cassetteboy remix the news: Irresistible mash-up of BBC news clips from the Cassetteboy remixing duo.
Jon Stewart to leave The Daily Show: Jon Stewart, host of Comedy Central's The Daily Show - an essential news source for many in America (and beyond) - is to step down.
Future of the BBC: The Culture, Media and Sport Committee's report Future of the BBC addresses the hot topic of the broadcaster's relationship with and effect upon regional newspapers, and comes up with these recommendations:
The BBC must not expect to receive others' news content without providing something in return. We are attracted by the idea of exchanges of content and information, where the BBC local websites link to the source of local material they have used, and in return the BBC allows others to use its content and embed BBC clips on their sites, where these would be of local interest, under a licence agreement. There need not be a financial transaction. However, we also see the case for the BBC outsourcing the supply of some local content on a commercial basis, where there is an ongoing requirement for such material, and it is a more cost-effective way of meeting this need. We recommend this be ensured by extending the BBC's independent production quota to cover local news.
Why is the BBC just so bad at TV news?: Meanwhile, a provocative opinion piece from Michael Church at The Independent, comparing the BBC News channel to Al Jazeera.
Fox News site embeds unedited Isis video showing brutal murder of Jordanian pilot: To show or not to show? Fox News chose to; The Guardian, reporting on this, and most other news sites, did not.
10 million newspaper pages are now fully searchable at the British Newspaper Archive: The British Newspaper Archive, which is digitising newspapers from the British Library's collection, has reached the magic milestone of 10 million digitised newspaper pages.
How about a search of only original news reporting on Google?: Hmm, interesting proposal from Jeff Jarvis, writing at Medium.
If UK newspapers wrote unhinged Twitter poetry: And finally, Journalism.co.uk offers us some poetic renditions of British newspapers, taken from their Twitter feeds, using the Poetweet site. Here's @MailOnline expressed in rondel form...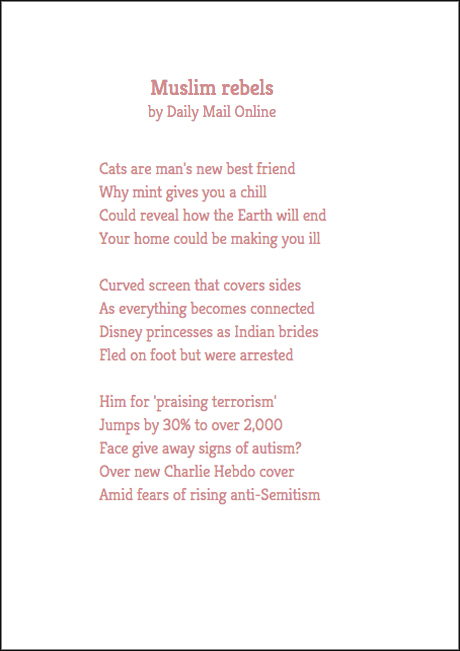 01 February 2015
Times are hard in the news industry, as all will know, and this applies to the news curator's blog as well. It just hasn't proved possible to keep up the weekly production of our St Pancras Intelligencer round-up of the week's news about news which ran for most of 2014. But we're unwilling to see a good title die, so the Intelligencer is making its tentative return as a monthly (or thereabouts). Here's hoping the strategy is a successful one - and let's kick things off again with the news about news in January.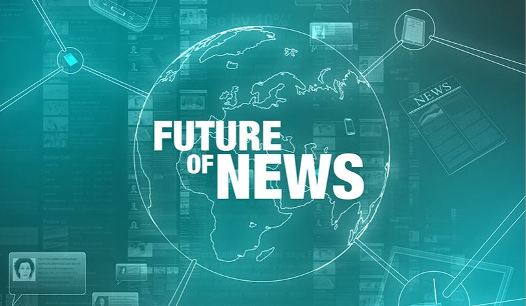 The Future of News -  There have been many reports on the future of news, and the latest comes from BBC head of news James Harding. He argues that
in the internet age, the BBC is more necessary and valuable than ever. The internet is not keeping everyone informed, nor will it: it is, in fact, magnifying problems of information inequality, misinformation, polarisation and disengagement. Our job is keeping everyone informed.
He says the BBC must increase both its local and global coverage and improve its digital services, and it's the increase in local coverage that has excited the most comment from the local newspaper world, which feels threatened by the BBC's reach at a time of shrinking newspaper titles and shrinking revenues.
Future of News: News v Noise - The key points from Harding's report have been published as an "immersive journey" on the BBC news website. 
Emily Bell's 2015 Hugh Cudlipp lecture - Also on the future of news and journalism was this lecture by Emily Bell, the director of Columbia University's Tow Centre for digital journalism, in which calls for social networks and journalists to work together.
We are seeing unimaginably large new entities, which get their size from publishing not just a selected number of stories but everything in the world. Social networks and search engines are the masters of this universe. As we see the disappearance of print as a significant medium, and the likely decline of broadcast television, the paths our stories and journalism must travel down to reach readers and viewers are being shaped by technologies beyond our control.
The answer, she argues, is for more journalists who a more technically proficient, and for social networks and search engines to hire more technologists who are understand the news.
Because at the moment we have a situation which is not working for either of us. Those of us engaged with what journalism is and will be, who have a direct and vested interest in the protection of free speech and standards for information have a lot to do, and we need to work together, because we are now part of one continuous global information loop.
Newspaper front pages around the world pay tribute to Charlie - The overpowering story of the month has been the murder by two Islamist gunmen of cartoonists and journalists working for French satirical magazine Charlie Hebdo. The aftermath included the 'survivors' issue' with its front cover cartoon of the Prophet Muhammad, which had a seven million print run (instead of the usual 60,000). Of the many debates triggered by the calamitious events, some of the most interesting have been on the role of cartoonists. George Brock at The Conversation wrote 'In Praise of the Cartoonist - solitary, studios and searing.' Peter Preston wrote sadly at The Guardian that 'Alas for cartoonists, pen and ink don't wash on the web' while Ricardo Bilton at Digiday argued quite the opposite, reporting that 'Digital publishers turn to cartoons to cover the news'.
'Muslim-controlled' UK city claim mocked by #FoxNewsFacts hashtag - Much joy was brought by the Twitter hashtag #FoxNewsFacts following Fox News terrorism expert Steve Emerson's bold statement that there were no-go zones in Europe where "non-Muslims just simply don't go", among them Birmingham. Tweets along the lines of "Mecca Bingo, probable proof of the Islamic domination of Birmingham" and "Spaghetti Junction was specifically designed to make sure all roads lead to Mecca" brought some gaiety to dark times. The Poke gathered a selection of the best of them.
Watch out for @Bellingcat - An interview on Columbia Journalism Review with British blogger Eliot Higgins (previously known as Brown Moses), whose citizen investigative journalism website Bellingcat feature closely-analysed evidence from social media, YouTube and data sources of stories such as the MH17 crash.
Timeline launches news app to give you the context behind the day's headlines - Another day, another news aggregator app, but Timeline wants to bring you the historical context behind the headlines.
Vice News debuts 'virtual reality news broadcast' of US Millions March - Online news broadcaster Vice News demonstrated a possible advance in news broadcasting when it teamed up with digital artist Chris Milk and filmmaker Spike Jonze for a "virtual reality news broadcast" filmed at the Millions March protest rally at the death of Eric Garner in New York. The 360-degree view film followed Vice News correspondent Alice Speri through the march in December. It's available via the VRSE app for iPhone and Android devices.
Introducing Discover - Snapchat, the service that let's you send messages that get deleted after they've been read, has launched Discover, an app promises "a new way to explore Stories from different editorial teams". According to Nieman Lab, Snapchat's new Discover feature could be a significant moment in the evolution of mobile news.

The British Library's newspaper collection as it was little more than a year ago (in Colindale) and as it is now (in Boston Spa)
Into the void - The British Library officially opened the National Newspaper Building, its new home for the UK's newspaper archives at Boston Spa in Yorkshire. Our blog post takes a look inside the building's storage void and traces the journey from Colindale to Boston Spa for the 60 million volumes held in the nation's newspaper archive.
9.5 million newspaper pages now fully searchable on @BNArchive - Talking of which, the British Newspaper Archive is close to the ten million milestone of digitising historic newspaper pages from the British Library. Just another 440 million to go...
After 44 years The Sun stops publishing topless model pics on page three - Well, so said Press Gazette and many others, including The Sun's sister paper The Times, which broke the news, and there was much debate as to whether changing taste, pressure from lobbyists, or financial arguments had forced the change. Three days later, Page 3 returned.
Google is now a more trusted source of news than the websites it aggregates - Quartz reports that online search engines have overtaken traditional media as the most trusted source for general news and information.
19 December 2014
2014 has been an extraordinary, sometimes harrowing, year for news. It has also been a highly significant year for the production and use of news itself - hot topics have included the hacking trial, IPSO, Buzzfeed, data journalism, Google and the right to be forgotten, Brown Moses, Ezra Klein, and the New York Times's leaked Innovation report. It's also been a major year for the British Library's news collection, with the opening of our Newsroom and the successful conclusion of our newspaper digitisation programme. Here are some of the highlights from the year's news about news.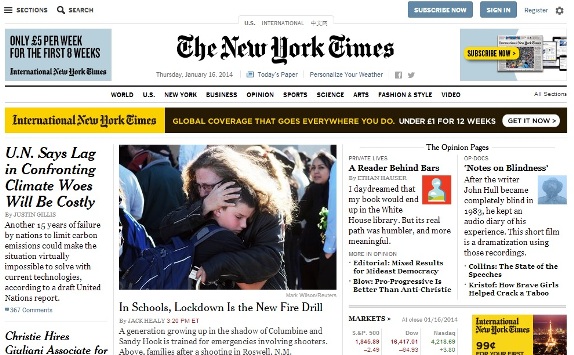 January
The re-design of the New York Times website was much discussed. Telegraph editor Tony Gallagher was sacked. The Birmingham Post's Business Daily Tablet edition, designed to  "reinvent business journalism within the regional press," closed after seven months. Also owned by Trinity Mirror was The People, a Buzzfeed-style site populated with "native content". It lasted three months.  But Trinity enjoyed rather more success with viral news site UsVsTh3m. Charley Miller at Medium wondered if in the future we might all become personal broadcasters. News UK launched The Academy, to train teenagers to become journalists. James Harding of BBC News gave a key speech, 'Journalism Today' at the British Library (the first of our three WT Stead lectures). Philosopher Alan de Botton's book The News was not reviewed kindly. Facebook announced Paper. Kola Dumor, the BBC World News presenter, and Chris Chataway, athlete, politicians and news reporter for BBC and ITN, died.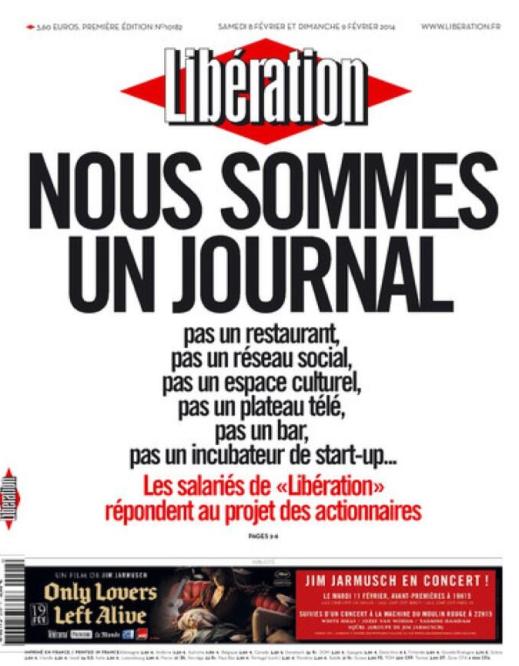 February
The staff of French left-wing journal Libération took over the front page to protest at the paper's shareholder group's plans to turn it into a social and cultural hub. Richard Sambrook and Sean McGuire argued that 24-hour news has had its day - and got an angry response from Sky News's Adam Boulton. London news radio station LBC went national. Marc Andreessen's optimistic piece, 'The Future of the News Business', was much shared and debated.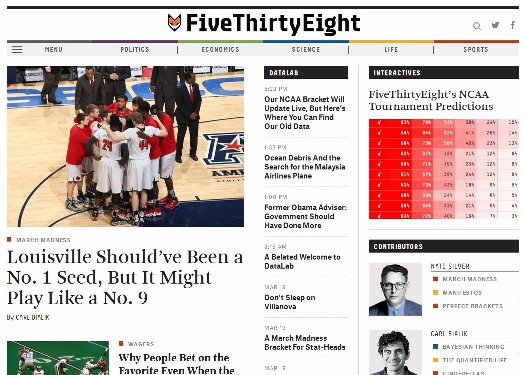 March
American data guru Nate Silver launched data journalism site FiveThirtyEight. Getty made 35 million images freely available.  The New York Times issued a correction for an article written 20 January 1853. The Sun's Page 3 v Breast Cancer campaign did not impress the campaign site No More Page 3. Susanna Reid left BBC Breakfast for ITV's planned Good Morning Britain programme. Are robots the future of news? Andrew Pettegree's book The Invention of News, on the early history of newspapers, was greatly admired. The Evening Standard-backed London TV Channel, London Live, went live.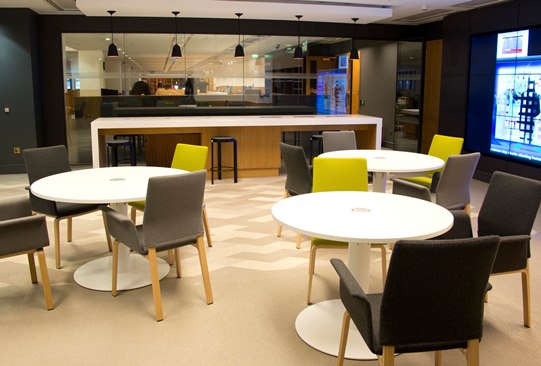 April
The British Library opened its new reading room for news, the Newsroom. Emly Bell lectured at the Library on Journalism in the Age of Automation and Big Data. Celebrity news blogger Ezra Klein launched Vox.com, with its user-friendly 'cards' giving background information to stories. News headlines from UK regional newspapers became an Internet cult. Are automated breaking news stories the future of news? But what about how the news archives of tomorrow will look, asked Adrienne LaFrance. 26 searching questions for news organisations from Raju Narisetti about the move to digital. The Mirror's 'crying child' front cover (which turned out to be a stock photo, not a British child in need of food parcels) caused controversy. British Pathé released 85,000 historic newsreels on YouTube. The New York Times joined the explanatory journalism craze with offshoot The Upshot. Dutch government-funded news site Blendle asked you to pay for stories, giving you your money back if you were not completely satisfied.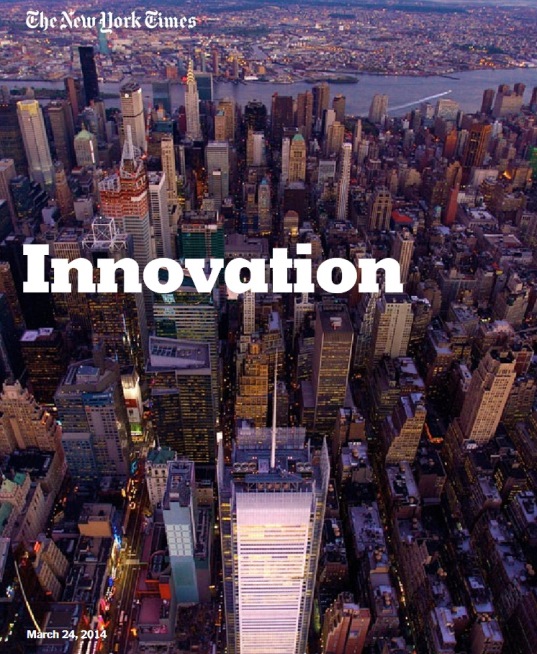 May
Most discussed news-about-news subject of the year was probably the leaked copy of the New York Times's 'Innovation' report, making many - and not just in the newspaper world - think if they were doing enough about digital. But just why was the NYT's executive editor Jill Abramson fired? The British Library published a news content strategy (and not a newspaper strategy). Facebook and Storyful launched FB Newswire. London Live's chief programmer quit after terrible audience figures. Nate Silver's advice to young journalists - learn to code. Good Morning Britain launched (to a mixed reception). Max Clifford was found guilty. Journalist of the year? - quite possibly citizen journalist and social media sleuth Eliot Higgins aka Brown Moses. Immersive narratives became all the rage, led by BBC News's The Reykjavik Confessions. The British Newspaper Archive reached 8 million historic newspaper pages online. And the Duchess of Cambridge's rear became front page viewing (elsewhere).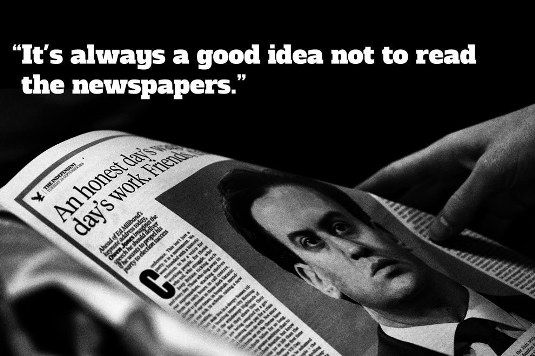 June
Ed Miliband's interview for Buzzfeed saw his comments on reading the news being analysed a great deal (he uses RealClearPolitics). Also much devoured was the Reuters Institute's annual Digital News Report. As was Robert Peston's speech on threats to journalism.  Benedict Cumberbatch helped bring BBC radio news scripts of D-Day (from the British Library's collection) back to life. Are drones the future of news? The Sun tried to give a free copy of a version of the paper backing the England football team at the World Cup, which didn't impress everyone. Ed Miliband then apologised for endorsing it. An Egyptian court sentenced two Al Jazeera journalists to seven years in jail and one to ten years in jail. Jeremy Paxman stood down from Newsnight. At the end of the phone hacking trial, News of the World editor Andy Coulson was found guilty of a conspiracy to intercept voicemails, while former News International chief executive Mrs Brooks was found not guilty. Is Fox News more dangerous than ISIS? So Russell Brand claimed in a YouTube video. And the dream headline occured - Man Bites Dog.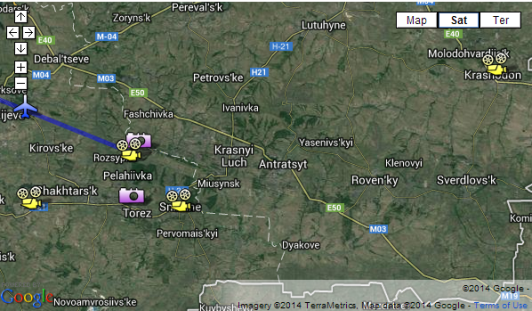 July
Social sleuthing from Storyful uncovered evidence of surface-to-air missiles in eastern Ukraine following the shooting down of airliner MH17, as verification of online information became the topic of the hour. Sky News' Colin Brazier was condemned for a live news broadcast when he briefly looked through the content of the luggage of one of the victims of MH17, and produced a thoughtful apology. Ian Burrell at The Independent said poor news coverage was exacerbating the humanitarian crisis in South Sudan. A European court decision allowed individuals to request that Google remove links to historical articles which has personal information that they would rather was forgotten. George Clooney forced Mail Online to apologise. Channel 4 News presenter Jon Snow's heartfelt video account of the child victims in Gaza went viral. There was a timely and useful report on the state of hyperlocal community news in the UK. The Independent launched i100. Brown Moses launched the Bellingcat site to train others in crowdsourced reporting. The 'Fake Sheikh' was himself entrapped. Sarah Palin launched a news channel. There was plagiarism at Buzzfeed. The Sun said farewell to Wapping.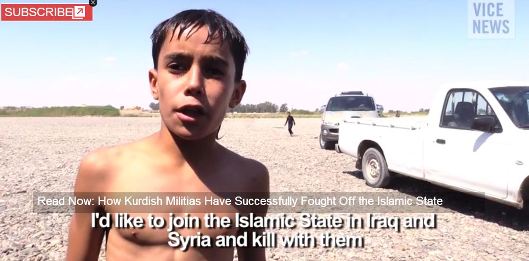 August
Medyan Dairieh of Vice News scooped the world with his insider video report on the Islamic State. Is virtual reality the future of news? Chapman Pincher died, aged 100. Nick Davies published Hack Attack, on the phone hacking saga. Newspapers marked the centenary of the First World War with solemnity. American started to get alarmed about ebola. David Carr pronounced on the imminent death of the print newspaper.  So did Clay Shirky. 4,000 Buzzfeed posts disappeared. The sound of typewriters returned to the newsroom of The Times. American journalist James Foley was murdered in Syria.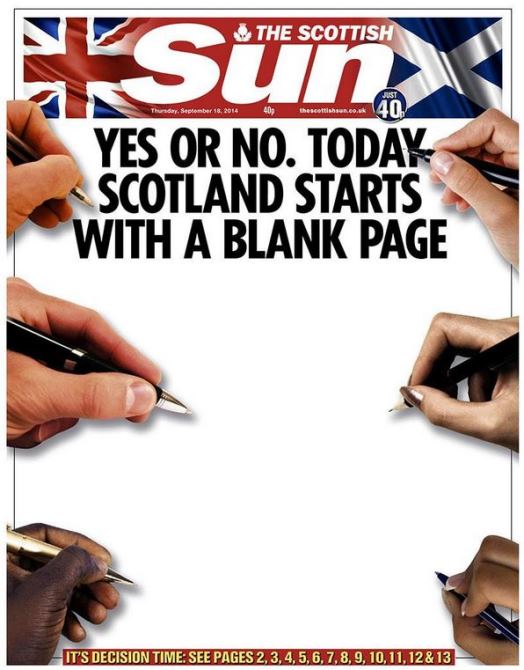 September
According to Twitter, Scotland won its independence. Alan Rusbridger spoke at the British Library on the urgent need to protect journalists' sources. The Guardian announced the building of Guardian Space (in King's Cross). Do people remember news better if they read it in print? The dizzying decline of Britain's local newspapers. Newsnight's Ian Katz on the death of the political interview. Hannah Storm on how journalists are becoming propaganda. Independent press regulator IPSO was launched - Hacked Off was hacked off about it.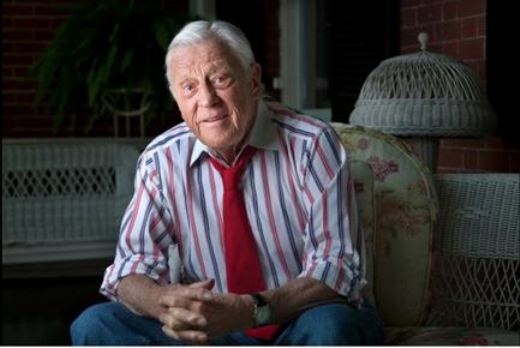 October
Legendary Washington Post editor Ben Bradlee died, aged 93. Ebola coverage - there was the good, the bad and the ugly. Among the good was much-praised single issue site Ebola Deeply. Among the ugly were fake news sites spreading ebola panic. Is Emergent the future of news? We considered how Edward Snowden changed journalism. Was Krishnan Guru-Murthy's interview with Richard Ayoade the greatest ever? Time travel was offered with the New York Times's TimesMachine archive service.
November
Many saw the end of times with the news that Trinity Mirror was closing of seven regional print titles, including The Reading Post, and replacing them with a single website (GetReading). But Tien Tzuo said newspapers are not dying (at least, not some of them). The Newspaper Society and the Newspaper Publishers' Association merged to form the News Media Association. The British Newspaper Archive reached 9 million pages online. Print newspapers became available once more to British Library users, after a year's absence. Professor Aled Jones lectured at the BL on newspaper reading rooms and civic engagement.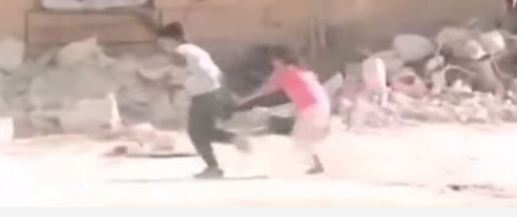 December
The 'Syrian Hero Boy' video (after being seen by millions) was revealed to be a sham. A new national newspaper was launched, the pro-independence Scottish title The National. Emily Bell's lecture 'Silicon Valley and journalism: make up or break up?' led to much thinking about the future of news. Andrew Norfolk was named journalist of the year at the British Journalism Awards for his investigations into child abuse for The Times. The archive of The Independent is to be digitised. A Wikipedia for news? Google News withdrew its service from Spain after a law was passed saying it had to pay royalties on use of news snippets. Now Spanish newspapers are complaining of loss of traffic. There was an Early Day Motion in the UK parliament against the closure of local newspapers. Alan Rusbridger announced he was standing down as Guardian editor-in-chief. Did Al-Jazeera's hackathon uncover the future of news? And finally, why it is bad news to publish only good news.
This blog is one year old today, by the way. See you next year.
The Newsroom blog recent posts
Tweets by @BL_newsroom
Other British Library blogs