20 June 2014
Welcome to the latest edition of the St Pancras Intelligencer, our weekly round-up of news about news - stories about news production, publications, apps, digitised resources, events and what is happening with the newspaper collection (and other news collections) at the British Library.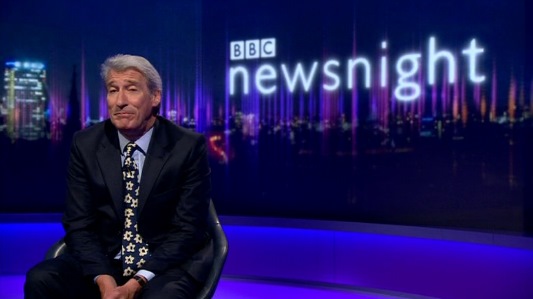 Jeremy Paxman's final Newsnight
Jeremy Paxman signs off from Newsnight: Jeremy Paxman, host of BBC's Newsnight, bowed with a curious programme that had Paxman and Boris Johnson on a tandem, Michael Howard finally saying 'no', Paxman feeling tempted to say (as with Peter Finch in Network) that "I'm mad as hell, and I'm not going to take this any more" (but saying it sweetly), a goodbye to the tune of 'I'd like to teach the world to sing', and a final refusal to read out the weather properly. Time to move on, for all parties' sake.
Broadcast news: We now have 50,000 television and radio news programmes recorded and available for instant onsite access at the British Library. Here's a guide to how to find and use them.
Why the Oxford Mail is experimenting with WhatsApp: The Whatsapp smartphone messaging app is exciting much interest jin news circles, and the Oxford Mail has made an imaginative step in using the app to pass on news to subscribers. Journalism.co.uk investigates.
News sites ally with Mozilla in ongoing quest to reinvent online commenting: Much interest in the New York Times and Washington Post working with Mozilla to develop a platform that will tackle issues like unonymous trolls who plague the comment threads of news and other sites. The Guardian's report looks at the motivation (will it be open source?) and how other news sites manage the comments they receive.
The anatomy of a robot journalist: Nicholas Diakopoulos at the Tow Center for Digital Journalism explains how automated journalism works.
Time divides, ads subtract and it's hard to sum up newpapers' future: Peter Preston at The Observer looks at the World Association of Newspapers' annual survey of trends in 70 countries, and sees a mixture of good and bad news for the medium, but asks the crucial question: "Would anyone today invent something called a newspaper'?"
Reddit's newsgathering comes of age after growing pains: Mashable looks at how Reddit has turned things round for its gathering of news since its calamitous misuse during 2013's Boston Marathon bombing, which led to accusations being made against an innocent college student.
Ed Miliband apologises for endorsing The Sun: Ed Miliband posed for a picture showing him holding a free copy of The Sun newspaper with its World Cup theme (as did the Prime Minister David Cameron and Nick Clegg), then ended up apologising for his action the next day after party members complained. The Spectator reports. Holding the media is easier than handling it...
No point in fanning the flames over the great Sun giveaway: Did you get your free copy of The Sun? I'm rather disappointed that I didn't (in a conflicted sort of way), but many of those who did turned to social media to express their disgust and to show ways in which were disposing of the paper. Grey Cardigan pours cold water on such attitudes, and dismisses the suggestions in some quarters that the paper could be fined for not publishing an imprint.
Scoop: A Glimpse Into the NYTimes CMS: Content Management Systems are cool, and they are essential to innovative online journalism. Here's a really interesting - and smartly illustrated - guide to the New York Times' Scoop CMS.
The TV news where you are is not the TV news where we are...: Roy Greenslade passed on this gem of a monologue from Scottish author James Robertson, one of a series of 365-word witty thought pieces, which offers an astute lesson how one person's news is not always another person's news (but is this in the mind of the producer or the consumer?) You can read the text of 'The News Where You Are' here.
15 Crazy Facts About BuzzFeed That Will Totally Blow Your Mind: A Buzzfeed-style guide to Buzzfeed from the New York Times magazine e.g. "Listicles with 42 items are viewed the most (104 posts for 44,582,700 views), while 4-item lists are viewed the least (4,635 posts for 75,452 shares)."
A paper boat navigating a digital sea: More from NYT, this time Margaret Sullivan, pondering (as every commentator has) on what sort of digital future the title has "when the business model — and the DNA of the newsroom — is so tied to the printed newspaper".
National newspapers, local newspapers and cases of breach of promise: An interesting and useful post on the British Newspaper Archive blog by Denise Bates, on how historical regional newspapers often have more essential detail for the historian than do the nationals.
Jeremy Hunt reaffirms his faith in local TV despite low viewing ratings: The ratings for the local TV stations such as London Live are terrible so far, but Jeremy Hunt, who came up with the idea, still holds out hope. "If New York can manage six local TV stations the idea that London cannot sustain one is bonkers, despite the desire of competitors to rubbish it."
Should the BBC unpublish any of its online content?: Now here's food for thought. David Jordan, the BBC's Director of Editorial Policy and Standards, considers the implications of the European Union Court of Justice's ruling that Google must remove some search results on individuals if they can be proven to be "inadequate, irrelevant or no longer relevant."
Today, the BBC is publishing Editorial Policy Guidance about when we remove or amend BBC online content. Essentially, this says that material on the BBC website which is not available for a limited time period will become part of a permanently accessible archive that we are reluctant to remove or change and that we will only do so in exceptional circumstances. We are also reluctant to remove or alter programmes available on BBC iPlayer during the catch-up period.
Man bites dog: What joy there must have been at the South Wales Argus when they were genuinely able to run with the most legendary of news headlines.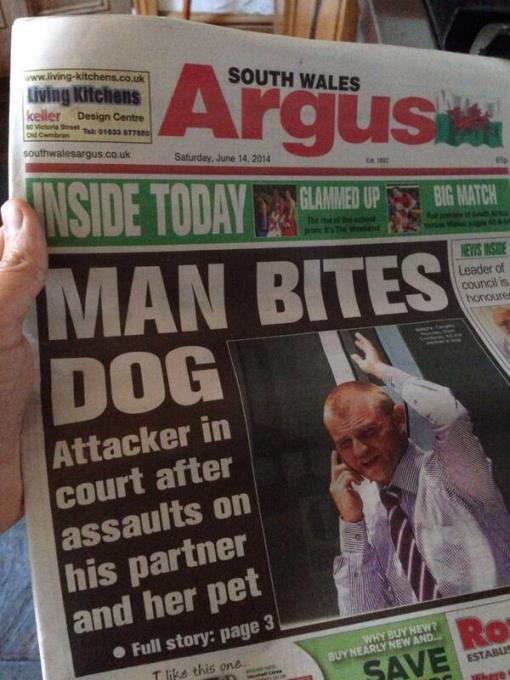 Via Press Gazette
18 June 2014
Newspapers form the greater part of the British Library's news collections, by far, but they are not all that we have. Since May 2010 we have been recording television and radio news programmes broadcast in the UK, and now take in 60 hours of programmes per day, every day, from 22 channels, made available through our onsite Broadcast News service. We're just about to record our 50,000th news programme. This post is a guide to finding and using television and radio news programmes at the British Library.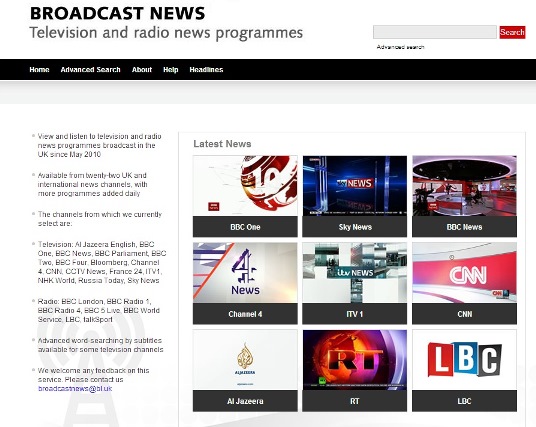 Broadcast News 
What we record
The first official Broadcast News recording was made at 10pm, 6 May 2010. It was the day of the UK General Election, and as soon as the polls closed we flicked on the switches and started recording the election night coverage of BBC1, ITV1, Channel 4 and BBC Radio 4. After a cautious start, we raised the number of recordings we made per day in 2011, and today we record from 22 television and radio channels which are free-to-air in the UK (via Freeview or Freesat), approxumately 40 hours of television and 20 hours of radio.
We don't record every news programme broadcast in the UK, partly because of the large amount of repetition that is inevitable with 24-hours news channels. Instead we record roughly 13% of what is broadcast. These are the channels from which we record, with some of the key news programmes from each channel that we always cover.
Television:
Al Jazeera English - News Hour, The Stream, Listening Post
BBC One - Breakfast, News at Six, News at Ten, Andrew Marr Show 
BBC News - HARDtalk, morning and afternoon news programmes, The Papers
BBC Parliament - ... in Parliament late night summary programme
BBC Two - Daily Politics, Sunday Politics, Newsnight
BBC Four - World News Today
Bloomberg - The Pulse, Asia Edge, Charlie Rose
CCTV News - China 24, News Hour, Africa Live
Channel 4 - Channel 4 News
CNN - CNN Newsroom, International Desk
France 24 - News & Magazines
ITV1 - Good Morning Britain, ITV News at Six, ITV News at Ten
NHK World - Newsline, Asia This Week
RT - Headline News, The Big Picture with Thom Hartmann, Keiser Report, Sputnik with George Galloway
Sky News - Sunrise, Sky News at 6, Sky News at 10, Press Review, Murnaghan
Radio:
BBC London - The Breakfast Show, Dotun Adebayo
BBC Radio 1 - Newsbeat
BBC Radio 4 - Today, PM, the World Tonight, News and Weather, The World This Weekend, Westminster Hour, Broadcasting House, Any Questions?/Any Answers?
BBC 5 Live - 5 Live Breakfast, 5 Live Drive
BBC World Service - Newshour, The Newsroom, From Our Own Correspondent
LBC 97.3 - The Morning News, Nick Ferrari, Ken Livingstone & David Mellor, Kay Burley With Stig Abell
talkSport - Drive Time - Adrian Durham & Darren Gough
We try to record the same news programmes each day, as researchers often want to follow how a story was reported through the one outlet over a period of time. But programmes come and go, and we keep our eye out for new news series as they emerge. We can't capture everything, but we hope to achieve a good mix of the ordinary and the extraordinary.
Where there major news stories which break through the usual news schedules, we record these usually for a 24-hour period, and across at least two channels. So we have thorough, multi-channel records of such news stories as the UK riots of 2011, the death of Osama Bin Laden, the Japanese tsunami and Fukushima nuclear disaster, and the death of Nelson Mandela.
How to use Broadcast News
The Broadcast News service can only be used in the British Library's reading rooms, including the Newsroom. This is because we have to respect the copyright held in these programmes, so we do not make them available online. Within a reading room environment, we can offer the entire collection on an instant access basis, with most programmes being there to view within a few hours of broadcast. So if you come to the Newsroom to do some research say around 11:00am, the news programmes from that morning will be there waiting for you.
Basic catalogue records for our TV and radio news programmes can be found on Explore (type in the name of a news programme and refine the searching by Material type / Moving Image) or the Sound and Moving Image catalogue, though such records are not fully up-to-date as yet.
To access Broadcast News, all you need to do is to go to any British Library terminal (at our St Pancras or Boston Spa sites), and click on the Sound and Moving image link on the welcome page. This will take you to the page illustrated below, with links to Broadcast News and other sound and moving image services that we provide onsite.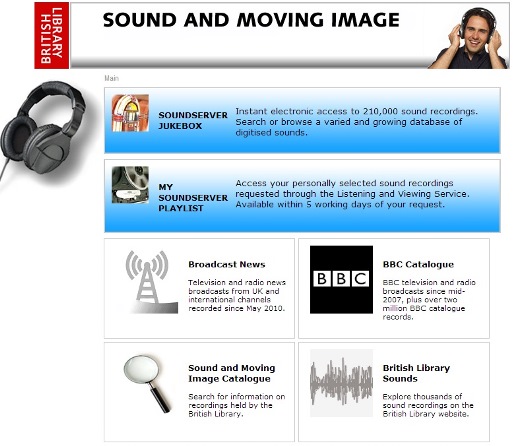 Sound and Moving Image page
Click on Broadcast News, and this will take you to the front page shown at the top of this post. There are then three ways of searching the collection. You can click on one of the images on the front page and that will take you to the latest programmes from nine of the most popular channels. You can use the search box at the top of the screen to search under any word or programme title. Or you can use Advanced Search to narrow searches down by channel or date.
The search results page looks like this: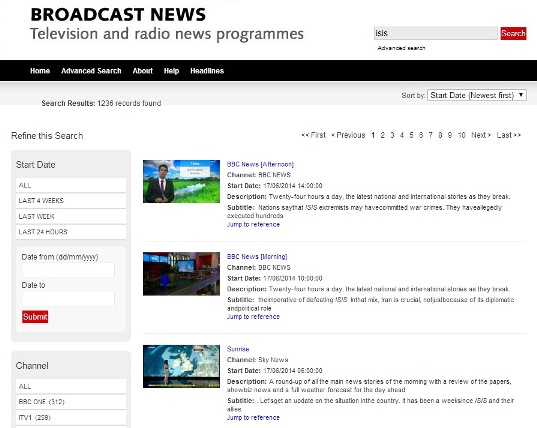 Broadcast News search results page
Click on any one of these records and this will take you to the full programme playback page, or use the filter options on the left-hand side to refine the results by date, channel or medium (i.e. TV or radio).
Broadcast News is dependent on the Electronic Programme Guide (EPG) for its catalogue data. EPG data gives you the channel, date, title and time of a programme, but for news programmes it usually only gives a generic description (e.g. "A round-up of the main news stories of the morning..."). This isn't too useful for someone looking for a particular subject, but happily we are able to capture the subtitles for 50% of the television programmes that we record - for BBC, ITV, Channel 4 and Sky News (other news channels such as CNN and Al Jazeera English do not come with subtitles). This makes many of our programmes fully word-searchable, greatly increasing their value to researchers.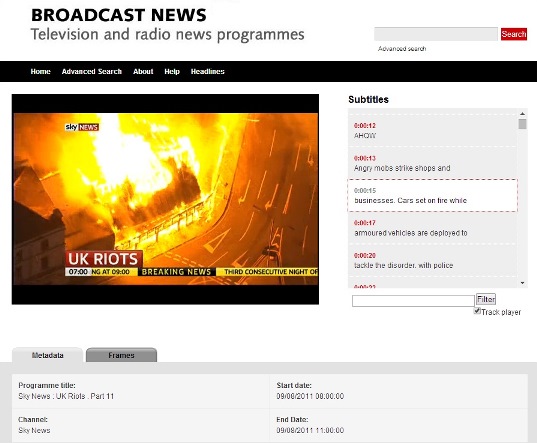 Sky News coverage of the UK riots, 9 August 2011, with subtitles on the right-hand side
The subtitles play alongside the video, rather than as part of it. It is possible to search for a word within the subtitles (use the 'filter' option) or to scroll through the subtitles while the video is playing. If you click on any subtitle, you will be taken to that place in the video. We also capture still images from the broadcasts, one every five seconds. If you go to the Frames option on the playback page, you will see them all, which therefore enable you to browse through a programme by its imagery. Click on any such image, and again you will be taken to that place in the video.
There is much more that we want to do to improve Broadcast News, by making those programmes without subtitles (and radio programmes of course) word-searchable as well, for which we have been investigating speech-to-text technologies. We also want to improve discovery by pointing researchers to individual stories within a news programme. Such developments will take time, however.
Why broadcast news?
And why is the British Library recording television news programmes? Because they are uniquely informative about the world today. Because television news has the highest use and greatest influence of all the news media in the UK, as many polls have demonstrated. Because newspapers can no longer be considered in isolation as a news publication. Because researchers have had huge difficulties in the past gaining access to television news programmes en masse. And because television news affects how we see the world in a profound way, one that commands respect but also demands the sort of intelligent analysis that scholarly research exists to provide. 
Finding out more
04 June 2014
The Newsroom is the British Library's new dedicated reading room for researching its news collections. It is located on the second floor of the Library's site at St Pancras in London. This post is an overall guide to what researchers can expect to find in the Newsroom.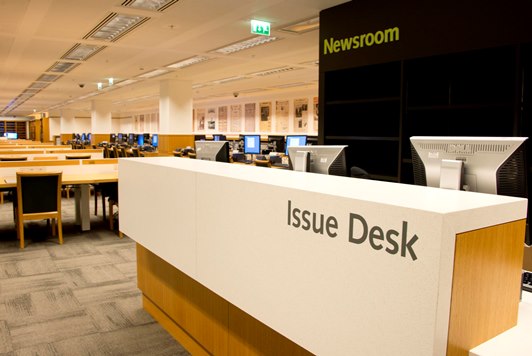 The Newsroom is in two sections: the main reading room, which delivers access to the news collections and is open to anyone with a British Library reader's pass; and the networking area, a research space open to anyone which displays live news on screens from a variety of sources.
Finding
You can find most of our news collections through the British Library's main catalogue, http://explore.bl.uk. News items can be searched for by title, any word from a title, place name, or word in the catalogue record. Some of our television and radio news records can be found on Explore, but we are still adding records. The full collection can be found via Broadcast News (see below). Our web news collection needs to be searched separately (see below).
To access anything from our news collections you will need a free Reader Pass - guidelines on how to obtain a pass are available here.
You can order items before your visit using http://explore.bl.uk.
Desks
The main room has 110 desks, of which 58 are clear Reader desks, 40 have microfilm viewers plus access to electronic resources, and 8 have dedicated electronic resources terminals. 
Services
We offer self-service facilities for making copies from print, microfilm and digital newspapers, subject to preservation and copyright restrictions. There are 3 printers in the Newsroom, and 1 print release station. We have a wide range of news media reference works available on open access, including such titles as Willing's Press Guide and the Times Index.
Newspapers
We collect nearly all newspapers published in the United Kingdom and Ireland, with some 60 million issues going back to the early 1600s. We currently receive around 1,500 newspaper titles on a daily or weekly basis, and nearly 100 titles from overseas. Because the main print newspaper collection is currently in transit from its former home in Colindale to our Newspaper Storage Building in Boston Spa, Yorkshire, the newspapers will not become available in the Newsroom until autumn 2014.
Microfilm
There are 15 microfilmed newspaper titles available immediately via open access, while anything from our main collection of 625,000 reels of microfilmed newspapers is available for delivery within 70 minutes, or can be ordered in advance by using http://explore.bl.uk. Appropxiately one third of our newspaper collection is available on microfilm. The 15 titles available for immediate access are:
Daily Mail 1896-2009
Daily Telegraph 1855-2009
Daily Worker 1930-1960
Evening Standard 1860-June 2010
Financial Times 1888 onwards
Guardian 1821 onwards
Independent 1986 onwards
Independent on Sunday 1989 onwards
Mail on Sunday 1982-2009
Morning Star 1966-2009
News of the World 1843-2011
Observer 1791 onwards
Sun 1964-2009
Sunday Telegraph 1961-2009
The Times 1785 onwards
Our specialist microfilm readers enable the microfilmed images to be viewed on a digital screen, and can be rotated to suit the shape on a newspaper if required. They offer the ability to zoom in and out, crop, adjust focus, brightness, contrast, and de-skew the image.
Electronic resources
We provide access to a wide range of digitised newspapers and other electronic news collections, both those derived from our own holdings and the digital collections of third parties. This includes:
British Newspaper Archive
British Newspapers 1600-1950 
Gale News Vault
Readex World Newspaper Archive
NewsBank
ProQuest Historial Newspapers
UKpressonline
All of our electronic news resources are listed at http://www.bl.uk/eresources/main.shtml and all can be seen for free in the Newsroom.
Television and radio news
We have almost 50,000 television and radio news programmes recorded since May 2010 available onsite via the Broadcast News service. This can be accessed by using the link to Sound and Moving Image collections given on the home page of the Library terminals. There are recordings taken from 22 channels:
Television:
Al Jazeera English 
BBC One
BBC News
BBC Parliament
BBC Two 
BBC Four
Bloomberg
CCTV News
Channel 4
CNN
France 24
ITV1
NHK World
RT
Sky News
Radio:
BBC London
BBC Radio 1
BBC Radio 4 
BBC 5 Live
BBC World Service
LBC
talkSport
Most programmes are available in the Newsroom from the day of broadcast. We only record news and news-related programmes.
BBC
Separately we provide access to BBC programmes via the BBC Catalogue service. This has some 2 million BBC catalogue records from the 1950s to 2012, with around 200,000 playable television and radio programmes broadcast 2007-2012. This can be accessed by using the link to Sound and Moving Image collections given on the home page of the Library terminals.
Web archives
We provide access to over 4.8 million UK websites archived since 2013 as part of the Legal Deposit Web Archive. This archive can be accessed by using the link to Web Archives collections given on the home page of the Library terminals. The collection includes over 500 news-based websites archived on a frequent basis, including most UK national newspaper sites and many regional sites, which can be searched as a discrete collection.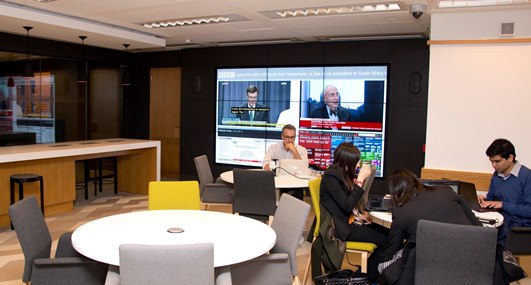 Networking area
The networking area is open to anyone. It has seating for over 30, with cubicles, and many charging points. The area's Video Wall features live television news, a rotating display of live news websites (all sites archived by the Library) and the Newsmap news aggregator site. We refresh the content on the Video Wall periodically.
Above the cubicles we project live tweets from around 100 news websites that we archive, including international, national and regional titles.
Opening hours
10.00-20.00 Mon
9.30-20.00 Tue-Thu
9.30-17.00 Fri - Sat
Workshops
We are organising a series of regular workshops on using the news collections, both general guides and introductions to particular parts of the collection. See http://www.bl.uk/reader-workshops.
Finding out more
The Newsroom has leaflets aavailable on the news collections and their use.
Our newspaper reference team can give help on using the Newsroom and finding items, though we cannot undertaken in-depth research requests. You can contact us online via http://www.bl.uk/reference-contacts.
Guide to the collection and its use are given on our web pages at http://www.bl.uk/subjects/news-media.
You can follow discussion about news and news collections via the Newsroom blog at http://britishlibrary.typepad.co.uk/thenewsroom.
Don't forget to follow us on Twitter too: @BL_newsroom
02 May 2014
Welcome to the latest edition of the St Pancras Intelligencer, our weekly round-up of news about news - stories about news production, publications, apps, digitised resources, events and what is happening with the newspaper collection (and other news collections) at the British Library.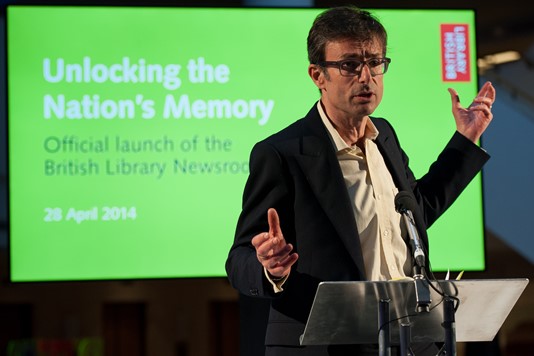 Robert Peston speaking at the launch of the Newsroom
Open for business: Well, we've been busy this week. The British Library's Newsroom was officially launched by the Secretary of State for Culture, Sajid Javid, on Monday 28 April, with a star turn from the BBC's Robert Peston,  before a gathering of journalists, media commentators, educationalists, British Library staff and ordinary users of our newspaper collection and other news services. There was a promotional video, a TV news package that appeared on many regional newspaper sites, and widespread media coverage (I think my favourite was Us vs Th3m's breathless 'The British Library is now improved with ARCHIVE ROBOTS'). The Newsroom's own blog post looks behind the scenes at the manufacutring of our own news event.
A strategy for news: On the day of the Newsroom launch we published a summary of our news content strategy for 2014-2017. It points the way for turning a world-class newspaper service into a world-class news service, by collecting (or connecting to) not only newspapers, but television news, radio news and web news.
Sajid Javid: Hacking down to 'bad apples' - press freedom 'cornerstone of democracy': The new Culture Secretary says it is up to press industry to decide how to proceed with regulation following the phone hacking scandal, reports Press Gazette.
Announcing FB Newswire, Powered by Storyful: Facebook and social news agency Storyful (owned by News Corp) have launched FB Newswire, which describes itself as "a resource for journalists that aggregates newsworthy social content shared publicly on Facebook by individuals and organizations" and could be a significant development in (social) news gathering. Facebook's Newsroom explains the background.
Local TV plan on the rocks as funding frozen, while London Live head quits: Oh dear. Plans for a network of local TV stations appear to have hit the rocks, while the chief programmer of London Live (which shares an owner with the Evening Standard, which has liberally promoted the channel) quit following terrible viewing figures, including near zero for some news programmes.
Nate Silver's advice to young journalists: Learn to code now: Emily Bell gave a scintiallating lecture at the British Library on automated journalism, which we'll be blogging about in due course. One of the themes she raised was the advantages of journalists being able to code, and others have raised the same issue this week. US news media star Nate Silver tells Geekwire that "If you're an aspiring journalist who knows how to code really well, you are in a very hot market", and Richard Sambrook argues that "journalists can learn lessons from coders in developing the creative future".
Ofcom should be looking again at Putin's TV news channel: Steve Bloomfield at The Guardian is appalled by the news coverage from RT (formerly Russia Today), which is readily available to UK viewers (and programmes from which are recorded daily for the British Library's Broadcast News service).
Anyone who has tired of Sky News's endless reporting of the Oscar Pistorius trial or CNN's down-the-rabbit-hole coverage of the hunt for Flight MH370 would accept that the world of 24-hour TV news could do with an alternative voice. But propaganda for an autocratic government and conspiracy theories linked to antisemitism are not an alternative anyone should be comfortable with.
Paying for online news: Dominic Ponsford at Press Gazette considers the mixed lessons to be learned from the Telegraph's metered paywall, one year on from its introduction.
Journalists' sources are no longer safe in Australia: Paul Farrell at The Guardian worries how Australia's Telecommunications Interception and Access Act 1979 could permit government agencies instantaneously to track down journalists' sources.

ITV's new breakfast show divides opinion: Four presenters at a single desk (plus weather reporter standing awkwardly by), fast pace, US feel, and star acquisition in Susanna Reid: ITV's Good Morning Britain launched on Monday and has had mixed reviews so far, as in this Metro report. But no one is saying bring back Daybreak.
Print is not the future, but it's not the past either: Peter Preston at The Observer thinks print's not dead yet - not while the industry has yet to work out how to make money from digital.
Revealed: The top 10 regional papers on Twitter: interesting list from Hold the Front Page of the top ten UK regional newspapers with the largest number of followers on Twitter. The Liverpool Echo's @LivEchonews comes out top with 136K followers. But what do they mean by saying that 77 newspapers in the UK are using Twitter? Our figures here suggest well over 350 do so...
Fears grow that the BBC News Channel could become online only: Could the BBC News 24-hour channel go online-only (as has been suggested will happen to BBC30 as part of BBC cost-cutting plans. Ian Burrell at The Independent asks the questions.
The Onion sets its sights on BuzzFeed, Upworthy: At last, The Onion is to set its sights on the listmania of quasi-news sites like Buzzfeed and Upworthy with a new site to mock the whole concept called Clickhole (launches in June). Unless the news about this is a spoof itself...
Max Clifford has finally got some of his own medicine: Max Clifford has been found guilty of eight counts of indecent assault, and schadenfraude reigns in the media world. At The Drum one "master of spin" Richard Hillgrove considers the downfall of another.
An incomplete list of things which are going to shape the next journalism: George Brock's latest wise overview of how journalism is changing, with seven issues that all in the industry need to be asking themselves.
BBC hacks – tweet the crap out of the news, cries tech-dazzled Trust: You can trust The Register to have taken a less than deferential apporoach to the BBC Trust's report Getting the best out of the BBC for licence fee payers: BBC Trust Review, BBC Network News and Current Affairs.
Once the BBC was un-ignorable, whatever age you might be. Today, half of under-25s and two thirds of under-20s ignore it completely. And even online, apathy reigns: the corporation's digital share has increased from only 24 per cent of adults in 2012 to 26 per cent today.
We haven't even scratched surface of explainer journalism: Adam Tinworth at journalism.co.uk looks at the US phenomenon of explainer/exploratory/data/call-it-what-you-will journalism and argues that we need to "rethink our content models to make our journalism relevant for a digital age".
Jeremy Paxman to step down as presenter of Newsnight: The nation's favourite torturer of politicians is standing down in June.
30 April 2014
On Monday April 28th the British Library officially launched the Newsroom, its new reading room for news. It was a long day, the fruition of much organisation to ensure everything went just right (the British Library strives very hard to make sure that everything always goes just right), as well as the culmination of seven years of planning for the proper preservation of the UK's newspaper collection. Here's a record of some of what happened over the day, from your blogger's perspective.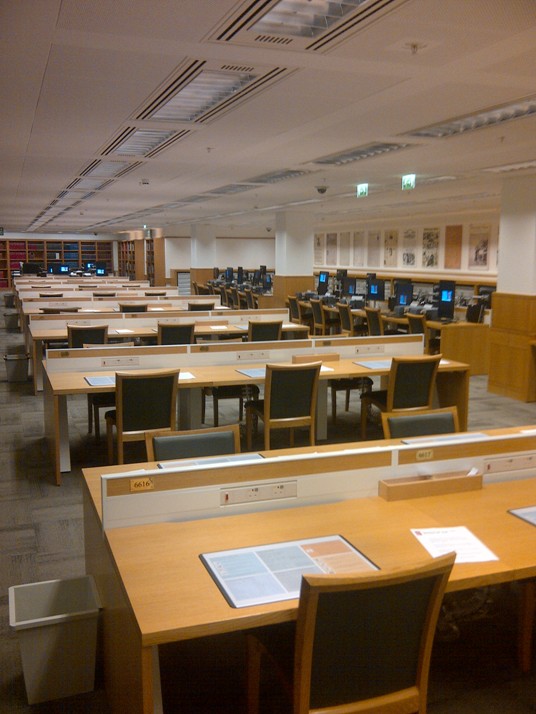 An empty Newsroom
07.15 - A bleary-eyed news curator stumbles into the Library, heads up to the Newsroom on the second floor, and joins the head of press (a man who may not actually sleep at all) whose job it is to manage our messages. We set up two of the 40 digital microfilm readers that we have installed. We choose The Times from the late 19th century and a News of the World from the 1920s, one displayed 'landscape', the other 'portrait', to show off how the screens can be manipulated to fit the shape of the newspapers they show. Before the TV company comes in, I take a quick phone snap of the empty room.
07.30 - A camera operator and a journalist from TNR, a Press Association off-shoot, arrive to film a short piece about the Newsroom, to be sold on as a package to TV news providers. They work out camera angles, position me by a wall with a long display of newspaper front pages, pin a microphone to my lapel and get me to give my name and so forth to check sound levels. They shine a bright light in my face. I have a crib sheet telling me all of the messages that I have to get across. I stutter my way through the interview, surviving somehow. Try as I might I cannot say the words "Secretary of State for Culture" without stumbling. They say nice things, which means that my gloomy assessment of how I appear on camera is probably spot on. They go off to shoot some background shots, and I head for my desk.
09:00 - I publish a blog post (written two days beforehand) on the British Library's news content strategy. It seemed timely to do so.
10:00 - Checking through the advance news coverage of the launch. An excellent, thoughtful piece in The Independent by Ian Burrell, that gets where we are coming from and going to, lifts the spirits. The Guardian has a shorter piece full of all the facts and figures we sent to them - the online version unfortunately states that the reading room itself cost £33M. It's very hard for anyone to spend that amount of money on a room (the money was mostly spent on the preservation store for newspapers that we have built at Boston Spa in Yorkshire). I review my list of newspaper collection facts and worry about what our earliest, still published newspaper title might be. Is it the Stamford Mercury or Berrow's Worcester Journal? The London Gazette (first published 1665) trumps them both, but is it strictly speaking a newspaper?
11:00 - Another TV crew, this time from ITV London. They are much quicker about things, letting me talk more freely about things. I show off the microfilm readers, the Broadcast News television service, the archive of web sites, throw in mentions of the preservation centre and say how pleased we all are. The interviewer is somewhat smaller than me and I wonder how it will look on screen with me looming over him. Odd, is the answer. Odder is the near-empty Newsroom. Where are they all? The place has been packed for days, and the moment we bring in cameras, everyone disappears. He-who-never-sleeps boldly invites a researcher sitting blamelessly at one of the microfilm readers if he would be willing to be interviewed for the news piece. Certainly, he says. It turns out he has no TV but he talks to camera like a trouper.
12:00 - Lunch, then coffee while reading The Independent piece.
13:00 - He-who-never-sleeps has been in touch with Newsnight. They have a great idea for when the programme signs off by showing tomorrow's papers - why not do so with tomorrow's news from 1914, 1814, maybe even 1714? It's going to be a bit pot luck, but I scour the British Newspaper Archive and find some uninspiring front pages. Our friends at DC Thomson Family History join in and do rather better at finding good stories. I redeem myself by looking at our Burney collection of early newspapers and finding a couple of good items for 29 April 1714. Fingers crossed.
13:30 - BBC London want to do a radio interview with me. It will be on my home phone, but at 06:25 tomorrow morning. I agree to this, somehow cheerfully.
14:00 - News about the launch has spread all over Twitter, or at least the bits of Twitter that I know. There is some confusion out there (no, the room did not cost £33M; no, we haven't digitised all 750 million newspaper and magazine pages in the collection) but huge enthusiasm. It's a good news story.
14:30 - We have the final project board meeting for the Newsroom. Nothing gets done at the British Library without a project team, project plan, work packages, risk register, budget, lessons learned log and such like. Everything is meticulously thought through, though we all have issues that we don't think have been properly resolved as yet. But we are pleased with the reaction there has been from researchers so far (we actually opened the room on April 7th), both new and the old hands who used the Colindale newspaper library that we closed down in November.
15:30 - I fret over the slow loading of videos in the Newsroom and check the display for live TV and live web sites in the networking area of the Newsroom. Everyone is bothered by the archive videos that we show there because they aren't captioned as such, and people have been spooked by seeing footage of London riots and not realising it's 2011. I say that making adjustments to the display is not as straightforward as they might think. This is true, but doesn't sound convincing.
16:30 - We have a team meeting in the Library foyer to make sure everyone knows what they have to do for the evening. Screens have been put up (two show newspaper pages, one for video), there is a platform for the speakers that looks amusingly like a trampoline, and there is an extraordinarily large amount of audio equipment for what will be three speeches at one microphone and a video. 
17:00 - The Newsroom is closed early. The newspaper curator and I carry newspaper volumes into the Newsroom and display them on rests or lecterns. We have chosen four titles from four centuries that are each all still in print - The London Gazette (17thC), Stamford Mercury (18thC), Manchester Guardian (19thC) and Daily Mail (20thC). The Manchester Guardian does not sit steadily on its lectern so wisely we lie it flat instead. The print copies of the newspapers won't start to become available in the Newsroom until Autumn, but we had to display some. I test the videos - they are still taking an age to load. I make contingency plans.
17:30 - I put on a tie. It looks terrible. I take it off then put it on again. It looks worse. I repeat this action several times. I resign myself to my fate.
18:15 - The first guests arrive for the launch of the Newsroom. The party is taking place in the foyer. The great, the good, former Colindale users and staff past and present have their names ticked off the list and pick up coloured cards which say which of the tours of the Newsroom we have organised with our elegantly-attired newspaper reference team they will be going on. Despite some chaos behind the scenes, the visitors all enjoy their tours, not knowing that they might have enjoyed them even more had we been able to organise them as we have dreamed we would do.
18:25 - The ITV London piece is broadcast. The TNR team are here for the party, to film the event and the minister's tour of the Newsroom.
18:30 - The place is packed and we humans do what humans do best and talk animatedly at one another. The canapés include fish and chips in newspaper - just the one chip and a sliver of fish in a newspaper-ish cone, but a neat idea all the same. I say hello to many friends.
Robert Peston in full flow
19:15 - The minister has arrived, and the speeches begin. The Chief Executive of the British Library thanks everyone for coming and praises the achievements of the Newspaper Programme which has worked so had to ensure the long-term preservation of the newspaper collection. The recently-appointed Secretary of State for Culture, Sajid Javid, then gives his first speech in his new role. He talks engagingly about his nerdish adolescent fondness for newspapers at his local library and says all the right things. Then the BBC's Robert Peston gives a most charming speech, keen in tone and theme, with a most touching reference to his late wife's great fondness for the Colindale library where she researched regularly.
The Newsroom launch video
19:30 - We play a promo video that we shot a couple of weeks ago which introduces the Newsroom and the Boston Spa store. The conceit of having the opening images move up and down as though being viewed on a microfilm reader is probably lost on most (I didn't get it until a third viewing), but it has cheery music, says what it needed to say, and the Newsroom looks great, if populated by some familiar faces from our press office (filming mostly took place before the room opened to the public, and you have to get your 'users' from somewhere). I cringe as the video ends with me giving the cheesy pay-off line - "We're open for business". They clap anyway.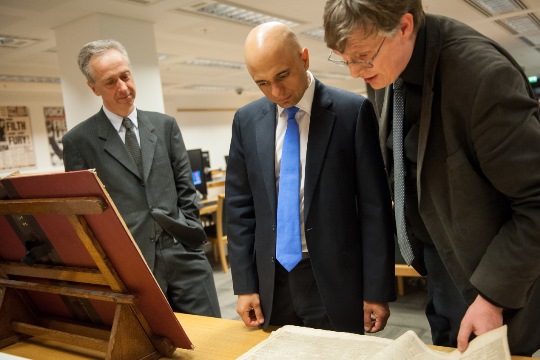 Roly Keating, chief executive of the British Library, Sajid Javid, Culture Secretary, and a curator inspecting the Stamford Mercury
19:45 - The CE, the minister and I go up to the Newsroom (it's on the second floor) to show him round. I explain the idea of the networking area is to encourage collaborative research and to show current news, so that we're as much about news today as the news of yesterday. We show him the newspaper volumes, the microfilm readers (ably demonstrated by one of our newspaper reference team), Broadcast News (everything works - oh happy day), showing off our recording from that morning of ITV's new breakfast show Good Morning Britain (he hasn't heard of it). He is interested in everything, particularly in our web archives, then goes off script by searching for his own name rather than the subject terms I had prepared. Sure enough the link he selects doesn't work. We move on quickly. TNR films him and he comes up with perfect short quotes. It's a gift.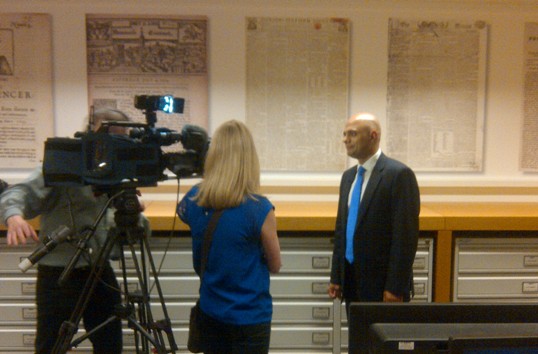 The minister is interviewed
20:00 - The party continues, though the numbers have thinned as various people decide they would rather get home now before the Tube strike starts at 9pm. I make plans, arrange meetings, smile constantly, then escape. Other remains behind to clean it all up as if the event had never been.
21:00 - I answer some of the many Tweets and emails that have appeared through the day. Enthusiasm still reigns. @BL_newsroom has many more Twitter followers than it did. 
22:00 - Home. The other news out there - a schoolteacher has been stabbed to death in her classroom. A special report from ruined Aleppo. Max Clifford has been found guilty of indecent assaults. Pfizer is confident of a takeover of AstraZeneca. Arsenal have beaten Newcastle 3-0. ITV London shows its Newsroom piece again, in re-edited form.
A look at tomorrow's papers...
23:20 - Newsnight closes with the tomorrow's headlines from three past centuries. Jeremy Paxman says that we have 7.5 million pages instead of 750 million, but the conceit works well. He stumbles over his words more than I do, which I find reassuring. They subsequently publish the clip on YouTube.
23:30 - End of a long day in which we played our part in manufacturing the news while showing how well we are archiving it and making it available again. News is not what happens, it is what is mediated through accepted news channels and consumed by us as clients of those channels. Likewise with history, which is not what happened but what we select and re-tell from what once happened (often found through news archives such as ours). All we ever do is tell stories to one another.
24:00 - TNR delivers its completed video package of the day. He-who-never-sleeps takes receipt of it and starts work for another day....
Update: The TNR video package has appeared on several news websites, for example the Yorkshire Post.
08 April 2014
On Monday 7 April 2014, at 10:00, the Newsroom opened at the British Library. We were just about ready. I don't know what it is about we humans, but with all the months, indeed years, of planning that went into developing a new reading room for news at the British Library, we were working right up to the last minute getting the last fixtures and fittings in place. Was it true, as I heard, that they only hung the Newsroom sign up above the door with not much more than an hour to spare? The first punters didn't notice any such final hammering or tweaking. They queued patiently outside, though our first researcher actually managed to come into the Newsroom via a side entrance, which we hadn't expected. Those who came in through the front door gawped briefly at the newness before them, then made their way to the desks. "Bloody hell", said one. Which was nice.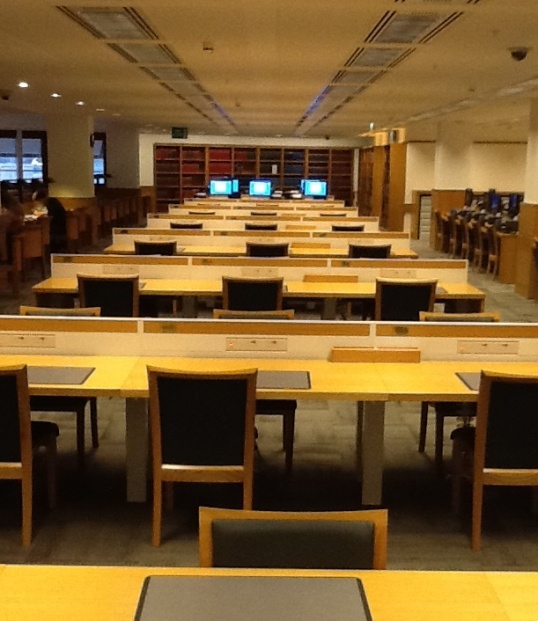 View down the Newsroom
The Newsroom is the British Library's news reading room for its news collections. It replaces what was the Newspaper Library at Colindale, though the print newspapers themselves are being transferred to dedicated storage facilities at Boston Spa in Yorkshire. They will become available to order once more in the Autumn, so the Newsroom at present offers access to microfilm and digital newspapers, as well as television, radio and web news.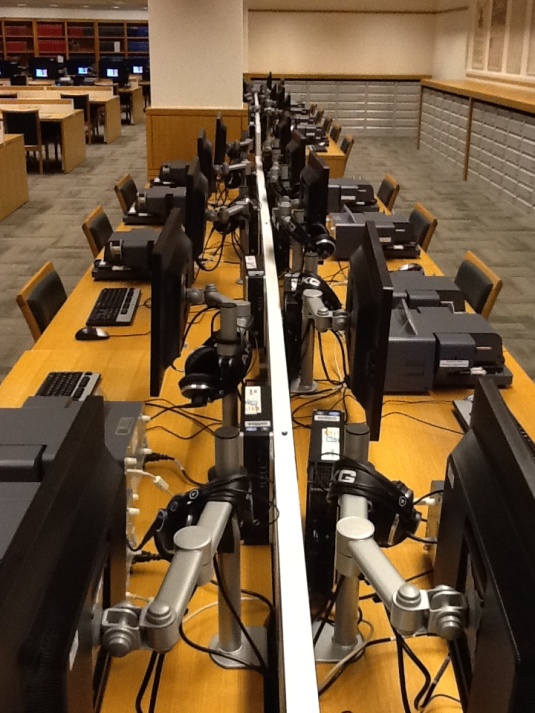 Row of terminals with microfilm readers
The Newsroom seats around 100, with 40 microfilm readers with digital display and monitors that can be turned landscape or portrait depending on how you wish to view your newspaper.  There is a large number of newspaper microfilm reels available on open access, while the remainder can be ordered from our basements with a promised maximum delivery time of 70 minutes. There are also many news media reference books available on the open shelves, photocopying facilities, and of course our expert reference team, who quietly introduced researchers to the news resources, the intricacies of the microfilm readers, and the other particulars of the Newsroom.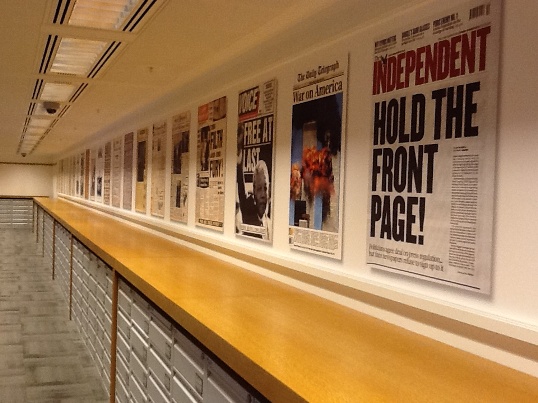 Newspaper front pages display
We wanted to made the Newsroom a visually striking and newsy place, while ensuring that it remain first and foremost a place for study. A striking feature is the row of 21 newspaper from pages, from 1643 to 2013, which decorate the length of one wall above the microfilm cabinets. The display works both as a history of newspaper design and of history in the making as reflected through newspapers.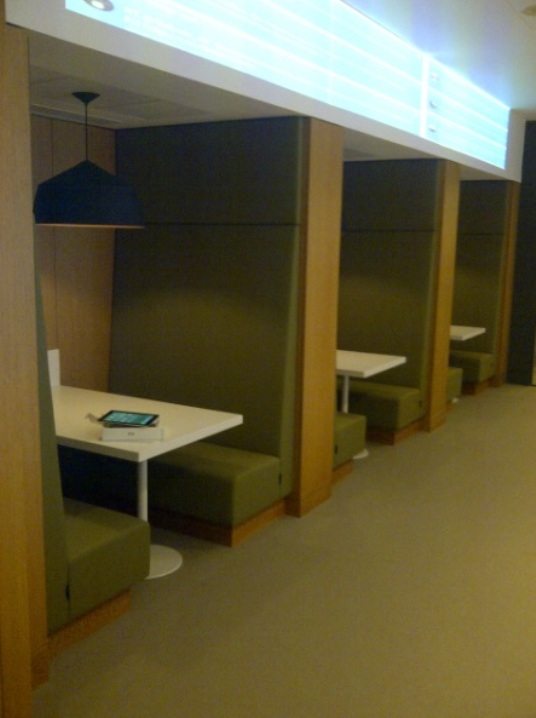 Cubicles in the networking areas, with Twitter display above
Some of the most eye-catching features are in the networking area, which is the first part of the Newsroom that you see when you enter. It's an area that's open to anyone (you only require a reader's pass to enter the main reading room) and it is meant to be both an informal space and an area in which to display news present and past. There are tables, chairs and sofas liberally scattered about (with plenty of charging points, which we suspect will make the space very popular very quickly). On one side is a row of cubicles, with above it Twitter feeds which show the news coming in as it is tweeted from news web sites that we archive. So, in a way, you see the news being made, and the news being saved.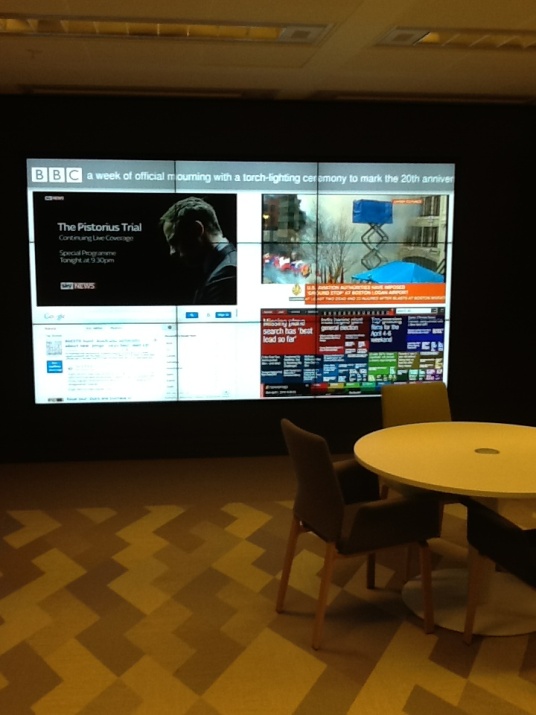 The video wall
The live news element is also seen in the networking area's most striking feature, the video wall, which occupies a large part of one side of the space. We plan to have different kinds of display on its multiple screens in due course, but we have started with a BBC news ticker feed, live TV news from Sky News, archive videos from our Broadcast News service, a loop of front pages for news-based websites that we will be archiving, and a display of the ingenious Newsmap news aggregator site, developed by Marcos Weskamp, which shows news stories around the world in a grid format, classified by territory, place and importance.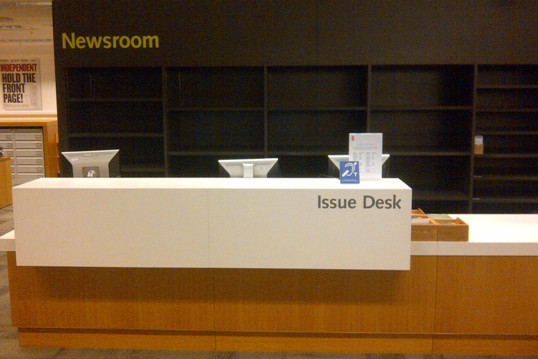 Issue desk
The networking area and main reading room filled up gratifying quickly over the day, though it is Easter time when the British Library is always particularly busy, and a lot of the desks were occupied by overspill from other reading rooms. But that's fine. The Newsroom is not an ivory castle for news. We're interested in seeing the boundaries blurred between what gets researched where, just as we are looking beyond newspapers to incorporate other forms of news publication, to create a richer, more interconnected archive.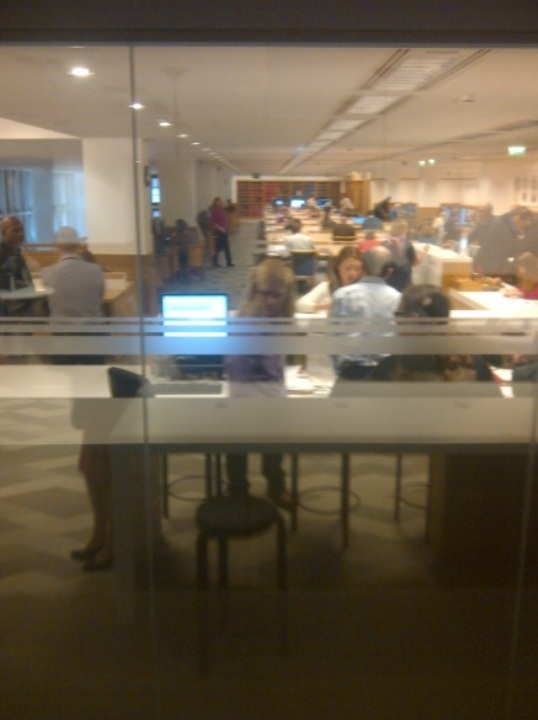 View down the Newsroom through the glass partition between networking area and main reading room
There was much else besides on that first day - British Library colleagues coming to admire, familiar faces from Colindale days settling down to continue their work once more, much tweeting of images and updates, some fretful pulling out of hair when the live video stream failed for a while, some careful explanation to visitors that the footage of rioting in Tottenham was an archive recording from 2011 and did not mean what they thought it meant... I held my first meeting there, charged up my computer there, and drank the first cup of coffee there (in the networking area, I hasten to add, not the reading room itself, which would not be allowed). And we launched a new set of web pages for news media (we have to call it that to avoid confusion with news about the British Library).
We hope we may see you there soon. We're on the second floor.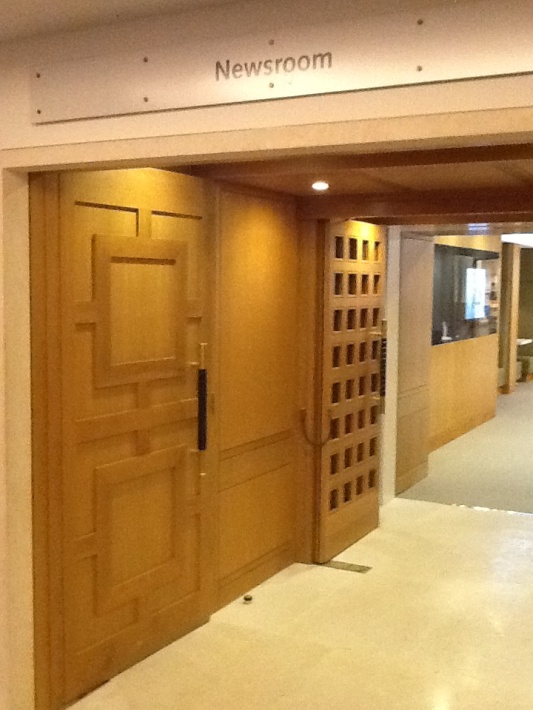 Welcome
07 March 2014
The Newsroom - it's a good name. It's a place where any kind of news gets made, be it print, broadcast or web. It's at the heart of information.  It's a point from which we can look out and see the world for what it is. A newsroom is where we plan to understand things.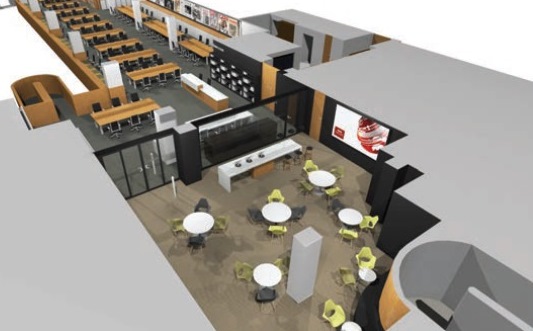 Visualisation of the Newsroom
At any rate, it's the name of the British Library's new reading room for news, which we can now announce will be opening on 7 April 2014. It was back in November 2013 that the Newspaper Library at Colindale closed, since when we have been working on preparing and then sending the newspapers to the new Newspaper Storage Building in Boston Spa, Yorkshire (the first newspaper start being shipped there in March). Meanwhile, we have been preparing the new reading room for news at St Pancras. If you know the building, then it's on the second floor, above the Business & IP Centre. 
The Newsroom will be divided into two parts. Users familiar with the Colindale service will notice many changes - all for the better, we hope. There will longer opening hours, 40 state-of-the-art digital microfilm readers, and a much wider range of microfilmed titles available on open access. This will include the 15 most highly-requested national titles – including The Times, The Guardian, The Independent, the Daily Mail and The Sunday Times - whereas in Colindale we only offered The Times on open access. There will be access to extensive digitised and multimedia collections, including the Broadcast News service with its recordings from 22 television and radio news channels, and the BBC catalogue with TV and radio programmes from 2007, which will move from a pilot service to a regular service.
The second, smaller part of the Newsroom will be at the front, an informal area for networking, testing out digital resources, and viewing news content as it is produced. We want the Newsroom to be about news today as much as news yesterday, and to draw out the connections between the two.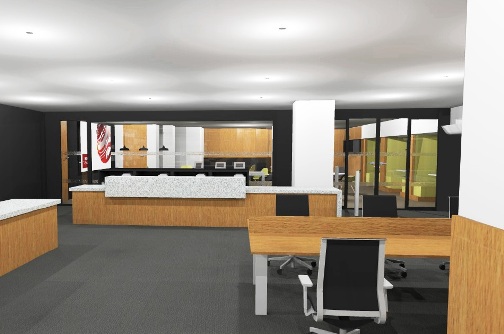 Design for part of the Newsroom, showing the issue desk with networking area beyond
Before the room opens, we've been making significant service changes. On 17 February the periodicals formerly held at Colindale - and put on embargo in June of last year - became available once more. The majority of these periodicals, some 24,000 titles, have been moved to Boston Spa and will be available to order into any St Pancras Reading Room within 48 hours. A small number of high-use periodicals are being stored at St Pancras and will be available to order into any St Pancras Reading Room (not just the Newsroom) within 70 minutes. 
These can be ordered online in advance via explore.bl.uk, where there have also been changes. There is no longer a separate Newspaper Library tab for searching, instead newspapers have been fully integrated into search (though you can still search on newspapers alone by using the Advanced Search option). There is improved information about newspapers titles and volumes that we hold, and links to digital versions where they exist on the British Newspaper Archive site.
Users can track the progress of their requests via My Reading Room Requests. Records for microfilm and print newspapers that are currently being moved are also now visible. The print newspapers themselves won't be available in April, however. It's going to take until the autumn until they are all stored at Boston Spa and the service ready to go. Then they will be delivered to St Pancras within 48 hours, but if there is an access copy - i.e. a copy on microfilm or in digital form - then that's what we will provide for you, rather than the print copy. Around a third of the collection of some 60 million newspaper issues is accessible through microfilm access copies, so most research enquiries are likely to be answered by the microfilm in any case, and they will all be onsite at St Pancras.
And there's more, because there is also work underway to improve facilities for users at Boston Spa. When completed (in the next few weeks), the reading room there will provide access to print newspaper and digital copies where available, but not the microfilms. Meanwhile, access to the Boston Spa collection is being maintained via a temporary Reading Room nearby in the same building.
There's more information on the opening and our news services on the British Library newspaper moves pages including our March 2014 Collection Moves Bulletin (PDF).
We've not been idle. We hope to continue to be useful.
03 January 2014
As we hope all will know by now, British Library Newspapers at Colindale closed on 8 November 2013, and we are busy remodelling what was the Business & IP 2 Reading Room on Floor 2 at the British Library's St Pancras site to create a new News & Media Reading Room which will open in March 2014.
While this work is taking place, we can only offer a restricted newspaper (and other news media) service to researchers, but there should be enough available to satify a good many research needs between now and the end of March. This is a summary of what we are making available at St Pancras and online:
A. Digital, free access from all Reading Rooms 
1. British Newspaper Archive (BNA)
Almost 7 million searchable pages of newspapers from across the UK and Ireland. New
content will continue to be added to the BNA during the closure period.

2. UK and international newspaper electronic resources
The British Library subscribes to a range of newspaper electronic resources. Key ones
include The Times 1785-1985, the Daily Mail 1896-2004, the Daily Mirror 1903 to date,
The Guardian 1821-2003, the Illustrated London News 1842-2003, the New York Times
1851-2006, the Times of India 1838-2003, the Financial Times 1888-2009, The Scotsman
1817-1950, The Irish Times 1859-2008 and the 17th and 18th century Burney collection .

3. Readex – Selected historical newspaper collections
Provides access to these collections: Early American Newspapers Series I , Foreign
Broadcast Information Service Daily Reports 1974-1996, World Newspaper Archive:
African Newspapers 1800-1922, Latin American Newspapers Series I 1805-1922.

4. Broadcast news
Daily television and radio news programmes broadcast in the UK since May 2010. Over 
60 hours of news are recorded every day from 22 channels including BBC, ITV, Channel 4,
Sky News, Al Jazeera English and CNN.
Newspapers on microfilm
B. Microfilm, from specific Reading Rooms 
1. Pre 1801 London newspapers (part of the Burney collection) – Rare books & music
2. The Times, 1785 to Dec 2013 – Humanities 2 
3. South Asian newspapers - Asian and African studies
Substantial holdings of South Asian newspapers in the English language, which were
originally collected by the East India Company and the India Office.

C. Print

1. Newspapers in Asian and Middle-eastern languages – Asian and African studies
Including those published in the UK and received via legal deposit.

D. Remote access

1. British Newspaper Archive (BNA) - paid service
Almost 7 million searchable pages of newspapers from across the UK and Ireland. New 
content will continue to be added to the BNA during the closure period.  
2. Readex – Selected historical newspaper collections 
Provides access to these collections: Early American Newspapers Series I , Foreign 
Broadcast Information Service Daily Reports 1974-1996, World Newspaper Archive: 
African Newspapers 1800-1922, Latin American Newspapers Series I 1805-1922. Accessible to registered St Pancras reader pass holders only
E. Holdings in other libraries

1. Newsplan - reports on alternative holdings of UK, Irish regional and local newspapers 
Readers can check for alternative holdings of UK & Irish regional and local newspapers by
using the published Newsplan Reports which cover all regions of the UK and Ireland. A set
of these reports is available on the open reference shelves in the Humanities 2 Reading
Room. A number of these Newsplan Reports are available online.

2. COPAC - UK and international newspapers and periodicals
An online catalogue which provides unified access to the catalogues of some of the largest
university research libraries in the UK and Ireland.
3. We also have online guides to Newspapers Libraries and Collections around the world, Newspapers around the world on the Internet, Other News-related Publications on the Internet, and much more.
General information on our newspaper collections, newspaper catalogue, online newspapers and the collection moves can be found the general link http://newspapers.bl.uk, plus we have produced a set of FAQs on the newspaper moves. The keen-eyed may have noticed that all references to the Colindale library have now been removed from our site, but we still have much work to do to update all reference guides to our news collections in time for the new opening. It's going to be a busy few months.
28 December 2013
The British Library has a television and radio news recording service which we call Broadcast News (and yes we were partly thinking of the wonderful 1987 film of the same title with William Hurt and Holly Hunter when we named it). Broadcast News has been recording UK free-to-air television and radio programmes since May 2010 and currently we take in just over 60 hours of news per day - 40 hours of television, 20 hours of radio.
We take the news from most of the channels which you may find on Freeview or Freesat, so not just BBC, ITV and Channel 4, but Sky News, Al-Jazeera English, CNN, NHK, Russia Today, France 24 and others. We don't record their 24/7 entirety. For the terrestrial channels (BBC, ITV etc) we only record the news programmes while for 24-hour-news channels we record a selection, usually two or three hours per channel, and as far as possible the same time slot every day. The aim is to ensure good coverage across the day, and to guarantee consistency of coverage.
Breaking news of the death of Nelson Mandela on Sky News, 5 December 2013
And then you get breaking news. The death of Nelson Mandela on 5 December 2013 was one of those events where we throw open gates and do blanket recordings of all the relevant news broadcasts to capture the moment in history in full. Of course the idea of 'breaking news' has been somewhat devalued of late, when almost any news story that's about to come up can get labelled as breaking news, rather than the earth-stopping stories that are traditionally associated with the concept. But breaking news is largely an invention of the 24-hour-news era, where the continuous stream of information gets interrupted by the extraordinary. 24-hours-news has to have breaking news, periodically and consistently - the concept is fundamental to how it operates.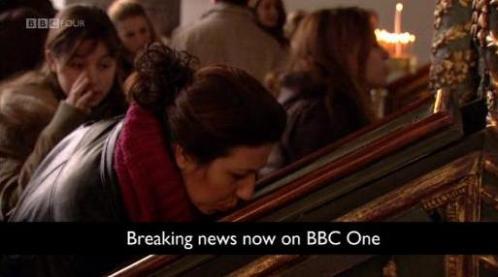 The breaking news message on BBC4's Byzantium: A Tale of Three Cities, 5 December 2013
News of Mandela's death was announced in the UK at around 21.45. I was watching a BBC4 programme on Byzantium at the time, and intriguingly a headline flash appeared telling me that there was breaking news on BBC1, but it didn't tell me what the news was. Viewers on BBC1 had been watching a repeat episode of the sitcom Mrs Brown's Boys when the channel cut to the announcement of Mandela's death made by President Jacob Zuma, something which led to 1,350 complaints being made to to the BBC. BBC1 then continued with a special news broadcast at 22:00 and continued with Mandela news specials through to past midnight. Thereafter the BBC News channel continued with the non-stop Mandela news throughout the following day.
China's CCTV News unusually broke into its regular programming to report Mandela's death
Likewise Al-Jazeera English, CNN, Sky News, France 24 and BBC World Service radio broke into their usual news coverage around 21.45 on the 5th and continued round the clock for the next 36 hours or so before other news stories really began to intrude once more. CNN's exhaustive coverage was particularly interesting to see, given that Mandela does not seem to have had as big a profile in the USA as in Europe or Africa (to judge by the many comments to be found online wanting to know what the man did and what his significance was). China's CCTV news, which normally keeps to the top-of-the-hour news schedule, unusually broke the Mandela news at around 21.50 and kept it as its main topic for several hours. Russia Today, ever the maverick, broke the news through its rolling bottom-screen text and included it in its headline stories thereafter, but did not upset the schedules at all.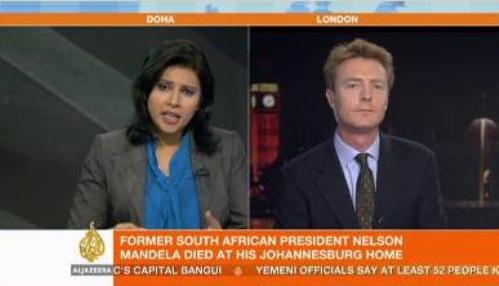 Al Jazeera English, 5 December 2013
Eventually breaking news is broken, and the channels return to the regular diet and schedules. The death of Mandela was no surprise, of course, and all of the channels had ready-made obituary packages. The challenge was to find enough interviewees to represent the breadth of Mandela's influence and personal history, and to deliver eulogies alongside predictions for the future that offered sufficient variety. Thereafter the challenge for news editors was to judge the magnitude of the story. The BBC received many complaints about the extensive of its coverage, particularly at a time when the UK audience was particular interested in news of stormy weather hitting the east of the country. Of course, the death of one of the twentieth century's leading figures is of greater significance than a passing weather system, but news is meant to be of the moment - to be about what is passing, not what is past. The blanket Mandela coverage was appropriate to the man's significance, but in the transference from news to eulogy and retrospective the objections raised by some viewers may have been at seeing news programmes that were not any longer offering (as they saw it) news.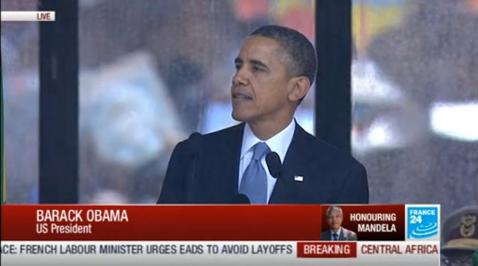 France 24's coverage of Barack Obama's speech during the Mandela memorial service, 10 December 2013
After a relative lull, during which we reverted back to our regular daily news recordings schedule, there followed the four-hour memorial service on 10 December We recorded this in its entirety as broadcasts on BBC News, Al Jazeera English, CNN, France 24 and BBC World Service (CCTV, NHK World, Russia Today and other channels that we record did not have specials on the memorial service, nor on the subsequent funeral). Of course it was the same service on each channel, but each added its own commentary with numerous cutbacks to interviewees to break up the service's several longeurs, including the many long and indifferent speeches that marred a ceremony that was further afflicted by heavy rain, empty stretches of the FNB stadium at Johannesburg, the booing of Jacob Zuma, David Cameron and Barack Obama's contentious 'selfie', and the embarrassment of fake signer Thamsanqa Jantjie (news of whose bogus gestures broke the following day). The visual media can capture the special significance of the moment with great power, but can also expose the absurdity of human things all too acutely. Aside from Obama's soaring speech, the memorial service offered too much fodder to cameras that naturally picked out the sodden, the verbose, the bored and the off-guard. Who will now be able to watch Obama's great speech without being helplessly distracted by the man signing gibberish to his left?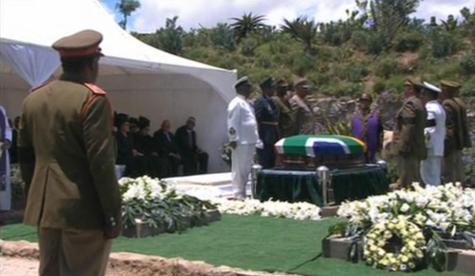 From the BBC News coverage of Nelson Mandela's funeral, 15 December 2013
Happily the funeral service at Mandela's childhood home of Qunu on 15 December was a model of good organisation. The tribute was fitting to the man, finding the right balance between pomp and modesty. We recorded the BBC News, CNN, Al Jazeera English, Sky News and BBC World Service programmes, which along with all of the regular news programmes recorded over the 5-15 December period amounts the several hundred hours of TV and radio news dedicated to the death of Nelson Mandela that we are now preserving and making accessible in our Reading Rooms.
Of course we have more than just TV and radio news on Mandela's death. We will have taken in every UK newspaper over the period, and because we are now able to archive UK website were have been able to many online news reports, tributes, commentaries and comments which should offer a more diverse and even critical account of the man's passing than TV news's perhaps rather linear and hagiographical approach can offer. The point is that news does not exist in its entirety in any one medium. Each plays its part - print, TV, radio, online - in providing the breadth and depth such as news story merits. The great marvel of news today is the choice on offer, the diversity of content, the extension in so many ways of what we understand to to be news (noting of course that not all societies enjoy equal choice of news sources). It is for us to choose wisely from what is on offer if we want to be properly informed. We have the privilege, and the responsibility, of choice.
The Newsroom blog recent posts
Tweets by @BL_newsroom
Other British Library blogs