27 June 2014
Welcome to the latest edition of the St Pancras Intelligencer, our weekly round-up of news about news - stories about news production, publications, apps, digitised resources, events and what is happening with the newspaper collection (and other news collections) at the British Library.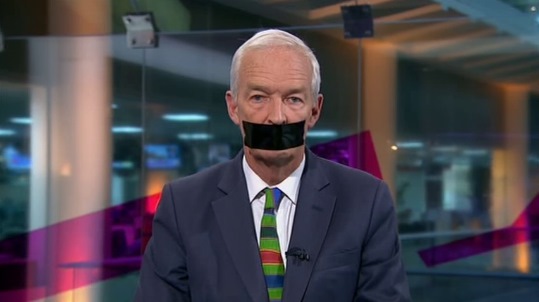 Jon Snow silenced. Screengrab from Channel 4 News tx 23/6/2014
Outrage as Egypt jails Al Jazeera staff: On Monday an Egyptian court sentence two Al Jazeera journalists to seven years in jail and one to ten years in jail for supposedly aiding the Muslim Brotherhood and producing false news reports of the situation in Egypt. Protests against the sentences handed down to Peter Greste, Mohamed Fahmy, and Baher Mohamed have been made worldwide, with journalists in many newsrooms taking part in a symbolic taping-up of mouths (as demonstrated by Channel 4 News) and the hashtags #journalismisnotacrime and #FreeAJStaff.
Inside the Rebekah Brooks and Andy Coulson Trial: At the end of the epic phone hacking trial former News of the World editor Andy Coulson was found guilty of a conspiracy to intercept voicemails, while former News International chief executive Mrs Brooks was found not guilty of conspiracy to hack voicemails, two counts of conspiracy to pay public officials and two counts of conspiracy to pervert the course of justice. The Drum's coverage of the phone hacking trial has been particularly interesting and clear in how it has presented the unfolding story.
Hacking trial verdict: Coulson guilty and Brooks cleared, but end of an era for the red tops: George Brocks' piece for Contributoria views the phone hacking trial verdict from an historical perspective and sees as marking the end of an era for the British tabloid press. From the same source, Steven Barnett says that the hacking trial was just round one in the fight to rescue journalism, while Richard Sambrook writes on how the hacking trial highlighted the cosy relationship between politicians and the press.
No ordinary newspaper: A good overview of the News of the World and how the hacking trial came about and unfolded from Dominic Casciani for BBC News Magazine. 
Everything You Need To Know About The Phone Hacking Trial: Or else sample Patrick Smith's handy Buzzfeed guide.
How many media academics does it take to work out what's going on?: A pithy analysis from David Hepworth on why reading news on a screen is not the same as reading as newspaper, and how we are never going to go back to such habits:
It's no longer anything to do with the news the papers happen to provide, which is what the world of media academics spends its time fretting about. It's entirely a question of how users behave. Tech understands this, which is why it changes its products all the time in response to the way they're used. No wonder it's stolen the media's lunch.
Digital news as popular as newspapers for first time: So here's the tipping point - 41% of people in the UK are using online news sources while 40% use newspapers, according to Ofcom's News Consumption in the UK report. But TV news remains by far and away the most used (75%).
CNN to study drone use in newsgathering: Are drones the future of newsgathering? CNN is investigating its further use and regulation, while concerns remain in the US over its legality.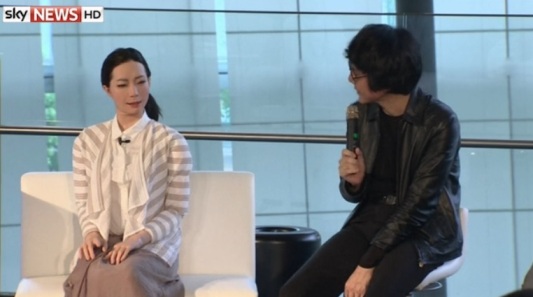 Kodomoroid (she's the one on the left), from Sky News
Android Anchorman: robot newsreader unveiled: More from the world of robot journalism, and Sky News reports on Kodomoroid, a Japanese invention claimed to be the world's first newsreading android (does no one remember Ananova?).
Who will produce stories for the Mail to copy if it drives its rivals to the wall?: News Corp has been protesting at the Mail Online's launch in Australia, with its practice of reusing others' news stories ('churnalism'). Roy Greenslade points out that 'copy theft' is nothing new in newspaper journalism, but wonders if the logical extension to the culture of re-use is ultimately self-defating, as the title of his piece indicates.
Mail Online stays top with 11m daily browsers: Meanwhile, Mail Online remains far and away the most popular UK news site, with just over 11m daily global browsers per day. Press Gazette's report on the latest ABC figures shows that all national newspaper websites which had figures available showed strong year on year growth in May, with Metro the fastest growing newspaper website audited by ABC.
Newsnight really doesn't make the weather any more: A sharp piece from Peter Preston at The Observer on how too much of current affairs television is failing to reinvent itself for the digital world.
No, the media didn't ignore your anti-austerity march – it just wasn't that interesting: There was much disappointment - and suspicion - among those involved in the anti-austerity march in London that it was little reported, despite going past the BBC on the march route. Some interesting questions arise about who decides what the news is, but The New Statesman isn't too impressed by the conspiracy theories.
Is Fox News more dangerous thatn ISIS?: Russell Brand was a speaker at the anti-austerity march. What has gained rather more attention has been this impassioned tirade on his YouTube account against Fox News commentator Judge Jeanine Pirro who called for the bombing of the ISIS insurgency in Syria and Iraq. Polemic of the week.
James Harding: BBC wants to work with regional press to 'drive the revival of local journalism': BBC news head James Harding, speaking at the Revival of Local Journalism conference in Salford, outs out the olive branch.
Guardian for Glass: The Guardian has been quick off the mark in providing an offering for the wearable technology. Guardian for Glass will provide headline news stories from its various international editions and breaking news notifications. Oh brave new world.
13 June 2014
Welcome to the latest edition of the St Pancras Intelligencer, our weekly round-up of news about news - stories about news production, publications, apps, digitised resources, events and what is happening with the newspaper collection (and other news collections) at the British Library.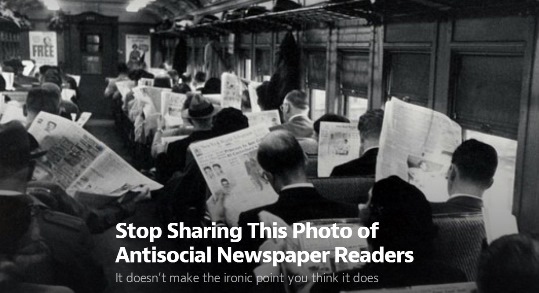 Stop sharing this photograph of antisocial newspaper readers: This much retweeted and shared photograph of a train carriage full of newspaper readers has been viewed by many as a comment on an anti-social past age. Medium makes a strong argument why this is a complete misunderstanding of how a newspaper is consumed.
... what you are seeing in that picture of "antisocial" people reading newspapers is actually an eminently social activity: citizens keeping themselves informed so they can participate in the civic discourse of their community.
Enabling access to digitised historic newspapers: We held a Europeana Newspapers event here at the British Library, on assorted issues relating to the digitisation of newspapers, with interesting contrasts between traditional browsing and big data analytical approaches, and between free and paid access services. The link is to a Storify collection of tweets, links and slideshows from the day (fun to put together - will be doing more of these).
Broadcasting D-Day: The BBC's recreation of radio broadcasts from D-Day by using digitised scripts and actors (Benedict Cumberbatch, Toby Jones, Patrick Stewart) made a powerful impact and was a fitting tribute on the 70th anniversary of the landings. The BBC radio scripts come from the British Library, and this post gives the background.
Digital News Report 2014: Eagerly devoured and much commented upon has been the latest annual Reuters Institute Digital News Report, the result of a survey of digital news consumption in UK, US, Germany, France, Italy, Spain, Brazil, Japan, Denmark and Finland. Among the key findings are:
The use of smartphones and tablets has jumped significantly in the past year, with fewer people using their computers for news
More than a third of online news users across all countries (39%) use two or more digital devices each week for news and a fifth (20%) now say their mobile phone is their primary access point
US social sharing news sites like Huffington Post and Buzzfeed are beginning to make inroads around the world, with new formats and a fresh tone of voice aimed at younger people
Even so, traditional brands remain strong in most markets, with cross-platform newspaper reach averaging 75% in most countries
The number of people paying for digital news (11% average) has remained stable over the past 12 months, although there is a significant switch to more valuable ongoing digital subscription in most countries 
Of those paying for news in all countries, 59% are paying for an ongoing subscription (43% 2013). Of those who are not paying, 15% say they are likely to pay in the future
Facebook is by far the most important network for news everywhere
Although Twitter is widely used in the US, Spain, and the UK, it is far less influential in many other European countries. Google+ is emerging as increasingly important for news, along with messaging application WhatsApp
Robert Peston's speech: Hotly discussed all week has been Robert Peston's British Journalism Review Charles Wheeler lecture, where he queries James Harding's statement (given in his WT Stead lecture at the British Library), "I think this is the most exciting time to be a journalist since the advent of television". Peston is not so sanguine, seeing threats in online culture, reader power, and the power of the public relations industry. He concludes:
...we don't yet have what you might call a stable ecosystem in news. The poll-tax funded BBC is one kind of news-media model. The loss-making Guardian, funded by vast private-equity capital gains, is another. The Daily Mail another still. And Quartz, Huffington Post and BuzzFeed something different again. There is diversity – which all ecologists would tell you is vital to long-term survival. But there is also pollution, from a dangerous elision between news that pays and news that matters.
Why would anyone want to be a journalist?: But then there's Sarah Hartley at Contributoria, who speaks to several journalists about the hazards and frustrations of their occupation, and finds the answer to her question in these words from photographer Giles Duley (a triple-amputee after stepping on an IED in Afghanistan):
It's about storytelling for me. There are these incredible stories out there and I think I follow a tradition that started around camp fires, in caves around ten thousands of years ago and there's an innate need for people to tell stories and to hear stories and I just love being part of that tradition and so I'll carry on doing it.
The Sun Launches A £4.2 Billion Marketing Campaign?: The Sun is delivering a free special World Cup issue to 22 million UK homes over a 48-hour period (avoiding Hillsborough). Chris Brace at the Brown Moses blog notes that the giveway lacks the imprint that identifies the publication as a newspaper. The fine for breaching this legal requirement can be up to £200 per copy. 200 x 22M = £4.4Bn. That's a quite fine...
Not Everyone Is Happy About The Sun's "This Is Our England" Front Page: Patrick Smith at Buzzfeed rounds up some less than complimentary reactions to the great free Sun giveaway. There's even a @PostTheSunBack campaign.
Internet not responsible for dying newspapers, new study finds: Riding against the general trend of argument is a paper by University of Chicago Booth School of Business Professor Matthew Gentzkow, which says that comparisons between the internet and newspaper are based on some false assumptions. ScienceDaily summarises these.
A year on Guardian continues to face derision from Fleet Street rivals over Edward Snowden revelations: Press Gazette reviews the opinions expressed about Edward Snowden in other British newspapers, which are distinctly unimpressed.
Time Inc. Has a Big Problem - So Does Digital Journalism: Derek Thompson at The Atlantic feels that the future looks bright for digital journalism as a product, but dim for large-scale digital journalism as a business.
Victorian Meme Machine: Bob Nicholson of Edge Hill University is one of two winners of our BL Labs competition for innovative ideas to use digital collections. His Victorian Meme Machine will create an extensive database of Victorian jokes, drawn from newspapers etc, and pair them with an appropriate image drawn from BL and other digital collections. 
Annotating the news: Intriguing piece by Jihii Jolly for Columbia Journalism Review on student news literacy and annotation tools.
The BBC was impervious to the launch of Sky News. Now they have to take notice: Ian Burrell at The Independent interviews Sky News editor John Ryley, who is full of plans, is disparagaing of ITV's attitude towards news, and states firmly: "The future for news is on mobile."
European newspapers search for ways to survive digital revolution: A Guardian survey of how newspapers in Spain, France and Germany are struggling (belatedly) to find ways to make money as print sales plummet.
16 Pictures Of Beyoncé Where She's Not Sinking In Quicksand: The Onion has launched Clickhole, its parody site for 'clickbait' viral sites like Buzzfeed and Upworthy. Not super-funny yet, but we have hope.
Why banish words from the front page?: The sharply opinionated Grey Cardigan on The Spin Alley blog is critical of sloppy front page design in some UK regional newspapers, and thoughtful on the reasons why.
Newspaper printed with ink that repels mosquitoes: This is such a heartening story - a Sri Lankan newspaper has come up with Mawbima Mosquito Repellent Paper, printed using bug-repelling ink, as part of campaign to help prevent the spread of Dengue fever. Probably a bit of a preservation challenge though...
Chatting with bots: How Slack is changing how newsrooms talk amongst themselves: Nieman Journalism Lab on Slack, a chat application being used in the newsrooms of  The Times, BuzzFeed, The Atlantic, Quartz, Slate, NBC News, The Guardian and more.
Kevin Turvey investigates ... the media: RIP Kevin Turvey, peerless investigative reporter from Reddtich, aka Rik Mayall.
The Newsroom blog recent posts
Tweets by @BL_newsroom
Other British Library blogs