07 March 2021
The mass digitisation of historic newspapers has had a huge effect on many areas of research. Theories have been confirmed or overturned, new discoveries are made daily, evidence is available in abundance. One area in which digitised newspapers have had a marked effect is film studies. In this guest post, film and theatre historian Barry Anthony describes the use of newspapers by early film historians twenty years ago and how things have changed today.
Frame still from 1895 film known as Dancing Dog (National Fairground and Circus Archive)
In 2009 the National Fairground and Circus Archive received an exciting donation. The George Williams collection was a hoard of fragile nitrate films dating back to the last decade of the 19th century. Several had been made for Thomas Edison's Kinetoscope peepshow, a device that revealed 40 second motion pictures to individual customers about a year before the first projectors introduced the cinema experience to mass audiences. Some subjects had been shot at Edison's New Jersey studio, but others were among the earliest known British films. Dating from 1895, they depicted actors dressed as a sailor and a policeman detaining a criminal; a moderately sized kangaroo sparring with a small boy; and an animal trainer presiding over a display of talented dancing dogs. They had been filmed with a camera developed by electrical engineer Robert Paul and photographic expert Birt Acres (the individual contribution made by each man remaining a source of some controversy). Given a dearth of information about this earliest period of British filmmaking it seemed unlikely that the participants in these productions, particularly the cavorting canines, would ever be identified.
Eight years later, in The Kinetoscope; a British History, the late Dr Richard Brown and myself told, for the first time, the story of the device's exploitation in the UK. It was a detailed account which would not have been possible without the research possibilities made available by the British Newspaper Archive. Back in 1999 we had produced A Victorian Film Enterprise a thorough examination of the massively financed and highly prestigious British Mutoscope and Biograph Company. In the time before the digitisation of newspapers and other archival material, much of the research required for the book entailed numerous visits to newspaper archives. Countless hours were spent poring over the contents of dusty bound volumes or straining our eyes in front of flickering microfilm reader screens. It was a process analogous to mining, tunnelling onward through page after page in the hope of unearthing nuggets of relevant material.
Richard and I were both experienced researchers and had a few short cuts which we could employ. But this in itself was problematical. The book aimed to place British Biograph in a broad historical context, looking at the economic, social, and aesthetic aspects of its development and exploitation. In concentrating our searches on periodicals dedicated to entertainment (itself a massive task) we located much detail about the company but missed a wider and more diffuse range of comments in other publications. Our attempts to cope with these tangential areas were of necessity far more selective. A case in point concerned the company's peepshow machine. Whilst Biograph films shown to audiences at music halls and other venues were usually impressive views of news events or foreign scenery, the Mutoscope viewer lived up to its 'What the Butler Saw' nickname by offering sexually titillating material. Across the country there were howls of indignation as hundreds of cast-iron mutoscopes were installed in arcades, railway stations, shops, and seaside promenades. Such scandalised protests were, of course, recorded by provincial newspapers with the details of offending subjects carefully noted. Faced with reports scattered across many local publications it became extremely difficult to locate sufficient material to be able to accurately assess the scope of public concern about an important feature of British Biograph's exhibition policy. Had we possessed the online search facility later provided by BNA, merely entering the titles 'Why Marie Blew Out the Light' or 'Should Ladies Wear Bloomers?' would have provided a universal view of the controversy.
A mutoscope and a denunciation from the Sheffield Evening Telegraph, 16 August 1899
To assemble a chronology of Biograph exhibitions outside London, we were fortunate that entertainment periodicals such as The Era, The Music Hall and Theatre Review, and The Stage usually listed the content of music-hall shows throughout the UK. It took weeks to search a six-year period, leaving us with an end result that was extensive, but not exhaustive. A similar chronology of exhibitions in The Kinetoscope was more complex because, unlike the Biograph projector, the device was not owned by a single company. Despite the involvement of many showmen often pursuing diverse exhibition practices, the Kinetoscope listing proved easier to assemble. The simple process of searching 'Kinetoscope' (and other spelling variants) on the BNA resulted in a virtually day-by-day record of exhibitions during the period 1894-1895. For the first time it was possible to establish that a large part of the population had its first exposure to motion pictures months before the introduction of projected films. Reviews and advertisements in local newspapers enabled several previously unknown exhibitors to be identified by name and their progress around the UK traced. Venues ranging from rowdy country fairs to genteel church bazaars were established; together with numbers of machines employed, durations of stay and prices charged. By following up on the further keywords revealed, it quickly became possible to present a rounded picture of a previously unrevealed (and largely unexpected) chapter of British entertainment history.
An analysis of the films mentioned in newspaper reports show that the overwhelming majority were American subjects issued by Edison. The limited number of films that were produced by Acres and Paul during their brief, bitter association (about 20 subjects) was reflected by very few references in the press. Some titles are known by a series of adverts that Paul (without crediting Acres) placed in The Era in April and May 1895 ‒ Oxford and Cambridge Boat Race, Pickpocket Arrest, Railway Station Scene, Bootblack Scene and others described only as by 'Sundry Performers'. Returning to the films donated to the National Fairground and Circus Archive, it was possible to recognise Pickpocket Arrest from the Era adverts. The lively contest between boy and marsupial could also be identified from another 1895 advert, The Boxing Kangaroo published in The English Mechanic (a periodical sadly not yet digitised by BNA). But those dancing dogs were elusive, with no references found in 1895 although the nature of the film clearly indicated that it was a product of the Acres/Paul association. The challenge of finding out more about the film took on a disproportionate importance, a test of our own research capabilities and the comprehensiveness of original sources. We examined accounts of various troupes of performing dogs (amazingly popular in the 1890s); looked at circuses appearing in the London area; and, of course, scrutinised the BNA for any possible clues. Eventually we hit our publication deadline and our search was abandoned.
Report from the Wharfdale and Airedale Observer for 10 January 1896, and a Kinetoscope
Following Richard's death in 2020 I decided to resume the hunt. Altering the BNA search parameters very slightly, things suddenly became clear. In a description of a New Year Conversazione held at Saltaire in West Yorkshire, the Wharfdale and Airedale Observer for 10 January 1896 reported that 'the Kinetoscopes give excellent illustrations of last year's Derby race, a performance by Lorenzo's skipping dogs (recently exhibited at the Royal Aquarium, London, where the photograph was taken), etc.' A further search soon revealed that 'Professor' Lorenzo was a noted trainer whose troupe consisted of dogs, 'Educated' ponies, goats, and monkeys. One of his top turns was a boxing kangaroo who fought against a boy billed as 'Young England'. It was an inconsequential discovery, but one which demonstrated the scope and potential of the BNA. We had gone from building a detailed, multi-layered picture of the earliest years of moving pictures to revealing a single music-hall act that had played a minor part in their development. Identifying an entertainment industry in the making or a group of dancing (or skipping) dogs – all had become one.
Barry Anthony
Barry Anthony is the co-author (with Richard Brown) of A Victorian Film Enterprise: The History of the British Mutoscope and Biograph Company, 1897-1915 (1999) and The Kinetoscope: A British History (2017). His other works include The King's Jester: The Life of Dan Leno, Victorian Comic Genius (2010); Chaplin's Music Hall: The Chaplins and their Circle in the Limelight (2012) and Murder, Mayhem and Music Hall: The Dark Side of Victorian London (2015). There is information on the George Williams Collection at the National Fairground and Circus Archive at https://www.sheffield.ac.uk/nfca/collections/georgewilliams.
07 April 2016
It has been a while since we produced an edition of the St Pancras Intelligencer, our round-up of news about news. Producing a regular series proved to be rather too much of a challenge, but not wanting to see a good title go down, we are recasting the Intelligencer as an occasional series. Much like the first newspapers in the 17th century, we will publish a new edition when we have gathered enough stories to fill the space available. So here is some of what has been happening recently in the world of news about news.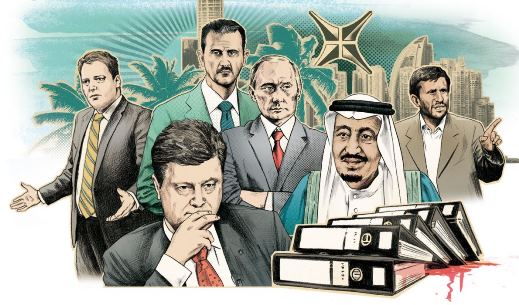 http://panamapapers.sueddeutsche.de
The Panama Papers. The leak of millions of papers from Panamanian law firm Mossack Fonseca has sent shockwaves across the world. The story behind the leak is as fascinating as the outcome. Wired gives the background story. The now famous International Consortium of Investigative Journalists collates the information on a smartly designed special website. And the newspaper that first received the documents, Süddeutsche Zeitung, has its own stylish website dedicated to the story, in German and English, which dramatises the material with fine use of illustrations and charts.
The art of being in the wrong place at the right time: behind the scenes of social media newsgathering. A powerful piece by David Crunelle, eyewitness to the Brussels airport bombings who was then bombarded with requests from the news media.
Editor hits out at "supine journalism" in regional press. Mike Gibson, editor of the Brighton Argus, criticises the "poor state" of much of the English regional press, as reported by Hold the Front Page.
Can newspapers do anything to stop the advertising exodus? Roy Greenslade worries about the future viability of newspapers, assailed by falling advertising revenues on one hand and the use of ad-blocking software on the other.
The life and times of a newspaper baron. Interesting piece by Peter Day on BBC News on Lord Thomson of Fleet, owner of The Times before Rupert Murdoch.
Action Research in Audience Analytics. A report from Nesta on how hyperlocals can learn from their audiences to build up their audiences.
Do newspaper archives need a "dead man's switch"? Thought-provoking piece from Tara Calishain at ResearchBuzz on the perils of disappearing digital newspaper archives.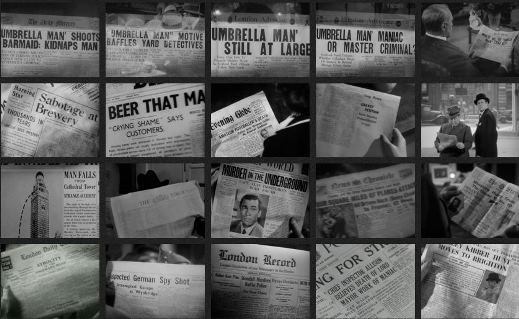 http://www.thecinetourist.net/news.html
The Cine-Tourist is a film history site with a psychogeographical bent, managed by Roland-François Lack of University College London. His speciality is gathering thematic screengrabs from historic films, and he has produced a terrific gallery of scenes from films in which real and imaginary newspapers appear. See which films you recognise.
Investigative brand journalism. Nieman Lab looks at the Guardian's true crime reporting series, How to Solve a Murder, with its sponsorship from Amazon.
Newspapers gobble each other up to survive digital apocalypse. Great title for a Bloomberg piece on American newspaper business strategies.
"The lowest, most filthy, most unhealthy and most wicked locality". Journalist-turned-historian Dean Kirby (guest writing for the Newsroom blog) looks at the worst parts of 19th century Manchester and what newspaper archives reveal about them.
Independent launches paid-for digital edition. As we said goodbye to the print editions of The Independent and the Independent on Sunday, a new paid-for digital daily edition appeared, looking much like the print version (doubtless to reassure traditional subscribers). On the same subject, the Indy gave us a gallery of the best of its front covers (note how raggedy the pre-digital-era copies now look), and wrote boldly about the opportunities offered by new technologies. At Medital, Torin Douglas looked back to 1986 and the founding of the The Independent. And at this blog, we attended a debate on print newspapers post-Independent and what the digital future might be, and concluded that nobody knows anything.
El Pais, Spain's best-selling newspaper may end print edition. If you thought The Independent going digital only was big news, consider that Spain's leading newspaper may go the same way.
Scale of Hearst plot to discredit Orson Welles and Citizen Kane revealed. Dalya Alberge at The Guardian on a new book by Harlan Lebo that shows how hard William Randolph Hearst tried to attack Citizen Kane, the greatest of all newspaper movies.
The New Day is selling just 40,000 copies a day but Trinity Mirror stands by its launch despite the slow start. And finally, we have a new national newspaper in The New Day (boldly refusing to have a website), but as The Drum reports, the take-up figures aren't encouraging so far for a newspaper aimed at those who don't read newspapers.
02 July 2014
Jeremy Paxman, who recently hosted the BBC's Newsnight for the last time, has cited the words attributed to Times foreign correspondent Louis Heren that make up the title of this post as inspiration for his method as an interviewer. It says a great deal about the news interview as it is now understood, and the function of the news producer. News may in part be about holding those in power to account, but should its starting point be the belief that its subjects are liars? How did the news interview become so inquisitorial, and will it remain so?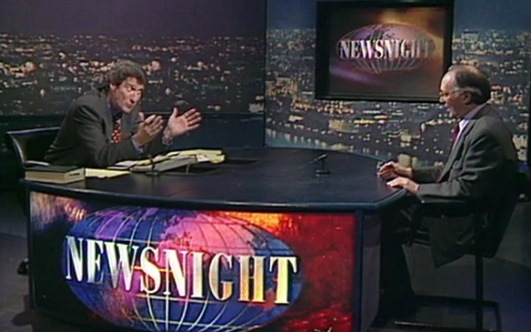 Jeremy Paxman interviewing Michael Howard, Newsnight, tx. 13 May 1997
It is interesting that in the same week Paxman stood down, with many commentators discussing his contribution to the art of interviewing, some of the first ever filmed interviews were honoured with an inscription on the UNESCO UK Memory of the World Register. The Hepworth Cinema Interviews are a series of 36 filmed interviews with UK public figures (Lloyd George, Herbert Asquith, Bonar Law and others) made by film producer Cecil Hepworth in 1916. The subjects were invited to give comments on the war and what would follow after it. This was the era of silent films, so the subjects mouth their answers to the camera, with their words being reproduced through intertitles. There is no onscreen interviewer - these are just statements made to the camera. Rather than being any sort of radical development, they are interviews in the tradition of nineteenth century newspaper interviews - pronouncements from the elite, with the media serving as the willing vehicles for such pronouncements.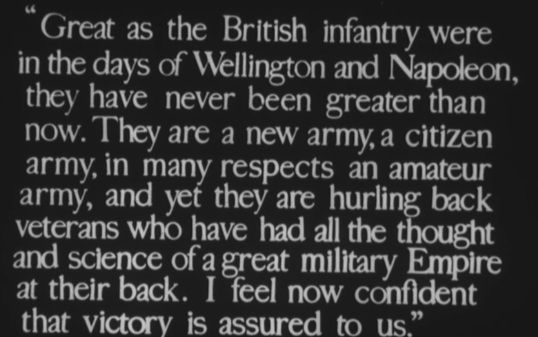 Lloyd George's words as intertitles from the Hepworth Cinema Interviews, courtesy of National Screen and Sound Archive of Wales
Interviews in newspapers are generally accepted to have appeared in the USA in the 1860s and in the UK in the 1880s, where they were often viewed - often with suspicion - as an American innovation. The American journalist James Gordon Bennett is credited in some quarters with having 'invented' the newspaper interview in 1836 with his verbatim transcript of a conversation he allegedly had with Rosina Townsend, a witness in the trial of the murderer of a New York prostitute Helen Jewett, which was published in the New York Herald. Other cite the interview conducted by Horace Greeley with Brigham Young, leader of the Mormon religion, and published in the New York Daily Tribune of 20 August 1859 as being the first interview as we would now recognise it.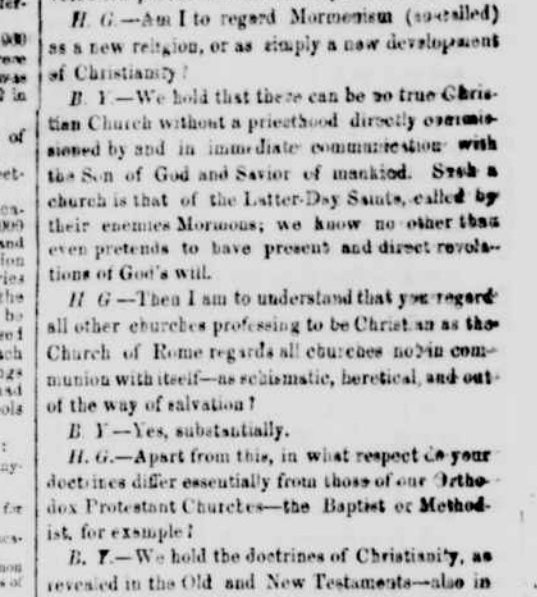 Part of Horace Greeley's interview with Brigham Young, New York Daily Tribune, 20 August 1859, p. 5, from Chronicling America
But newspaper interviews were not 'invented' - they grew out particular changes to the medium. The process of interviewing is as old as journalism itself, so one can trace it back to the 17th century at least. Journalists find the information they require often by asking someone questions, and then using the replies they receive as the substance of their report. That is interviewing, and Daniel Defoe employed it as a news reporter for his Weekly Review much as today's journalists do 400 years later. Interviewing is integral to how news is understood - see how often news readers on TV and radio ask questions of reporters, experts and other interviewees, extracting what we need to know through that dialogue.
The interview as a formal newspaper feature emerged in the mid-19th century, as newspapers turned from being vehicles for partisan standpoints to broadly factual reporting. This included the use of direct quotation. The evidence became all the more important, and what better evidence could there be than the words spoken by the subjects themselves, in answer to the questions put by trustworthy journalists? Of course, it was also part of that process by which "news gathering turned into news making", as Daniel Boorstin writes in The Image, where he labels the interview as one of his 'pseudo-events' - events artificially created in order that they may be reported. The interview is not what happened but rather what the media has caused to happen.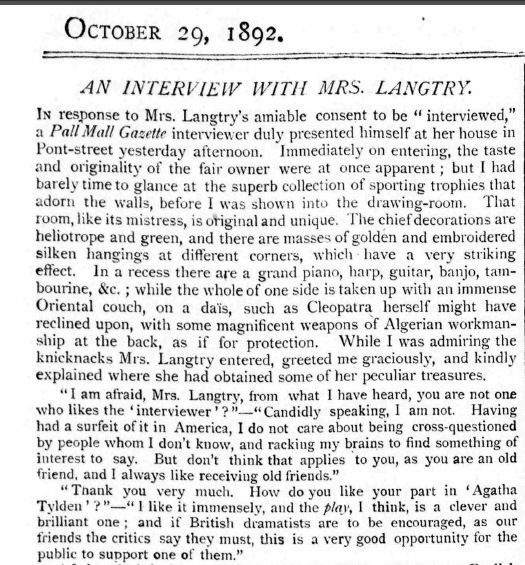 Interview with Lily Langtry (in which she complains about being interviewed so often), Pall Mall Gazette, 29 October 1892 p. 3. Image © THE BRITISH LIBRARY BOARD. ALL RIGHTS RESERVED.
However, the nineteenth century newspaper interview was a far cry from the investigative and combative interviews of today. The interviews that British journalists such as William Howard Russell (The Times), George Augustus Sala (Daily Telegraph) and W.T. Stead (Pall Mall Gazette) produced were the pronouncements of the great and the celebrated who had reason to use the press for self-promotion. Stead undoubtedly helped establish the interview as a standard newspaper device by his enthusiastic adoption of the form, part of the 'New Journalism' revolution of the 1880s which placed great emphasis on the personal, through devices such as the interview. As well as his own interviews with figures such as Tsar Alexander III and Pope Leo XIII, Stead employed Hulda Friederichs as 'chief interviewer' at the Pall Mall Gazette from 1882 (women journalists were considered to have a particular aptitude for interviewing). Unfortunately interviewers are seldom named in newspapers from this period, making it difficult to trace the work of particular reporters.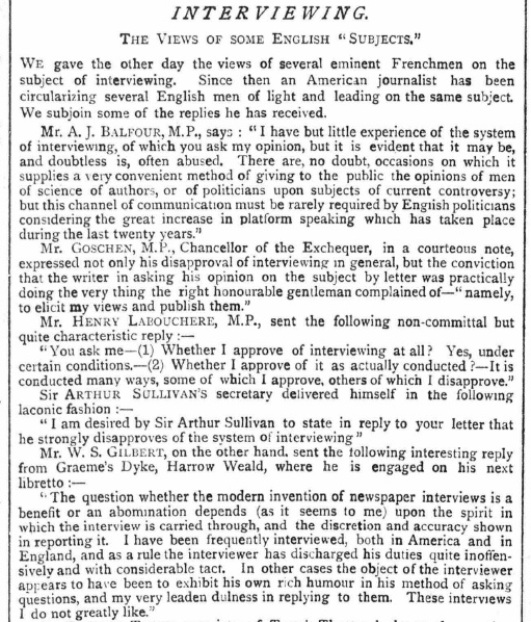 The subjects of late nineteenth century newspaper interviews give their opinion on the experience in this piece from Pall Mall Gazette, 31 December 1890, p. 3. Image © THE BRITISH LIBRARY BOARD. ALL RIGHTS RESERVED.
Interviews in newspapers in the late 19th century tended towards celebrities from the world of entertainment. Politicians were wary of the practice, and saw little advantage in indulging requests to give interviews, when what they had to say could be heard on public platforms or read in Hansard. As A.J. Balfour says in the quote above, "this channel of communication must be rarely required by English politicians considering the great increase in platform speaking which has taken place during the last twenty years." Instead the interview became primarily the feature of journals such as the 'Illustrated Interviews' in George Newnes' Strand Magazine - light reading for those who wanted some personal insights into the lives of the famous. Interviews in newspapers were to become more searching as the new century began, particularly in America, but it would be new technologies that would help transform them.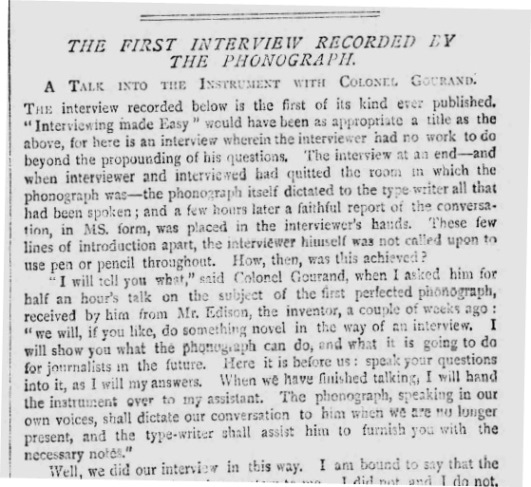 The first sound interview (probably). Interview by Phonograph with Edison agent Colonel George Gouraud, as recorded by the Pall Mall Gazette, 24 July 1888, p. 1. Image © THE BRITISH LIBRARY BOARD. ALL RIGHTS RESERVED.
A startlingly early intimation of how thing could change occured in July 1888 when the UK agent for Thomas Edison's Phonograph sound recording machine was 'interviewed' by the Pall Mall Gazette, boasting of how a sound recording would provide a 'faithful report of the conversation' (intimating that not all newspaper interviews were so faithful to the words spoken). This was in all probablity the first sound interview, but although the Phonograph and later technologies such as the Dictaphone were used to record famous voices and as dictation devices in the early 1900s, it would be decades before they were adopted for news reporting.
Colonel Gouraud (left) being interviewed by an unidentified journalist from the Pall Mall Gazette, with the Phonograph recording the meeting, July 1888. From British Library Sound Archive collection.
Projected film appeared in 1896, but it proved a medium ill-suited to interviews. Attempts were rare and seldom successful, even after films gained sound in the late 1920s, with the few efforts from the cinema newsreels being short statements delivered in stilted fashion that offered little advance on the Hepworth interviews of 1916. What gave the news interview new life was radio, which began in the early 1920s. This gave the interview greater credibility, through the chance it gave the public to hear the subject's voice, through the live nature of radio, and because the interviewer's questions gave the sense of a process of interrogation, a driving towards the truth. BBC radio interviews of the 1920s-50s were seldom adversarial, being more in the way of civilised conversations, but the greater power had now been offered to the public to judge what was delivered to them, be it the words spoken or the ways in which those words were spoken. 
It took live television to make the news interview come into its own, a process not for delivering statements but instead a contest for the truth. 
Leslie Mitchell interviewing Anthony Eden for a Conservative party political broadcast, BBC tx. 16 October 1951. From University of Sheffield's Department of Journalism Studies' YouTube channel
Television's first news-related interviews were a disappointment. The BBC's Leslie Mitchell's pre-planned interview with prime minister Anthony Eden for a Conservative party election broadcast in 1951 has become notorious for its stilted obsequiousness, even if it was viewed as a technical success at the time. Mitchell asks:
Good evening. I would just like to say that, as an interviewer, and as I what I hope you will believe to be an unbiased member of the electorate, I'm most grateful to Mr Anthony Eden for inviting me to cross-question him on the present political issues ... Well now, Mr Eden, with your very considerable experience of foreign affairs, it's quite obvious that I should start by asking you something about the international situation today, or perhaps you would prefer to talk about home. Which is it to be?
Supine as this was, it did show at least an understanding of how television was ideally suited to the question-and-answer format, counterbalancing formality with informality. The first step on the road from here to Paxman came in 1955, when Robin Day brought a new forthrightness to television interviewing at ITN, two notable highlights being his sharp questioning of President Nasser in 1955 and his interview with prime minister Harold Macmillan in 1958, where what might now seem a fairly tame question asking about criticism that had been made of the foreign secretary Selwyn Lloyd was seen by some as shockingly intrusive, not least because you could see Macmillan thinking about his answer before delivering it. The interview was letting the viewer be the judge, exposing what might be the truth between the lines.
The adversarial quality of the television news interview grew throughout the 60s and 70s, in tandem with the emergence of a less deferential, more determinedly democratic society. Television was becoming the forum for public debate. The medium delighted in getting the upper hand, as demonstrated by David Frost's interrogation of the fraudster Emil Savundra and the revelations that he coaxed out of Richard Nixon. The goal of the interview came to be the revelation of the truth, hoping by a process of seeking out weak points to lead the subject into revealing something they would rather not have made public. The interviewee was no longer someone who had deigned to share some selected information with us all. They were now lying bastards, and their lies had to be exposed.
Interviews on radio likewise became less polite and increasingly forensic. BBC programmes launched in late 1960s/early 70s such as The World at One, Analysis and It's Your Line (a programme hosted by Robin Day, in which the public phoned in questions to ask of the interviewee) made the interview central to a process of burrowing beneath the headlines to uncover what was really happening. The Today programme moved away from its cosy beginnings to become the programme opinion makers had to listen to and had to appear on. This was particularly on account of presenter Brian Redhead's refusal to doff his hat to anyone in power, as in his famous response  (in a 1987 interview) to  Chancellor of the Exchequer Nigel Lawson accusing him of bias through being a supporter of the Labour party:
Do you think we should have a one-minute silence now in this interview, one for you to apologise for daring to suggest that you know how I vote, and secondly perhaps in memory of monetarism, which you've now discarded?
Politicians accountable to an electorate had little choice but to appear before the cameras and microphones, but as television became bolder so they responded through increasingly sophisticated media training. The art of not answering, or of turning the interview to your advantage arose. Margaret Thatcher was well trained in interviewing techniques and image management, through the guidance of former TV producer Gordon Reece, but it was the Labour government of 1997 that turned control of message into an artform (guided by another former TV producer, Peter Mandelson).
A power game arose between politicians and the news media over the communication and interpretation of the message, with the interview as the battleground. There was an increased desire on the part of the media to use the interview to extract revelations, matched by an increased determination from their subjects to reveal no more than they had been instructed to reveal. Sharp interviewers such as Paxman for Newsnight and John Humphrys for Today gained praise for their tough questioning and refusal to be hoodwinked, but the praise was sometimes more for the stance than any illumination obtained about the subject discussed. Paxman's celebrated 1997 interview with Michael Howard in which the interviewer asked the same question twelve times did little to inform its audience, for whom the point that the subject was not going to answer the question could have been made after two or three attempts.

Jon Snow and Alastair Campbell, Channel 4 News tx. 27 June 2003
Interviews turned into theatre, perhaps most famously when Alastair Campbell, Tony Blair's Director of Communications, turned up unannounced at Channel 4 News on 27 June 2003 and was interviewed by Jon Snow on the Iraq 'dodgy dossier'. The result was a tour de force on both sides, a great interview of sorts but primarily a startling display of political passion. Politicians understandably prefer softer rides  - Margaret Thatcher's interviewer of choice was Radio 2's Jimmy Young, for example. Equally, one of the marks of a successful politician has come to be how well they can deal with the toughest interviews. It is a trial of strength, as much as anything.
Interviews on television and radio flourish on non-news programmes of course. From Face to Face to Parkinson, to Piers Morgan's Life Stories there has been a consistent focus on celebrity and the personal revelation, teased out through a bonding between interviewer and subject. Interviews continue to be a mainstay of newspapers, or their associated magazines, where some of the dangers inherent in a live interview are lost and both sides have greater control over what is said. The interviewee will have their press adviser by their side, determining what can or cannot be covered; the interviewer can fill out the verbal testimony with background impressions, barbed or otherwise. Both sides have control, though it is still a battlefield, a game of attack and defence.
HARDtalk interviews, from http://www.bbc.co.uk/programmes/n13xtmdc/clips
A good example of the news interview programme of today is the BBC World series HARDtalk, first broadcast in 1997 with Tim Sebastian as the interviewer and now Stephen Sackur asking the questions, is a model of how two intelligent minds, with good preparation, can discuss issues of the day in a form that is a genuine questing for the truth. This is not news manufactured as pseudo-event - it is rational and vital extension of what is news. Nor is it a question of exposing liars (usually) - it is using the time-honoured process of question and answer to come to an understanding.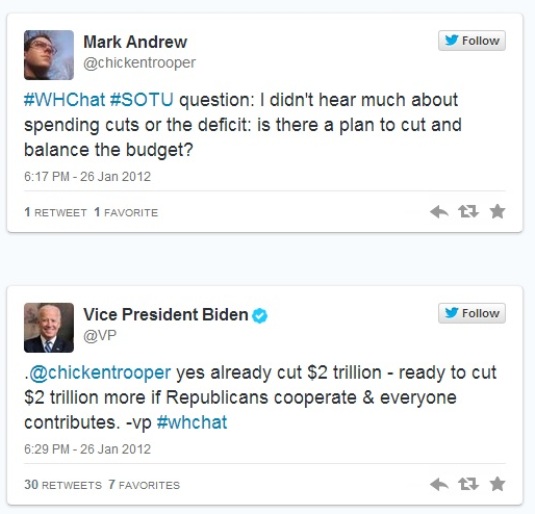 Tweets from a Twitter interview with US Vice President Joe Biden, 26 January 2012
Where next for the news interview? HARDtalk is a good programme, but quite traditional in format. Newspaper interviews continue, but seem more about drawing out character than setting the news agenda. The online world is developing new ways in which subjects can be interviewed, which involved the general public much more, such as Twitter discussions, while BuzzFeed's interview of 29 May 2014 with Ed Miliband (the one in which he said it was a good idea not to read the newspapers) transfers the magazine-style interview with illustrations to a web format in a way that resfreshes the interview form. Al Jazeera's web/TV programme hybrid The Stream is an example of how engagement through interviews is being adapted for a multi-platform world, and television interviews can feature questions posted by social media (see, for example, Glenn Greenwald's interview for NBC on 18 May 2014). The growth of citizen journalism may make anyone into a potential interviewer, with all of the hazards as well as the advantages that suggests.
In such a world, the traditional confrontation between interviewer and interviewee begins to look like it belongs to another age, an age when current affairs television (and radio) served as the forum for public engagement with the issues of the hour. That forum is increasingly located elsewhere, and the interview will have to adapt accordingly if it is to continue to be meaningful. It may not be so combative or theatrical as it has been in the past; it will undoubtedly be more social. It will be less constrained by space (as is the case with newspapers) or time (as is the case with television and radio). Consequently it may either be freer in form or hampered by a lack of discipline. The questions demanding answers remain the same; just who will be asking them looks certain to change.
More information
The Hepworth Cinema Interviews are held by the National Screen and Sound Archive of Wales - a press release on the UNESCO recognition is here, and a catalogue record for the films is here
Michael Cockerell's Live from Number 10: The Inside Story of Prime Ministers and Television (1988) is insightful and full of great anecdotes and quotations (such as the Eden-Mitchell interview quoted above)
On interviewing in Victorian newspapers, see Lucy Brown, Victorian News and Newspapers (1985) and Laurel Brake, Marysa Demoor (eds.), Dictionary of Nineteenth Century Journalism (Gent/London: Academia Press, British Library, 2009)
The Pall Mall Gazette for the period 1865-1900 has been digitised and is available online via the British Newspaper Archive
On Hulda Friedrichs and other women journalists of the nineteenth century, see F. Elizabeth Grey (ed.), Women in Journalism at the Fin de Siècle: 'Making a Name for Herself' (London: Palgrave Macmillan, 2012)
On the technique of modern interviews, see Steven Clayman and John Heritage, The News Interview: Journalists and Public Figures on the Air (Cambridge: Cambridge University Press, 2002)
The Radio Times has a list with links of 'the greatest broadcast interviews of all time', including Campbell v Snow, Paxman v Howard, Frost v Nixon, and John Nott walking out on Robin Day
01 February 2014
100 years ago, on 2 February 1914, the film Making a Living was released by the Keystone Film Company. It was a comedy, one reel long (1,000 feet, or around 10 minutes), directed by Henry Lehrman. The star was a British comedian, newly arrived in Hollywood, whose first film it was. The actor was Charles Chaplin.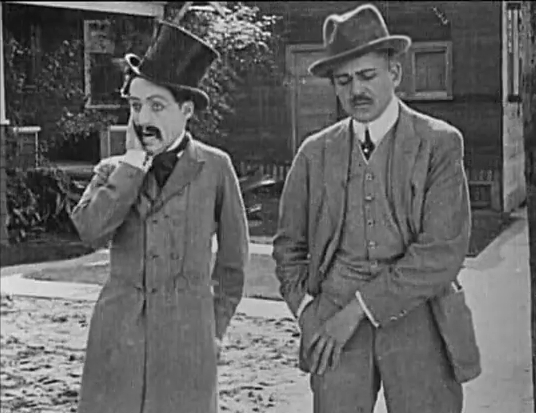 Charlie Chaplin (left) and Henry Lehrman in Making a Living (Wikimedia Commons)
The Charlie Chaplin who appears in Making a Living is not in the tramp costume that would make him famous. In his first film Chaplin is dressed in top hat, waistcoat and cravat, with a monocle and sporting a long drooping moustache. His character is a seedy chancer who tries to steal the girl and then the job of a rival. There are some small bits of adroit comic business that show Chaplin's potential, but in general the film was a run-of-the-mill Keystone slapstick comedy, made quickly and cheaply, with a star who knew nothing as yet of how films were made. Chaplin disliked the film, and disliked Lehrman directing him. He was puzzled by the filmmaking process (he did not understand why films were shot out of sequence), but rapidly learned the business and took over the direction of his own films within months. 
Surviving copies of Making a Living lack the original descriptive intertitles. The main title and music  on this Internet Archive copy are later additions. 
Making a Living is worth a second glance, however. It is not nearly as bad a comedy as Chaplin held it to be, but what makes it of interest for this blog is that it is a film with a newspaper setting. Chaplin's rival (played by Lehrman) applies to be a reporter. Chaplin's character joins him in the profession (he spots a handy 'Reporter Wanted' sign) and does his best to scoop his rival. In what feels like a remarkably modern plot development, there is a car crash in which Lehrman photographs the car and interviews the victim trapped beneath while doing nothing to rescue him, before an equally cynical Chaplin steals his camera to claim the scoop as his own. It all ends, inevitably in a crazy chase, with the two rivals eventually scooped up by a cow-catcher on the front of a passing tram.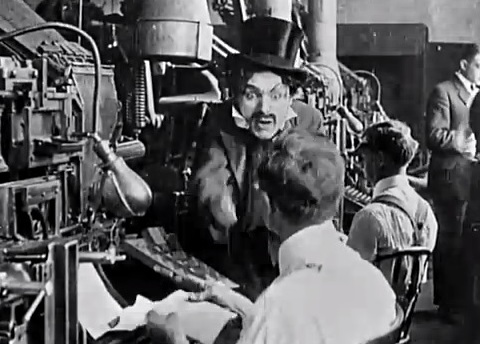 Frame grab showing Chaplin's character with the newspaper typesetters
The film has several shots of a row of newspaper Linotype operators at work, and shows bundles of newspapers being thrown out into the street for distribution by news boys on bicycles. According to Glenn Mitchell, in The Chaplin Encyclopedia, the newspaper featured is believed to be the Los Angeles Times, and a sign in the background towards the end of the film which reads 'Largest City Circulation' suggests that it is the paper in question.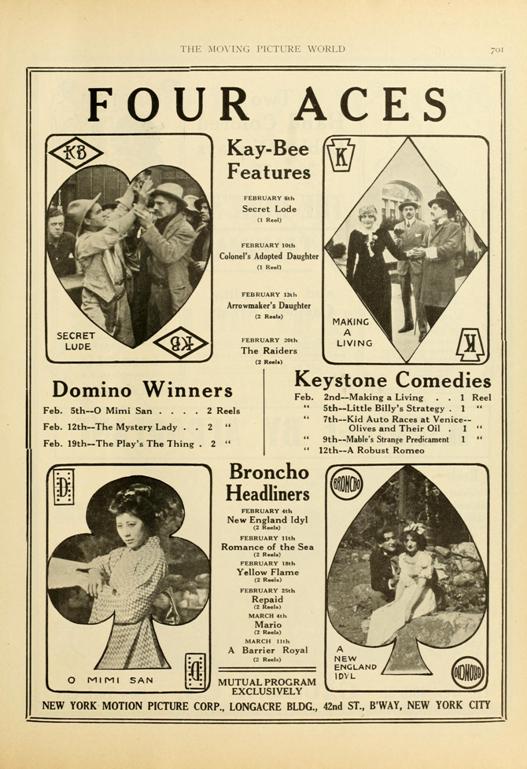 Advertisement for Making a Living and Chaplin's next two films, Kid Auto Races and Mabel's Strange Predicament, from Moving Picture World, 7 February 1914, p. 701 (from the Media History Digital Library)

Moving Picture World, 7 February 1914, p. 678, reviews Making a Living (from the Media History Digital Library)
The world took a little while to notice Chaplin. There are listings for Making a Living and other early Chaplin releases in the film journals of the period, several of which can be traced through the excellent free resource, the Media History Digital Library. The Moving Picture World was prescient in declaring Chaplin from his debut to be to be "a comedian of the first water", but in general it was only a few months later that the first notices of praise can be found. In those British newspapers on the British Newspaper Archive, the earliest to note Chaplin by name would appear to be the Manchester Evening News on 6 June 1914, which reminds British audiences that they previously would have seen Chaplin on stage performing with Fred Karno's troupe, and how his films were going to be as popular as those of 'Bunny' (John Bunny, the most popular film comedian before Chaplin, now almost completely forgotten).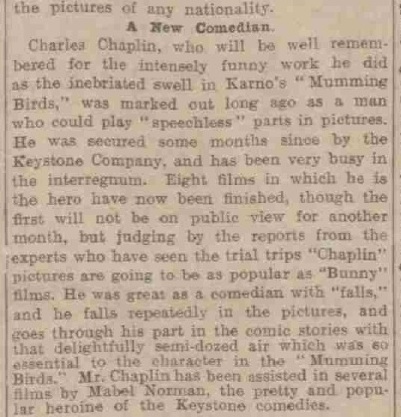 Manchester Evening News, 6 June 1914. Image © D.C.Thomson & Co. Ltd. Image created courtesy of THE BRITISH LIBRARY BOARD.
Making a Living was not the first newspaper movie. As early as 1900 the American Mutoscope and Biograph Company made the comic sketch Horsewhipping an Editor, in which a man attack an editor for reasons unexplained, and there were at least half a dozen short comedies and dramas made about newspaper reporters, as well as some actualities showing newspaper production, that were produced before Chaplin's debut film. In Essanay's Tapped Wires (USA 1913), for instance, rival news agencies tried to scoop one another with photographs of a train wreck, a scenario not dissimilar to Making a Living, only played as drama not for laughs (the film is believed lost).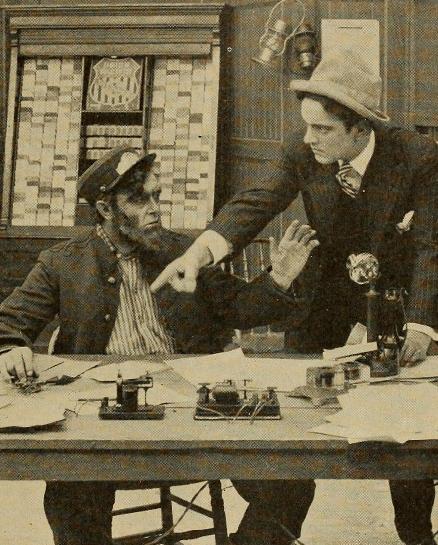 Tapped Wires (USA 1913), from Motography, 12 July 1913, p. 7, available from Media History Digital Library
Other  early newspaper films included Dan Leno and Herbert Campbell Edit 'The Sun' (UK 1902), Seymour Hicks Edits 'The Tatler' (UK 1907), Cretinetti re dei giornalisti (Italy 1910, a film which survives), Gallegher: A Newspaper Story (USA 1910), The Reform Candidate (USA 1911), The Grafters (USA 1913), The Reporter's Scoop (USA 1913),  A Newsboy's Christmas Dream (UK 1913) and Her Big Story (USA 1913). Reporters would either be portrayed as daredevil characters questing after the truth (The Reform Candidate and Her Big Story both featured women reporters exposing corruption) or a hapless comic figure overhelmed by events. Playing a reporter was standard comic guise for European film comedians such as Robinet (Marcel Fabre), Cretinetti (André Deed) and Tontolini (Ferdinando Guillaume), and Chaplin's first role fits into this comic tradition.
There were early actuality films about newspaper production too. The Seymour Hicks film mentioned above was an 'industrial' film (a film showing an industrial process of some kind) with interventions from the comic actor. The Making of a Modern Newspaper (USA 1907), a copy of which survives, shows the Philadelphia Record being produced. Other newspaper actualities (probably all now lost) included Delivering Newspapers (USA 1903), Newspaper Making (UK 1904), Making of a Modern Newspaper (UK 1908), The Newspaper World from Within (UK 1909, on the production of the Morning Leader), The Dundee Courier (UK 1911, sponsored by D.C. Thomson), and The Production of a Newspaper (UK 1913). British film companies of the period were clearly keen on filming newspapers (or the newspapers were keen to have their product promoted in the cinemas).
Soon after Making a Living was produced, Chaplin made another film, Mabel's Strange Predicament (Mabel being Mabel Normand). It was for this film that he decided to pick out a hat, shabby suit, cane, donned a toothbrush moustache, and magically a character was born - the little tramp. However, the first time audiences saw the costume was in Kid Auto Races in Venice Cal., made after the Mabel film but released in America as Chaplin's second film just five days after Making a Living, on 7 February 1914 (it too has a news theme, as the children's soap-box derby that Chaplin's character interrupts is being filmed by the newsreels, which he spoils by standing in front of the camera). The look, the gestures, the individuality, the iconic representation of the down-at-heel little Everyman with only his wit to save him from a harsh world, were all in place. His future encounters with newspapers would be as an object of fascination, as he swiftly became the most famous person in the world.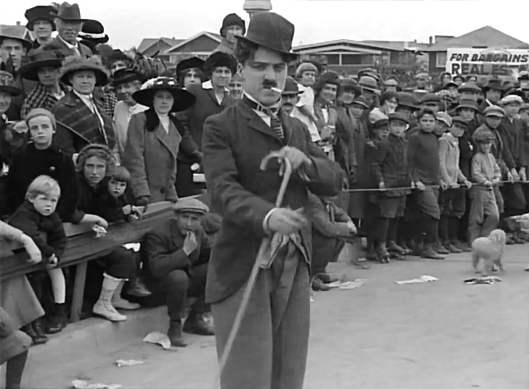 Kid Auto Races in Venice Cal. (Wikimedia Commons)
The Newsroom blog recent posts
Tweets by @BL_newsroom
Other British Library blogs