04 May 2022
One of the special features of the British Library's Breaking the News exhibition is a large-scale panorama, created by designers Northover&Brown. Objects and graphics have been placed into flowing pictures of networks, places and people, tracing the changing ways in which we have discovered the news over five centuries, from town squares to what Elon Musk calls 'the digital town square'. This post complements the panorama.
Interior of a London coffee-house (c.1690), British Museum
Thence to the Coffee-house … where all the newes is of the Dutch being gone out, and of the plague growing upon us in this towne; and of remedies against it: some saying one thing, some another.
On 24 May 1665 Samuel Pepys wrote in his diary of his quest for news. Pepys visited one of London coffee houses two or three times a week over 1663-1664, the habit falling away in 1665 as plague took its grip on the city. He seems not to have cared that much for coffee, but yearned for the companionship, good business contacts and information to be found at a coffee house. Here one discovered the world.
The news one gleaned from a 1660s London coffee house came as much from discussion and talks as it did from printed news. Coffee houses had long tables on which the latest newsbooks and newsletters would be laid out. In 1665 there were only two print newsbooks available (from one publisher), both mostly restricted to overseas news: The Intelligencer and The Newes. The news Pepys discovered was an amalgam of publication, rumour and opinion. Such it was then; such it has remained.
The news has to seek us out. Just as much as it is shaped by those who are able to publish it and those who choose to consume it, news is shaped by where it is found. News publications in Britain in the seventeenth-century were found in print shops, coffee houses, taverns, and in the homes of those in business, officialdom and the church served by private news services that provided handwritten newsletters. Tight publication regulations prevented coverage of anything except overseas events, but the Civil War (1642-1651) created an audience hungry for information and opinion. Mostly confined to London, it was circulated, at some risk to publishers and sellers, as newsbooks, newsletters and proto-newspapers, news from the streets that was sold on the streets.
In the eighteenth and early nineteenth centuries newspapers gradually grew in numbers, geographical range, and habit. News was carried across the country by mail coaches along ever-improving roads to homes and public spaces such as taverns and workplaces. Copies passed from hand to many other hands. Such news could be shared verbally, reaching out to the illiterate or those priced out of purchasing a newspaper by taxes designed to suppress radical thought. Working class memoirist Thomas Carter recalled passing on the news in 1815:
I every morning gave them an account of what I had just been reading in the yesterday's newspaper ... My shopmates were much pleased at the extent and variety of the intelligence which I was able to give them about public affairs, and they were the more pleased because I often told them about the contents of Mr. Cobbett's "Political Register", as they were warm admirers of that clever and very intelligible writer. (T. Carter, Memoirs of a Working Man, London, 1845)
In the nineteenth century the newspaper flourished, aided by rapid growth in readers and advertising money that freed newspapers from political control. Coffee houses remained a popular location, but from the 1830s newspaper reading rooms emerged, followed later by newspaper sections of public libraries, greatly widening access to local and international affairs to those who had previously been priced out of such knowledge. The rapid spread of a rail network not only boosted the distribution of newspapers but created a new kind of space for news, the commuting space, private consumption in a public environment. Newspapers could be organised to last for the duration of a rail journey. Truly national newspaper titles came to the fore – The Times, The Morning Chronicle, The Daily Telegraph (few other countries have so dominant a national newspaper culture as the UK). Sunday titles such as The Observer and The Sunday Times fitted into the weekend pattern of lives with greater leisure time. All culminated in the great game-changer, The Daily Mail, launched in 1896, a million-seller by 1901.
In the twentieth century different news forms arose to compete for public attention in both private and public spaces. From the 1910s through to the 1960s cinemas usually featured news in their programmes, in the shape of short newsreels, with dedicated news cinemas proliferating across cities from the 1930s. Radio news started in December 1922, delivering its messages exclusively for domestic consumption, building up its reputation so that for the Second World War it was the essential means by which the general public anchored itself to the daily progression of the conflict. BBC television in the 1930s showed only cinema newsreels, introducing its own newsreel in January 1948. It introduced newsreaders in the format that endures to this day in 1955, just ahead of its new commercial rival, ITV. It proved to be the perfect domestic, communal medium, gradually supplanting radio, pressurising the newspapers and crushing cinema newsreels, which could not compete with so frequent a service.
Newspapers were still read on trains and in libraries, but the contest for news supremacy lay in the domestic space. News was something that came to us, that occupied our homes. It tied us constantly to the turn of events happening outside our protective four walls. Local radio and television arose, following newspapers in serving audiences who understood themselves as much regionally as nationally.
The multi-format, domestic model began to be overturned at the turn of the century. The Internet has become a platform for all established news media (press, television, radio) and has led to the creation of new news media forms. Social media combines personal and general information, serves as a distribution platform for stories from the other news media while delivering original content as well, and supplies content on which all news media now depend.
The Internet has not only broken up traditional news forms, but has changed the relationship between news and space. The news no longer needs to seek us out: it is everywhere. Amy, aged 25-30, in a 2019 Reuters Institute for the Study of Journalism report on news habits of the young, describes how she occupies this world:
I'm on Instagram, for example, and there are videos on there, that could send me to a link to somewhere else… It depends what I'm looking for, but if I'm scrolling that could be anything from a post on Facebook to a video on Instagram to an article on BBC News or something. So, it sort of depends where I am and what I'm looking for.
Part of the 'Where do we find the news?' panorama, Breaking the News exhibition, British Library
For 400 years, since the publication of the first newspaper in Britain, the established news media have been defined by regularity. As C. John Sommerville argues, they built an economic model around news as something shaped in a particular form, forever replaced by new content, an idea of news that fed off assured spaces and a regularity of habit. Pepys went to the coffee house when his morning's office work was done. Newspapers arrived when the mail coach was due, or were read on the daily train commute, or were delivered to the doorstep each day. They called themselves dailies or weeklies, naming themselves after their dependability. News reading rooms were open for when workers had leisure time, a weekly luxury. Newsreels were released twice a week because, in its heyday, that was how often the average person went to the cinema. Radio news established itself around daily bulletins – the six o'clock news, the nine o'clock news. Television followed the same model until it devised 24-hour news, though even that was built around regularity, with headlines on the hour. News has been defined by, indeed has helped shape, the daily round.
The Internet knows no regularity and demands no physical space. It ignores all confines (at least in those societies that permit such freedoms). The Internet is therefore changing the news. We still measure our time in days, but the network through which we communicate across the globe does not. Many, of course, still cling to the daily newspaper, or to the early evening TV news, or a radio report at midnight, signing things off for another day – but these are habits, no longer certainties. What once could be defined by a physical space must now be defined by its absence. The news today is determined not by where we are but by who we are, or who we want to be. This is the unsettling, but exciting, world of news that the twenty-first century is now delivering to us.
Luke McKernan
Lead Curator, News & Moving Image
Further reading:
Richard D. Altick, The English Common Reader: A Social History of the Mass Reading Public, 1800-1900 (Chicago/London: University of Chicago Press, 1957)
Markman Ellis, The Coffee House: A Cultural History (London: Weidenfeld & Nicolson, 2004)
Matthew Engel, Tickle the Public: One Hundred Years of the Popular Press (London: Victor Gollancz, 1996)
Andrew Hobbs, A Fleet Street in Every Town: The Provincial Press in England, 1855-1900 (Cambridge: Open Book Publishers, 2018)
Anthony Smith, The Newspaper: An International History (London: Thames & Hudson, 1979)
John Sommerville, The News Revolution in England: Cultural Dynamics of Daily Information (New York/Oxford: Oxford University Press, 1996)
08 December 2021
Opening next April, Breaking the News, supported by Newsworks, is a major exhibition from the British Library, spotlighting the role news plays in our society, exploring issues of choice, interpretation, truth and trust in the news.
Smashed hard drives used by The Guardian to store Edward Snowden's files © Guardian News & Media Ltd 2021
From the earliest surviving printed news report in Britain on the Battle of Flodden in 1513, to smashed hard drives used by The Guardian to store Edward Snowden's files and an original BBC radio script announcing the D-Day landings, Breaking the News will go beyond physical newspapers to examine the role news in its many forms plays in our lives. Presenting historical and contemporary reports on war, natural disasters, crime, politics and celebrity scandals, the exhibition will reveal that while the themes that interest us generally do not change, the form and ownership of news does.
Breaking the News will interrogate what makes an event news, what a free press means, the ethics involved in making the news, what objective news is and how the way we encounter news has evolved. Delving into the biggest collection of news heritage in the UK, housed by the British Library, these pressing issues will be set against the backdrop of over five centuries of news publication in Britain through newspapers, newsreels, radio, television, the internet and social media.
Ahead of, and then in tandem with the Breaking the News exhibition, pop-up displays will open at over 30 public libraries across the UK, via the Living Knowledge Network. The displays will draw upon each library's individual collection and regional connections to celebrate the value of regional news in communities across the UK.
Breaking the News will run 22 April-21 August 2022.
The touring exhibition will run 24 February to August 2022.
21 May 2019
In Spring 2021 the British Library will be hosting a major exhibition on the history of news in Britain.
The aim of the exhibition is to explore the history, present and future of news in Britain over 400 years since the first newspaper was published in this country, asking what makes the news what it is, and what this means for us.
The exhibition will trace how news for the diverse audiences of this country has been produced, distributed and read over four centuries, through news sheets, news books, broadsides, newspapers, newsreels, radio, television, the internet and social media. The exhibition will encourage questions about the role of news in society. It will look at the ways in which news is changing as we ourselves change. It will invite to us to consider vital issues of choice, interpretation, truth and trust.
Planning for the exhibition, provisionally entitled Making the News, has got underway. To help us put it together, we are advertising for a two-year exhibition project curator.
Working with a curatorial team and the Library's exhibition team, the post-holder will contribute to the development and delivery of the exhibition. They will contribute to the administration of the curatorial content of the exhibition; will prepare external visits and show-and-tells; will promote the exhibition on social media and to visitors; and will apply research expertise in one or more areas of British news history in support of the selection and curation of content for the exhibition.
Details of the vacancy and how to apply can be found on the British Library's careers site. The deadline for applications is 23 June 2019.
16 December 2018
In two years' time, it will be the four hundredth anniversary of the newspaper in this country. The first known newspaper in English, Corrant out of Italy, Germany, &c. was published on 2 December 1620, in Amsterdam. A year later, on 24 September 1621, the first newspaper was published in this country, the Corante, or, Newes from Italy, Germany, Hungarie, Spaine and France.
Corante, or, Newes from Italy, Germany, Hungarie, Spaine and France (September 1621), British Library
These newspapers survive at the British Library, and, looking at them, they are remarkably close to the newspapers of today. What we see is a sheet of paper: portable, foldable, shareable. There is a masthead with the title of the news publication. There is a date – strictly speaking, a date for the first story. There are stories, arranged in columns, with a shared currency. It gives a shape to the news, with the promise of more to follow.
The newspaper has been a remarkably successful publishing model, sustained in this country, after an unsteady start, for nearly 400 years. The newspaper and its prints variants flourished, with the inhibitions of censorship, taxation or regulation failing to halt their progress. The newspaper informed, entertained and helped define the nations and regions that it served.
The newspaper went largely unchallenged as a medium of news for nearly three hundred years. Certainly there were variations on the form, from periodicals to broadsides, and changes were brought about in size, illustration, distribution patterns and so forth, but essentially the news meant the newspaper.
Title image of a 1911 edition of Pathe's Animated Gazette, British Pathe
That changed in June 1910, when a wholly new news form was published – the newsreel. One can argue over the significant date, for newsfilms of a kind preceded newsreels just as there were news sheets and other news publications before there were newspapers. But with Pathé's Animated Gazette, issue one of which was shown in cinemas in June 1910 and weekly, then bi-weekly thereafter, something changed. This was news on a new medium, that not only communicated the news in a different way but had to be consumed differently, by an audience sitting in a cinema, unable to control the order of stories in which they appeared nor the time they might want to spend on each one.
The newsreel did another revolutionary thing. It invited the audience to widen its understanding of the news, even to have a measure of control over it. Owing to the complexities of film processing, newsreels could not be published daily. They were published bi-weekly, matching the common pattern of cinema attendance (i.e. most people were going to the cinema twice a week), and deliberately chose news stories which had featured in the newspapers previously. You had read the story, now you could see it in motion. You the audience could combine these media together to enrich your understanding of the news, if you so wished.
Newspaper owners were swift to react to this. In the USA, William Randolph Hearst rapidly bought into the newspaper market, creating Hearst-Selig News Pictorial in 1914. In the UK, Edward Hulton, owner of The Daily Sketch newspaper, bought the Topical Budget newsreel in 1919. Lord Beaverbrook of The Daily Express became co-owner of Pathé Gazette in the 1920s. Hulton and Beaverbrook wanted to own the totality of the news.
But the news was spreading, increasing audience power while making it much harder for the news barons to control every manifestation of the phenomenon of news. The BBC introduced news bulletins on 23 December 1922, under government licence. It lay outside any possible control of the newspapers (though originally the BBC was restricted to using news agency copy only), and swiftly challenged them through daily publication and command of the public space. Radio added a new dimension: live reporting, collapsing the time difference between news event and news consumption.
Radio also offered sound, of course, which the newsreels adopted around 1930. News could now be read, or seen, or listened to, and with each innovation the newspaper lost that much more of its claim to the totality of news, while audience power grew with the increase in choice.
BBC newsreader Kenneth Kendall, 1950s, BBC
Next came television. The first BBC television news programme, in January 1948, was a newsreel in form and name – Television Newsreel, while the new medium owed much in its early years to its parent medium, radio. As with radio in the UK, it originally owed its existence to government licence, and added to the trump cards of frequency, domestic space and live reporting the particular power of the newsreader.
News now had a human face, that spoke to you the viewer as an individual as well as to the mass. It added to that sense of reassurance that news publications existed to provide. Danger and calamity were what was happening to other people. The fact that you were there to read the news, or to have it read to you, implied that you were safe.
Then came news on the web. Traditional news organisations were extraordinarily slow to grasp the implications of the Internet. Confident in their well-established models, in the audiences that were assumed to be loyal to them, and in the advertising revenue that sustained them, they were profoundly shocked – and continue to be shocked – by this mode of distribution and communication which upturned their every expectation. A fierce rearguard action is being fought, defending traditional newspaper values against the freewheeling digital behemoths Facebook and Google, but the balance of power has shifted irrevocably.
News stories now filter through a myriad of networks; the advertising money has moved to search; choice has expanded beyond any reckoning; the timetables around which had traditionally structured itself have gone; and the audience has become all powerful. The traditional news world has been disaggregated, and we are all – producers, readers, advertisers, regulators, legislators – trying to work out how to put the pieces back together again. All that is certain is that the Internet makes the news, because it has become the lifeline on which all news production and news communication now depend.
News in the UK has changed greatly over the past 100 years, in medium, range, extent and ownership. Today much of the understanding on which news has been based, the contract between publisher and reader, is being challenged. Political upheaval combined with the mushrooming of digital outlets, combined with growing audience power on what is accepted as news, has made collecting the news all the more challenging – and imperative. What is the news now, and how do we collect it?
The British Library, until recently, has not collected the news – it has collected newspapers. As part of its function as the national research library, and as an outcome of Legal Deposit legislation, the Library (or the British Museum before it) has had the power since 1869 to request one copy of every newspaper issue published in the UK or Ireland. Just the one edition is taken where there are multiple editions of a title, usually the latest edition.
Between roughly 1822 and 1869 copies of newspapers were supposed to be sent to the Stamp Office for reasons of taxation, and these copies subsequently made their way to the British Museum. Consequently the collection is comprehensive from 1869 onwards, and nearly so for 1822 to 1869, though comprehensive is, in our case, a relative term.
Prior to 1820, the Library has been dependent on acquisitions and donations, mostly notably the newspapers, news sheets and news books from the Civil War period collected by bookseller George Thomason, and the Burney Collection of newspapers 1603-1818, collected by the Reverend Charles Burney. As a result of Legal Deposit, donation and acquisition, the collection amounts to some 60 million issues, or 450 million pages, though that is a figure derived from counting the number of volumes held, and in truth no one can really say exactly how many newspapers the British Library holds.
New newspapers received under Legal Deposit awaiting processing at British Library, Boston Spa
We do know how many are coming in, however – currently we take in 1,200 titles every week – that is, a combination of dailies and weeklies received under Legal Deposit. The figure is down from the 1,400 or so we were taking in only a couple of years ago, but, for the time being at least, this is remains a country with a remarkable appetite for newspapers.
Around a third of the titles in the collection are from overseas. Relatively few foreign newspapers are now collected, owing to storage issues and the availability of electronic newspaper resources, but historically there was collecting from many countries, notably from Empire and then Commonwealth countries which were received through colonial copyright deposit.
But what of the other news media? There is no Legal Deposit for sound or moving image in the UK. The Library incorporated the National Sound Archive in 1983, but its collection has been created through acquisition, special arrangements with publishers, off-air recordings and the recording of live performances and interviews by the Library itself. News, until recently, was not part of its collecting remit, though its radio collections did include some news broadcasts.
For television, the British Library deferred to the British Film Institute (BFI), which has collected the medium selectively since the late 1950s. The Broadcasting Act of 1990 brought in statutory provision for a national television archive, paid for by the television companies, driven by off-air recordings of programmes as they were broadcast. This archive is maintained by the BFI, and since the mid-80s it has been recording on a daily basis television news programmes from the main terrestrial channels.
In 2010 the British Library re-introduced off-air recording, taking advantage of an exception in UK copyright which enabled it to record broadcast programmes for the purposes of maintaining an archive. It had previously recorded radio and TV programmes up to 2000, mostly on musical themes. Now the emphasis was on news. This was driven by a wish for the Library to build up its moving image capability, and in response to a gap in archival provision. Although the BFI was recording the main terrestrial television news programmes, most news programmes from the 24-hour news channels were not being archived by any public body. There was an opportunity to become a television news specialist, adding radio news as well to the mix, to provide a service to researchers not available elsewhere. It was also recognition that television and radio news made for a logical extension of the Library's news collection. Newspapers were no longer enough.
In 2013 the Non-Print Legal Deposit Act was passed, permitting the British Library, in partnership with the other Legal Deposit libraries of the UK and Ireland, to collect electronic publications, including websites, the same as for print. This has been a complex and gigantic undertaking, with the number of files now archived running into the billions, dwarfing in size the Library's physical collection.
Most of the websites on the UK Legal Deposit web archive are captured once a year. That is, a snapshot record of a website is made as it appears at one point in time, with all pages linked to a root URL. This is not suitable for news, where so much can disappear quickly, and where there is a research imperative to see the news as it was made available, at regular points in time. We need web news to be archived like print newspapers, because print newspapers have established the model. So, from 2014, we have been capturing news websites on a regular basis, usually weekly, but daily for the national daily newspaper sites and news broadcaster sites.
It has taken a while to build up, but we are currently capturing some 2,000 web news titles on a regular basis, in collaboration with the other Legal Deposit libraries. This has included perhaps the most radical shift yet in our news collecting strategy, because as well as archiving the websites of the recognised news publications, around half of what we are archiving has been hyperlocal news sites. Hyperlocalism, a local publishing movement which began in the USA and has taken off greatly in the UK in the past four years, means that anyone can be a news publisher. Anyone with a bee in their bonnet or a feeling that the news in their street is being overlooked can sign up for free to a Wordpress site, give it a newsy title, and start publishing. And, if the British Library gets to hear of them, we will start archiving them. We do not discriminate.
A Little Bit of Stone, hyperlocal news site for Stone, Staffordshire, established in 2010
There is no definitive list of hyperlocal sites in the UK (though there are two directories that list many: Local List, and Cardiff University's Centre for Community Journalism's directory of hyperlocals). Nor is there any comprehensive listing available of standard UK news websites. Consequently we do not know what percentage of the UK's news websites we are archiving, though we are confident at least that it is a good majority.
There are many problems with the archiving of web news, however. Firstly, there is the sheer vastness of the web. No one can say what the true size is of a phenomenon which is in a continual process of change, but in a recent talk web archivist Ed Summers calculates that the Internet Archive, which said in 2016 that it has saved 510 billion web captures, might by this have collected just 0.39% of the web. We can see something of the mania of trying to capture the ever-changing web in the Internet Archive's hourly captures of the dailymail.co.uk (known as Mail Online in the UK). It is too much to comprehend, certainly too much to archive. The comprehensive archive of what is published can no longer exist.
Internet Archive captures of dailymail.co.uk, highlighting one day's captures for 26 March 2018
Secondly, owing to purely technical reasons, the Library is not always able to capture the audio and video elements of news sites, and even if it can capture them it is not always able to play back the results. Next, there used to be a simple correlation between a printed newspaper and the website that shared its name, and often its content. Increasingly the two are diverging, not just in content, but in title and scope. Single websites increasingly represent several regional newspapers where costs need to be cut. Newspapers are also being replaced by web versions, most prominently The Independent, which exists no longer in print but continues its digital existence as a facsimile version of the print title, as well as the independent.co.uk website and the indy100 spin-off site.
A few years ago, many newspapers made a PDF of their newspaper available on the website, but now a far more complicated picture exists, with a combination of digital outputs and many newspapers turning to aggregators such as PageSuite to provide digital access for them. Collecting newspapers digitally, which the Library does not currently do but is investigating, will not be a simple case of matching like for like. Whatever future collecting model the Library may pursue is bound to include a measure of print newspapers, not least because we will want to continue to collect a core of newspapers as print out of respect for a 400-year-old medium, for as long as there continue to be print newspapers. But one thing is certain – the world of digital news is different to that of physical news, and we will have to obey the rules of digital.
The current collection comprises the following: 60 million newspapers, 2,000 websites captured a total of 400,000 times, 85,000 television news programmes and 40,000 radio news programmes. Each week we take in 3,500 UK news publications of one kind or another. The news publications are collected through a combination of Legal Deposit, copyright exception and licence.
All of this is expressed in the key principles underpinning our news content strategy:
The Library's news offering incorporates the full range of news media – newspapers, news websites, television news, radio news, and other media
The Library's news content comprises primarily news most relevant to UK users, meaning news produced in the UK or which has had an impact on the UK
The Library also collects or connects to selected overseas newspapers, now primarily on microfilm or digital, according to availability and with focus on areas of research interest
The content strategy for news media is underpinned by Legal Deposit collecting, both print and non-print, but includes audiovisual media that lie outside Legal Deposit
The challenge for the Library will be how to bring these different news media together. That is why our news strategy focusses strongly on data. Commonalities of data – particularly date, time and place – will be essential for linking together different news stories. Other libraries are already experimenting with this, the Royal Danish Library for example, with its Mediestream service that brings together newspapers, television and radio.
To achieve such integration it will be essential to link up not only by date but keyword. We already capture subtitles for television news programmes where these are available; we are now experimenting with speech-to-text transcriptions of radio programmes. We will eventually be able to offer full text searching across each of the news media. The quality of such transcriptions will vary according to source, so an essential next step will be to extract entities, or themes, from these transcripts, using a shared set of terms.
So I will be able to aske of a future resource discovery system, show me everything you have relating to Brexit between 1st and 31st December 2018, and there will be there newspaper stories, the television news stories, the radio stories and the web stories, all of them indexed automatically, as well as books, papers or other media produced at that time which will enrich the picture of what the news was on this one topic at that particular time. All those objects must be born digital or to have been digitised, so our collecting policy must be digital.
There are other news media. The Library is looking at podcasts, which certainly fall under its sound and news collecting remits, not least because all the major newspaper titles and news broadcasters are producing podcasts. No commitment has been made as yet, but we have started capturing some sample news-based podcasts.
The area of current news that we get asked about most is social media. We are not archiving Twitter, firstly because it is an American company and so falls outside our UK web archiving remit. The Library of Congress took on the task of archiving Twitter, though a year ago it announced that the task was proving too great and that it would only be archiving Twitter selectively from now on. The British Library archives some Twitter feeds where these have a British focus, a number of which are news-related, but it is a tiny drop in a vast ocean.
Twitter highlights the challenge we now face in trying to collect the news. It is not just about the vast scale of the archives, but about their meaning. As I wrote earlier this year:
The archiving of Twitter is a logical impossibility. There is no single Twitter out there that might be consulted equally by any of us. There are over 300 million Twitters in existence. Each person signed up to the service selects who they will follow and what topics interest them. No one person sees the same Twitter as the next. It is universal and absolutely personal at the same time, which is the key to its particular power. No archive can replicate this, because it must convert the subjective into the objective.
The subjectivity or personalisation of news is going to present us with the greatest collecting challenge. If everyone sees the news differently, how do we collect it? Once it was understood that a news object such as a newspaper was read in the same way by the same set of people for whom it was intended, usually defined by geographical location or political persuasion. But does that apply in a wholly digital world?
Those who once saw themselves as newspaper publishers now view themselves as news publishers. News is gathered and composed digitally, and then transmitted through a variety of media, one of which - for the time being - remains the print newspaper. To get at the heart of news, to collect it fully, one might want to collect not the published forms but the individual digital elements and the content management systems that hold them. Then one could recreate the news in the various forms in which it was be distributed at any given point in time – as print, website, mobile and so on. Collecting news as publications has been fine for 1620 through to, maybe 2020. But what after then?


Inside the British Library's National Newspaper Building, Boston Spa
John Carey, in his introduction to the Faber Book of Reportage, makes an intriguing argument about the nature of news. Firstly, he says:
The advent of mass communications represents the greatest change in human consciousness that has taken place in recorded history. The development, within a few decades, from a situation where most of the inhabitants of the globe would have no day-to-day knowledge of or curiosity about how most of the others were faring, to a situation where the ordinary person's mental space is filled (and must be filled daily or hourly, unless a feeling of disorientation is to ensue) with accurate reports about the doings of complete strangers, represents a revolution in mental activity which is incalculable in its effects.
Carey considers what it was in the mindset of pre-communication age humans that reportage replaced, and he suggests that the answer is religion. He continues:
Religion was the permanent backdrop to [man's] existence, as reportage is for his modern counterpart. Reportage supplies modern man with a constant and reassuring sense of events going on beyond his immediate horizon … Reportage provides modern man, too, with a release from his trivial routines, and a habitual daily illusion of communication with a reality greater than himself … When we view reportage as the natural successor to religion, it helps us to understand why it should be so profoundly taken up with the subject of death … Reportage, taking religion's place, endlessly feeds it reader with accounts of the deaths of other people, and therefore places him continually in the position of a survivor … [R]eportage, like religion, gives the individual a comforting sense of his own immortality.
There is plenty to challenge in Carey's suggestion of reportage as being the natural successor to religion. There are different religions out there, and religion did not disappear with the emergence of public news forms. He also blends mass communications, reportage and news, though they are not the same as one another. But his theory is richly suggestive. One thinks of John Donne, writing in 1611 in his poem 'An Anatomy of the World – The First Anniversary' of changing ideas of the universe, "'Tis all in pieces, all coherence gone / All just supply, and all relation". Ten years later the country's first newspaper would appear.
Carey's insight also provides an interesting mechanism for considering the nature of news today.
Published, public news has fed curiosity, helped to solidify our sense of belonging, and has provide a sense of reassurance. It has profoundly influenced our sense of time. The question is whether our new world of news will continue to do the same. News is a constant, but the forms in which it is transmitted must change, and they could be in the process of changing quite radically. The trust in the definable news publication to tell us who we are by relaying what we want to know, could be disappearing. The need for assurance will remain, however, so what will provide it? The increase in the personalisation of news, the logical extension of which is to make everyone their own news editor, hardly seems a recipe for the sort of assurance that leads to a settled society.
Or maybe we are entering a post-news era, with a changed sense of reality, an age without reassurance. My personal definition of news is that it is "information of current interest for a specific audience". It's a flexible construction, but what happens when I no longer feel certain to what audience I belong? Maybe an age of supreme individuality is underway, in which I no longer feel a part of any audience, or else there are so many audiences to which I could be said to belong that the concept becomes meaningless. It is a world lived in a continuous now, where the past is losing its meaning, and where everyone thinks themselves immortal, now. That could be the end logic of an entirely interconnected world.
Despite the alarmist cries from some quarters about disinformation and the undermining of the news media as we have known them, these remain fringe concerns. The vast majority of people trust the established news media. They like their local newspaper, or at least the idea of there being one. They watch the same TV news programmes in their usual slots, they listen to the familiar radio news summaries. The urge for local identity is driving our politics, so there is little evidence for saying that we no longer know who we are or where we belong. We still need the reassurance of news. The post-news era is still some way off. Perhaps it will always be some way off.
Meanwhile the British Library's collecting policy must be to collect what it can, by the mechanisms that are available to it. It wants to collect across the different news media, through a combination of Legal Deposit, copyright exception and licence, augmenting what is still its core news collection, newspapers. Everything must be built around the newspaper, for the time being. Our revised news content strategy, currently in development, has the subtitle, "moving from a newspaper collection to a news collection". It sounds reasonable enough. We must do what we must. But the world of news may be moving beyond us; beyond the British Library, or any of us.
This a shortened version of a talk I gave at the Media History Seminar, Senate House, on 4 December 2018. A PDF copy of the full text, with footnotes, is available here.
21 May 2014
'The Concept of News' was the title of a symposium organised by The Newsreel Network and held over 20-21 May at the Danish Film Institute in Copenhagen. The Newsreel Network is a collection of scholars interested in newsreel research, convened by the University of Lund in Sweden, newsreels being  a common feature of cinema programmes in many countries between the 1910s and the 1960s. I was there
because I have a particular interest in newsreels
because the theme touched on all news media and I am interested in how newspapers, television news, radio news, newsreels and other media have interoperated
because it was a gathering of some fine scholars from several countries
because I was giving a talk on archiving news at the British Library
because they paid me to go
The purposes of research networks such as these is to bring together scholars with interest in a common theme, to learn from one another's research through the presentation of short papers, and to discover through discussion practical ways in which to further research in the field. Despite all the social interaction that goes on online, it still helps hugely to meet actual humans face-to-face, and a two-day symposium for fifteen or so people can be more productive in helping to shape an agenda and construct practical plans than a formal conference.
The full title of the symposium was 'The Concept of News: Scandinavian and Global Perspectives', and there were several short papers on newsreel research in the Scandanavian countries, as well as Belgium and East and West Germany, focussing on the subjects of the Cold War and the Suez Crisis. The latter was chosen as a useful example for cross-comparing how different national newsreels treated the same topic, often with the same footage – there were few camera teams on the spot  during Suez and what was filmed was pooled to other news organisations – but with dramatically different interpretations of that footage in the respective commentaries.
A paper I particularly liked was given by Tore Helseth of Lillehammer University College. He has found paper records of what international newsreels were shown in one small Norwegian town during the 1950s, and contents lists for those newsreels. This is a precious discovery, because for many countries barely any records survive that document what the contents were of the newsreels and when they were issued. In the UK we are fortunate that a huge amount of newsreel documentation survives. In America, by contrast, a vast amount of documentation has been lost, and the survival rate of the films themselves is sadly poor.
Most of the remainder of the symposium was given over to broader issues about news archives and the definition of news itself. These issues matter for us at the British Library, not simple because we what is probably the world's largest news archive, but because we are looking to move from being a newspaper archive to becoming an archive for news in all its forms. This raises interesting issues of definition. How far does the idea of news stretch? Does it include any kind of information delivered to an audience at a particular time, or does it lie specifically in those media which identify themselves as being carriers of news, such as newspapers?
Professor Brian Winston of the University of Lincoln, talked about news vs information in his paper, which was a response to the recent book by Andrew Pettegree, The Invention of News, a history of the production of news 1400-1800 (previously covered by this blog). For Winston, Pettegree has failed to distinguish between a history of the delivery of plain information and a history of news, which is something mediated, always biased in one way or another, propagandist in the broadest sense, and never – in an absolute sense – true. He called on many early examples of news as an emerging form, starting with Galbert of Bruges, a lawyer driven to write a report on the assassination of  Charles the Good, Count of Flanders on 2 March 1127, to a 1499 woodcut of Vlad the Impaler to show how news is a political tool, to Ben Jonson's 1625 play The Staple of News, a satire on  the proto-newspapers (corantos) being published in London, which includes these striking words:
We not forbid that any News be made,
But that't be printed; for when News is printed,
It leaves, Sir, to be News...

Act 1 Scene V
Winston concluded with the eternal truth, attributed to New York Sun editor John B. Bogart, "When a dog bites a man, that is not news, because it happens so often. But if a man bites a dog, that is news".
I enjoyed Winston's provocative analysis, but for me the definition of news lies not in its producers but in its consumers. News is something that we seek out when we want to understand what is happening in our world, and plays a vital role in how we understand our place in that world. We seek it out from multiple newsforms, be that newspapers, TV, radio, web, pr mobile apps, and in past times from a medium such as the newsreels. Newsreels are important to this multimedia sense of the news, because they were the first news medium that consciously positioned itself as one link in the chain of news provision. Newsreels were issued once or twice a week, so they were always late with the news, but they understood from when they first emerged in the 1910s that their audience already knew what the news was – be that from newspapers or later radio. They added more to the understanding people had of what was news to them by providing it in motion pictures. They were built on choice. They played a key part in what it is to be modern: we the audience being given the tools with which to pick and choose how we build up the picture of our world. This applies many times over today, with the multifarious news (and information) outlets available that threaten at times to overwhelm us. The news is made by us.
 The symposium included some papers on radio news, which provided useful comparisons across the two news media. There was an interesting tension throughout the two days, between viewing the newsreels as a news medium (one which often fell short when it came to reporting 'hard' news) and viewing them for their own sake, as a distinctive product of the cinema entertainment industry rather than the news industry, as Sara Levavy of the Cortauld Institute argued. In truth, both definitions apply. Newsreels entertained, and they informed. That they informed best by their dependence on other news media, notably newspapers, to set the agenda, makes them interesting for news history itself, and helps illuminate how newspapers themselves worked for their public throughout much of the twentieth century.
25 April 2014
Welcome to the latest edition of the St Pancras Intelligencer, our weekly round-up of news about news - stories about news production, publications, apps, digitised resources, events and what is happening with the newspaper collection (and other news collections) at the British Library. 
Graphic accompanying The Upshot's post 'Who will win the Senate? from its first issue
Here comes The Upshot, the new explanatory journalism effort from the New York Times: Exploratory journalism is the great craze among America's chattering classes, and this week the New York Times produced its rival to Vox and FiveThirtyEight. Mathew Ingram at Gigaom investigates.
The Upshot vs. Vox vs. FiveThirtyEight: A hands-on review of explanatory journalism: And from the source hand and the same source, a handy guide to the exploratory journalism phenomenon.
BuzzFeed: Cute cats and hard news? Ian Burrell at The Independent looks at Buzzfeed's ambitions to become a serious news providers (while still having a space in its New York offices called the NoNoNoNo Cat Room).
8 Digital Tools Every Journalist Should Try: A fascinating selection from Eric Newton of the Knight Foundation, including Creativist, Videolicious and Wickr.
FT favours one rule for itself, and another for everyone else, when it comes to press regulation: The Financial Times has decided to regulate itself rather than join the new Independent Press Standards Organisation (IPSO). Press Gazette asks why.
Ukrainian newspaper office burned down after threats: It has been a sorry week for respecting the rights of journalists and the press. The Newsroom of Ukraine's Provintsiya was burned down with Molotov cocktails, Pakistani news anchor Hamid Mir was shot and wounded, the trial in Egypt of the three al-Jazeera journalists continues, and American journalist Simon Ostrovsky from Vice was taken by militia in Eastern Ukraine. Happily he has now been released, as have been the four French journalists held captive in Syria for nearly a year.
Risk and Reporting: The Dangers of Freelance Journalism in Syria: Freelance journalist José Gonzalez provides a useful overview of the operations of freelancers in Syria: the risks, the questions and the imperatives.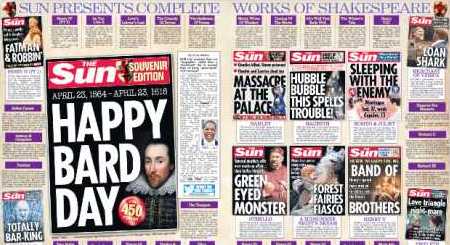 Happy Bard Day: Among the many newspaper tributes to William Shakespeare on his 450th, none matched  The Sun for wit, or surprise factor, with a classic spread containing potted summaries of all of the plays and spoof front pages: " "Massacre at the palace: Claudius killed, Queen poisoned. Hamlet and Laertes dead too ... Alas poor Yorick - skull found."
Four out of ten Britons think it was right to give Guardian a Pulitzer: Some might query whether four out of ten Britons have actually heard of the Pulitzer prize (or Edward Snowden for that matter), but a YouGov poll asked this question:
It was recently announced that The Guardian and US newspaper The Washington Post would receive the Pulitzer Prize, the biggest prize in US journalism, for their coverage of the NSA surveillance programmes as revealed by ex-CIA contractor Edward Snowden. Do you think it is right or wrong for the prize to be given to papers that publish stories like this?
and got these results: Right: 37 per cent; Wrong: 22 per cent; Don't know: 41 per cent.
Pathé goes to YouTube: There has been much rejoicing at the news that the British Pathé newsreel archive has been made available on YouTube. The Newsroom blog is pleased too, but asks some questions about how useful it is to historians in this form.
Blendle: Dutch news platform offers money-back guarantee: Not a week seems to go by without a new form of payment for online news being tried. Dutch government-funded news site Blendle asks you to pay for stories, giving you your money back if you are not completely satisfied.
How is user-generated content used in TV news?: A Tow Center report examines the ways television news organisations and online media companies employ user-generated content and finds much inconcistency of crediting, and use.
23 April 2014
The news that the entire British Pathé newsreel archive has been published on YouTube has made a huge impact. There have been news broadcasts, web news and newspaper reports, and the story has spread widely across social media, which is very much was British Pathé wanted. 85,000 videos, or 3,500 hours of film ranging from the 1890s to the 1970s has been made freely available on YouTube via http://www.youtube.com/user/britishpathe. This is very good news, of course, but for researchers it is good to know some of the background history, and to ask some questions about what we have in the form in which we have it.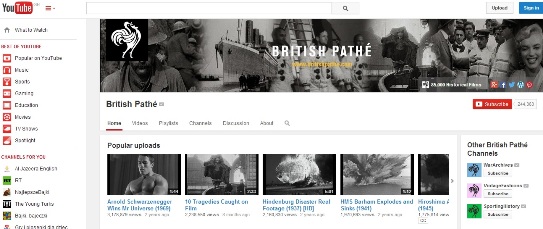 http://www.youtube.com/user/britishpathe
The Pathé Frères company was formed in France in 1896 by the brother Charles and Émile Pathé. Initially marketing  sound and motion picture products, the company gradually became dominant in the world film business before the First World War. It set up many subsidiaries, including a British office established in 1902, which turned to newsreel production in 1910. Pathé in France had come up with the idea of a reel of news stories, issued on a regular basis, much like a newspaper, in 1908. The British version was called Pathé's Animated Gazette, then Pathé Gazette, continuing under that title until 1946 when it became Pathé News, under which name it continued until its demise in 1970. 
Newsreels were a common feature of cinema programmes in Britain from the 1910s to the 1950s, when they started to die out on account of the competition from television. Alongside Pathé, there were British Movietone News, Gaumont-British News, Universal News and British Paramount News, as well as several other, shorter-lived newsreels. They served up British and world news, with a strong emphasis on entertainment through subjects such as sport, celebrity, royalty and the quirly side of life, though they could treat politics and social issues with a deft populist touch. They were hugely influential in how the twentieth-century mass audience understood its changing world.
The newsreels were issued twice a week, so between 1910 and 1970 Pathé produced over 6,000 issues of its main newsreel, as well as several ancillary magazine series such as Pathé Pictorial and Pathétone Weekly. It also served as a distributor for films made by other companies, and all of these films ended up in its archive.  There were other branches of Pathé, involved in feature film production and distribution, but they were separate from the newsreel operation, and their films are not held in the archive.
When the newsreels ceased to be a viable concern in the cinemas, they turned into footage libraries, serving the television market, in particular history programmes. This is a precarious business, particularly for a company no longer producing new films, and with a shrinking market for black-and-white footage. The archive was bought and sold several times, being owned by EMI for a time, then by the Daily Mail and General Trust, acquiring the name British Pathé in the process. It is now owned by an indepedent media company operating under the name British Pathé.
Review of the Year (Pathé News, issue 46/104, release date 30 December 1946. Pathé issued annual reviews of the year. This one for 1946 gives a good idea of the newsreel's typical content and has the added bonus of a sequence showing British newspaper editors who helped make the selection of stories for the review.
In 2002 the British Pathé archive was digitised and made available online for free thanks to a grant from the Heritage Lottery Fund, which supplied half the funding necessary. The deal was that the archive would remain freely available online for three years (including the facility to download low resolution copies), before the company could decide to charge if its wished, but in practice that didn't happen and its has remained free ever since. The entire archive has been available online to all for the past fourteen years, via http://www.britishpathe.com, so although the YouTube announcement is great news, there is nothing new that it being offered in terms of content. It is simply British Pathé opening up its existing online collection through a new platform.
British Pathé has been imaginative in how it has kept interest alive in its collection and ensured its relevance. It has done a special deal with the BBC for use of its footage, so that Pathé clips have become a regular occurence on BBC news and magazine programmes, and BBC4 produced a much-repeated four-part series The Story of British Pathé, which explored the history revealed by the British Pathé archive. Most recently it has made dynamic use of social media, with a strong Facebook and Twitter presence. The YouTube development will further spread their brand and use of the collection, making Pathé shareable, embeddable, relevant and fun. What was viewed as a quaint medium from cinema's past towards the end of the twentieth century now finds itself at the heart of communications in the twenty-first. There has been some very smart thinking going on.
However, there are some problems. The British Pathé collection has been around for over one hundred years, and has seen many changes. Its footage has been re-used, reissued, re-edited at times. Films have been lost. Films have been acquired which had nothing to do with Pathé but ended up in the collection anyway. Catalogue records have not always been kept, and where re-cataloguing has taken place (British Pathé had a major re-cataloguing programme in the early 2000s) the results have been variable, and not always historically informative. In short, the archive has been developed as a film library, not as a resource for historians or other academics.
World Cup Final - England v West Germany (Pathé News, issue 66/61, release date 31 July 1966)
It is therefore necessary for the serious researcher to treat the British Pathé archive with some caution. Every newsreel was issued on a particular date, with an issue number, and that is how to identify a Pathé newsreel. Individual stories always came with a title (which appeared on screen), so one might identify a typical newsreel story as, for example, World Cup Final - England v West Germany (Pathé News, issue 66/61, release date 31 July 1966).
But not all films in the British Pathé archive come with such details, particularly for the First World War period, for which records of issues of the newsreels do not survive. So while many of the films from 1914-18 exists, it is often difficult to put a precise date to them, which dilutes their value as historical record. Then there are the many films from this early period which are in the British Pathé archive but which were never produced by Pathé. How can one judge the provenance of these? Often British Pathé itself has no idea where the footage came from. It is in their archive, so they use it.
Take this clip for example. It is a compilation of First World War films. Some of it may have been filmed by Pathé at the time, but not much of it. There are clips from the 1916 documentary feature The Battle of the Somme (certainly not produced by Pathé) mixed with dramatised recreations of trench warfare filmed in the 1920s for films which Pathé may have distributed. The films are all silent, so they have added music and a commentary by John Humphrys, further altering the films from their original context. It has some value as an emotive depiction of the horrors of war, but for the historian its provenance has been shot to pieces, and its use is nil.
Of course British Pathé is a business, not a resource built for historians, and the tools for the serious researcher do exist to help them pinpoint Pathé's archive in time and place. The News on Screen database of the British Universities Film & Video Council lists most Pathé news stories 1910-1970 with correct titles, dates and issue numbers, crucially linking the stories to others released inthe same issue (the British Pathé site itself often has the release data but doesn't bring together the separate stories into the form in which they were released). News on Screen also links the records to digitised production documents (such as commentary scripts) and to the films themselves on the British Pathé site. Regretably the same links are not available for the YouTube versions, and there is no link back from the YouTube versions to the British Pathe site (the YouTube description merely reproduce the British Pathé catalogue description without further identifiers).
So the British Pathé archive is going to enjoy a much higher profile, and its films will be discovered and enjoyed by many more people now that they are on YouTube. But the link with their historical reality is being diminished, as they are separated from their catalogue, and indeed are not easily searchable as a discrete archive unless one leaves YouTube and goes to News on Screen or the British Pathé website. Historians must therefore look that little bit further and make use of the tools and data available. These will demonstrate that the British Pathé archive is of great and illuminating historical value, even if questions must be asked about the veracity of some of what is on display. It is as relevant now as ever it was when it played in cinemas across the land to an audience of millions, when its news was not history but news.
Further reading:
18 April 2014
Welcome to the latest edition of the St Pancras Intelligencer, our weekly round-up of news about news - stories about news production, publications, apps, digitised resources, events and what is happening with the newspaper collection (and other news collections) at the British Library.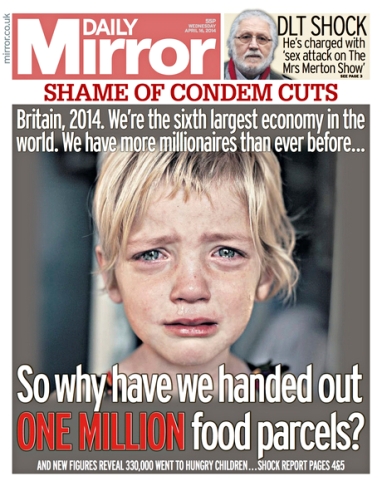 Daily Mirror, 16 April 2014
The Mirror's Crying Child Photo – Not All That it Seems: Ethical conumdrum and news image of the week was the Daily Mirror's hotly debated selection of an image of a crying child for a front page story on food parcels in Britain.  Blogger Dan Barker points out that the children isn't hungry (she was crying over an earthworm), she's American, and it was taken in 2009.
Pulitzer Prizes Awarded for Coverage of N.S.A. Secrets and Boston Bombing: Some would imprison them; others hand them garlands - The Washington Post and The Guardian have been awarded the Pulitzer Prize for public service for their reports based on the National Security Agency documents leaked by Edward Snowden. The Boston Globe won the breaking news prize for coverage of the Boston Marathon bombing, a year ago this week.
To the Snowden story system a crowning Pulitzer might have gone: No prizes should be awarded for the grammar in the title of Jay Rosen's article for his PressThink blog, but he argues that how the Snowden story was developed and shared internationally, outflanking national attempts to prevents its publication, is what merits a Pulitzer prize.
Tusrkey is a case study in the value of citizen journalists, thanks to the ones behind @140journos: Fascinating account by Mathew Ingram on how journalists use social media  in some countries when the traditional news media are perceieved to have failed - here the example of a citizien journalism initative in Turkey, crowdsourcing verification of poll results.
Appeals court says blogs are not only media, they're an important source of news and commentary: Mathew Ingram again, on the implications of a legal decision from a Florida court case on the status of blogs in a defamation case.
Digital journalism: we're still waiting for the third model of news publishing: Emily Bell asks what the recent launches in America of news sites such as Vox.com and the FiveThirtyEight mean for the development of the news media. 
Vox.com 's Melissa Bell: 'This is a chance to do journalism differently': Talking of which, Vox's co-founder Melissa Bell explains what the sites aims are, and what explanatory news (its special selling point) aims to achieve.
The IMPRESS Project's plans for press regulation: Journalism.co.uk reports on a crowdfunding initative to create a regulator for small regional and hyperlocal publishers.
Pathe Gazette's report on the evacuation from Dunkirk (1940), filmed by Charles Martin
British Pathé releases 85,000 film on YouTube: The British Pathé newsreel has released its entire archive of 3,500 hours of newsfilms 1896-1970 on YouTube. The films have all been available on the site www.britishpathe.com for twelve years, but this bold gesture should greatly increase their reach and profile.
A ... is for Advertising: The Newsroom blog gets its scond contributor, Jaimee McRoberts from the British Library's newspaper reference team, who kicks off an A-Z series on newspapers with Advertising.
The only way is ethics: Will Gore at The Independent is very interesting on the reporting of the Oscar Pistorious trial by the South African media, with its more permissive approach to what gets reported - and the different news imperatives between print and web news outlets.
Data journalism in Venezuela: Philip Smith at Media Shift tells how data journalism is developing in Venezuela, despite all of the hurdles:
... a visual history of violence in Venezuela; the relationship between Venezuela and Columbia in the trafficking of cocaine; analysis of various epidemics and outbreaks; live-tracking of how long ships sit in ports waiting to be unloaded of much-needed staples like sugar; an investigation into the paper shortage facing newspapers; a Twitter analysis of candidates in a recent election; and deep search into the network behind several Venezuelans who were charged in the U.S. for finance-related crimes, which was not well reported in Venezuela itself.
An enthusiastic, engrossing account.
Pickles pursues the wrong policy as people reject local newspapers: Thought-provoking piece from Roy Greenslade on the closure of a local paper (the Fulham & Hammersmith Chronicle), the supposed competition from the local council's free paper, and how demographics are as much of a theatre to local newspapers as rival news sources.
BBC is the most-shared news brand on Twitter: 96 million unique users in March 2014;  user figures up 26 per cent on the monthly average of 76 million; news stories shared 2.71 million times across the month on Twitter - the BBC website marches on, having celebrated its 20th anniversary last week. The Drum reports.
A print newspaper generated by robots: The Guardian has been experimenting with a limited edition printed newspaper - called #Open001 - that is produced by algorithms based on social-sharing activity. So the robots are gathering the stories, not writing them. Yet.
Well, this is hawkward: Hmm, how good are robots at spotting humour? Press Gazette gleefully reports how The Guardian was fooled by a Vatican April Fool's Day story (about hiring a hawk to protect the Pope's doves).
26 February 2014
Last week we published a list of 10 great online newspaper archives. Working our way through the different news media, here's a listing of 10 of the best newsreel sources to be found online, newsreels being the news medium shown in cinemas worldwide from the early 1900s to the 1970s (and beyond in some countries). Newsreels don't always receive the attention they deserve from historians - they were popular, powerful, and had a huge influence on people's perceptions of the world. Their archives are often aimed at the broadcast market rather than the general public or academic audiences, but there is plenty of good material for anyone to find if you know where to look.
An example of a complete issue for Gaumont-British News, issue 197, 18 November 1935 (film from ITN Source via JISC Media Hub)
The online archive of the Italian stated-owned Luce company contains seventy years of newsreels, from the late 1920s onwards. The site is in Italian, but is easy enough to negotiate, and there is plenty of material there from around the world, as well as naturally enough having excellent coverage of Italian life and politics (including the period when Luce was the propaganda tool of Mussolini's fascist regime.
British Movietone News was one of the most familiar and influential of British newsreels. It was the first sound newsreel in Britain, and ran 1929-1979. Its entire run has been digitised and made freely available (to use the site requires registration first), though its primary purpose is commercial sales. The site isn't nearly as well known as British Pathé, but is just as important, with so many important and just as many incidental and quirky news stories from five decades of British life. There are good catalogue descriptions, with low and high resolution videos for viewing.
British Pathé is the dominant force for online newsreels. The Pathé Gazette (later Pathé News) newsreel ran in Britain between 1910-1970. Most of its twice-weekly issues have survived and have been digitised and made available online - some 3,500 hours, or 90,000 individual items. Now run by an independent business with no connection to the original Pathé, the site provies high resolution copies for footage sales and low resolution freely viewable copies for the general public. There are some idiosyncratic catalogue descriptions, thousands of stills taken from the newsreels, and useful thematic collections such as World War One. It is easy to use, engrossing to browse, and provides a wonderful panorama of much of twentieth-century life, in Britain and beyond.
Fox Movietone News: the War Years, 1942 – 1944
The survival rate for American newsreels is not as good as it is in some other coutnries, and research tools such as databases or digitised collections are disappointingly few. An important resource is the Fox Movietone collection held by the University of South Carolina.  200 Fox Movietone News issues for the 1942-44 period can be viewed online, together with digitised newsreel cameramen's dope sheets (records of what they shot during an assignment) and other documentation. The USC's main digital video repository Moving Image Research Collections has further newsreel material available, including stories from the the silent Fox News (1919-1930) . 
For a century the French Gaumont and Pathé companies (both established  in the 1890s) were the greatest rivals, and it still feels extraordinary that the two should have finally combined (in 2003) to create this huge newsreel archive (which also includes films of the French Éclair Journal). Searching the site is free, and the range of content is stupendous, representing 14,000 hours of historic news film. Unfortunately viewing of the clips themselves is restricted to "broadcasting professionals" i.e. those who have signed up to the site and who have proved to them that they are likely to buy footage from them. There is English language as well as French background text, and even if the clips can;t be viewed by most it's still an amazing resource to browse.
The IWM holds substantial collections of film relating to the First and Second World Wars, among which are British propaganda and service newsreels, such as the War Office Official Topical Budget for 1917-18) and War Pictorial News, Warwork News, The Gen and the German-language Welt im Film for the Second World War and after. Only a small number of the records have playable copies, and searching is easier by subject than it is by series, but the catalogue descriptions are detailed and precise.
ITN is the largest moving image archive in the UK after the BBC, and has much more than just the television news programmes made for ITV and Channel 4. Through its management of the Reuters archive, it has the libraries of the Gaumont, Paramount and Universal newsreels, as they were issued in Britain.  There is newsreel (and pre-newsreel) material here from the 1890s onwards (use the Advanced Search option and tick the Reuters box, though this brings up much non-newsreel maerial as well), with tens of thousands of clips, plus many handy compilations. As with many other newsreel sites, ITN Source is aimed at the commercial footage market, but the site is hugely valuable to the general and academic researcher.
Behind the ugly name is a substantial collection of video, audio and image material licensed for use by UK higher education. Among this material is what was formerly known as Newsfilm Online, a specially-selected collection of 3,000 hours of ITN Source newsreels and television news, including Gaumont and Paramount newsreels, which can be downloaded and re-used by students in licensed HE institutions. For the rest of us, it is still possible search and browse the archive, if not to play the videos.
This is the place to to discover British newsreels. It is a database of nearly every newsreels and news magazine issued in Britain between 1910 and 1983, and is managed by the British Universities Film & Video Council. The database is more accurate when it comes to issue dates and issue numbers than is sometimes the case with the newsreel libraries themselves, and as well as these records there are 80,000 digitised production documents (including scripts) and links through to playable copies at British Pathé, Movietone and (for HE users) JISC Media Online. There is also much background history on the newsreels, including biographies, essays and oral history recordings.
This is an archive of the German Deutsche Wocheschau newsreel. Over 6,000 stories have been made available to date, with additional material going back to 1895 and up to 1990. There is English language as well as German text, but unfortunately little informastion is given on the newsreels and the image quality is very low (and requires Windows Media Player).  It is great that such important newsreel content has been made available in this way, but the site could and should be so much better than it is.
Please note that the British Library does not have any cinema newsreels in its collections.
14 February 2014
Welcome to the latest edition of the St Pancras Intelligencer, our weekly round-up of news about news - stories about news production, publications, apps, digitised resources, events and what is happening with the newspaper collection (and other news collections) at the British Library.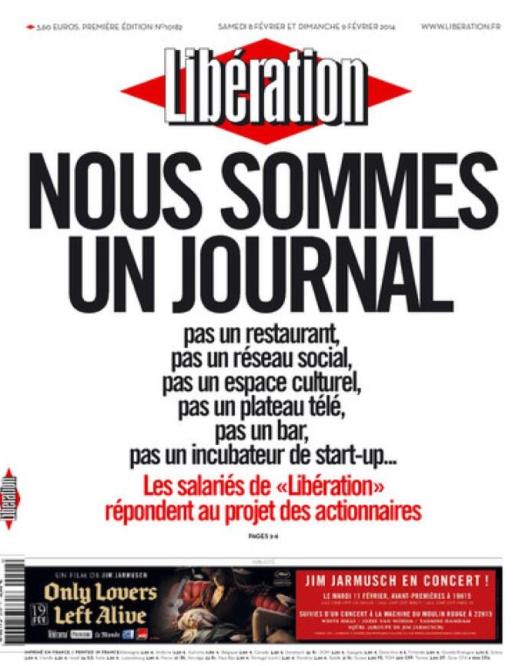 A note to the staff of Libération in France: Perhaps the most eye-catching news about news story of the week was the front page of French left-wing journal Libération, which was hijacked by staff protesting at the paper's shareholder group's plans to turn it into a social and cultural hub. Their call to be left alone to be a newspaper and to do journalism "couldn't be more wrong", according to Mathew Ingram.
17 Things That Would Only Get Reported In British Local Newspapers: Patrick Smith of Buzzfeed's regular round-ups of British local newspaper stories are always an irresistible treat. "Police launch appeal after mystery tea pot found near Cambridge ..."
News you can lose: Richard Sambrook on US cable TV news networks' strategy of diversifying programming to keep hold of shrinking audiences. " More and more, news channels will depend on dinosaurs and killer whales."
Georgia Henry obituary: The Guardian's deputy editor and creator of its Comment is Free section has been much mourned.
Iraqi newspaper bombed after Ayatollah caricature: Index on Censorship reports on the struggle to survive of the Al-Sabah Al-Jadeed independent newspaper.
You can see right through News Corp's transparency: Peter Preston analyses Mike Darcey of New UK's defence of pay walls and argues that one model does not fit all.
Europeana Newspapers: The portal for digitised European newspapers has produced a sassy promo video which shows just how inventive you can be in promoting newspaper archives for research.
Welsh Newspapers Online – 27 new publications: It's been a good week for newspaper archives. The National Library of Wales' Welsh Newspapers Online has added 27 new publications and now has over 630,000 pages from pre-1919 newspapers freely available.
125,000 extra pages now searchable on the British Newspaper Archive: In what has been a busy month for the BNA (which moved from Colindale to Boston Spa in January) they managed to add an extra 125,000 British Library newspaper pages to their online archive.
Periodicals return: The periodicals collection held at the (now closed) Colindale newspaper library was embargoed in June. From Monday February 17th it becomes available once more at the British Library's St Pancras site.
What is Google Newsstand and how can publishers make the most of it?: Press Gazette's Dominic Ponsford analyses Google's mobile app for news.
Video journalism: Former newsreel cameraman Terence Gallacher runs an excellent blog on the history of his profession. Here he asks whether camera operators have become journalists or the journalists become camera operators.
Why it matters that LBC is going national: LBC, the talk news radio station for London, went national on February 11th. Gillian Reynolds looks at why it's an important move.
The Newsroom blog recent posts
Tweets by @BL_newsroom
Other British Library blogs