23 April 2020
We are publishing a series of posts on favourite books about newspapers. We have asked members of the British Library's news collection team and some outside experts each to name three books about newspapers that they treasure and would recommend to others. The books can be wholly or partly about newspapers, they can be fact or fiction, they can be familiar or unfamiliar. No book can be picked twice, and no one taking part can choose one of their own books.
We hope readers will enjoy the series and seek out some of the recommendations.  The choices below have been made by Luke McKernan, Lead Curator News and Moving Image at the British Library. 
Citizen Hearst: A Biography of William Randolph Hearst. W.A. Swanberg. London: Longmans, 1962 [orig. pub. 1961]
This was the first book about newspapers that I read. It is still one of the best. William Randolph Hearst (1863-1951) was the terrifying titan of American newspapers, whose eye for sensationalism and lurid headlines, concocted with a sometimes cavalier sense of ethical responsibility, had a profound effect on the modern era of news. He was among the most powerful men of his age, stood for President (unsuccessfully) and built up a vast, multi-media news empire that continues to this day as Hearst Communications. For many he lives on as the model for Charles Foster Kane in Orson Welles' 1941 classic film Citizen Kane.
American biographer W.A. Swanberg's life of Hearst matches up to the man. Scrupulously researched but dramatically expressed, it reads like the Great American Novel. The man, his times, and the media he controlled interweave in a compelling narrative. He is able to view Hearst sympathetically while at the same type making us shudder at his vanity, his greed and his cruelty. As Swanberg astutely concludes, "He was ... a Prospero and a Caliban, and the lucky ones were those who saw only his angelic side".
Notoriously, Swanberg's book was denied a Pulitzer prize, despite the recommendation of the advisory panel, supposedly because the trustees of the award did not consider Hearst a worthy subject for such a prize.  To read just one page of Citizen Hearst would prove how very wrong that judgement was.
The Press and Its Readers: A Report Prepared by Mass-Observation for The Advertising Service Guild. London: Art & Technics Ltd, 1949
"There's something I dislike about newspapers, and that is that they don't tell the truth ... There's so much stuff not worth looking at, adverts, scandal, and all that stuff that isn't news"."
"Reading passes the morning, to tell the truth."
It is extraordinary how little attention most books on newspapers give to their readers. We learn about how the news has been written, financed, its personalities, its political influence and its ideology, but we seldom see newspaper history from the point of view of those at whom all this effort was directed. The Press and Its Readers is a marvellous corrective to such an attitude. Produced by the social research organisation Mass-Observation, it asks some basic, sensible questions: What kind of newspapers do people want to read? Do they believe what they read? Do they remember what they read?
The result is a bracing challenge to any belief that what is published is the same as what is read. Evidence is provided of indifference, scepticism, ignorance and sharp understanding, ranging from readers who cannot be bothered with the news to those who find their lives governed by it. It covers popular and 'quality' newspapers, dailies and weeklies, national and regional press, combining snippets from frank reader interviews with useful statistics and some striking statements that make it clear just how pervasive the newspaper was in the 1940s ("The Daily Express is read by one adult in every four ... The News of the World ... is read by every second adult").
The report is filled with entertaining nuggets alongside much practical information. It is of as much value to the researcher today as it was to the advertisers, politicians and publishers at whom it was originally aimed. It tells us that without an understanding of readers, we cannot understand the news at all.
Pictures on a Page: Photo-Journalism, Graphics and Picture Editing.  Harold Evans, in association with Edwin Taylor. London: Pimlico, 1997 [orig. pub.  1978]
Pictures on a Page was one of a series of books written in the 1970s by Harold Evans, editor of The Sunday Times, on the practical business of producing newspapers. Titles such as Editing and Design, Handling Newspaper Text and News Headlines were to be found (and can still be found) on many a newsroom desk, but Pictures on a Page broke through to popular acclaim. It is simply the best-looking book on newspapers yet published. Evans's theme is the practices and principles of photo-journalism. He shows how news photographs are made, what makes a news photograph, and how presentation and context are everything. Over 500 classic photographs and newspaper pages make the book compellingly browsable.
What is particularly thrilling about Pictures on a Page is its demonstration of the expert editorial eye. Evans illustrates through a series of marvellous examples how selection, enlargement, cropping, arrangement alongside text and layout have bought out the drama in a news story, to the extent that the news history of our times is one that might be told more readily through images that text, because it is pictures that have captured the moment and the meaning.
Evans steers us wisely through the ethical issues and the troubled relationship between the photograph and reality. It is a book to make us realise just how selective and manufactured this thing called news really is. Yet at the same time we see how compelling the news image can be, what deep feelings it stirs within us. To make us both question and yet cherish photo-journalism is the book's great achievement.
01 April 2020
At the present time  the British Library's Reading Rooms and public spaces are closed. This includes the Newsroom, our Reading Room for news, where researchers have been able to gain access not only to the physical news collections but a wide range of electronic resources, as well as reference literature and staff expertise. In keeping with the other Reading Rooms, though we may be closed for the time being  we will continue to offer as many online services as we possibly can, for users anywhere. Stewart Gillies, our News Reference Team Leader, explains what is available.
The Newsroom
Owing to licence restrictions, many of our news-related e-resource subscriptions can only be viewed onsite at our Reading Rooms at St Pancras or Boston Spa. There are several, however, that are available to registered British Library Readers. If you're a registered Reader you can access a number of Library-subscribed resources on your own device, from any location, by logging in to our Remote E-resources service. These e-resources include the following fully keyword searchable facsimile newspaper archives provided by Readex:
African Newspapers Series 1 and 2, 1800-1922
African American Newspapers Series 1 and 2, 1827-1998
American Broadsides and Ephemera
Caribbean Newspapers, 1718-1876
Early American Newspapers Series 1
Latin American Newspapers Series 1 and 2, 1805-1922
Rand Daily Mail 1902 – 1985
South Asian Newspapers 1864-1922
In addition, you can also access Readex's Foreign Broadcast Information Service 1941-60, 1974-1996. This resource provides access to US Government translations of the text of daily broadcasts, government statements, and select news stories from non-English sources. Covers: all regions, 1941-1960; Middle East & [North] Africa, 1974-1987; Near East & South Asia, 1987-1996; South Asia, 1980-1987; Sub-Saharan Africa, 1974-1996; China,1974-1996; Asia & the Pacific, 1974-1987; East Asia, 1987-1996; Eastern Europe, 1974-1996, Soviet Union, 1974-1996.
Another news-related e-resource available to remote Readers is EBSCO's Regional Business News Plus. This resource provides full text coverage from several hundred U.S. and International newspapers as well as regional business publications, providing more than 60 million full text articles. Major UK titles available include The Times Oct 2000 to date, the Daily / Sunday Telegraph Feb 2010 to date, the Daily Mail / Mail on Sunday Sept 2004 to date and the Daily Mirror 2004 – 2007.
It is possible that we may be able to add further e-resources to our Remote Resources list in the coming weeks, so please check our Accessing British Library Content and Services page occasionally for updates.
Planning for future research

To help you plan future visits to the British Library, our website provides an overview of our News Media Collections, help guides to Researching Newspapers and Researching Television & Radio News , and practical guides to Using our Reading Rooms at both St Pancras and Boston Spa.
We look forward to hearing from you online but most of all, of course, look forward to seeing you in our Reading Rooms in the, hopefully, not too distant future.

Stewart Gillies
News Reference Team Leader


17 July 2019
The world of news is changing, and at the British Library we are responding to that change - in how we collect, preserve, describe and present our news collections. Our goal is to transform what we hope is a world-class newspaper service into a world-class news service. This post outlines the Library's News Content Strategy for 2019-2023 with our plans for the next five years.
Inside the National Newspaper Building at Boston Spa
The British Library holds many millions of newspaper issues, and thousands of news websites, radio broadcasts and television programmes. Because it is a legal deposit library, it regularly collects thousands of news-related UK websites for its web archive and continues to receive the range of UK newspapers in print, including foreign language news published in the UK. It also subscribes to news services from across the world, providing a first class research experience for its readers. Together these form one of the greatest historical collections in the world, underpinning research into centuries of UK life and events, and to those of further afield.
In the last decade the Library has transformed its preservation of news, building state of the art facilities to store its historical newspapers collection in excellent environmental conditions and putting in place the first key elements of digital storage for 'born digital' news. It has greatly upgraded its service offer for news, making its content available in its reading rooms in London and Yorkshire, including a specially dedicated Newsroom at St Pancras. But there is much more to be done for the discovery of news onsite and online.
| | | |
| --- | --- | --- |
| Medium | Size of collection | Weekly intake |
| Newspapers | 60 million issues | 1,200 issues |
| Web news | 500,000 captures | 2,000 websites |
| TV news | 90,000 programmes | 200 programmes |
| Radio news | 50,000 programmes | 170 programmes |
Figures for the current news collection at the British Library
The Library works in partnership with other bodies to develop in-depth understanding of news and the events it describes. Working with family history company Findmypast the Library has provided most of the digitised newspapers on the British Newspaper Archive website, helping researchers and the general public to view rare newspapers from the comfort of their home or workplace. With over 30 million pages digitised, many online readers exploring their family history will already be familiar with the resource. It is proving invaluable for a huge range of academic research topics as well.

That said, there is still so much to do. The digitisation challenge is vast: 93% of our newspaper content remains undigitised
One key to transforming our news offer is through data. News data is of particular value to researchers for its range across so many subjects and time periods, and for the regularity of its published outputs. It has huge potential for furthering our expertise in the data sciences. Our digitised newspaper archives are already being used by several 'big data' projects; in particular our historical archives underpin the major UKRI-funded 'Living with Machines' collaboration between the British Library and the Alan Turing Institute. Through the Heritage Made Digital programme we are building up a substantial body of out-of-copyright newspaper data which will greatly improve the service we offer to digital scholarship.
Finally, data forms the building blocks by which we will bring together the different news media to deliver an integrated news service that best serves future needs.
Our commitment is to the news, not to the newspaper. This shift in thinking follows the direction in which the news media themselves have gone, and will trigger great changes in storage, access and use. It will ensure that the British Library continues to offer the best news research service, for researchers now and in the future.
Over the next five years, the Library will concentrate on four areas of its news collections:
Transforming discovery of news
We will greatly improve the ease with which readers and the wider public can access our news offer, and respond fully to the big data opportunities of our historic news collections.
Collecting contemporary news
We will collect UK contemporary news digitally as a matter of course and regularly review our selective approach to overseas news.
Protecting at-risk historical news
We will greatly increase our preservation of historical newspapers, digitising to rebalanced priorities, including at-risk titles.
Planning the next major phase of our strategic storage of news
Our large secure digital store will take audiovisual and digital news as business as usual, and save on physical storage space by switching to digital versions for a majority current UK newspapers; but we will still need to plan for new physical storage.
Masthead for The News and Sunday Globe, 2 July 1837, one of the titles being digitised by the Heritage Made Digital programme
Many activities relevant to the News Content Strategy are already underway. As we approach the 400th anniversary of the first newspaper available in Britain (1620) and the first newspaper published in Britain (1621), the British Library is responding to the profound changes taking place in the world of news today. At the same time we aim to revitalise how researchers may use and understand the news of yesterday. Look out for some significant announcements over the next year. Good news is on its way.
19 December 2014
2014 has been an extraordinary, sometimes harrowing, year for news. It has also been a highly significant year for the production and use of news itself - hot topics have included the hacking trial, IPSO, Buzzfeed, data journalism, Google and the right to be forgotten, Brown Moses, Ezra Klein, and the New York Times's leaked Innovation report. It's also been a major year for the British Library's news collection, with the opening of our Newsroom and the successful conclusion of our newspaper digitisation programme. Here are some of the highlights from the year's news about news.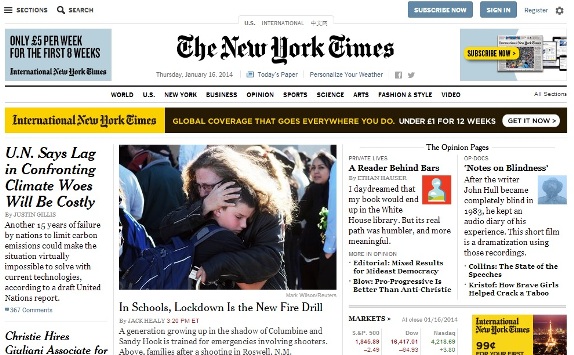 January
The re-design of the New York Times website was much discussed. Telegraph editor Tony Gallagher was sacked. The Birmingham Post's Business Daily Tablet edition, designed to  "reinvent business journalism within the regional press," closed after seven months. Also owned by Trinity Mirror was The People, a Buzzfeed-style site populated with "native content". It lasted three months.  But Trinity enjoyed rather more success with viral news site UsVsTh3m. Charley Miller at Medium wondered if in the future we might all become personal broadcasters. News UK launched The Academy, to train teenagers to become journalists. James Harding of BBC News gave a key speech, 'Journalism Today' at the British Library (the first of our three WT Stead lectures). Philosopher Alan de Botton's book The News was not reviewed kindly. Facebook announced Paper. Kola Dumor, the BBC World News presenter, and Chris Chataway, athlete, politicians and news reporter for BBC and ITN, died.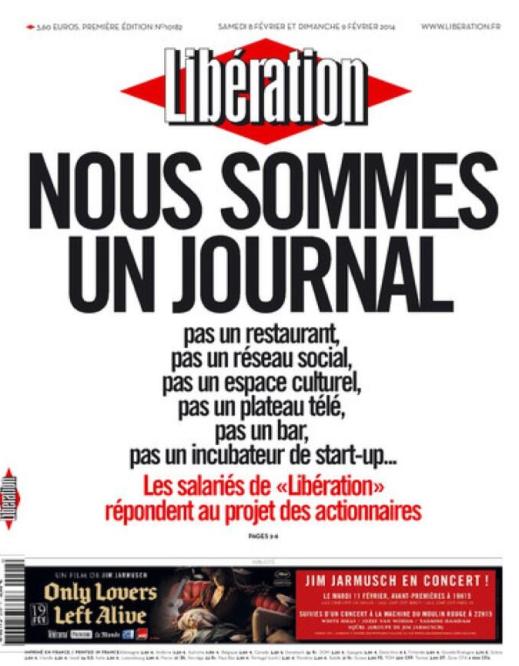 February
The staff of French left-wing journal Libération took over the front page to protest at the paper's shareholder group's plans to turn it into a social and cultural hub. Richard Sambrook and Sean McGuire argued that 24-hour news has had its day - and got an angry response from Sky News's Adam Boulton. London news radio station LBC went national. Marc Andreessen's optimistic piece, 'The Future of the News Business', was much shared and debated.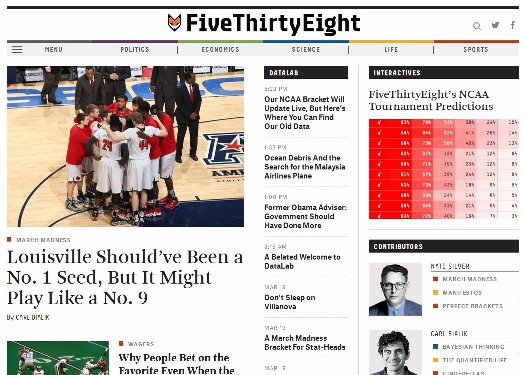 March
American data guru Nate Silver launched data journalism site FiveThirtyEight. Getty made 35 million images freely available.  The New York Times issued a correction for an article written 20 January 1853. The Sun's Page 3 v Breast Cancer campaign did not impress the campaign site No More Page 3. Susanna Reid left BBC Breakfast for ITV's planned Good Morning Britain programme. Are robots the future of news? Andrew Pettegree's book The Invention of News, on the early history of newspapers, was greatly admired. The Evening Standard-backed London TV Channel, London Live, went live.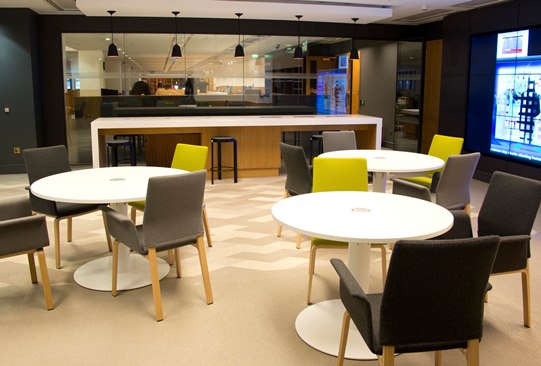 April
The British Library opened its new reading room for news, the Newsroom. Emly Bell lectured at the Library on Journalism in the Age of Automation and Big Data. Celebrity news blogger Ezra Klein launched Vox.com, with its user-friendly 'cards' giving background information to stories. News headlines from UK regional newspapers became an Internet cult. Are automated breaking news stories the future of news? But what about how the news archives of tomorrow will look, asked Adrienne LaFrance. 26 searching questions for news organisations from Raju Narisetti about the move to digital. The Mirror's 'crying child' front cover (which turned out to be a stock photo, not a British child in need of food parcels) caused controversy. British Pathé released 85,000 historic newsreels on YouTube. The New York Times joined the explanatory journalism craze with offshoot The Upshot. Dutch government-funded news site Blendle asked you to pay for stories, giving you your money back if you were not completely satisfied.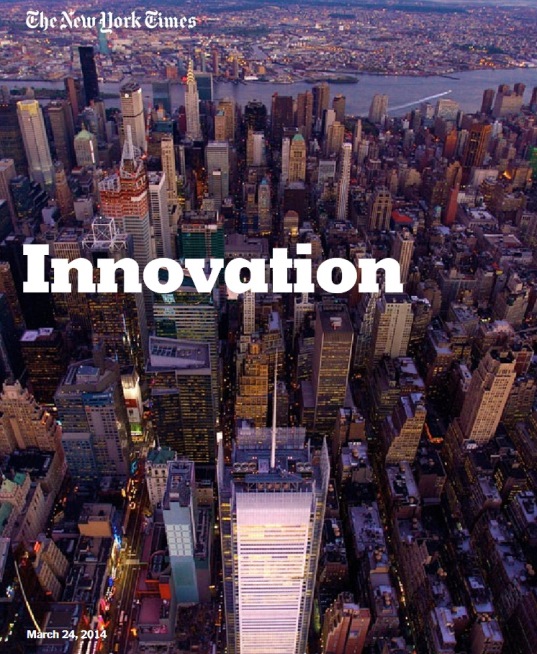 May
Most discussed news-about-news subject of the year was probably the leaked copy of the New York Times's 'Innovation' report, making many - and not just in the newspaper world - think if they were doing enough about digital. But just why was the NYT's executive editor Jill Abramson fired? The British Library published a news content strategy (and not a newspaper strategy). Facebook and Storyful launched FB Newswire. London Live's chief programmer quit after terrible audience figures. Nate Silver's advice to young journalists - learn to code. Good Morning Britain launched (to a mixed reception). Max Clifford was found guilty. Journalist of the year? - quite possibly citizen journalist and social media sleuth Eliot Higgins aka Brown Moses. Immersive narratives became all the rage, led by BBC News's The Reykjavik Confessions. The British Newspaper Archive reached 8 million historic newspaper pages online. And the Duchess of Cambridge's rear became front page viewing (elsewhere).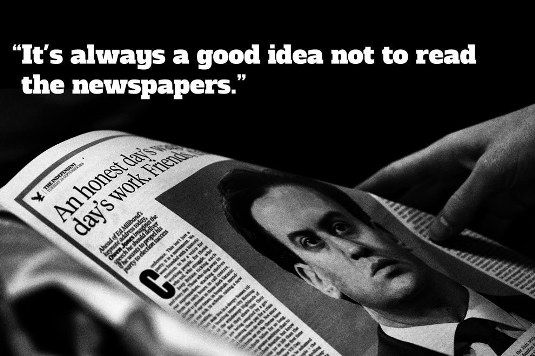 June
Ed Miliband's interview for Buzzfeed saw his comments on reading the news being analysed a great deal (he uses RealClearPolitics). Also much devoured was the Reuters Institute's annual Digital News Report. As was Robert Peston's speech on threats to journalism.  Benedict Cumberbatch helped bring BBC radio news scripts of D-Day (from the British Library's collection) back to life. Are drones the future of news? The Sun tried to give a free copy of a version of the paper backing the England football team at the World Cup, which didn't impress everyone. Ed Miliband then apologised for endorsing it. An Egyptian court sentenced two Al Jazeera journalists to seven years in jail and one to ten years in jail. Jeremy Paxman stood down from Newsnight. At the end of the phone hacking trial, News of the World editor Andy Coulson was found guilty of a conspiracy to intercept voicemails, while former News International chief executive Mrs Brooks was found not guilty. Is Fox News more dangerous than ISIS? So Russell Brand claimed in a YouTube video. And the dream headline occured - Man Bites Dog.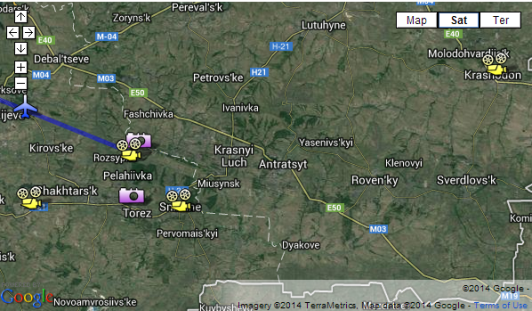 July
Social sleuthing from Storyful uncovered evidence of surface-to-air missiles in eastern Ukraine following the shooting down of airliner MH17, as verification of online information became the topic of the hour. Sky News' Colin Brazier was condemned for a live news broadcast when he briefly looked through the content of the luggage of one of the victims of MH17, and produced a thoughtful apology. Ian Burrell at The Independent said poor news coverage was exacerbating the humanitarian crisis in South Sudan. A European court decision allowed individuals to request that Google remove links to historical articles which has personal information that they would rather was forgotten. George Clooney forced Mail Online to apologise. Channel 4 News presenter Jon Snow's heartfelt video account of the child victims in Gaza went viral. There was a timely and useful report on the state of hyperlocal community news in the UK. The Independent launched i100. Brown Moses launched the Bellingcat site to train others in crowdsourced reporting. The 'Fake Sheikh' was himself entrapped. Sarah Palin launched a news channel. There was plagiarism at Buzzfeed. The Sun said farewell to Wapping.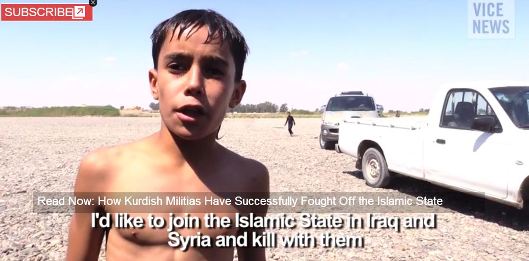 August
Medyan Dairieh of Vice News scooped the world with his insider video report on the Islamic State. Is virtual reality the future of news? Chapman Pincher died, aged 100. Nick Davies published Hack Attack, on the phone hacking saga. Newspapers marked the centenary of the First World War with solemnity. American started to get alarmed about ebola. David Carr pronounced on the imminent death of the print newspaper.  So did Clay Shirky. 4,000 Buzzfeed posts disappeared. The sound of typewriters returned to the newsroom of The Times. American journalist James Foley was murdered in Syria.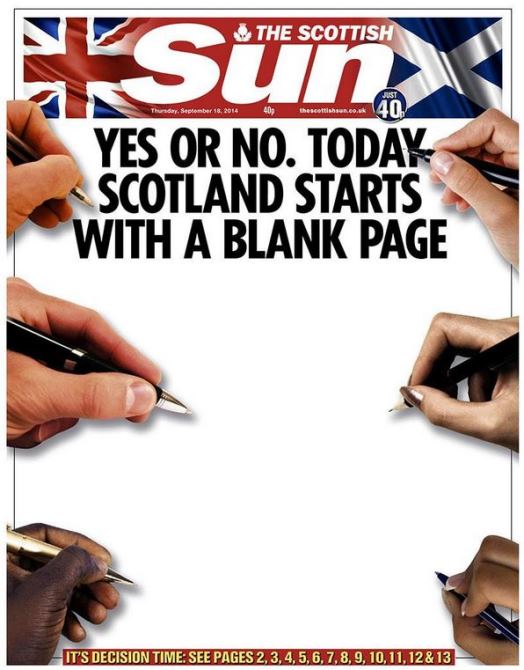 September
According to Twitter, Scotland won its independence. Alan Rusbridger spoke at the British Library on the urgent need to protect journalists' sources. The Guardian announced the building of Guardian Space (in King's Cross). Do people remember news better if they read it in print? The dizzying decline of Britain's local newspapers. Newsnight's Ian Katz on the death of the political interview. Hannah Storm on how journalists are becoming propaganda. Independent press regulator IPSO was launched - Hacked Off was hacked off about it.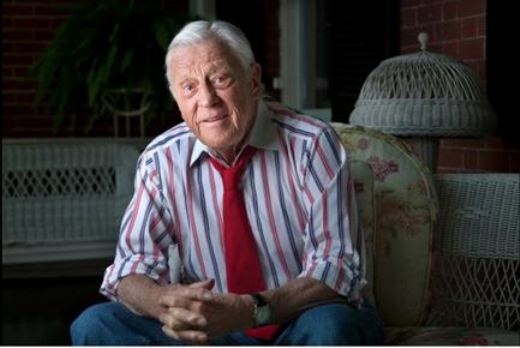 October
Legendary Washington Post editor Ben Bradlee died, aged 93. Ebola coverage - there was the good, the bad and the ugly. Among the good was much-praised single issue site Ebola Deeply. Among the ugly were fake news sites spreading ebola panic. Is Emergent the future of news? We considered how Edward Snowden changed journalism. Was Krishnan Guru-Murthy's interview with Richard Ayoade the greatest ever? Time travel was offered with the New York Times's TimesMachine archive service.
November
Many saw the end of times with the news that Trinity Mirror was closing of seven regional print titles, including The Reading Post, and replacing them with a single website (GetReading). But Tien Tzuo said newspapers are not dying (at least, not some of them). The Newspaper Society and the Newspaper Publishers' Association merged to form the News Media Association. The British Newspaper Archive reached 9 million pages online. Print newspapers became available once more to British Library users, after a year's absence. Professor Aled Jones lectured at the BL on newspaper reading rooms and civic engagement.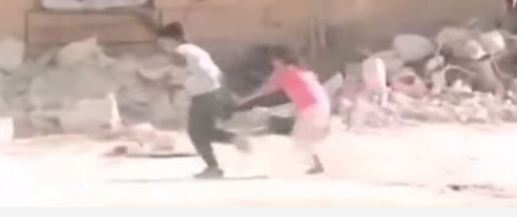 December
The 'Syrian Hero Boy' video (after being seen by millions) was revealed to be a sham. A new national newspaper was launched, the pro-independence Scottish title The National. Emily Bell's lecture 'Silicon Valley and journalism: make up or break up?' led to much thinking about the future of news. Andrew Norfolk was named journalist of the year at the British Journalism Awards for his investigations into child abuse for The Times. The archive of The Independent is to be digitised. A Wikipedia for news? Google News withdrew its service from Spain after a law was passed saying it had to pay royalties on use of news snippets. Now Spanish newspapers are complaining of loss of traffic. There was an Early Day Motion in the UK parliament against the closure of local newspapers. Alan Rusbridger announced he was standing down as Guardian editor-in-chief. Did Al-Jazeera's hackathon uncover the future of news? And finally, why it is bad news to publish only good news.
This blog is one year old today, by the way. See you next year.
15 October 2014
The third in our series of lectures named after the 19th century journalist WT Stead is to be given by Professor Aled Gruffydd Jones, newspaper historian and head of the National Library of Wales, on 21 November 2014 at the British Library. Entitled 'Newspaper reading rooms and civic engagement: a subversive history,' it will look the history of the newspaper reading room and their relation to civil society.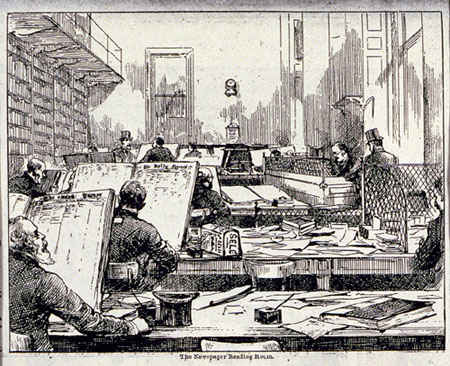 The Old Newspaper Reading Room in the British Museum, Bloomsbury. Sell's Dictionary of the World's Press 1893. Copyright ©1999, The British Library Board
Newspaper readings rooms in the UK since the eighteenth-century have come in all shapes and sizes, from local literary societies and miners' institutes to august national institutions like the British Museum. Often they allowed access to both a range of relatively immediate information about the contemporary world and to the past. In both senses, they could serve as spaces not only for the quiet consumption of information but also for the development of creativity, the deepening of civic engagement and the enhancement of public education in the broadest sense.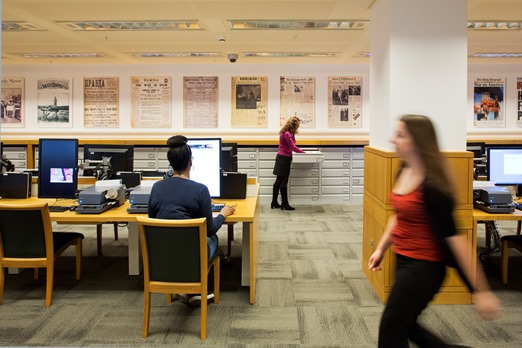 The Newsroom at the British Library, St Pancras
Professor Jones's talk will look at the history of newspaper reading rooms, the role the collective reading of the Press has played in the building of civil society, and the creative challenges posed to the cultural and civic world they represented by the digital technologies and platforms that are a growing part of their current manifestation. The British Library's own Newsroom, opened earlier this year, is only the latest expression of a long and important tradition, fitted out for a digital age and hopefully playing its own part in contributing to the growth and maintenance of civil society.
Aled Jones
Professor Aled Gruffydd Jones is Chief Executive of the National Library of Wales and a notable cultural historian, who has published on has published widely on newspaper and journalism history, the history of modern Wales, labour history, tand on the relationship between Wales, the British Empire and the Indian sub-continent. His publicati0ns include Powers of the Press: Newspapers, Power and the Public in Nineteenth-century England and Press, Politics and Society: History of Journalism in Wales. His is a broadcaster and columnist, and was the joint organiser of the first Welsh International Film Festival and co-founder of the film and video arts collective, Creu Cof. He has also acted as an advisor to the British Library on its newspaper digitisation plans. 
This will be the third in our series of W.T. Stead lectures, named after the 19th century journalist William Thomas Stead, which have looked at news past, present and future. The previous lectures were given by James Harding, head of BBC News, and Emily Bell, director of the Tow Center for Digital Journalism at the University of Columbia.
The lecture will be from 18:00 on 21 November 2014 at the British Library at St Pancras, in the staff restaurant area on the first floor. Details of how to book for the event are on our What's On pages.
24 September 2014
Over the past few years a quiet revolution has been taking place in the production of news in the UK. The people are making the news for themselves. Inspired by blogging platforms, forums, Facebook and other social media, and the rise in mobile devices, but all the more by an urge to report on local issues that matter to them, people have been producing news-based online services - occasionally in print form as well - that operate on a local level. They have been given the name hyperlocal media, and there are hundreds of them out there. Many are reading them, some academics are studying them, and here at the British Library we want to archive them.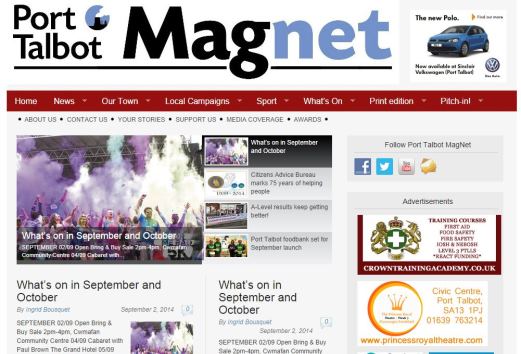 Port Talbot Magnet, http://www.lnpt.org
The term 'hyperlocal' comes from the USA and in general means local news and information sources online which are not produced by traditional media owners, but are instead created by communities themselves. As a phenomenon in the UK it seems to date back to 2007, though with some roots stretching back further than that. Just how many hyperlocal sites are out there in the UK no one knows. In 2012 the Openly Local site attempted to list them all and found 700 of them, but the data has not been updated for some while now, and without a system of registration it is hard to see how it would be possible ever to document them all with any certainty.
Part of the challenge lies in definition - some of the sites cover villages or corners of one town, others stretch over a whole city. Some are news sites, some information or arts and culture sites. Some are simply message forums; others look just like online newspapers from traditional media owners. Here is a selection of titles to demonstrate the range:
There has been growing interest from policy makers and academics in the hyperlocal phenomenon. in 2012 NESTA ( National Endowment for Science, Technology and the Arts) produced a report, Here and Now: UK hyperlocal media today which looked at the growth of the media, their sustainability, funding and visibility. Two AHRC-funded projects at Cardiff, Birmingham and Westminster universities have been studying hyperlocal media and combined this year to produce  a report: The State of Hyperlocal Community News in the UK.
The report finds that three-quarters of hyperlocal producers have been producing news for over three years and nearly a third for more than five years. Intriguingly, almost half of those surveyed had some sort of journalistic training or media experience, much higher than one might have suspected.
The connection with habitual news media practice is shown by three-quarters of respondents having covered local campaigns instigated by others, with well over a third have instigated their own. Most of those behind such sites work part-time on them: 57% work up to 10 hours per week, 26% work between 11 and 30 hours per week. The impact generated by all this effort is relatively low, as one would expect for local sites: a small group of high-performing community news sites reach audiences between 10,000 and 100,000 unique visits per month but most reach quite modest audiences of around 5,000 per month.
Community news producers tend do it for love and dedication to the cause. Most fund the running costs from their own pockets, but around one in four raise enough money to cover their costs, with advertising being the dominant form of income generation. 12% make less than £100 a month; 13% generate more than £500 per month. Yet nine out of ten believe they can sustain, or increase, current levels of output for the coming year, and eight out of then have ambitions to expand their sites. Hyperlocals may eventually fall in number as some lose the drive to continue what they have started up, but a core looks like to become a fixed part of the news media landscape.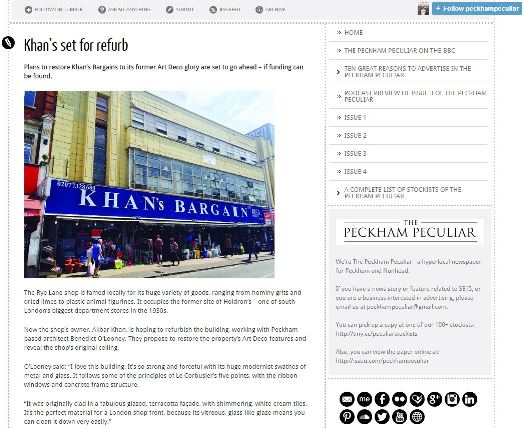 The Peckham Peculiar, http://peckhampeculiar.tumblr.com
Hyperlocalism is turning anyone who wants to be into a journalist or a media producer. Fancy having a go for yourself? Cardiff University's Centre for Community Journalism has produced a handy guide: Community Engagement and Hyperlocal News: a practical guide. This provides instruction on how to identify, listen to and engage with the community you wish to serve, how to make best use of social media, what online tools can help you, how to produce engaging content, how to cover local causes and campaigns, how to manage your time most effectively (a key issue mentioned by practitioners is how they never seem to have enough time achieve what they want to achieve) and how to monitor your impact.
We are witnessing a grassroots news revolution, and it is instructive to look at the parallels with the early history of newspaper production in this country. Newspapers and newsbooks arose in Britain from the early seventeenth century. Building on what had previously been private news services or occasional leaflets and broadsides, newspapers grew rapidly to serve an audience thirst for current information and the exercise of opinion. The civil war encouraged this demand to know, and though news production was constrained for a time by censorship and licensing restrictions, and then taxation, titles spread across the country until by the mid-eighteenth century few corners of the country were without a newspaper of some kind. Newspapers became a signifier of local identity. Their variousness demonstrated that news changes according to the needs of its consumers. What is news to someone in one area is not news to another. News is made by its communities. This is what the hyperlocal revolution has rediscovered.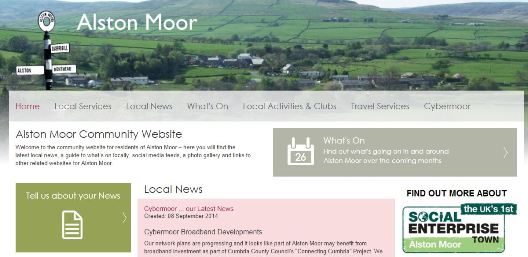 Alston Moor, http://www.cybermoor.org
Another parallel with early newspapers needs to halted. Thousands of newspaper issues produced in Britain from the 17th to the mid-19th century have been lost because there was no system in place for collecting them and no library to hold them. It is only thanks to collectors such as George Thomason and Charles Burney that we have the early British newspaper collection that we do, now part of the British Library's collection (since 1869 a copy of every newspaper published in Britain and Ireland has been acquired under legal deposit, originally by the British Museum and now by the British Library).
We do not intend to lose this new flowering of news production in the same way. In April 2013 non-print legal deposit legislation was passed which has enabled the Library to capture electronic publications on top of the print publications traditionally collected under legal deposit. We began by crawling the entire .uk domain (some 3.5 million websites); subsequent crawls will cover all websites published in the United Kingdom, so far as we are able to identify them. Eventually all British hyperlocal sites will be included, but how to find them thereafter, and what about those who currently may be slipping through the net?
So it is that we have a tool which enables curators to identify particular sites for retention, and to tag these so that they can be gathered into collections. In September we identified an initial 500 news websites - mostly newspaper sites - which we would archive on a regular and frequent basis, some weekly, some daily (the main web archiving crawl is annual). We will now be adding a further 500 or so sites for regular web archiving, most of them hyperlocal news sites, largely based on a list kindly provided by Dave Harte of Birmingham City University, one of the collaborators behind the Cardiff/Birmingham 'Media, Community and the Creative Citizen' project.
Some of these sites will be short-lived. Some will change their name, or web address. Who knows, some may merge or otherwise morph, as the community news sector matures. The important thing is that we capture what we can now. We need also to do more to acquire the print versions of hyperlocals, where these exist, only a few of which are currently being picked up through legal deposit. Then we need to keep a watchful eye on what new sites emerge, and which ones die, and review our selection on an annual basis at least. It's important to note that the Legal Deposit UK Web Archive may only be accessed onsite via Reading Room computers at the British Library and other legal deposit libraries (i.e. the national libraries of Scotland and Wales, the Bodleian, Cambridge University library and Trinity College Dublin). Interested researchers can come to the British Library's Newsroom, and any search result on the Web Archive can be filtered by the term 'news'. We haven't started archiving the hyperlocals yet, but plan to start doing so within the next few weeks.
Last week the Royal College of Art hosted the Creative Citizens conference, on creative citizenship and its value to the community. There was a panel on hyperlocal news media, at which I was fortunate to speak, demonstrating the links between news media of the past and this emerging news medium, and calling for the sites to be identified, archived, and then used. We need researchers to start using this new research resource, as part of the broadening news media world of which newspapers, television and radio news now form only a part. Most of these sites are still findable online, of course, but that's unlikely always to be the case, and being able to search across them all (or at least a good many of them) will tell us a lot about what this new world of community news is telling us about our communities. It will also show how news power is changing. Anyone can be a journalist. Anyone can be a media producer. So could you.
16 September 2014
Print newspapers are coming back to the British Library. In November 2013 we closed down the Newspaper Library at Colindale in north London and put an embargo on all access to print newspapers while we began the transfer of the newspaper collection to Boston Spa in Yorkshire, and while we built a new reading room at our St Pancras site in London. The Newsroom opened in April 2014, providing access to our microfilm and digitised newspapers, as well as many electronic news resources. Now we can announce the return of the print - in stages, and with some important caveats.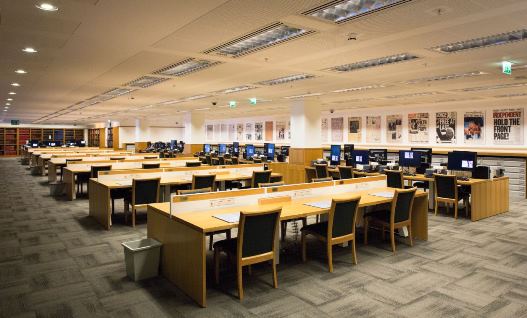 The Newsroom
The print newspapers are going to be fully available at our St Pancras and Boston Spa reading rooms in mid to late November 2014. From 29 September, however, an initial selection will be made available, which will include:
English and Welsh regional titles (excluding 1901–1908 and 1957–1960)
Scottish titles (excluding 1900–1960) 
Irish titles (excluding 1838–1905)
London titles
Nationals
The remaning titles will then become available in November. The titles can be ordered using our online catalogue, Explore the British Library, and will be delivered to the Newsroom within 48 hours. The online catalogue has improved information on the titles and volumes held by the Library, and you can track the progress of their requests using My Reading Room Requests. 
However, it is important to note that we are only providing access to print newspapers where there is no 'surrogate' copy i.e. a copy on microfilm or in digital form. That is because the preservation of the fragile newspapers is paramount, the chief reason why we closed down Colindale and opened the £30M dedicated storage facility, the Newspaper Storage Building, at Boston Spa. So, only if there is no microfilm or digital copy will we provide access to the newspapers, something which is now built into the newspaper request system.
Approximately two-thirds of the 60m newspapers that we hold have not been copied onto microfilm nor digitised. Many research needs can therefore only be answered by providing access to the original newspaper, and after a considerable amount of work behind the scenes we are delighted to say that we are ready to start delivering such a service.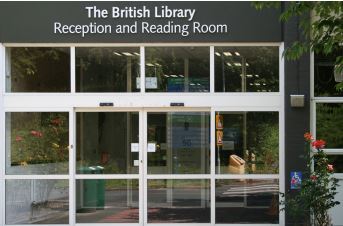 Entrance to Boston Spa
We are also delighted that access to the print newspapers will be not only at St Pancras but in our new reading room at Boston Spa. Here we will provide the same access service at we do at St Pancras, with the exception of microfilmed newspapers and early printed newspapers (17th/18th centuries), which are only available at St Pancras. This means that the same 48-hour delivery time applies, and that no access will be provided to a print copy where a surrogate copy exists (even if that surrogate is accessible in London). 
Incidentally, for those nostalgic for the old newspaper reading desks with their distinctive overhead lamps at Colindale will be delighted to learn that we have retained two of them (with four reader seats at each) for use in one corner of the Boston Spa reading room.
So, in summary, we will start making some print newspaper available from the end of September, and will be able to provide access to the entire collection - print, microfilm and digital - from mid to late November, one year after Colindale closed. Where a microfilm or digital copy is available, we are making that available to researchers rather than the print copy. But the entire collection will be available once more, in one form or another (bar some print titles in an unfit condition). Newspapers will need to be ordered 48 hours in advance; microfilms can be ordered with 70mins notice; digital access is automatic.
There is more information on these changes in our September 2014 Collection Moves News Bulletin (PDF format).
15 August 2014
Welcome to the latest edition of the St Pancras Intelligencer, our weekly round-up of news about news - stories about news production, publications, apps, digitised resources, events and what is happening with the newspaper collection (and other news collections) at the British Library.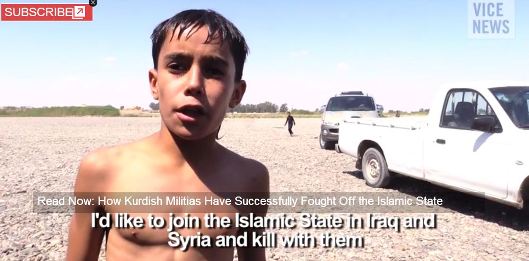 https://news.vice.com/video/the-islamic-state-full-length
The Islamic State: Medyan Dairieh scooped the world with his inside report on the Islamic State, the fruit of three weeks spent embedded with the group in Syria and Iraq. A notable coup for Vice News, the youth-oriented news service increasingly challenging the methods of the mainstream media companies. Originally released in five parts, linked here to the full forty-minute report (with some disturbing scenes, please note).
Print is down, and now out: David Carr's piece for the New York Times on how media companies are spinning off newpapers, which could be an indication of bad things for the medium, has been much discussed all week.
The persistent financial demands of Wall Street have trumped the informational needs of Main Street. For decades, investors wanted newspaper companies to become bigger and diversify, so they bought more newspapers and developed television divisions. Now print is too much of a drag on earnings, so media companies are dividing back up and print is being kicked to the curb.
See also Columbia Journalism Review's The great newspaper spin-off and Roy Greenslade's Will newsprint-only companies really hasten the demise of newspapers? On the other hand, News Corp's Robert Thomson announced ""We remain firm believers in the power of print", adding ""Print is a concentrated, intense reading experience with unique affinity in our digitally distracted age." So who really knows?
UK press coverage of the death of Robin Williams: The issue of tabloid and social media coverage of the suicide of Robin Williams is sensitively handled by David Banks at his Media Law blog.
Turning a profit in the Netherlands: How a Dutch hyperlocal network has grown: Joseph Lichterman at Nieman Journalism Lab on the success of Dutch hyperlocal website network Dichtbij.
The relentless trauma of covering Gaza: Jared Malsin at Columbia Journalism Reviews on how even seasoned war correspondents are feeling the impacts of witnessing continual civilian casualties.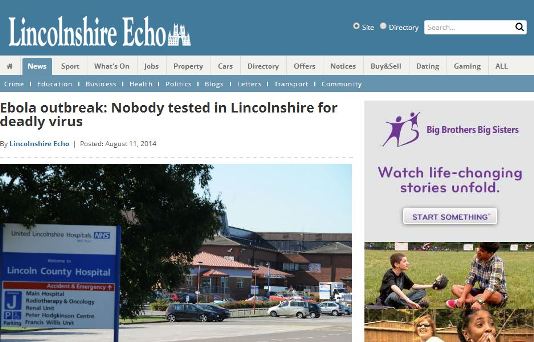 All quiet on the ebola front in Lincolnshire: Quite possibly the news story of the year, brought to the grateful residents of the county by the Lincolnshire Echo and noted by the Media Blog - though China's news agency Xinhua's confident assurance that "There is no evidence that coffee and onions cure Ebola" surely runs it very close.
6 things publishers need to know about UK media consumption, from Ofcom's latest report: They include the bald asertion that newspapers would not be missed by most of us: "just two percent of respondents saying a newspaper would be form of media they would miss the most", notes The Media Briefing.
Behind the BBC's interactive 'The rise of the Islamic State: Journalism.co.uk reports on the production of the BBC's innovative interactive video piece 'The rise of the Islamic State'.
160,000 newspaper pages added from 1787-1954: They continue to go full steam ahead at the British Newspaper Archive, adding 160,000 pages in July, including the London Evening Standard (for some years in the 1860s, please note), Glasgow's Daily Record and the Surrey Comet.
African American Newspapers, 1827-1998: A great new digital service just introduced into the British Library's Newsroom is this Readex World Newspaper Archive collection of around 270 US newspapers documenting the African American experience over a century and a half.
Graphic content: How media differ on use of Gaza images: BBC Monitoring shows how news organisations in different countries have approached the use of images about Gaza.
30 June 2014
If you are new to the newspaper and other news collections at the British Library, or if you simply feel in need of a refresher on how to get the best out of our services, then our News Reference Workshops will be just the thing for you. These free workshops are run by our newspaper reference team and news curators, and are designed to provide general introductions different parts of the collection. There is workshop on using the Newsroom (which will feature on a monthly, regular basis), and workshops on specific areas such as early and modern newspapers, news-related electronic services, television news, and the British Newspaper Archive. Each lasts 45mins to an hour.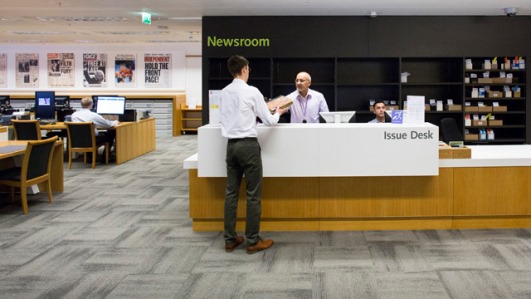 Introduction to the Newsroom
This session aims to provide an introduction to the Newsroom and the news collections as well as basic guidance for researchers using the Reading Room. The session will:
Provide an overview of the scope and history of our news collections
Explain what digital news sources are available
Explain how to search for and order newspapers
Provide information on resources and services in the Reading Room
Dates: 8 July (14.30); 5 Aug (14.30); 9 Sept (14.30); 7 Oct (14.30); 11 Nov (14.30); 9 Dec (14.30)
To book a place, please email us at: [email protected]
Introduction to early newspapers: From the early 17th century to the mid-19th century
This workshop will include:
The development of newspapers from the early C17th to the mid C19th.
The origins of the national and regional press in the UK
Early newspaper collections at the British Library
Searching for early newspapers in the British Library catalogue (Explore the British Library)
Digitised early newspapers
Date: 26 Nov (14.30)
To book a place, please email us at: [email protected]
Introduction to modern newspapers: mid-19th – 20th century
This workshop will include:
The development of newspapers from the mid C19th to the present day
Modern newspaper collections at the British Library
British/Irish newspapers received on Legal Deposit
Overseas newspapers
Searching for modern newspapers in the British Library catalogue (Explore the British Library)
Date: 20 Aug (14.30)
To book a place, please email us at: [email protected]
News-related electronic resources
This session will cover the range of news related electronic resources available at the BL and how to access this material. The session will include:
Awareness of newspaper electronic resources and importance of newspaper e-resources for contemporary research.
Highlighting the various ways to access BL newspaper e-resources.
Demonstrations of key newspaper e-resources.
Showcasing the variety of newspaper databases including facsimile and text only e-resources, and various news related bibliographies and indexes available at the BL.
Date: 24 Sept (14.30)
To book a place, please email us at: [email protected]
Television and Broadcast News service
Our Broadcast News service has four years of television and radio news programmes from the UK and adds 60 hours every day. We also provide onsite access to 200,000 BBC television and radio programmes. This workshop will give a guide to finding and using television news at the British Library, and to television archive sources in the UK.

Date: 21 Oct (14.30)
To book a place, please email us at: [email protected]
Using the British Newspaper Archive
This presentation and short practical session offers an introduction to the British Newspaper Archive (BNA). It will cover the scope and techniques of the digitisation programme and highlight the advantages of using newspapers as digital resources. The talk will explore the content of the BNA in terms of titles, dates and regional areas of the UK and Ireland.
The practical element looks at basic and advanced searching, getting help, printing and some of the more advanced features such as My Research, contextual information, corrections and tagging.
Attendees are encouraged to register with the BNA before arrival.
Date: 23 July (14.30)
To book a place, please email us at: [email protected]
More information on British Library workshops and training events is provided here. You can book by emailing us at [email protected], or just ask any of the staff at the Newsroom reference desk.
04 June 2014
The Newsroom is the British Library's new dedicated reading room for researching its news collections. It is located on the second floor of the Library's site at St Pancras in London. This post is an overall guide to what researchers can expect to find in the Newsroom.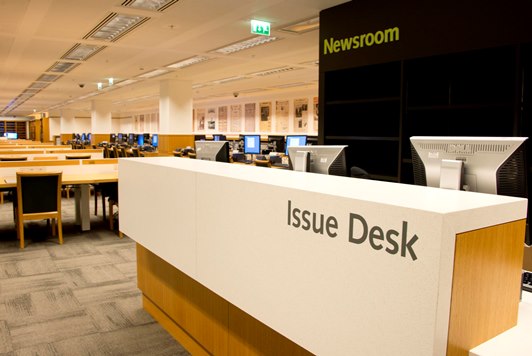 The Newsroom is in two sections: the main reading room, which delivers access to the news collections and is open to anyone with a British Library reader's pass; and the networking area, a research space open to anyone which displays live news on screens from a variety of sources.
Finding
You can find most of our news collections through the British Library's main catalogue, http://explore.bl.uk. News items can be searched for by title, any word from a title, place name, or word in the catalogue record. Some of our television and radio news records can be found on Explore, but we are still adding records. The full collection can be found via Broadcast News (see below). Our web news collection needs to be searched separately (see below).
To access anything from our news collections you will need a free Reader Pass - guidelines on how to obtain a pass are available here.
You can order items before your visit using http://explore.bl.uk.
Desks
The main room has 110 desks, of which 58 are clear Reader desks, 40 have microfilm viewers plus access to electronic resources, and 8 have dedicated electronic resources terminals. 
Services
We offer self-service facilities for making copies from print, microfilm and digital newspapers, subject to preservation and copyright restrictions. There are 3 printers in the Newsroom, and 1 print release station. We have a wide range of news media reference works available on open access, including such titles as Willing's Press Guide and the Times Index.
Newspapers
We collect nearly all newspapers published in the United Kingdom and Ireland, with some 60 million issues going back to the early 1600s. We currently receive around 1,500 newspaper titles on a daily or weekly basis, and nearly 100 titles from overseas. Because the main print newspaper collection is currently in transit from its former home in Colindale to our Newspaper Storage Building in Boston Spa, Yorkshire, the newspapers will not become available in the Newsroom until autumn 2014.
Microfilm
There are 15 microfilmed newspaper titles available immediately via open access, while anything from our main collection of 625,000 reels of microfilmed newspapers is available for delivery within 70 minutes, or can be ordered in advance by using http://explore.bl.uk. Appropxiately one third of our newspaper collection is available on microfilm. The 15 titles available for immediate access are:
Daily Mail 1896-2009
Daily Telegraph 1855-2009
Daily Worker 1930-1960
Evening Standard 1860-June 2010
Financial Times 1888 onwards
Guardian 1821 onwards
Independent 1986 onwards
Independent on Sunday 1989 onwards
Mail on Sunday 1982-2009
Morning Star 1966-2009
News of the World 1843-2011
Observer 1791 onwards
Sun 1964-2009
Sunday Telegraph 1961-2009
The Times 1785 onwards
Our specialist microfilm readers enable the microfilmed images to be viewed on a digital screen, and can be rotated to suit the shape on a newspaper if required. They offer the ability to zoom in and out, crop, adjust focus, brightness, contrast, and de-skew the image.
Electronic resources
We provide access to a wide range of digitised newspapers and other electronic news collections, both those derived from our own holdings and the digital collections of third parties. This includes:
British Newspaper Archive
British Newspapers 1600-1950 
Gale News Vault
Readex World Newspaper Archive
NewsBank
ProQuest Historial Newspapers
UKpressonline
All of our electronic news resources are listed at http://www.bl.uk/eresources/main.shtml and all can be seen for free in the Newsroom.
Television and radio news
We have almost 50,000 television and radio news programmes recorded since May 2010 available onsite via the Broadcast News service. This can be accessed by using the link to Sound and Moving Image collections given on the home page of the Library terminals. There are recordings taken from 22 channels:
Television:
Al Jazeera English 
BBC One
BBC News
BBC Parliament
BBC Two 
BBC Four
Bloomberg
CCTV News
Channel 4
CNN
France 24
ITV1
NHK World
RT
Sky News
Radio:
BBC London
BBC Radio 1
BBC Radio 4 
BBC 5 Live
BBC World Service
LBC
talkSport
Most programmes are available in the Newsroom from the day of broadcast. We only record news and news-related programmes.
BBC
Separately we provide access to BBC programmes via the BBC Catalogue service. This has some 2 million BBC catalogue records from the 1950s to 2012, with around 200,000 playable television and radio programmes broadcast 2007-2012. This can be accessed by using the link to Sound and Moving Image collections given on the home page of the Library terminals.
Web archives
We provide access to over 4.8 million UK websites archived since 2013 as part of the Legal Deposit Web Archive. This archive can be accessed by using the link to Web Archives collections given on the home page of the Library terminals. The collection includes over 500 news-based websites archived on a frequent basis, including most UK national newspaper sites and many regional sites, which can be searched as a discrete collection.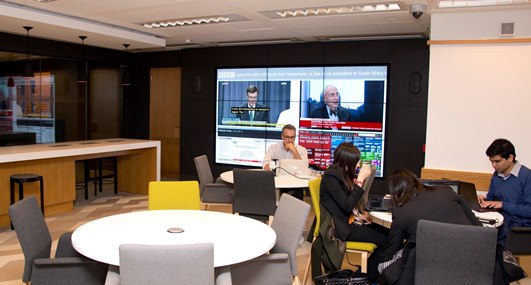 Networking area
The networking area is open to anyone. It has seating for over 30, with cubicles, and many charging points. The area's Video Wall features live television news, a rotating display of live news websites (all sites archived by the Library) and the Newsmap news aggregator site. We refresh the content on the Video Wall periodically.
Above the cubicles we project live tweets from around 100 news websites that we archive, including international, national and regional titles.
Opening hours
10.00-20.00 Mon
9.30-20.00 Tue-Thu
9.30-17.00 Fri - Sat
Workshops
We are organising a series of regular workshops on using the news collections, both general guides and introductions to particular parts of the collection. See http://www.bl.uk/reader-workshops.
Finding out more
The Newsroom has leaflets aavailable on the news collections and their use.
Our newspaper reference team can give help on using the Newsroom and finding items, though we cannot undertaken in-depth research requests. You can contact us online via http://www.bl.uk/reference-contacts.
Guide to the collection and its use are given on our web pages at http://www.bl.uk/subjects/news-media.
You can follow discussion about news and news collections via the Newsroom blog at http://britishlibrary.typepad.co.uk/thenewsroom.
Don't forget to follow us on Twitter too: @BL_newsroom
The Newsroom blog recent posts
Tweets by @BL_newsroom
Other British Library blogs