30 May 2014
Welcome to the latest edition of the St Pancras Intelligencer, our weekly round-up of news about news - stories about news production, publications, apps, digitised resources, events and what is happening with the newspaper collection (and other news collections) at the British Library.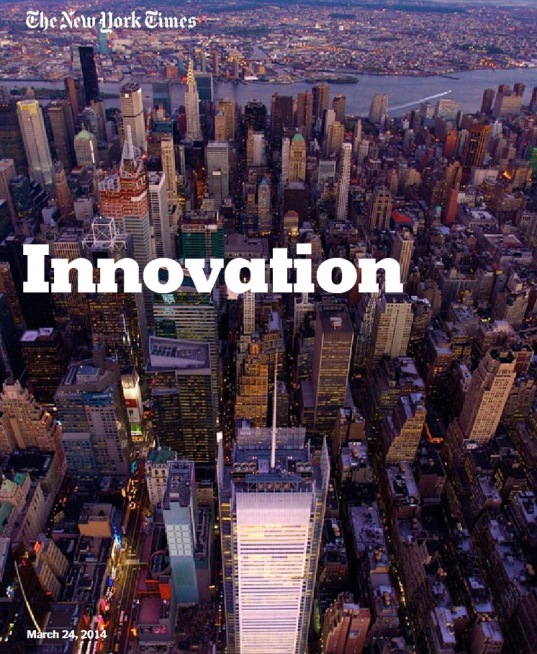 For the Times' innovation report to stick, its journalists need to be on board: Fascination with the leaked New York Times' digital innovation report continues unabated. Emily Bell from the Tow Center for Digital Journalism argues that journalists themselves are the crucial element behind any innovation plans.
The New York Times KPI's: In another piece on the NYT report, Frederic Filloux at Monday Note comes up with this thought-provoking quote: "In theory, the Times can get rid of print. Digital revenue far exceeds the cost of running the newsroom..."
The New York Times and innovation: are they asking the right question?: And there's more. George Brock points out that nowhere in the Innovation report does is say what journalism is, or that its authors graps that it is changing. He asks:
Is it actually possible for a big, mainstream newspaper to make the transition to being, principally, a digital platform for journalism? Not just make the transition slowly, painfully and with embarrassing mistakes but…not make it at all.
UK daily newspapers have doubled in price since 2004 and shrunk in size - no wonder sales are down: William Turvill at Press Gazette looks at the rise in cover prices for UK daily and Sunday national newspapers over the past ten years.
How Niuzly wants to put control into the hands of journalists: Journalism.co.uk reports on publishing platform Niuzly which  allows writers to sell their articles to readers on for individual micropayments.
Guardian launches redesigned app: The Guardian has issued a new version of its app, available across all Android and iOS phones and tablets running Android 4 and iOS 7, with increased personalisation features and incorporating the user-generated content platform GuardianWitness.
BBC issues new guidance for journalists on using Twitter: 'Don't do anything stupid': Sage advice after head of the BBC newsroom Mary Hockaday tweeted "#WhyImVotingUkip – to stand up for white, middle class, middle aged men w sexist/racist views, totally under represented in politics today", just ahead of the European elections. She subsequently took no part in the BBC's election coverage.
With Farage on the loose, broadcasters and newspapers must realise they are no longer king-makers: Reflecting on the results of said European elections in the UK, Ian Burrell at The Independent observes that the media's assumed power to influence voting (no UK national newspaper came out in support of UKIP) is waning.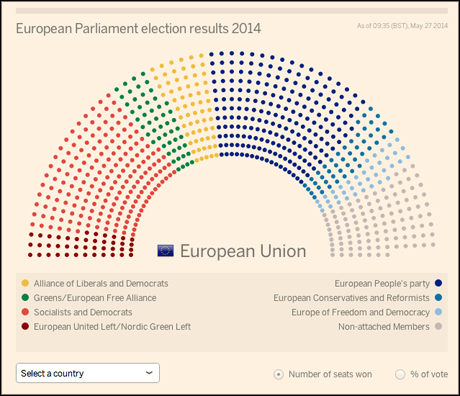 Screenshot from FT.com
7 engaging ways news outlets covered the European election: More on the elections for data visualization fans, from Journalism.co.uk.
Metaio unveils Thermal Touch technology for making user interfaces out of thin air: Let's face it, we're all still hoping for our newspapers to become fabulously interactive. German company Metaio may have made a significant step towards this by developing its 'Thermal Touch' interface concept which could make any surface a use interface through a combination of thermal imaging and augmented reality. Applications they see for this include newspaper ads with clickable links. We'll just have to wait five years until they develop it.
Watch Skype translate a video conversation in real time: Another potentially transformative technology is speech-to-text (coverting audio files into printed words), which could have a huge impact on the use of audiovisual news archives. Microsoft are applying the technology - along with translation software - to Skype. Watch the video on the Quartz site and ponder the possibilities.
Royal privacy row as German tabloid publishes picture of the Duchess of Cambridge's bare behind when her skirt blew up during Australia tour: Because it is news about news, we have to report the furore over the German magazine Bild's decision to publish a photograph of the Duchess of Cambridge's backside, and the decision by British newspapers not to do so. The Daily Mail report features a pixilated version of the image.
We're all aggregators now: Anyone can become a news publisher online simply by aggregating the news produced by others. Ann Friedman at Columbia Journalism Review comes up with three simple cardinal rules of being an ethical aggregator.
Preserving early periodicals and newspapers of Tamilnadu and Pondichery: The British Library's Endangered Archives Project has made 10,000 issues of rare periodicals from Tamilnadu & Pondicherry dating back to 1892 available online.
We just aggregated over 15.000 historical newspaper issues from Poland: More on digitised newspapers, which were already online but have now been incorporated in the Europeana portal. The Europeana Newspapers blog gives the background to these Polish additions.
John Humphrys offers advice to aspiring journalists: 'Don't do it': Today programme presenter John Humphrys tells Press Gazette he is advises not to go into journalism as a profession. "I am deeply pessimistic for the future of serious print journalism and I tell my own children and grandchildren to train for a profession where they're more likely to get a decent job with some hope of security". But Piers Morgan, Jon Snow, Ian Hislop, John Witherow and Kay Burley  and many others all disagree.
A journalist goes missing nearly every day in Ukraine: The week's most sobering news media statistic, from The Independent.
07 March 2014
The Newsroom - it's a good name. It's a place where any kind of news gets made, be it print, broadcast or web. It's at the heart of information.  It's a point from which we can look out and see the world for what it is. A newsroom is where we plan to understand things.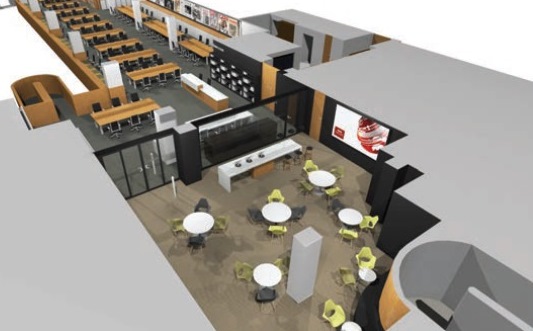 Visualisation of the Newsroom
At any rate, it's the name of the British Library's new reading room for news, which we can now announce will be opening on 7 April 2014. It was back in November 2013 that the Newspaper Library at Colindale closed, since when we have been working on preparing and then sending the newspapers to the new Newspaper Storage Building in Boston Spa, Yorkshire (the first newspaper start being shipped there in March). Meanwhile, we have been preparing the new reading room for news at St Pancras. If you know the building, then it's on the second floor, above the Business & IP Centre. 
The Newsroom will be divided into two parts. Users familiar with the Colindale service will notice many changes - all for the better, we hope. There will longer opening hours, 40 state-of-the-art digital microfilm readers, and a much wider range of microfilmed titles available on open access. This will include the 15 most highly-requested national titles – including The Times, The Guardian, The Independent, the Daily Mail and The Sunday Times - whereas in Colindale we only offered The Times on open access. There will be access to extensive digitised and multimedia collections, including the Broadcast News service with its recordings from 22 television and radio news channels, and the BBC catalogue with TV and radio programmes from 2007, which will move from a pilot service to a regular service.
The second, smaller part of the Newsroom will be at the front, an informal area for networking, testing out digital resources, and viewing news content as it is produced. We want the Newsroom to be about news today as much as news yesterday, and to draw out the connections between the two.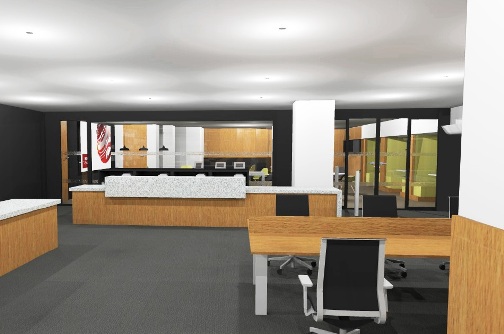 Design for part of the Newsroom, showing the issue desk with networking area beyond
Before the room opens, we've been making significant service changes. On 17 February the periodicals formerly held at Colindale - and put on embargo in June of last year - became available once more. The majority of these periodicals, some 24,000 titles, have been moved to Boston Spa and will be available to order into any St Pancras Reading Room within 48 hours. A small number of high-use periodicals are being stored at St Pancras and will be available to order into any St Pancras Reading Room (not just the Newsroom) within 70 minutes. 
These can be ordered online in advance via explore.bl.uk, where there have also been changes. There is no longer a separate Newspaper Library tab for searching, instead newspapers have been fully integrated into search (though you can still search on newspapers alone by using the Advanced Search option). There is improved information about newspapers titles and volumes that we hold, and links to digital versions where they exist on the British Newspaper Archive site.
Users can track the progress of their requests via My Reading Room Requests. Records for microfilm and print newspapers that are currently being moved are also now visible. The print newspapers themselves won't be available in April, however. It's going to take until the autumn until they are all stored at Boston Spa and the service ready to go. Then they will be delivered to St Pancras within 48 hours, but if there is an access copy - i.e. a copy on microfilm or in digital form - then that's what we will provide for you, rather than the print copy. Around a third of the collection of some 60 million newspaper issues is accessible through microfilm access copies, so most research enquiries are likely to be answered by the microfilm in any case, and they will all be onsite at St Pancras.
And there's more, because there is also work underway to improve facilities for users at Boston Spa. When completed (in the next few weeks), the reading room there will provide access to print newspaper and digital copies where available, but not the microfilms. Meanwhile, access to the Boston Spa collection is being maintained via a temporary Reading Room nearby in the same building.
There's more information on the opening and our news services on the British Library newspaper moves pages including our March 2014 Collection Moves Bulletin (PDF).
We've not been idle. We hope to continue to be useful.
21 February 2014
Welcome to the latest edition of the St Pancras Intelligencer, our weekly round-up of news about news - stories about news production, publications, apps, digitised resources, events and what is happening with the newspaper collection (and other news collections) at the British Library.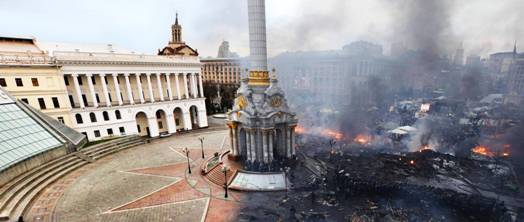 Before & After - Kiev's Independence Square: A stunning composite image published on Reddit.
You're not going to read this: But you'll probably share it anyway. The Verge points out the huge difference in numbers between what we tweet and what we actually read of what we tweet.
Scientists develop a lie detector for tweets: More on the shakiness of social media, this time on a system - Pheme - which could help determine whether a Tweet contains credible information or not. From the Daily Telegraph.
The Historian and the Home Movie: A nice 5-part set of thoughtful blogs from the Media Archive of Central England on why home movies matter as history. Part 1, Part 2, Part 3, Part 4, Part 5.
The YouTube War: A fine piece by Amnesty International's Christoph Koettl for PBS on the rise of YouTube videos in reporting on the Syrian conflict, and the opportunities and challenges of using such videos as evidence of human rights violations.
Letter asks for release of Peter Greste held in Egypt: The BBC, ITN, Reuters, Sky, NBC News and ABC News have signed a letter asking for the release of Australian freelance journalist Peter Greste and his two Al-Jazeera colleagues, being held in prison by the Egyptian authorities.
Highlights from the IFLA newspaper conference: A handy blog post from the Oregon Digital Newspaper Program on the International Federation of Library Associations' (IFLA) Newspaper group's conference held at Salt Lake City. Newspaper history, digitisation and preservation.
Hacked Off to Daily Mail: you are the biggest ethical code offender: The Press Complaints Commission published a list of publications responsible for breaches of the editors' code of practice. The Daily Mail came top. The Mail protested and defended its position. Hacked Off was not impressed. Roy Greenslade refrains from comment.
Anti-"Daily Mail" Signs Appear On Britain's Rail Network: Talking of which, these signs have been popping up on UK trains (having been handed out by satirical comedian Mark Thomas on his current tour). Buzzfeed dutifully collates a selection of photographs.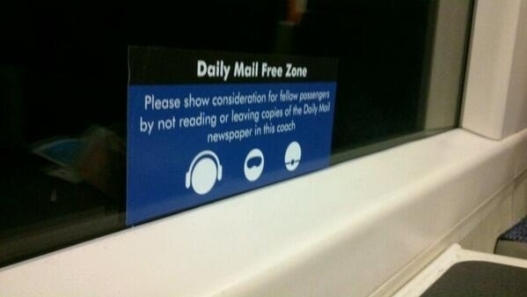 On the Ramsgate to Victoria line, photographed by Nicola Branch
How digital weighs up against print for UK magazine circulations: Journalism.co.uk reports on the new data from the Audit Bureau of Circulation which for the first time gives combined digital and print sales for magazines. Print still dominates, for now.
BBC accused of political bias - on the right, not the left: The Independent reports on Cardiff University research which finds that "the BBC has compromised its impartiality by depending too heavily on sources from business, the media, law and order and politics" and that the BBC "was more likely than ITV or Channel 4 to use sources from the right – such as US Republicans or Ukip politicians – than from the left (US Democrats or Green politicians)."
Should UK licence-fee payers still fund the World Service?: More BBC worries - The Observer is concerned that the end of Foreign Office funding for the World Service could put the service in jeopardy when the next round of cuts is made.
Former Colindale periodicals available to order again: Good news for British Library users - the periodicals formerly held at Colindale and embargoed since June are available to order once more.
Readers love Johnston weekly's UGC: Can a regional newspaper find 75% of its copy from user-generated content, and thrive? Steve Dyson reviews the Pocklington Post for Hold the Front Page and emerges pleasantly surprised by what he reads. "The resulting copy may be a little loose in style, but there seems to me to be finer detail, more names and probably fewer factual errors".
Are quizzes the new lists?: More to the point, are quizzes journalism? Caroline O'Donovan looks at the latest Buzzfeed viral phenomenon.
The case of the poisonous Bath buns: Michelle Higgs' discovery of a shocking tale from Victorian times found when using the British Newspaper Archive.
WikiLeaks now offers a search engine to help you find documents linked to any keyword: And here it is.
19 February 2014
The sheer number of digitised newspaper resources out there is astonishing. In a period of not much more than ten years ago when the first newspaper digitisation project got underway, there are now hundreds of millions of pages accessible online. Here's a guide to ten of the best of them (but not the ten 'best' of course), first in a series of 'top ten' guides to news research sources we'll be publishing over the next few weeks.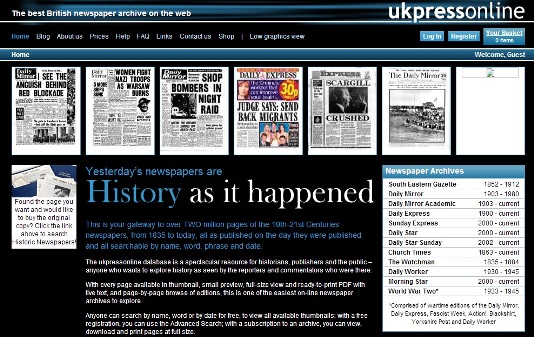 The BNA is a partnership between the British Library and DC Thomson Family History to publish 40 million pages from British newspapers over a ten year period (deadline 2020). Built upon an earlier newspaper digitisation project between the Library and JISC, there are currently just under 7.5 million pages available from around 250 British newspaper titles, dating from 1710 to 1954. The focus is on regionals as opposed to nationals, and titles which have not been digitised and made commercially available elsewhere. So you won't find The Times or the Daily Mirror, but you will find the West Kent Guardian, the Yorkshire Post and Leeds Intelligencer, the Bristol Mercury and the Dundee Courier. 19th century nationals represented include The Graphic and the Morning Post. It's a subscription site, with exemplary searching and filtering tools and helpful guides. 
This is a newspaper digitisation programme sponsored jointly by the National Endowment for the Humanities and the Library of Congress as part of the National Digital Newspaper Program. It covers newspapers published 1860-1922 for the following states: Arizona, California, District of Columbia, Florida, Hawaii, Illinois, Kansas, Kentucky, Louisiana, Minnesota, Missouri, Montana, Nebraska, New York, Ohio, Oklahoma, Oregon, Pennsylvania, South Carolina, Texas, Utah, Virginia, and Washington. Papers available include The San Francisco Call, The New York Sun, The Washington Times, The Colored American, and The New York Evening Times. Currently there are some 7.2 million pages from 1,270 titles.
Gallica is the digital library of the Bibliothèque nationale de France. Established in 1997, today it contains nearly 3 million digital documents - books, manuscripts, maps, images, sound recordings and newspapers. The library has 1.3 million newspaper and periodical pages to date, including Le Figaro and L'Humanité, with new content being aded all the time. The content is all French, of course (but there are English-language searching tools), and is a mixture of free and paid-for content.  You can search by title, author, text, date, language, broad subject, document type and access type (i.e. free versus paid-for content), and there are useful filtering tools.
NewspaperARCHIVE (£)
The American site NewspaperARCHIVE calls itself the world's largest newspaper archive, and in online terms that may be the case. It boasts over 130 million pages (newspaper and periodicals) dating from 1607 to the present day, with papers from all American states and eleven other countries, including the UK (some 800 titles). It claims to be adding 80,000 images per day, or 2.5 million per month, such is the relentless demand from the geneaology market, to which the site is strongly directed. There are various subscription offers available, and you can have a 3-day trial of the full database for $1.95.
A plain but helpful online resource of digitised historic newspapers from Singapore and Malaya. The site allows you to search the National Library of Singapore's digital archive of papers published between 1831 and 2009 and includes The Straits Times 1845-1989. You can also find information about the National Library of Singapore's microfilmed newspapers. All images are watermarked and the image and OCR quality are variable, but none of it is illegible. The advanced search option allows you to narrow down researches by date, newspaper (there are 26 on offer ranging 1836-2006) and content type (article, advertisement, letters etc.). The newspaper titles are in English, Chinese or Malay. Only the historical titles can be viewed online, but do note that the British Library holds most of the digitised titles on microfilm for access in our reading room.
Nineteenth Century Serials Edition (ncse)
King's College's the Nineteenth-Century Serials Edition is a free, online edition of six nineteenth-century periodicals and newspapers. It includes full runs of the first five titles, and a decade only of the Publishers' Circular. Titles are represented as completely as possible, including multiple editions, advertisements, wrappers, and supplements where these could be found. Titles are:
Monthly Repository (1806-1837) and Unitarian Chronicle (1832-1833), Northern Star (1838-1852), Leader (1850-1860), English Woman's Journal (1858-1864), Tomahawk (1867-1870), and Publishers' Circular (1880-1890). All six journals are segmented to article level, and can be downloaded freely.
This excellent site from the National Library of New Zealand contains over  three million freely-available pages from 83 digitised New Zealand newspapers and periodicals covering the period 1839 to 1945. The search and presentation tools are a model of their kind. Australian and New Zealand newspapers from this period carried a great deal of British news, so this and the Trove site below are great resources for searching British subjects as well as Australasian.
Trove is a discovery tool for information on Australia and Australians. It is the digital library par excellence. The newspaper section of the site presents the results of the on-going Australian Newspapers Digitisation Program: to date there are 12.3 million pages covering a range of titles from every state and territory, from the earliest newspaper published in Australia in 1803 through to the mid 1950s. The remainder of Trove covers books, journals, pictures, photographs, films, music, sound, manuscripts, maps and archived websites, its cross-searching making it the model example of a research resource that does not discriminate between the different media.
UKpressonline (£)
This commercial site provides text searchable access to full page facsimiles of over 2 million pages from some of the UK's biggest selling popular newspapers of the 20th and 21st centuries. The archive is still being built up but already complete are the Daily Mirror 1903 to date, Sunday Express May 2000 to date, the Daily Star May 2000 to date, the Star Sunday September 2002 to date and The Daily Express 1900 to date. It is easy to use, with search bringing up every relevant page as a thumbnail. Searching is free (one you register);  if you subscribe you can view, download and print pages at full size.
Welsh Newspapers Online is a free online resource from the National Library of Wales which currently lets you search and access over 630,000 pages or 6.8 million articles from nearly 100 newspaper publications from years 1804 to 1919. It is easy to use, with snippets of text appearing as search results, linking to the article image and the OCR text alongside it, a particularly welcome feature as it lets the researcher gain a clearer picture of the accuracy of their searches.
We provide a list of all the many full text, word-searchable electronic newspaper resources (free and commercial) to which we provide onsite access in the British Library reading rooms, with descriptions of each of the services. They include all of the above (with the exception of NewspaperARCHIVE).
14 February 2014
Welcome to the latest edition of the St Pancras Intelligencer, our weekly round-up of news about news - stories about news production, publications, apps, digitised resources, events and what is happening with the newspaper collection (and other news collections) at the British Library.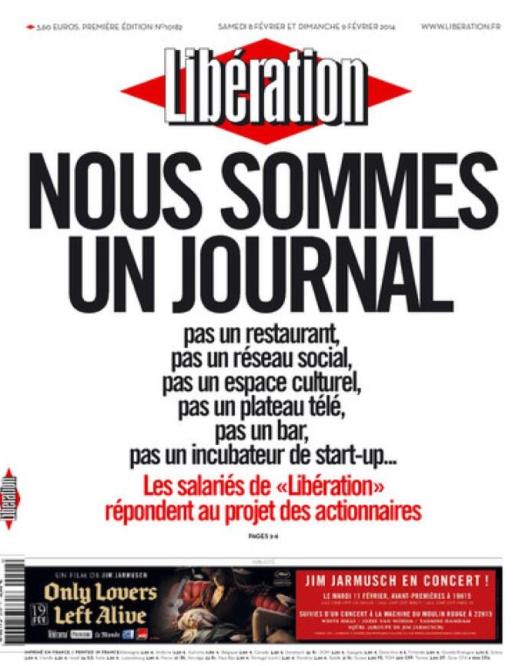 A note to the staff of Libération in France: Perhaps the most eye-catching news about news story of the week was the front page of French left-wing journal Libération, which was hijacked by staff protesting at the paper's shareholder group's plans to turn it into a social and cultural hub. Their call to be left alone to be a newspaper and to do journalism "couldn't be more wrong", according to Mathew Ingram.
17 Things That Would Only Get Reported In British Local Newspapers: Patrick Smith of Buzzfeed's regular round-ups of British local newspaper stories are always an irresistible treat. "Police launch appeal after mystery tea pot found near Cambridge ..."
News you can lose: Richard Sambrook on US cable TV news networks' strategy of diversifying programming to keep hold of shrinking audiences. " More and more, news channels will depend on dinosaurs and killer whales."
Georgia Henry obituary: The Guardian's deputy editor and creator of its Comment is Free section has been much mourned.
Iraqi newspaper bombed after Ayatollah caricature: Index on Censorship reports on the struggle to survive of the Al-Sabah Al-Jadeed independent newspaper.
You can see right through News Corp's transparency: Peter Preston analyses Mike Darcey of New UK's defence of pay walls and argues that one model does not fit all.
Europeana Newspapers: The portal for digitised European newspapers has produced a sassy promo video which shows just how inventive you can be in promoting newspaper archives for research.
Welsh Newspapers Online – 27 new publications: It's been a good week for newspaper archives. The National Library of Wales' Welsh Newspapers Online has added 27 new publications and now has over 630,000 pages from pre-1919 newspapers freely available.
125,000 extra pages now searchable on the British Newspaper Archive: In what has been a busy month for the BNA (which moved from Colindale to Boston Spa in January) they managed to add an extra 125,000 British Library newspaper pages to their online archive.
Periodicals return: The periodicals collection held at the (now closed) Colindale newspaper library was embargoed in June. From Monday February 17th it becomes available once more at the British Library's St Pancras site.
What is Google Newsstand and how can publishers make the most of it?: Press Gazette's Dominic Ponsford analyses Google's mobile app for news.
Video journalism: Former newsreel cameraman Terence Gallacher runs an excellent blog on the history of his profession. Here he asks whether camera operators have become journalists or the journalists become camera operators.
Why it matters that LBC is going national: LBC, the talk news radio station for London, went national on February 11th. Gillian Reynolds looks at why it's an important move.
13 February 2014
We're delighted to be able to report that from next Monday (February 17th) the former Colindale periodicals collection, which has been in embargo since June 2013, will become available again in the British Library's reading rooms at St Pancras.
The majority of the periodicals that were formerly held at Colindale (which closed to the public in November 2013) have been transferred to storage facilities in Boston Spa, Yorkshire, from which access can be provided in any St Pancras reading room within 48 hours. A number of high-use periodicals are stored at St Pancras itself, and these can be ordered within 70 minutes.
Periodicals can be ordered online in advance by using Explore the British Library which will have improved information about the titles and volumes that we hold. You will also be able to track the progress of your requests via My Reading Room Requests. Records for microfilm and print newspapers that are currently being moved will become visible at the same time. Although these items remain unavailable for the time being, the records will link to digital versions where these are available, all part of ongoing work to make the connections between the print and access copies of our newspaper and periodical holdings clearer to users.
Microfilm newspapers and periodicals will become available at St Pancras when we open the new reading room at the end of March. The final stage in the transference of the old system to the new will be when print newspapers become available for ordering from Boston Spa, in Autumn 2014, where there is no microfilm or digital access copy that is otherwise available. It is well worth noting that a third of our newspaper and periodicals collection is available through microfilm access copies, which greatly helps us to preserve the fragile print originals.
We have more information on periodicals, our collection moves programme, and the background to why these changes are taking place, here. Our aim is to ensure the long-term future of our newspaper and periodicals collection, and to provide the optimum service for anyone who needs to do research.
The Newsroom blog recent posts
Tweets by @BL_newsroom
Other British Library blogs