05 May 2021
As Joe Biden has now passed his first 100 days as the 46th President of the United States of America, it is time to reflect on the broadcasts of the US presidential election archived by the British Library. 2020 thrust upon us a global pandemic, the Black Lives Matter movement, the final months before the UK left the European Union, plus a Presidential election in America like no other. In 2016, the Library's Broadcast News service archived the election of Donald Trump as the 45th President, continuing to collect broadcasts dealing with his presidency over the following four years. The 2020 US Presidential election was certain to be an interesting one, with an incumbent President with a background outside of politics versus a career politician who was a former Vice President.
CNN Final Presidential Debate, 23 October 2020
The run-up
The Democratic nomination debates were recorded for the Library's Broadcast News service with extensive coverage by CNN and the debates covered by many of the world's broadcasters in their news programmes.  All was going as expected … and then the Coronavirus pandemic hit the world.
This meant that Broadcast News was now being run from a curator's spare bedroom, rather than from the British Library's News, Radio and Moving Image area at our St Pancras site. The Coronavirus not only made adapting to new working conditions tricky for Broadcast News, but it also made politicians across the globe develop strategies and legislature to deal with a pandemic.
In the US, President Trump's handling of the pandemic had attracted much news coverage throughout the year. His press briefings as part of the White House Task Force we captured from CNN coverage, albeit with the problem of no regularly scheduled time and sometimes patchy coverage. A trawl around other news organisations covered by Broadcast News resulted in finding fuller broadcasts of the briefings on Turkey's TRT World, Sky News and the BBC. On many occasions CNN sometimes only broadcast the questions taken after the speeches were made, whereas TRT World and Russia's RT would only show the speech itself. Plenty of documentaries were broadcast covering Donald Trump's four years as President. These were also archived for Broadcast News, originating from stations across the world that that are licensed to broadcast in the UK.
This was all good preparation for the run up to the election itself. First there would be three Presidential debates. The initial one, on 29 September 2020, was a strange one, to put it mildly. CNN had full coverage, so their programming was duly archived. However, the combative manner of the debate, with Trump's interruptions and responses in particular, triggered worldwide interest in how the debate was conducted. Breakfast news programming from Britain's main news networks, the BBC, ITV, and Sky were recorded to show the post-debate analysis for each channel, to avoid bias. The major news programmes from China's CGTN, RT, Al Jazeera, Japan's NHK World, France 24 and TRT World, also gave their judgement, and that was also recorded.
Then the President caught COVID-19. His rallies had been noticeable for both himself, his aides and most of the crowds not wearing masks and not practicing social distancing. In contrast, his rival, Joe Biden, always wore a mask at his events and reporters and attendees were segregated. The Democratic Party's convention was held virtually, compared to the Republican Party's convention being held in large rallies. Both conventions' highlights were recorded, and the key speeches were captured from live footage.
TV coverage criticized how the President was holding 'super spreader' events with his rallies, especially the gathering announcing the appointment of Amy Coney Barrett as an Associate Justice to the Supreme Court.
It was announced that the second presidential debate would be a virtual one, owing to the President's diagnosis. Donald Trump rejected this idea, however, the two candidates instead taking part in separate 'Town Hall' events. It was impossible for CNN to show both Town Halls live, so highlights were broadcast and, again, the news broadcasts of the BBC, ITV, Sky News, Al Jazeera, CGTN and TRT World would also show clips and give their comments.
The final TV debate was held on 22 October. Both candidates attended, and this ended up as a stark contrast to the first one, resembling the civilized debate held prior to this in the debate between Vice President Mike Pence and the Democratic Party's VP choice, Kamala Harris. Both were archived from CNN's coverage and a balance of views was also obtained from coverage by the other news organizations.
A mixture of CNN's coverage and that of TRT World, Sky and the BBC was captured to gain a flavour of the rallies then held in the run up to the election itself.
TRT World, America Decides, 3 November 2020
Election day
And then election day itself came. An election like no other, with all sorts of protestations that mail-in votes would lead to a fraudulent result, and a vicious second wave of the Coronavirus in America leading to many wanting to vote without attending the polling stations on the day.
The views of both President Trump and Joe Biden about voting were made clear in the run up to the election. Late night programmes from CNN were taken in addition to CNN Newsroom (which is recorded daily) to reflect the nature of voting intentions and the candidates' views on this. CNN had many interviews with local officials in areas that had wildly different views on voting procedures, so this was an important set of programmes to archive in order to provide researchers into this election a chance to see how America was split on this issue. Most Trump supporters would turn up to vote on the day, many rejecting wearing a mask. Most Biden supporters suggested that they would largely vote by mail, also worried that voting on the day might bring intimidatory tactics from right-wing extremist supporters.
Early voting in some states also took place and scenes of day long queueing, and interviews given whilst waiting in line, were also recorded from CNN sources and other broadcasters.
It was decided to take all night coverage of election day itself from several stations to reflect balance in the views of the presenters. CNN, BBC, ITV, and Sky were chosen, and CGTN, Al Jazeera and TRT World were also recorded after polls closed giving their initial reactions to the results. However, there was no clear result and the election coverage continued over the next week.
It was decided to take all of CNN's coverage throughout each day until a winner was declared. CNN had received good press reviews for their coverage (known on social media as 'The Map Programme'), and this was complemented by coverage of key state declarations and updates from the BBC, Sky, ITV and Broadcast News' overseas stations in Turkey, China, Japan, the Middle East, France, Nigeria and Russia. There were many documentaries about both President Trump and Joe Biden broadcast across many channels in the run up to, and during, the election. These were also archived.
Our broadcast archive of election day featured radio as well. The coverage from BBC Radio 4, BBC 5 Live, BBC World Service, LBC, TalkRADIO and Monocle 24 was all archived for our National Radio Archive pilot. This also included Siren Radio, a small community station set up in Lincoln University. They apologised for not having live coverage due to the station being closed due to the lockdown. Yet, they were able to record 20-minute interviews with professors in the US, political commentators in Washington and talk to American Studies students, who were watching the election. They returned to get their thoughts in the aftermath of the election one week on.
Bradford Community Broadcasting schedules the current affairs programme 'Democracy Now!' each day. This is a syndicated programme based in New York and has proved to be invaluable in covering the pandemic and the lead up to the election. Its coverage of voting and the aftermath of the election is helped by access to big names linked to social commentary and research, and the hour-long programme is a valuable resource into what life is like in America using first-hand accounts.
ITV News, 6 January 2021, with reporter Robert Moore at the Capitol
Aftermath
Finally, on November 7, Joe Biden was declared the winner. Again, TV coverage of the result was archived from the same sources. At this point the 24-hour coverage from CNN was halted and regular recordings of CNN Newsroom would report on the situation from then on.
Of course, that was not the end of the matter. President Trump issued lawsuits to recount or reject votes where he claimed that the voting had been illegal and refused to concede. His chief lawyer, former New York Mayor Rudy Giuliani, held a bizarre press conference at the parking lot of the 'Four Seasons Total Landscaping' store in Philadelphia, a business located near a sex shop and a crematorium. Coverage of that was not covered live by CNN, but was by Sky News, with an amused Adam Boulton puzzling over the peculiar location.
With President Trump still refusing to accept his defeat, continually claiming that it was a fraudulent election, Georgia had its state runoff in early January. A run-off election was called because no candidate in the Senate election had enough votes to clear the state mandated percentage for a clear win. This meant that with two Senate seats at stake, and the US Senate majority for the Republican Party at risk, more campaigning by the two parties began again. All major rallies and speeches were again captured from CNN, TRT World, BBC, ITV and Sky. The election day itself was captured in full via CNN. With the lead changing hands throughout the night, it was a tense affair. Finally, both seats were won by the Democrats, meaning that they would now hold the majority in the Senate.
But this was not the end of the matter. One month later, America was rocked by an event that shook its democracy to its foundations. With the College Electoral Vote due to be ratified by Congress on the 6 January 2021, President Trump held a rally in Washington, where he and several key speakers once more condemned the validity of the election and its outcome and incited his followers to take action. The speech by President Trump and coverage of the rally was again archived from CNN broadcasts and other news outlets around the world.
What followed next was unprecedented in American history. A large group of Trump supporters forced their way into the Capitol building in Washington DC as the Senate was in session. CNN was covering the Electoral Vote session and this coverage continued as the rioters entered the building. The world's news networks soon started following the events live. Broadcast News has the coverage of CNN, BBC News, Sky, TRT World and Al Jazeera. ITV's coverage was particularly enlightening, as their reporter, Robert Moore was able to talk to the protesters as they entered the building and even within it. Euronews covered the event from their studio, but their coverage included up to the minute reaction on social media from world leaders and senior politicians. The subsequent Impeachment of President Trump for a second time was also captured by CNN and all major news stations also covered the session in the Senate in depth.
The Inauguration of the new president happened without the out-going President in attendance. His final message as President was recorded for the archives, and full coverage of the Inauguration of Joe Biden taken from the coverage of CNN, BBC, ITV, Sky, TRT World and Al Jazeera. Kamela Harris becoming the first woman to become Vice President, and the first black person to achieve that office, also allowed some of the stations to reflect on the historic aspect of the day. Amanda Gorman became the youngest poet to perform at a presidential inauguration, reading her poem, 'The Hill We Climb'. The British Library has a direct connection with Amanda as she is a 2020 Eccles Fellow (one of the awards offered by the Eccles Centre for American Studies).
A huge amount of coverage of this historic chapter in American history is now archived as TV and radio coverage. With 2020 and 2021 being significant for a global pandemic, the US election could have been a sideshow. The material archived by Broadcast News and the National Radio Archive will show researchers in the future, just how extraordinary this moment in history was.
Neil McCowlen, Broadcast Recordings Curator
Broadcast News is available in all British Library reading rooms
21 June 2017
The general election that no one was supposed to want turned out to be completely compelling. Many of the apparent certainties on which the UK's snap election of June 2017 was based were overturned, at least in part - from its core themes (it was supposed to be about Brexit but never really was), to demographics (young people don't turn out to vote, except that they did), to the balance of political power (the predicted comprehensive victory by the Conservatives instead resulted in a hung parliament). 
Tim Farron, then leader of the Liberal Democrats, from BBC News at Ten, 17 May 2017
One certainty that remained in place was the primary position of television as the platform for information and debate. Probably the defining image of modern electioneering is the politician speaking with a grouping of supporters with banners bunched behind them, the supposed audience seeing the back of the speaker while the true target is a remote one. Reality is subverted to televisual reality.
Although subsequent analysis of voting trends has shown that social media may have had a greater influence, in some sectors, than before, while newspapers' influence has not waned as greatly as some have pronounced (again, in particular sectors), television was where the general election was played out.  One of the particular coups of the election campaign was when Labour leader Jeremy Corbyn changed his mind and decided to take part in a BBC party leaders' debate, wrong-footing the Conservative leader Theresa May. Likewise the performances by the various politicians in interviews (Theresa May telling The One Show about who in her household put out the bins), Jeremy Corbyn telling Jeremy Paxman on Channel 4 why he wasn't campaigning to abolish the monarchy) seem to have had a persuasive effect on public perceptions. Other media play their part, but television is the testing ground.
The British Library was recording all this, or at least a good part of it. Between the surprise announcement of the election on 18 April 2017 and election day on June 8 we recorded some 1,500 television news programmes from 15 channels (BBC One, BBC Two, BBC Four, BBC News, BBC Parliament, Channel 4, ITV1, Sky News, Al Jazeera English, CGTN, CNN, France 24, NHK World, RT, Channels 24). This included general news programmes from each of those channels, interviews, speeches, panel debates, party election broadcasts, satirical shows, and of course the through-the-night election results programmes and post-election reporting. Because of the surprise nature of the election, there weren't some of the in-depth documentaries and comedy series that we saw at the 2015 election and the 2016 EU referendum, but the air of improvisation as TV reacted to events only added to the compelling nature of those six weeks.
Because in the middle of the election were breaking news stories that halted the campaigning twice - the suicide bomber at the Manchester Arena on 22 May and the attacks on London Bridge and Borough Market on 3 June. Both events wove their way into the election narrative, and saw the broadcasters adapting to the abrupt shift in the news agenda. Extended recordings of the breaking news reportage on these events, across multiple channels, are also part of we archived.
George Osborne and Ed Balls, part of ITV's election night commentary team
All of our UK 2017 general election programmes are now on the Explore catalogue, and can be played directly from the I Want This links on the catalogue at either our London or Boston Spa sites. You can access the programme either directly from the catalogue, or you can go to our onsite Broadcast News service, and search in greater depth for programmes by date, channel or subject (to find Broadcast News, following the Sound & Moving Image services link from the front page of any British Library terminal).
We have produced a spreadsheet of all of the news and election programmes we recorded 18 April-11 June, in .xlsx format, which you can download here.
Our news collections go back to the 1620s, but they are as much about today as yesterday. It is not possible to archive the whole of the world of news as it impacts on the UK. The range of publications and platforms is too vast, and in an increasingly personalised news world, everyone is seeing different news. But we capture the best that we can - comprehensively for newspapers (thanks to Legal Deposit), reasonably comprehensively for web news sites (thanks to Non-Print Legal Deposit) and selectively for television and radio. It is instant history, turning what is live and uncertain into that which has become fixed and a subject for study and contemplation. And it is compelling.
15 June 2015
The UK General Election of 2015 was decided by television. Despite the ardent advocacy of some newspapers, and for all the claims being made about it being a social media election, television dominated perceptions, debates and the presentation of policies. A Panelbase survey of the UK audience said that 62% found TV coverage had been the most influential in informing them about the general election and the policies of the political parties, far more than newspapers at 25%, websites at 17% (mostly the BBC news website), radio at 14%, speaking to family and friends at 14%, and only 11% social media (primarily Facebook). 38% of the audience said they were influenced by the broadcast debates, 23% by TV news coverage and 10% by party political broadcasts.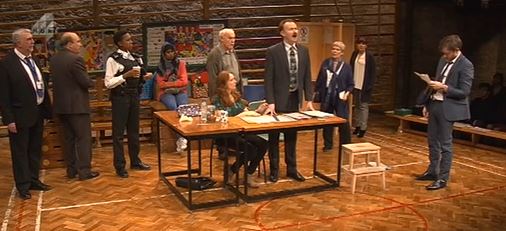 James Graham's The Vote, broadcast on More4 on election night 7 May 2015, with Judi Dench, Catherine Tate, Timothy West and Mark Gatiss
It is important therefore that to have an archive of what was broadcast on television over the general election period. The British Library's Broadcast News service usually takes in around 30 hours of TV news and 18 hours of radio news each day, from 22 channels. We expanded this significantly to capture every debate, party political broadcast, manifesto launch, campaign event, press conference, interview, leader profile and documentary that we could, plus the full election night broadcasts of each of the main broadcasters (including those from BBC Scotland, BBC Northern Ireland, BBC Wales and STV), as well as coverage given to the election from CNN, France 24, Al Jazeera English and RT (Russia Today). We also recorded the relevant TV dramas (Coalition, The Vote) and comedies (Ballot Monkeys, Newzoids, Have I Got News for You etc).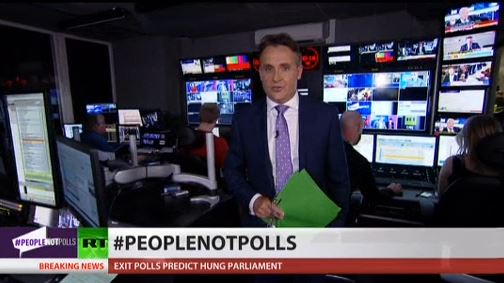 From RT's general election night coverage
Overall, between 26 March (the date of the first of the TV debates) and 8 May 2015, we recorded 1,775 television and radio news programmes. Not all touched on the election, but most did, and it makes for compelling evidence for how much energy and calculation went into using television as the forum for a national debate.
All of these recordings are available via the British Library's Broadcast News service, accessible at our St Pancras (London) and Boston Spa (Yorkshire) sites. We're also making available here a spreadsheet listing every programme we recorded between 26 March and 8 May. They are listed by date, medium, channel, type of programme, title, description and duration, and the data can be sorted by anyone interested to undertake some preliminary analysis or simply to see in one list which party political broadcasts were recorded.
Download Recordings 2015_general election

The programmes are also listed on a new Special Collections page on the Broadcast News site, with links to all the main recordings. Please note that these general election recordings do not as yet appear on the British Library's main Explore catalogue (but will do eventually).
We would be interested to hear from any researchers using this archive. Do get in touch via [email protected].
06 May 2015
Five years ago to this day, at 21:55, we threw on the switches for the first official television and radio news recordings for our Broadcast news service. It was, of course, the day of the General Election, and we decided to kick off our service the moment the polls closed - or five minutes beforehand, to be precise, as that it when the all-night news programmes began.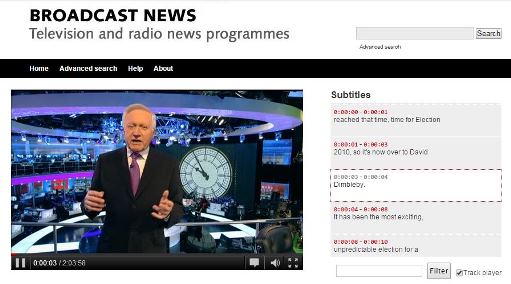 BBC1's election night broadcast, 6 May 2010
Things were simpler then. We had only just acquired the system for recording TV and radio programmes off-air, and there were a few teething troubles. So we started cautiously, and recorded just four programmes on that first day - the BBC 1, BBc Radio 4 and ITV election broadcasts, and Channel 4's Alternative Election. the following day we boldly upped the ante to record 15 programmes, adding broadcasts from the channels BBC News, World Service, Al Jazeera English and CNN.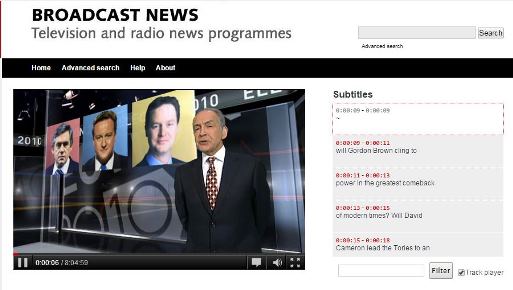 ITV's election night broadcast, 6 May 2010
Five years on, and things have grown. For 6 May 2015 we will be recording some fifty programmes from twenty-two channels: BBc1, BBC2, ITV, Channel 4, BBC 4, BBC News, BBC Parliament, Al Jazeera English, RT, CNN, Bloomberg, CCTV, Sky News, France 24, talkSport, BBc Radio 5 Live, BBC World Service, LBC, BBcCRadio 1, BBC London, BBC 1 Scotland and STV. We won't know until a day or two later how many programmes we've recorded, because we catch up on some unscheduled programmes after broadcast (such as the many General Election interviews and campaign events currently popping up on BBC Parliament), but it will amount to some 50 hours of TV and radio recorded for that day.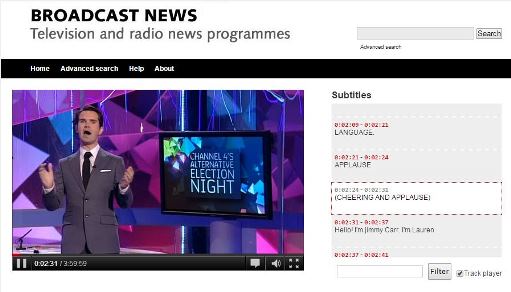 Channel 4's Alternative Election, 6 May 2010
Over the five years we have recorded some 45,700 television programmes and 12,100 radio programmes. We record mainly news programmes, though we interpret news quite broadly and include current affairs, interviews, documentaries, live broadcasts and so on. The top 10 most recorded channels are BBc 1 (6,410 programmes), BBC Radio 4 (6,144), ITV1 (5.604), BBC News (4,865), Sky News (3,457), Russia Today/RT (3,153), NHK world (2,995), CCTV [China] (2,918), BBC World Service (2,647) and Al Jazeera English (2,552).
All of the programmes are available on any Library terminal at our St Pancras and Boston Spa sites. For reasons of copyright we cannot make the programmes available online. You can find records of what we have on Broadcast News on the Explore catalogue, but for the most up-to-date records and the fullest service - including word-searchability of programme subtitles - it is best to go to the Broadcast News site, which you can find under the Sound and Moving Image services page on any Library terminal, or just look for http://videoserver.bl.uk (please note, this link only works if you are located at one of our sites and working from a British Library terminal).
And here's to the next five years of news.
22 April 2015
The UK General Election means that we have been busy with the video recorders. As well as our regular intake on newspapers and the special web archive collection being built up by the British Library and other legal deposit libraries, we have been recording many extra television programmes relating to the General Election for our Broadcast News service. In our multimedia, multiformat, mobile-driven world, television is still the medium which leads the news agenda in the UK and serves as the focal point for debate.
Here's a run-down of what we're recording, all of which is available soon after broadcast on Broadcast News, available in our Reading Rooms at St Pancras and Boston Spa.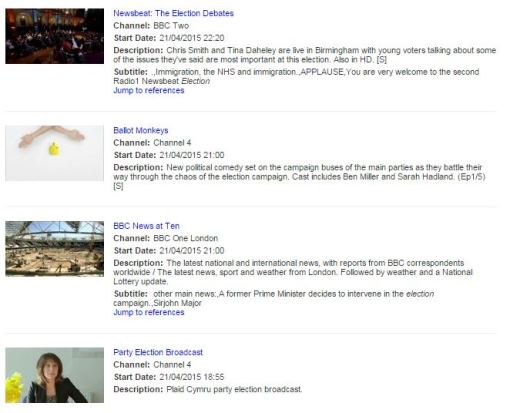 General news
We record selected television and radio news programmes from 22 channels on a regular basis, and so pick up on all the main news reporting on the election - from BBC1, BBC2, BBC4, ITV1, Channel 4 and Sky News, as well as the somewhat less intense election reporting from Al Jazeera English, CNN, RT, France 24 and others.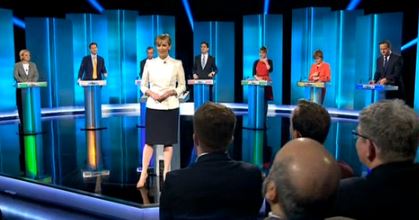 The ITV Leaders' Debate
Debates
The will-they, won't they arguments over the live debates with party leaders dominated media discussions in the run-up to the formal launch of the General Election period. There was no repeat of the three-way leader debates that so riveted the nation back in 2010, but the compromise solution for 2015 generated variety, much interest and plenty of online debate. We have had Cameron & Miliband: The Battle for No 10 (Channel 4 tx. 26/3/2015), with Jeremy Paxman grilling David Cameron and Ed Miliband and Kay Burley fielding questions from a studio audience; the ITV Leaders' Debate, with Julie Etchingham hosting a memorable seven-way debate between the leaders at their podiums (ITV tx. 2/4/2015); and the BBC Election Debate (BBC1 tx. 16/4/2015), hosted by David Dimbley, featuring the leaders of the five main opposition parties. We have also recorded Scotland Debates (STV tx. 7/4/2015) and the Leaders' Debate - Scotland (BBC1 Scotland tx. 8/4/2015), the Newsbeat Debates on TV and Radio 1, the Daily Politics Debates, and several others.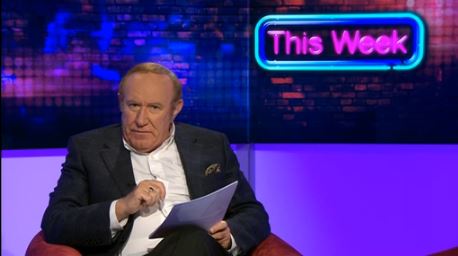 The ubiqitious Andrew Neil
Discussions and commentaries
Accompanying the news, we of course have the discussion programmes. Analysing it all have been the Daily Politics, Sunday Politics and This Week (all hosted by Andrew Neil), Election Tonight, Question Time, the Andrew Marr Show, The Agenda, Murnaghan, Newsnight, and even the Election Late Show. 
Interviews
The number of interviews with the party leaders seems prodigious. ITV has had its Spotlight interview series with Tom Bradbury, BBC1 had has the Leader Interviews with Evan Davies, there have been the Newsbeat Interviews on BBC TV and radio, numerous interviews on general news and current affairs programmes, and ad hoc pieces to camera being picked up by BBC Parliament.
BBC Parliament
The BBC Parliament channel has thrown open its schedules to capture many of the interviews, reactions, manifesto launches and campaign events of which we only see highlights in the main news programmes. So, for example, the manifesto launches include those of the Conservatives, Labour and Liberal Democrats, Scottish National Party, Ulster Unionist Party, Alliance Party, SDLP, Green Party, UKIP, Democratic Unionist Party and the Christian People's Alliance, as well as the Scottish and Welsh branches of Conservatives, Labour, Liberal Democrats, Greens and UKIP, and assorted youth manifestos.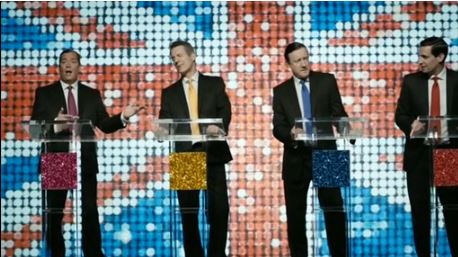 The Green Party's 'boy band' election broadcast
Election broadcasts
Party election broadcasts are a television staple, and for this election it is noticeable how stylishly made most of the broadcasts are, aiming as they are to attract not just television viewers but an online audience intent or liking or disliking the same videos on YouTube. So far we have broadcasts from the Conservative Party, Green Party, Labour Party, Liberal Democrats, Plaid Cymru, Scottish National Party, the Trade Unionist and Socialist Coalition, and UKIP.
All party election broadcasts shown on the BBC are currently available via iPlayer.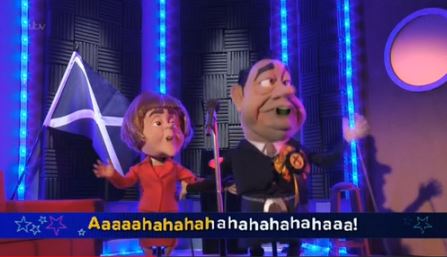 Nicola Sturgeon and Alex Salmond on Newzoids
Satire
We are also recording the many news satire programmes that are popping up: Have I Got News For You, ITV's new puppet show Newzoids, Channel 4's The Last Leg, which has a special focus on the election, and programmes created for the election period itself: Jack Dee's Election Help Desk and Charlie Brooker's Election Wipe on BBC2, Ballot Monkeys on Channel 4 with its up-to-the-minute gags, and the planned post- election programmes including Election Autopsy (with Frankie Boyle) and Rory Bremner's Election Report.
We will be producing a special collection page for the election recordings on Broadcast News, once the election is over.
01 August 2014
Welcome to the latest edition of the St Pancras Intelligencer, our weekly round-up of news about news - stories about news production, publications, apps, digitised resources, events and what is happening with the newspaper collection (and other news collections) at the British Library.
Jon Snow has opinions, and they're fit for TV: Channel 4 News presenter Jon Snow's heartfelt account of the child victims in Gaza went viral this week. James Ball at The Guardian praises its sentiments, notes that such partiality would have probably breached Ofcom guidelines (the video was not shown on Channel 4 News itself, only its YouTube channel), and calls for more opinion to be allowed for broadcast journalists:
What then is gained by making people who have opinions withhold them? Journalists' views shape the questions they ask, the people they interview, the images they choose to show, and more. The current system requires those judgments, and the reasons behind them, to be hidden from the audience in a pretence of impartiality.
The conflict in Gaza has generated impassionated debate among academics and media practitioners around questions of bias, partiality and media control. Among these are Michael Chanan's Behind the news at Gaza at his Putney Debater blog, Justin Schlosberg's Media wars over Gaza at Open Democracy.net, Paul Mason's Why Israel is losing the social media war over Gaza for Channel 4 News, Surabhi Vaya at First Post, Gaza: How bias affects coverage of Israel-Palestine conflict, and Glenn Greenwald at Intercept, Terrorism in the Israeli Attack on Gaza. Some of the fiercest debate has been around the perceived role of the BBC. Ian Burrell at The Independent surveys this in With Charter Renewal on the horizon, complaints over Gaza are dangerous for BBC.
Net roots of BuzzFeed plagiarism: BuzzFeed apologised this week that one of its writers, Benny Johnson (now sacked) had been guilty of plagiarism - and provided links to all the affected stories. Dylan Byers at POLITICO puts the blame on the Internet, presssure of production and lack of journalism training (though in the same week The Times's tennis correspondent has been suspended after plagiarising work for a tennis yearbook and a reporter at the New York Times accused of copying from Wikipedia).
MH17: how Storyful's 'social sleuthing' helped verify evidence: Ben Carter at The Guardian on how News Corp-owned Storyful has been verifying content from Twitter and YouTube to get to the truth behind the shooting down of Malaysia Airlines Flight MH17.
Social media has changed the way that war reporting works - and that's a good thing: Mathew Ingram at Gigaom finds that the influence of social media on war reporting has made the news more personal, more chaotic, and more democratic.
Spain likely to pass 'Google Tax': Spain has approved a bill giving newspaper publishers the right to seek payment from any site that links to their content. TechDirt is sceptical, pointing out that a similar case in Belgium led to Google simply removing the affected newspapers from the local Google news, the result of which was the newspapers ended up asking to be let back in after they suffered a drop in revenue.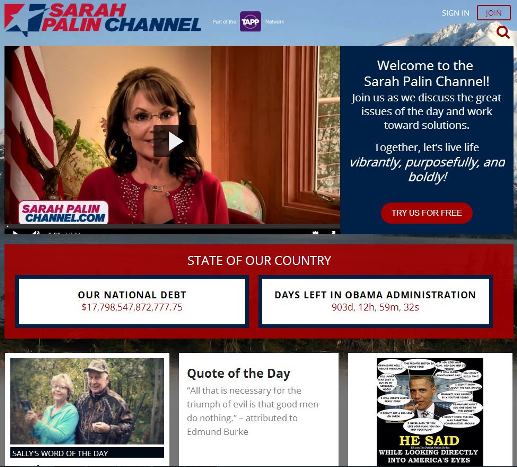 sarahpalinchannel.com
Sarah Palin's low-budget TV channel is pricier than Netflix: Sarah Palin has launched an online news channel, to widespread mockery. "We'll go beyond the sound bites and the media's politically correct filter to get to the truth," she promises. 
The newsonomics of how and why: Ken Doctor at Nieman Journalism Lab asks whether explanatory or data journalism (exciting much interest in the USA) can expand to cover news on a more local level.
Welcome to Storyline: Talking of which, though we're a bit late in reporting this, Washington Post has launched its own explanatory journalism site, Storyline.
At front lines, bearing witness in real time: David Carr at New York Times ponders what the impact is on us now that we can follow wars in real time, and the impact that it is having on journalists (including Anne Barnard at the New York Times, criticised by some for not tweeting from Gaza.
Drama in Crimea: From the days when war reports would take weeks to reach their public, but had a seismic effect once they did so, Roy Greenslade reviews a new collection, Battles in the Crimea, which gathers together William H. Russell's renowned reports for The Times on the Crimean war of 1854.
In 1858, people said the telegraph was 'too fast for the truth': Also on the theme of the speed by which information reaches us, Adrienne LaFrance at The Atlantic uncovers an 1858 New York Times article which complained that the telegraph brought the news too quickly too it public.
Superficial, sudden, unsifted, too fast for the truth, must be all telegraphic intelligence. Does it not render the popular mind too fast for the truth? Ten days bring us the mails from Europe. What need is there for the scraps of news in ten minutes? How trivial and paltry is the telegraphic column?
LaFrance points out how new technologies invariably upset our sense of time and control.
Boy, 4, has mark of devil: The Sun's bizarre choice of a front page story for 29 July 1914 ("A sinister Satan sign that mysteriously appeared on a four-year-old boy is proving a devil to explain") has generated reactions from bafflement to rage.
02 July 2014
Jeremy Paxman, who recently hosted the BBC's Newsnight for the last time, has cited the words attributed to Times foreign correspondent Louis Heren that make up the title of this post as inspiration for his method as an interviewer. It says a great deal about the news interview as it is now understood, and the function of the news producer. News may in part be about holding those in power to account, but should its starting point be the belief that its subjects are liars? How did the news interview become so inquisitorial, and will it remain so?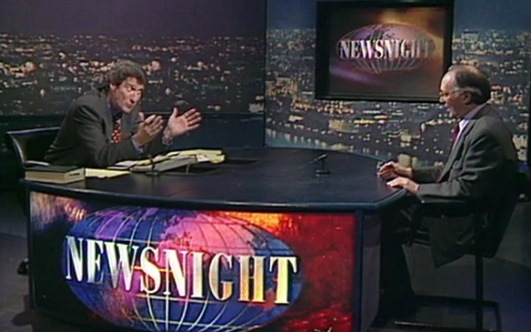 Jeremy Paxman interviewing Michael Howard, Newsnight, tx. 13 May 1997
It is interesting that in the same week Paxman stood down, with many commentators discussing his contribution to the art of interviewing, some of the first ever filmed interviews were honoured with an inscription on the UNESCO UK Memory of the World Register. The Hepworth Cinema Interviews are a series of 36 filmed interviews with UK public figures (Lloyd George, Herbert Asquith, Bonar Law and others) made by film producer Cecil Hepworth in 1916. The subjects were invited to give comments on the war and what would follow after it. This was the era of silent films, so the subjects mouth their answers to the camera, with their words being reproduced through intertitles. There is no onscreen interviewer - these are just statements made to the camera. Rather than being any sort of radical development, they are interviews in the tradition of nineteenth century newspaper interviews - pronouncements from the elite, with the media serving as the willing vehicles for such pronouncements.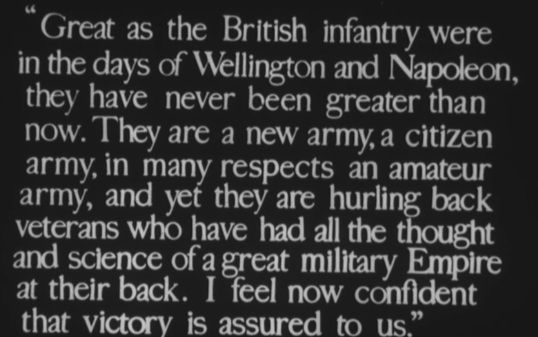 Lloyd George's words as intertitles from the Hepworth Cinema Interviews, courtesy of National Screen and Sound Archive of Wales
Interviews in newspapers are generally accepted to have appeared in the USA in the 1860s and in the UK in the 1880s, where they were often viewed - often with suspicion - as an American innovation. The American journalist James Gordon Bennett is credited in some quarters with having 'invented' the newspaper interview in 1836 with his verbatim transcript of a conversation he allegedly had with Rosina Townsend, a witness in the trial of the murderer of a New York prostitute Helen Jewett, which was published in the New York Herald. Other cite the interview conducted by Horace Greeley with Brigham Young, leader of the Mormon religion, and published in the New York Daily Tribune of 20 August 1859 as being the first interview as we would now recognise it.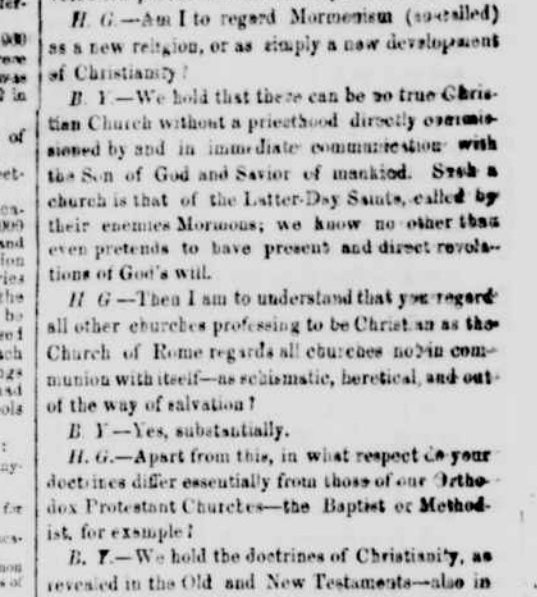 Part of Horace Greeley's interview with Brigham Young, New York Daily Tribune, 20 August 1859, p. 5, from Chronicling America
But newspaper interviews were not 'invented' - they grew out particular changes to the medium. The process of interviewing is as old as journalism itself, so one can trace it back to the 17th century at least. Journalists find the information they require often by asking someone questions, and then using the replies they receive as the substance of their report. That is interviewing, and Daniel Defoe employed it as a news reporter for his Weekly Review much as today's journalists do 400 years later. Interviewing is integral to how news is understood - see how often news readers on TV and radio ask questions of reporters, experts and other interviewees, extracting what we need to know through that dialogue.
The interview as a formal newspaper feature emerged in the mid-19th century, as newspapers turned from being vehicles for partisan standpoints to broadly factual reporting. This included the use of direct quotation. The evidence became all the more important, and what better evidence could there be than the words spoken by the subjects themselves, in answer to the questions put by trustworthy journalists? Of course, it was also part of that process by which "news gathering turned into news making", as Daniel Boorstin writes in The Image, where he labels the interview as one of his 'pseudo-events' - events artificially created in order that they may be reported. The interview is not what happened but rather what the media has caused to happen.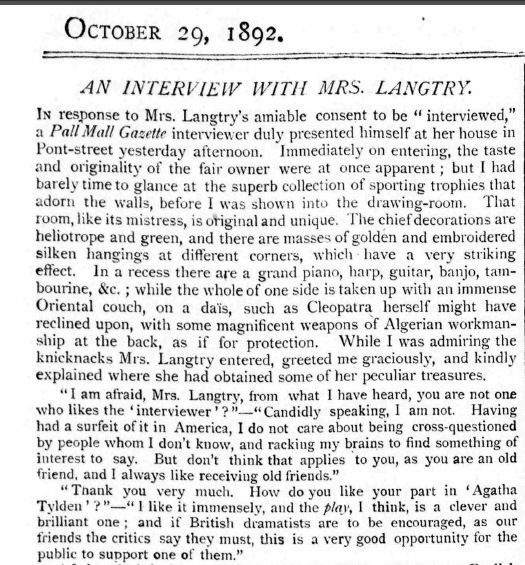 Interview with Lily Langtry (in which she complains about being interviewed so often), Pall Mall Gazette, 29 October 1892 p. 3. Image © THE BRITISH LIBRARY BOARD. ALL RIGHTS RESERVED.
However, the nineteenth century newspaper interview was a far cry from the investigative and combative interviews of today. The interviews that British journalists such as William Howard Russell (The Times), George Augustus Sala (Daily Telegraph) and W.T. Stead (Pall Mall Gazette) produced were the pronouncements of the great and the celebrated who had reason to use the press for self-promotion. Stead undoubtedly helped establish the interview as a standard newspaper device by his enthusiastic adoption of the form, part of the 'New Journalism' revolution of the 1880s which placed great emphasis on the personal, through devices such as the interview. As well as his own interviews with figures such as Tsar Alexander III and Pope Leo XIII, Stead employed Hulda Friederichs as 'chief interviewer' at the Pall Mall Gazette from 1882 (women journalists were considered to have a particular aptitude for interviewing). Unfortunately interviewers are seldom named in newspapers from this period, making it difficult to trace the work of particular reporters.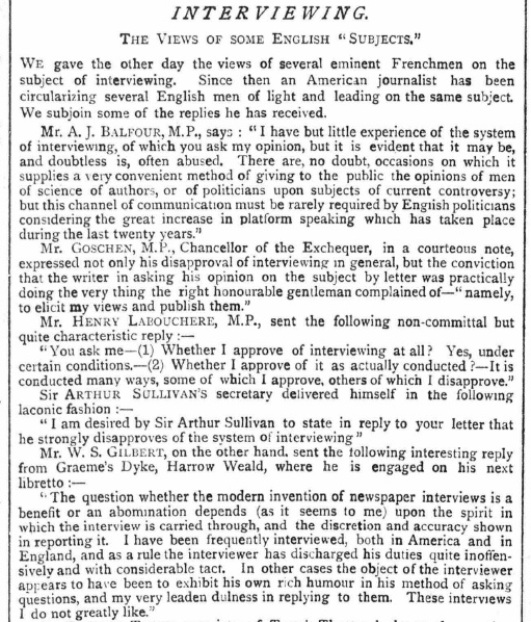 The subjects of late nineteenth century newspaper interviews give their opinion on the experience in this piece from Pall Mall Gazette, 31 December 1890, p. 3. Image © THE BRITISH LIBRARY BOARD. ALL RIGHTS RESERVED.
Interviews in newspapers in the late 19th century tended towards celebrities from the world of entertainment. Politicians were wary of the practice, and saw little advantage in indulging requests to give interviews, when what they had to say could be heard on public platforms or read in Hansard. As A.J. Balfour says in the quote above, "this channel of communication must be rarely required by English politicians considering the great increase in platform speaking which has taken place during the last twenty years." Instead the interview became primarily the feature of journals such as the 'Illustrated Interviews' in George Newnes' Strand Magazine - light reading for those who wanted some personal insights into the lives of the famous. Interviews in newspapers were to become more searching as the new century began, particularly in America, but it would be new technologies that would help transform them.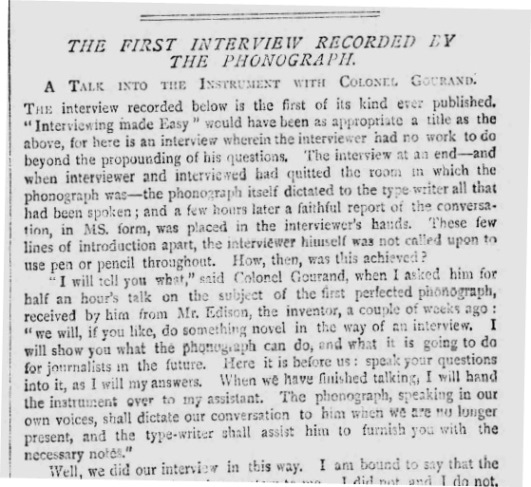 The first sound interview (probably). Interview by Phonograph with Edison agent Colonel George Gouraud, as recorded by the Pall Mall Gazette, 24 July 1888, p. 1. Image © THE BRITISH LIBRARY BOARD. ALL RIGHTS RESERVED.
A startlingly early intimation of how thing could change occured in July 1888 when the UK agent for Thomas Edison's Phonograph sound recording machine was 'interviewed' by the Pall Mall Gazette, boasting of how a sound recording would provide a 'faithful report of the conversation' (intimating that not all newspaper interviews were so faithful to the words spoken). This was in all probablity the first sound interview, but although the Phonograph and later technologies such as the Dictaphone were used to record famous voices and as dictation devices in the early 1900s, it would be decades before they were adopted for news reporting.
Colonel Gouraud (left) being interviewed by an unidentified journalist from the Pall Mall Gazette, with the Phonograph recording the meeting, July 1888. From British Library Sound Archive collection.
Projected film appeared in 1896, but it proved a medium ill-suited to interviews. Attempts were rare and seldom successful, even after films gained sound in the late 1920s, with the few efforts from the cinema newsreels being short statements delivered in stilted fashion that offered little advance on the Hepworth interviews of 1916. What gave the news interview new life was radio, which began in the early 1920s. This gave the interview greater credibility, through the chance it gave the public to hear the subject's voice, through the live nature of radio, and because the interviewer's questions gave the sense of a process of interrogation, a driving towards the truth. BBC radio interviews of the 1920s-50s were seldom adversarial, being more in the way of civilised conversations, but the greater power had now been offered to the public to judge what was delivered to them, be it the words spoken or the ways in which those words were spoken. 
It took live television to make the news interview come into its own, a process not for delivering statements but instead a contest for the truth. 
Leslie Mitchell interviewing Anthony Eden for a Conservative party political broadcast, BBC tx. 16 October 1951. From University of Sheffield's Department of Journalism Studies' YouTube channel
Television's first news-related interviews were a disappointment. The BBC's Leslie Mitchell's pre-planned interview with prime minister Anthony Eden for a Conservative party election broadcast in 1951 has become notorious for its stilted obsequiousness, even if it was viewed as a technical success at the time. Mitchell asks:
Good evening. I would just like to say that, as an interviewer, and as I what I hope you will believe to be an unbiased member of the electorate, I'm most grateful to Mr Anthony Eden for inviting me to cross-question him on the present political issues ... Well now, Mr Eden, with your very considerable experience of foreign affairs, it's quite obvious that I should start by asking you something about the international situation today, or perhaps you would prefer to talk about home. Which is it to be?
Supine as this was, it did show at least an understanding of how television was ideally suited to the question-and-answer format, counterbalancing formality with informality. The first step on the road from here to Paxman came in 1955, when Robin Day brought a new forthrightness to television interviewing at ITN, two notable highlights being his sharp questioning of President Nasser in 1955 and his interview with prime minister Harold Macmillan in 1958, where what might now seem a fairly tame question asking about criticism that had been made of the foreign secretary Selwyn Lloyd was seen by some as shockingly intrusive, not least because you could see Macmillan thinking about his answer before delivering it. The interview was letting the viewer be the judge, exposing what might be the truth between the lines.
The adversarial quality of the television news interview grew throughout the 60s and 70s, in tandem with the emergence of a less deferential, more determinedly democratic society. Television was becoming the forum for public debate. The medium delighted in getting the upper hand, as demonstrated by David Frost's interrogation of the fraudster Emil Savundra and the revelations that he coaxed out of Richard Nixon. The goal of the interview came to be the revelation of the truth, hoping by a process of seeking out weak points to lead the subject into revealing something they would rather not have made public. The interviewee was no longer someone who had deigned to share some selected information with us all. They were now lying bastards, and their lies had to be exposed.
Interviews on radio likewise became less polite and increasingly forensic. BBC programmes launched in late 1960s/early 70s such as The World at One, Analysis and It's Your Line (a programme hosted by Robin Day, in which the public phoned in questions to ask of the interviewee) made the interview central to a process of burrowing beneath the headlines to uncover what was really happening. The Today programme moved away from its cosy beginnings to become the programme opinion makers had to listen to and had to appear on. This was particularly on account of presenter Brian Redhead's refusal to doff his hat to anyone in power, as in his famous response  (in a 1987 interview) to  Chancellor of the Exchequer Nigel Lawson accusing him of bias through being a supporter of the Labour party:
Do you think we should have a one-minute silence now in this interview, one for you to apologise for daring to suggest that you know how I vote, and secondly perhaps in memory of monetarism, which you've now discarded?
Politicians accountable to an electorate had little choice but to appear before the cameras and microphones, but as television became bolder so they responded through increasingly sophisticated media training. The art of not answering, or of turning the interview to your advantage arose. Margaret Thatcher was well trained in interviewing techniques and image management, through the guidance of former TV producer Gordon Reece, but it was the Labour government of 1997 that turned control of message into an artform (guided by another former TV producer, Peter Mandelson).
A power game arose between politicians and the news media over the communication and interpretation of the message, with the interview as the battleground. There was an increased desire on the part of the media to use the interview to extract revelations, matched by an increased determination from their subjects to reveal no more than they had been instructed to reveal. Sharp interviewers such as Paxman for Newsnight and John Humphrys for Today gained praise for their tough questioning and refusal to be hoodwinked, but the praise was sometimes more for the stance than any illumination obtained about the subject discussed. Paxman's celebrated 1997 interview with Michael Howard in which the interviewer asked the same question twelve times did little to inform its audience, for whom the point that the subject was not going to answer the question could have been made after two or three attempts.

Jon Snow and Alastair Campbell, Channel 4 News tx. 27 June 2003
Interviews turned into theatre, perhaps most famously when Alastair Campbell, Tony Blair's Director of Communications, turned up unannounced at Channel 4 News on 27 June 2003 and was interviewed by Jon Snow on the Iraq 'dodgy dossier'. The result was a tour de force on both sides, a great interview of sorts but primarily a startling display of political passion. Politicians understandably prefer softer rides  - Margaret Thatcher's interviewer of choice was Radio 2's Jimmy Young, for example. Equally, one of the marks of a successful politician has come to be how well they can deal with the toughest interviews. It is a trial of strength, as much as anything.
Interviews on television and radio flourish on non-news programmes of course. From Face to Face to Parkinson, to Piers Morgan's Life Stories there has been a consistent focus on celebrity and the personal revelation, teased out through a bonding between interviewer and subject. Interviews continue to be a mainstay of newspapers, or their associated magazines, where some of the dangers inherent in a live interview are lost and both sides have greater control over what is said. The interviewee will have their press adviser by their side, determining what can or cannot be covered; the interviewer can fill out the verbal testimony with background impressions, barbed or otherwise. Both sides have control, though it is still a battlefield, a game of attack and defence.
HARDtalk interviews, from http://www.bbc.co.uk/programmes/n13xtmdc/clips
A good example of the news interview programme of today is the BBC World series HARDtalk, first broadcast in 1997 with Tim Sebastian as the interviewer and now Stephen Sackur asking the questions, is a model of how two intelligent minds, with good preparation, can discuss issues of the day in a form that is a genuine questing for the truth. This is not news manufactured as pseudo-event - it is rational and vital extension of what is news. Nor is it a question of exposing liars (usually) - it is using the time-honoured process of question and answer to come to an understanding.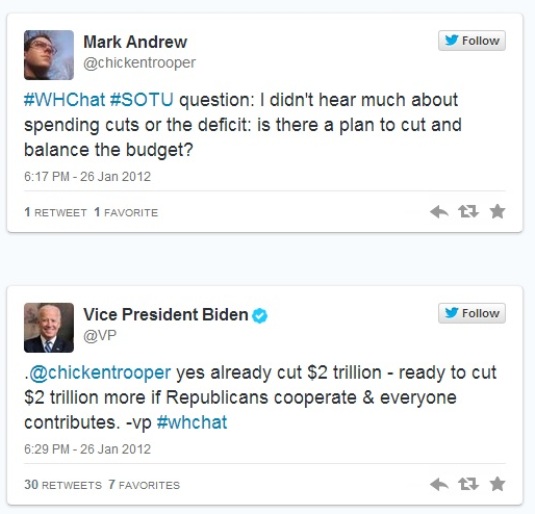 Tweets from a Twitter interview with US Vice President Joe Biden, 26 January 2012
Where next for the news interview? HARDtalk is a good programme, but quite traditional in format. Newspaper interviews continue, but seem more about drawing out character than setting the news agenda. The online world is developing new ways in which subjects can be interviewed, which involved the general public much more, such as Twitter discussions, while BuzzFeed's interview of 29 May 2014 with Ed Miliband (the one in which he said it was a good idea not to read the newspapers) transfers the magazine-style interview with illustrations to a web format in a way that resfreshes the interview form. Al Jazeera's web/TV programme hybrid The Stream is an example of how engagement through interviews is being adapted for a multi-platform world, and television interviews can feature questions posted by social media (see, for example, Glenn Greenwald's interview for NBC on 18 May 2014). The growth of citizen journalism may make anyone into a potential interviewer, with all of the hazards as well as the advantages that suggests.
In such a world, the traditional confrontation between interviewer and interviewee begins to look like it belongs to another age, an age when current affairs television (and radio) served as the forum for public engagement with the issues of the hour. That forum is increasingly located elsewhere, and the interview will have to adapt accordingly if it is to continue to be meaningful. It may not be so combative or theatrical as it has been in the past; it will undoubtedly be more social. It will be less constrained by space (as is the case with newspapers) or time (as is the case with television and radio). Consequently it may either be freer in form or hampered by a lack of discipline. The questions demanding answers remain the same; just who will be asking them looks certain to change.
More information
The Hepworth Cinema Interviews are held by the National Screen and Sound Archive of Wales - a press release on the UNESCO recognition is here, and a catalogue record for the films is here
Michael Cockerell's Live from Number 10: The Inside Story of Prime Ministers and Television (1988) is insightful and full of great anecdotes and quotations (such as the Eden-Mitchell interview quoted above)
On interviewing in Victorian newspapers, see Lucy Brown, Victorian News and Newspapers (1985) and Laurel Brake, Marysa Demoor (eds.), Dictionary of Nineteenth Century Journalism (Gent/London: Academia Press, British Library, 2009)
The Pall Mall Gazette for the period 1865-1900 has been digitised and is available online via the British Newspaper Archive
On Hulda Friedrichs and other women journalists of the nineteenth century, see F. Elizabeth Grey (ed.), Women in Journalism at the Fin de Siècle: 'Making a Name for Herself' (London: Palgrave Macmillan, 2012)
On the technique of modern interviews, see Steven Clayman and John Heritage, The News Interview: Journalists and Public Figures on the Air (Cambridge: Cambridge University Press, 2002)
The Radio Times has a list with links of 'the greatest broadcast interviews of all time', including Campbell v Snow, Paxman v Howard, Frost v Nixon, and John Nott walking out on Robin Day
The Newsroom blog recent posts
Tweets by @BL_newsroom
Other British Library blogs