22 August 2014
Welcome to the latest edition of the St Pancras Intelligencer, our weekly round-up of news about news - stories about news production, publications, apps, digitised resources, events and what is happening with the newspaper collection (and other news collections) at the British Library.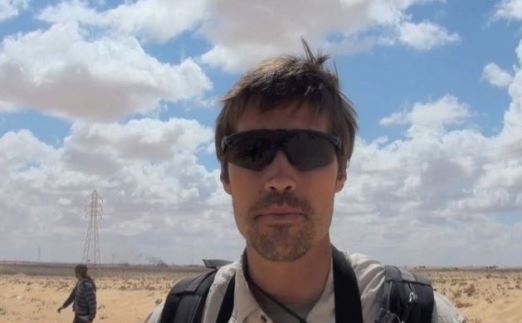 James Foley, via http://www.globalpost.com
Here's some of James Foley's finest reporting for GlobalPost: American journalist James Foley was murdered in Syria in an act that has revolted the world. The American online news site for which he did most of his work, GlobalPost, has published this tribute along with examples of some of his work.
View of #Ferguson Thrust Michael Brown Shooting to National Attention: David Carr at the New York Times looks at how the story of the shooting of Michael Brown spread through Twitter to national consciousness.
BBC's long struggle to present the facts without fear or favour: An excellent, thought-provoking historical overview of the BBC's striving to remain independent and impartial as a news provider, part of a nine-part series by Charlotte Higgins, 'The BBC Report', for The Guardian.
In depth: The 64 UK journalists arrested and/or charged following the News of the World hacking scandal: An astonishing line-up provided by Press Gazette.
Last call: Clay Shirky writes the obituary of the printed newspaper, and what it means for journalism, for Medium.
Contrary to the contrived ignorance of media reporters, the future of the daily newspaper is one of the few certainties in the current landscape: Most of them are going away, in this decade. (If you work at a paper and you don't know what's happened to your own circulation or revenue in the last few years, now might be a good time to ask.) We're late enough in the process that we can even predict the likely circumstance of its demise.
Bulgarians and Romanians in the British National Press: The Migration Observatory has produced a report on how British newspaper reported Bulgarians and Romanians leading up to the lifting of temporary restrictions on the right to work in the UK in January 2014.
Over 4,000 BuzzFeed posts have completely disappears: Gawker reports with alarm that BuzzFeed has deleted many post from its site. In an interview with Slate, BuzzFeed boss Jonah Peretti explains why (they were "technically broken, not sourced to our current standards, not worth improving or saving because the content isn't very good") and says it's because they were originally a tech company not a journalistic one, though they are a journalistic one now.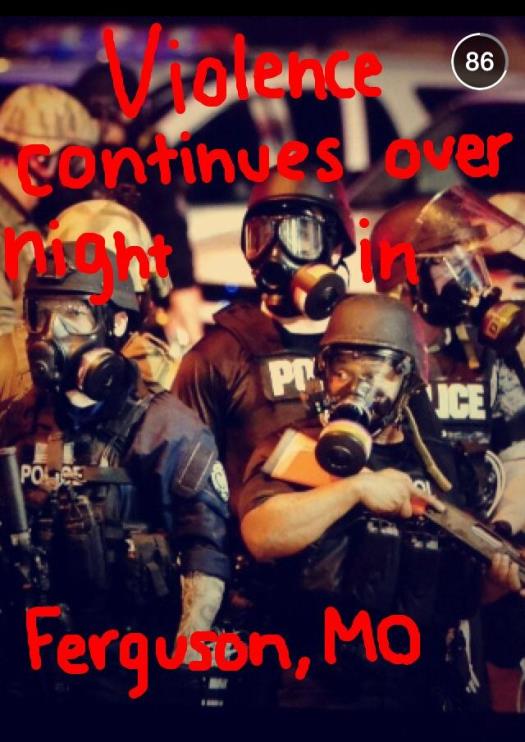 Snapnews
The weird new future of news: New York-based discussion site The Awl reports that NowThisNews is looking to place its fleeting news reports to the apps of others. It reproduces some alarming examples of what a 90-second news briefing from NowThis News on Snapchat, the messaging service which deletes messages once they have been read, looks like. On the same subject, the Wall Street Journal reports News and ads to debut on Snapchat: 
The product would let users read daily editions of publications as well as watch video clips of TV shows or movies by holding down a finger on the screen, like they do with photos and other messages on the app before disappearing.
Mathew Ingram at Gigaom reviews this trend towards publishing on apps rather than a brand's own website, arguing that News needs to go where the people are, not the other way around.
The future of mobile apps for news: More on the mobile future for news in this useful summary of the technical issues by Frederic Filloux at Monday Note.
Teenagers and the news game: The BBC's Rory Cellan-Jones looks at how teenagers get their news and the challenge this presents for journalists.
Using Oculus Rift to build immersive news experiences: Wired reports on Nonny de la Peña from USC School of Cinematic Arts, who is creating immersive journalism experience using gaming platforms and virtual reality.
The Illustrated First World War: Illustrated London News Ltd has launched a handsomely-designed website featuring 1914-1918 archive material from the Illustrated London News, with other titles in its collection (such as The Graphic, The Sketch and The Sphere) in due course - all free, thanks to a £96K Heritage Lottery Fund grant.
The Guardian view of the Cliff Richard search: The controversial reporting by the BBC of a search of Cliff Richard's house is viewed by The Guardian as something that could could reopen issues about the police and the press that troubled Lord Justice Leveson.
Google removes 12 BBC News links in 'right to be forgotten: Fascinatingly this includes a 2009 item on the merits of hummus.
15 August 2014
Welcome to the latest edition of the St Pancras Intelligencer, our weekly round-up of news about news - stories about news production, publications, apps, digitised resources, events and what is happening with the newspaper collection (and other news collections) at the British Library.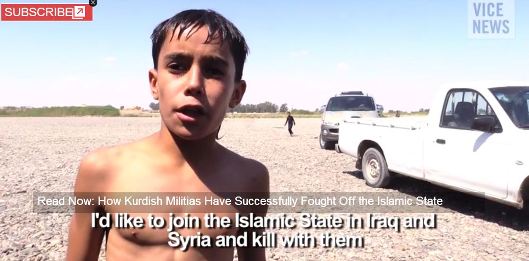 https://news.vice.com/video/the-islamic-state-full-length
The Islamic State: Medyan Dairieh scooped the world with his inside report on the Islamic State, the fruit of three weeks spent embedded with the group in Syria and Iraq. A notable coup for Vice News, the youth-oriented news service increasingly challenging the methods of the mainstream media companies. Originally released in five parts, linked here to the full forty-minute report (with some disturbing scenes, please note).
Print is down, and now out: David Carr's piece for the New York Times on how media companies are spinning off newpapers, which could be an indication of bad things for the medium, has been much discussed all week.
The persistent financial demands of Wall Street have trumped the informational needs of Main Street. For decades, investors wanted newspaper companies to become bigger and diversify, so they bought more newspapers and developed television divisions. Now print is too much of a drag on earnings, so media companies are dividing back up and print is being kicked to the curb.
See also Columbia Journalism Review's The great newspaper spin-off and Roy Greenslade's Will newsprint-only companies really hasten the demise of newspapers? On the other hand, News Corp's Robert Thomson announced ""We remain firm believers in the power of print", adding ""Print is a concentrated, intense reading experience with unique affinity in our digitally distracted age." So who really knows?
UK press coverage of the death of Robin Williams: The issue of tabloid and social media coverage of the suicide of Robin Williams is sensitively handled by David Banks at his Media Law blog.
Turning a profit in the Netherlands: How a Dutch hyperlocal network has grown: Joseph Lichterman at Nieman Journalism Lab on the success of Dutch hyperlocal website network Dichtbij.
The relentless trauma of covering Gaza: Jared Malsin at Columbia Journalism Reviews on how even seasoned war correspondents are feeling the impacts of witnessing continual civilian casualties.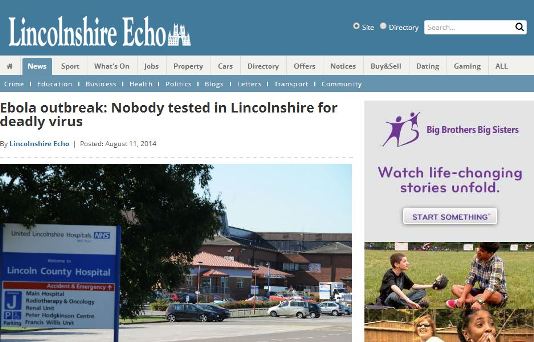 All quiet on the ebola front in Lincolnshire: Quite possibly the news story of the year, brought to the grateful residents of the county by the Lincolnshire Echo and noted by the Media Blog - though China's news agency Xinhua's confident assurance that "There is no evidence that coffee and onions cure Ebola" surely runs it very close.
6 things publishers need to know about UK media consumption, from Ofcom's latest report: They include the bald asertion that newspapers would not be missed by most of us: "just two percent of respondents saying a newspaper would be form of media they would miss the most", notes The Media Briefing.
Behind the BBC's interactive 'The rise of the Islamic State: Journalism.co.uk reports on the production of the BBC's innovative interactive video piece 'The rise of the Islamic State'.
160,000 newspaper pages added from 1787-1954: They continue to go full steam ahead at the British Newspaper Archive, adding 160,000 pages in July, including the London Evening Standard (for some years in the 1860s, please note), Glasgow's Daily Record and the Surrey Comet.
African American Newspapers, 1827-1998: A great new digital service just introduced into the British Library's Newsroom is this Readex World Newspaper Archive collection of around 270 US newspapers documenting the African American experience over a century and a half.
Graphic content: How media differ on use of Gaza images: BBC Monitoring shows how news organisations in different countries have approached the use of images about Gaza.
01 August 2014
Welcome to the latest edition of the St Pancras Intelligencer, our weekly round-up of news about news - stories about news production, publications, apps, digitised resources, events and what is happening with the newspaper collection (and other news collections) at the British Library.
Jon Snow has opinions, and they're fit for TV: Channel 4 News presenter Jon Snow's heartfelt account of the child victims in Gaza went viral this week. James Ball at The Guardian praises its sentiments, notes that such partiality would have probably breached Ofcom guidelines (the video was not shown on Channel 4 News itself, only its YouTube channel), and calls for more opinion to be allowed for broadcast journalists:
What then is gained by making people who have opinions withhold them? Journalists' views shape the questions they ask, the people they interview, the images they choose to show, and more. The current system requires those judgments, and the reasons behind them, to be hidden from the audience in a pretence of impartiality.
The conflict in Gaza has generated impassionated debate among academics and media practitioners around questions of bias, partiality and media control. Among these are Michael Chanan's Behind the news at Gaza at his Putney Debater blog, Justin Schlosberg's Media wars over Gaza at Open Democracy.net, Paul Mason's Why Israel is losing the social media war over Gaza for Channel 4 News, Surabhi Vaya at First Post, Gaza: How bias affects coverage of Israel-Palestine conflict, and Glenn Greenwald at Intercept, Terrorism in the Israeli Attack on Gaza. Some of the fiercest debate has been around the perceived role of the BBC. Ian Burrell at The Independent surveys this in With Charter Renewal on the horizon, complaints over Gaza are dangerous for BBC.
Net roots of BuzzFeed plagiarism: BuzzFeed apologised this week that one of its writers, Benny Johnson (now sacked) had been guilty of plagiarism - and provided links to all the affected stories. Dylan Byers at POLITICO puts the blame on the Internet, presssure of production and lack of journalism training (though in the same week The Times's tennis correspondent has been suspended after plagiarising work for a tennis yearbook and a reporter at the New York Times accused of copying from Wikipedia).
MH17: how Storyful's 'social sleuthing' helped verify evidence: Ben Carter at The Guardian on how News Corp-owned Storyful has been verifying content from Twitter and YouTube to get to the truth behind the shooting down of Malaysia Airlines Flight MH17.
Social media has changed the way that war reporting works - and that's a good thing: Mathew Ingram at Gigaom finds that the influence of social media on war reporting has made the news more personal, more chaotic, and more democratic.
Spain likely to pass 'Google Tax': Spain has approved a bill giving newspaper publishers the right to seek payment from any site that links to their content. TechDirt is sceptical, pointing out that a similar case in Belgium led to Google simply removing the affected newspapers from the local Google news, the result of which was the newspapers ended up asking to be let back in after they suffered a drop in revenue.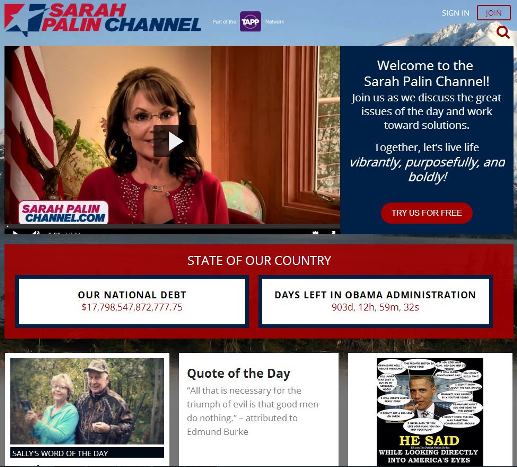 sarahpalinchannel.com
Sarah Palin's low-budget TV channel is pricier than Netflix: Sarah Palin has launched an online news channel, to widespread mockery. "We'll go beyond the sound bites and the media's politically correct filter to get to the truth," she promises. 
The newsonomics of how and why: Ken Doctor at Nieman Journalism Lab asks whether explanatory or data journalism (exciting much interest in the USA) can expand to cover news on a more local level.
Welcome to Storyline: Talking of which, though we're a bit late in reporting this, Washington Post has launched its own explanatory journalism site, Storyline.
At front lines, bearing witness in real time: David Carr at New York Times ponders what the impact is on us now that we can follow wars in real time, and the impact that it is having on journalists (including Anne Barnard at the New York Times, criticised by some for not tweeting from Gaza.
Drama in Crimea: From the days when war reports would take weeks to reach their public, but had a seismic effect once they did so, Roy Greenslade reviews a new collection, Battles in the Crimea, which gathers together William H. Russell's renowned reports for The Times on the Crimean war of 1854.
In 1858, people said the telegraph was 'too fast for the truth': Also on the theme of the speed by which information reaches us, Adrienne LaFrance at The Atlantic uncovers an 1858 New York Times article which complained that the telegraph brought the news too quickly too it public.
Superficial, sudden, unsifted, too fast for the truth, must be all telegraphic intelligence. Does it not render the popular mind too fast for the truth? Ten days bring us the mails from Europe. What need is there for the scraps of news in ten minutes? How trivial and paltry is the telegraphic column?
LaFrance points out how new technologies invariably upset our sense of time and control.
Boy, 4, has mark of devil: The Sun's bizarre choice of a front page story for 29 July 1914 ("A sinister Satan sign that mysteriously appeared on a four-year-old boy is proving a devil to explain") has generated reactions from bafflement to rage.
27 June 2014
Welcome to the latest edition of the St Pancras Intelligencer, our weekly round-up of news about news - stories about news production, publications, apps, digitised resources, events and what is happening with the newspaper collection (and other news collections) at the British Library.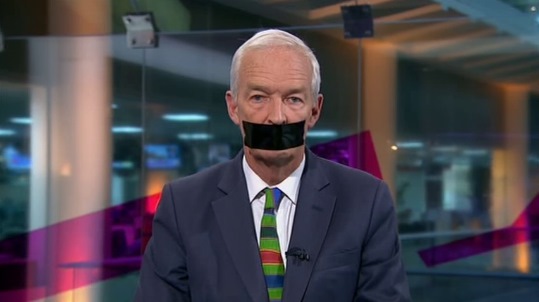 Jon Snow silenced. Screengrab from Channel 4 News tx 23/6/2014
Outrage as Egypt jails Al Jazeera staff: On Monday an Egyptian court sentence two Al Jazeera journalists to seven years in jail and one to ten years in jail for supposedly aiding the Muslim Brotherhood and producing false news reports of the situation in Egypt. Protests against the sentences handed down to Peter Greste, Mohamed Fahmy, and Baher Mohamed have been made worldwide, with journalists in many newsrooms taking part in a symbolic taping-up of mouths (as demonstrated by Channel 4 News) and the hashtags #journalismisnotacrime and #FreeAJStaff.
Inside the Rebekah Brooks and Andy Coulson Trial: At the end of the epic phone hacking trial former News of the World editor Andy Coulson was found guilty of a conspiracy to intercept voicemails, while former News International chief executive Mrs Brooks was found not guilty of conspiracy to hack voicemails, two counts of conspiracy to pay public officials and two counts of conspiracy to pervert the course of justice. The Drum's coverage of the phone hacking trial has been particularly interesting and clear in how it has presented the unfolding story.
Hacking trial verdict: Coulson guilty and Brooks cleared, but end of an era for the red tops: George Brocks' piece for Contributoria views the phone hacking trial verdict from an historical perspective and sees as marking the end of an era for the British tabloid press. From the same source, Steven Barnett says that the hacking trial was just round one in the fight to rescue journalism, while Richard Sambrook writes on how the hacking trial highlighted the cosy relationship between politicians and the press.
No ordinary newspaper: A good overview of the News of the World and how the hacking trial came about and unfolded from Dominic Casciani for BBC News Magazine. 
Everything You Need To Know About The Phone Hacking Trial: Or else sample Patrick Smith's handy Buzzfeed guide.
How many media academics does it take to work out what's going on?: A pithy analysis from David Hepworth on why reading news on a screen is not the same as reading as newspaper, and how we are never going to go back to such habits:
It's no longer anything to do with the news the papers happen to provide, which is what the world of media academics spends its time fretting about. It's entirely a question of how users behave. Tech understands this, which is why it changes its products all the time in response to the way they're used. No wonder it's stolen the media's lunch.
Digital news as popular as newspapers for first time: So here's the tipping point - 41% of people in the UK are using online news sources while 40% use newspapers, according to Ofcom's News Consumption in the UK report. But TV news remains by far and away the most used (75%).
CNN to study drone use in newsgathering: Are drones the future of newsgathering? CNN is investigating its further use and regulation, while concerns remain in the US over its legality.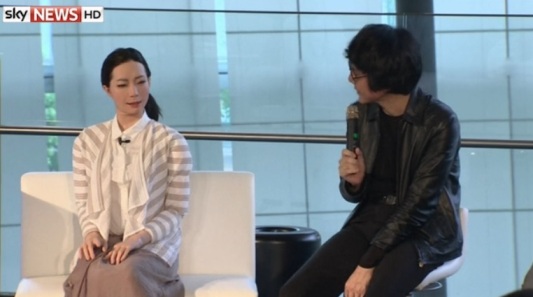 Kodomoroid (she's the one on the left), from Sky News
Android Anchorman: robot newsreader unveiled: More from the world of robot journalism, and Sky News reports on Kodomoroid, a Japanese invention claimed to be the world's first newsreading android (does no one remember Ananova?).
Who will produce stories for the Mail to copy if it drives its rivals to the wall?: News Corp has been protesting at the Mail Online's launch in Australia, with its practice of reusing others' news stories ('churnalism'). Roy Greenslade points out that 'copy theft' is nothing new in newspaper journalism, but wonders if the logical extension to the culture of re-use is ultimately self-defating, as the title of his piece indicates.
Mail Online stays top with 11m daily browsers: Meanwhile, Mail Online remains far and away the most popular UK news site, with just over 11m daily global browsers per day. Press Gazette's report on the latest ABC figures shows that all national newspaper websites which had figures available showed strong year on year growth in May, with Metro the fastest growing newspaper website audited by ABC.
Newsnight really doesn't make the weather any more: A sharp piece from Peter Preston at The Observer on how too much of current affairs television is failing to reinvent itself for the digital world.
No, the media didn't ignore your anti-austerity march – it just wasn't that interesting: There was much disappointment - and suspicion - among those involved in the anti-austerity march in London that it was little reported, despite going past the BBC on the march route. Some interesting questions arise about who decides what the news is, but The New Statesman isn't too impressed by the conspiracy theories.
Is Fox News more dangerous thatn ISIS?: Russell Brand was a speaker at the anti-austerity march. What has gained rather more attention has been this impassioned tirade on his YouTube account against Fox News commentator Judge Jeanine Pirro who called for the bombing of the ISIS insurgency in Syria and Iraq. Polemic of the week.
James Harding: BBC wants to work with regional press to 'drive the revival of local journalism': BBC news head James Harding, speaking at the Revival of Local Journalism conference in Salford, outs out the olive branch.
Guardian for Glass: The Guardian has been quick off the mark in providing an offering for the wearable technology. Guardian for Glass will provide headline news stories from its various international editions and breaking news notifications. Oh brave new world.
30 May 2014
Welcome to the latest edition of the St Pancras Intelligencer, our weekly round-up of news about news - stories about news production, publications, apps, digitised resources, events and what is happening with the newspaper collection (and other news collections) at the British Library.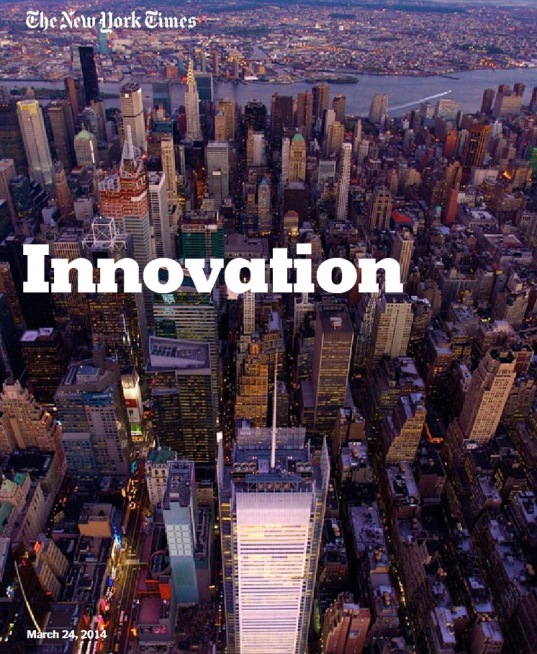 For the Times' innovation report to stick, its journalists need to be on board: Fascination with the leaked New York Times' digital innovation report continues unabated. Emily Bell from the Tow Center for Digital Journalism argues that journalists themselves are the crucial element behind any innovation plans.
The New York Times KPI's: In another piece on the NYT report, Frederic Filloux at Monday Note comes up with this thought-provoking quote: "In theory, the Times can get rid of print. Digital revenue far exceeds the cost of running the newsroom..."
The New York Times and innovation: are they asking the right question?: And there's more. George Brock points out that nowhere in the Innovation report does is say what journalism is, or that its authors graps that it is changing. He asks:
Is it actually possible for a big, mainstream newspaper to make the transition to being, principally, a digital platform for journalism? Not just make the transition slowly, painfully and with embarrassing mistakes but…not make it at all.
UK daily newspapers have doubled in price since 2004 and shrunk in size - no wonder sales are down: William Turvill at Press Gazette looks at the rise in cover prices for UK daily and Sunday national newspapers over the past ten years.
How Niuzly wants to put control into the hands of journalists: Journalism.co.uk reports on publishing platform Niuzly which  allows writers to sell their articles to readers on for individual micropayments.
Guardian launches redesigned app: The Guardian has issued a new version of its app, available across all Android and iOS phones and tablets running Android 4 and iOS 7, with increased personalisation features and incorporating the user-generated content platform GuardianWitness.
BBC issues new guidance for journalists on using Twitter: 'Don't do anything stupid': Sage advice after head of the BBC newsroom Mary Hockaday tweeted "#WhyImVotingUkip – to stand up for white, middle class, middle aged men w sexist/racist views, totally under represented in politics today", just ahead of the European elections. She subsequently took no part in the BBC's election coverage.
With Farage on the loose, broadcasters and newspapers must realise they are no longer king-makers: Reflecting on the results of said European elections in the UK, Ian Burrell at The Independent observes that the media's assumed power to influence voting (no UK national newspaper came out in support of UKIP) is waning.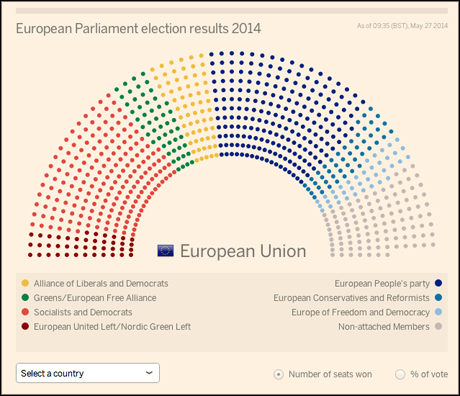 Screenshot from FT.com
7 engaging ways news outlets covered the European election: More on the elections for data visualization fans, from Journalism.co.uk.
Metaio unveils Thermal Touch technology for making user interfaces out of thin air: Let's face it, we're all still hoping for our newspapers to become fabulously interactive. German company Metaio may have made a significant step towards this by developing its 'Thermal Touch' interface concept which could make any surface a use interface through a combination of thermal imaging and augmented reality. Applications they see for this include newspaper ads with clickable links. We'll just have to wait five years until they develop it.
Watch Skype translate a video conversation in real time: Another potentially transformative technology is speech-to-text (coverting audio files into printed words), which could have a huge impact on the use of audiovisual news archives. Microsoft are applying the technology - along with translation software - to Skype. Watch the video on the Quartz site and ponder the possibilities.
Royal privacy row as German tabloid publishes picture of the Duchess of Cambridge's bare behind when her skirt blew up during Australia tour: Because it is news about news, we have to report the furore over the German magazine Bild's decision to publish a photograph of the Duchess of Cambridge's backside, and the decision by British newspapers not to do so. The Daily Mail report features a pixilated version of the image.
We're all aggregators now: Anyone can become a news publisher online simply by aggregating the news produced by others. Ann Friedman at Columbia Journalism Review comes up with three simple cardinal rules of being an ethical aggregator.
Preserving early periodicals and newspapers of Tamilnadu and Pondichery: The British Library's Endangered Archives Project has made 10,000 issues of rare periodicals from Tamilnadu & Pondicherry dating back to 1892 available online.
We just aggregated over 15.000 historical newspaper issues from Poland: More on digitised newspapers, which were already online but have now been incorporated in the Europeana portal. The Europeana Newspapers blog gives the background to these Polish additions.
John Humphrys offers advice to aspiring journalists: 'Don't do it': Today programme presenter John Humphrys tells Press Gazette he is advises not to go into journalism as a profession. "I am deeply pessimistic for the future of serious print journalism and I tell my own children and grandchildren to train for a profession where they're more likely to get a decent job with some hope of security". But Piers Morgan, Jon Snow, Ian Hislop, John Witherow and Kay Burley  and many others all disagree.
A journalist goes missing nearly every day in Ukraine: The week's most sobering news media statistic, from The Independent.
09 May 2014
It's a shorter edition this week of the St Pancras Intelligencer, our weekly round-up of news about news, as your blogger is on holiday, following the heady events surrounding the opening of the Newsroom at the British Library. But the news goes on, even if one is sunning oneself and sipping coffee at some Parisian boulevard, so here are a few of the week's links that have caught our eye.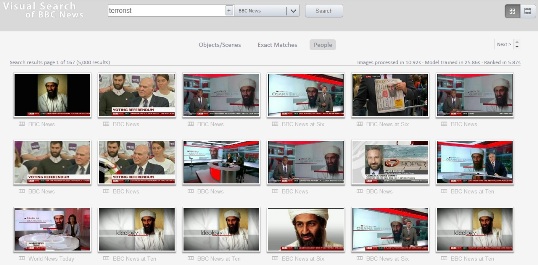 Search results for the term 'terrorist' using the BBC/Oxford University Face Recognition Prototype
Face recognition and new ways to search the archive: The tremendously bright people at BBC R&D are doing some remarkable work exploring ways in which to improve the discovery and use of television and radio archives in a digital age. Their latest venture is into face recognition, where they have been collaborating with a team from Oxford University. You can have fun testing out their Face Recognition Prototype which uses images of faces taken from BBC News programmes from the last 5 years.
Mail Online has grown ten-fold since its 2008 relaunch, but is it journalism?: Bethany Usher at Press Gazette marvels at how Mail Online has achied a 690 per cent increase in audience in the first five years since its relaunch, but is news aggregation of the kind practised on the site really journalism?
Inside the Financial Times' digital strategy: A really interesting piece from Ricardo Bilton at DigiDay on how the Financial Times has built its digital business around an audience-driven subscription model.
Pro-Kremlin journalists win medals for 'objective' coverage of Crimea: The Guardian reports that President Putin has awarded medals of the "Order of Service to the Fatherland" to 300 journalists for their Kremlin-friendly coverage.
Brown Moses, his alter ego Eliot Higgins, and the rise of the self-trained journalist: Mathew Ingram at Gigaom (one of the most stimulating media analysts out there) tells the story behind the success of citizen journalist Eliot Higgins - aka Brown Moses - who without any journalism background chose to write about the Syrian conflict and to uncover data one the use of weaponry through assiduous analysis of online sources. Ingram writes:
Eliot is living proof not only of the idea that the tools of journalism are now available to anyone, but that the skills and functions that used to be included in that term are effectively being disaggregated or unbundled. Just as the eyewitness reporting part of a journalist's job can be done by anyone, the fact-checking or research function that backs up this reporting can be quite easily done by someone who is smart, methodical and motivated like Eliot Higgins...
The future of media isn't about breaking news scoops, it's about credibility and trust: Also from Ingram, his take on the controversial and much-discussed comments made by Feliz Salmon on the cult of scoops in the news industry (which matter a lot to journalists while their readers care not a jot whose scoop it might be).
News drones over El Salvador: Jamie Stark at Global Post reports on the use of drones for news-gathering in El Salvador and other Latin American countries, something not possible in the USA, which (currently) bans the use of drones for news and comercial purposes.
Why LinkedIn is morphing from a social network into an online newspaper: Leo Mirani at Quartz looks at how the professional social network LinkedIn is looking to bring meaningful information to the millions of professionals worldwide now signed up to the service. "They would like guys like you and me to look at our LinkedIn newsfeed as part of our morning ritual, the same way some people look at Twitter" says one commentator.
Why we should celebrate journalism of the past, present and future: Tony Harcup, author of the forthcoming Oxford Dictionary of Journalism, rejoices in journalims in all its "gloriously messy" forms, while being unsure of what it's future will be. Only two things he is sure of:
1. Journalists will always hark back to a mythical golden age that seems to coincide with when they were young, and which has now gone for ever.

2. Anything with the temerity to be called a dictionary of journalism will always provoke journalists to scour it for omissions, errors or slights to prove that the author knows nothing about anything.
02 April 2014
Taming the News Beast was the striking title of a seminar held on April 1st by ISKO UK, the British branch of the International Society for Knowledge Organization. Subtitled "finding context and value is text and data" its aim was to explore the ways in which we can control the explosion of news information data and derive value from it. Much has been written about this explosion from the points of view of its producers and consumers, but less well known is the huge challenges it presents for those whose job it is to manage such data by working effectively with those who generate it. Few environments depend more on effective information management - while creating any number of problems for those trying to apply the rules - than the news industry today. Hence the seminar, which aimed "to share knowledge from the intersections of technology, semantics and product development".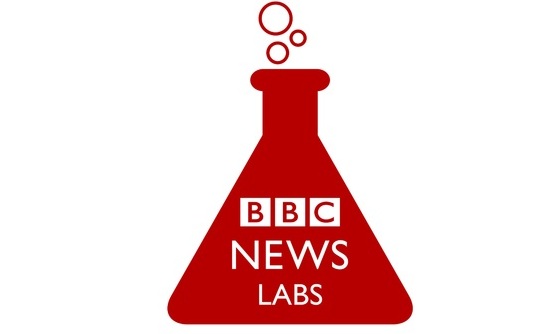 Looking at the large lecture theatre at University College London filled to the brim with an enthusiastic audience of data developers, information scientists, journalism students and archivists, your blogger was moved to think that things were very different to when he spent his time at library college, many years ago now. Library and information studies, as they called it then, excited no one. Now, in the era of big data, it is where the big ideas are happening. Librarians (let's continue to give them their traditional name) are masters of the digital universe, or might aspire to be. Metadata is cool; ontologies are where it's at; semantics really means something.
The epitome of this excitement about information management - particularly news information - is the work coming out of BBC development projects such as BBC News Labs, which was introduced in a presentation by its Innovation Manager, Matt Shearer. News Labs has a a small team of people looking at better ways in which to manage news information, both within and outside the BBC. Its work includes the Juicer API (for semantic prototyping), the #newsHACK days for testing of product development ideas, entity extraction (extracting key terms from a mass of unstructured text), linked data (the important principle of working with data based on terms produced for DBpedia which other institutions can share in to create linked-up knowledge) and the Storyline ontology. There is particular excitement in trying to extract searachable terms for audiovisual media, through such technologies as speech, image and music recognition. If there is a pattern, the machines can be trained to recognise it.
Shearer's enthusiastic and sometimes mind-spinning presentation was matched by his colleague Jeremy Tarling, data architect with News Labs, who introduced Storyline - an open data model for news. Storyline is a way of structuring news stories around themes, based on a linked data model. The linked data bit is the way of ensuring consistency and shareability (they are working with other news organisations on the project). The theme element is about a new way of presenting news online which joins up stories in a less linear, more intuitive fashion. If you type in 'Edward Snowden' into a search engine you will get hundreds of stories - how to sort these out or to tell what the overarching narrative is that connects them all? If you can bundle the Snowden stories that your news organisation has produced around stories that go to make up the Edward Snowden theme - for example, Snowden at Moscow airport, Snowden finds job in Russia - you start to impose more of a pattern, and to draw out more of a story - the storyline, that is.
The nuts and bolts of this are interesting, because it requires journalists to tag their stories correctly, and listening between the lines one could see that some journalists were more willing and able to do so than others. But this sort of data innovation is happening, and it will have a dramatic impact on how news sources such as the BBC News website look in the future.
The energy, resources and ingenuity put into such work by the BBC can leave the rest of us overwhelmed, not to say humbled, but the remaining speakers had equally interesting things to say. Rob Corrao, Chief Operating Officer of LAC Group, gave a dry, droll account of how his consultancy company had been brought in to enable ABC News in New York to get on top of the "endless torrent" of news information coming in every day. This was a different approach to the problem, more of an exercise in logistics than simple data management policies. They managed the people and the work-processes first, then everything else fell into place. A content strategy was essential to understanding how best to manage the news process, including such simple ideas as prioritising the digitisation of footage of people likely to feature before long in obituary pieces. The more you know what the news will be in advance, the easier it is to manage it.
Ian Roberts of the University of Sheffield introduced AnnoMarket, a European-funded project which will process your text documents for you, or conduct analyses of news and social media sources. As automated metadata extraction tools start to make more of an impact (that is, tools which extract useful information from digital sources), so businesses are popping up which will do the hard work for you. Send them a large bunch of documents in digital form, and they will analyse them for you. Essentially it's like handing them a book and they give you back an index.
Finally Pete Sowerbutts of the Press Association talked about how the news agency is applying semantic data management tools to its news archives, so that with a bit of basic information about a subject (e.g. name, age, occupation), place or organisation and some properly applied tagging, a linked-up catalogue starts to emerge. People, places and organisations are the subjects that all of the projects like to tackle, because they are easily defined. Themes - i.e. what news stories are actually about - are harder to pin down, semantically speaking.
Beneath all the jargon, much of this was about tackling age-old problems of how best to catalogue the world around us. Librarians in the room of a particular vintage looked like they had seen all of this before, and indeed they had. Librarians' role in life is to try impose order on an impossibly chaotic world. Previously they came up with classification schemes and controlled vocabularies and tried to make real-life objects match these. Now we have automated systems which try to apply similar rules with reduced human intervention because of the sheer vastness of the data we are trying to manage, and because it is digital and digital lets you do this sort of thing. Yet real life continues to elude all of our attempts to describe it precisely. Sometimes they only way you are going to find out what a news publication is actually about is to pick it up and read it. But you still have to find it in the first place. 
An unanswered question for me was whether what applies to news applies to news archives. News changes once it has been produced. It turns into a body of information about the past, where the stories that mattered when they were news may no longer matter, because researchers will approach the body of information with their own ideas in mind, looking across stories as much as they may look directly for them. Our finding tools for news archives must be practical, but they must not be too prescriptive. ABC News may hope to guess what the news will be in the future, but the news archivist can never be so presumptuous. It is you, the users, who will provide the storylines.
23 January 2014
Welcome to edition number two of the St Pancras Intelligencer, our weekly round-up of news about news - stories about news production, publications, apps, digitised resources, events and what is happening with the newspaper collection (and other news collections) at the British Library.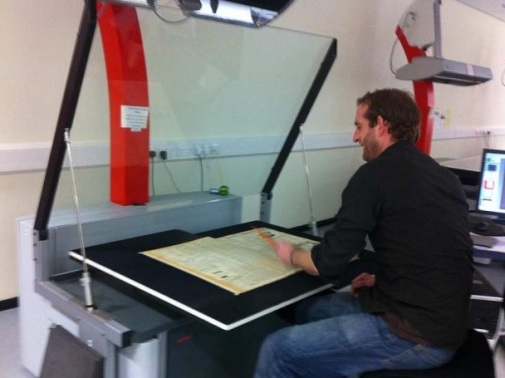 The first newspapers are digitised at Boston Spa: The DC Thomson Family History newspaper digitisation studio has moved from Colindale to Boston Spa in Yorkshire and is busy once again digitising British Library newspapers for the British Newspaper Archive. The BNA blog has behind-the-scenes photos (well, two).
Firing Tony Gallagher is a big mistake: The big news story of the week about British newspapers was the sacking of Telegraph editor Tony Gallagher. Roy Greenslade worries that the drive towards all things digital is being done at the expense of tried and tested journalistic understanding.
Cambridge spies - the Burgess tape: News coup of the week - or at least archival news coup - went to Professor Stewart Purvis and Jeff Hulbert of City University for their discovery of an audio recording (recovered from the FBI via a Freedom of Information Act request) of British double-agent Guy Burgess talking about a visit he paid to Winston Churchill in 1938.
How geolocation may play a bigger role in future newsgathering: Journalism.co.uk has this report on a discussion at the Frontline Club on the effects of mobile, geolocation and user-generated content on the future of news. The impact of geolocation on newsgathering and verification is bound to be huge, but there were also warnings about its use to identify those who do not want to be located (such as activist reporters in hazardous situations). 
Bill to restrict 'town hall Pravda' passes its final Parliamentary hurdle: Press Gazette reports on the passing of the Local Audit and Accountability Bill through the House of Lords, which among other things could give minister the power to block local authorities from publishing overly political free newssheets, and "guarantee the right of journalists and bloggers to live Tweet and even film council meetings."
Christopher Chataway: Chris Chataway, who died this week, was not only an athlete, businessman and politician - he was also an early ITN reporter and BBC current affairs commentator.
How Kola Dumor became the face of Africa: Kola Dumor, the Ghanaian presenter of BBC World News' Focus on Africa programme, died tragically young of a heart attack, aged 41. Solomon Mugera's piece is among many heartfelt tributes made to the man.
Q&A with newspaper researchers: Bob Nicholson: Another in the excellent Europeana Newspapers series of interview with researchers using newspaper archives. Bob Nicholson, historian of 19th-century popular culture at Edge Hill University, talks about researching how jokes and slang moved between America and Britain in the 1800s.
The future of personal broadcasting:  Challenging piece from Charley Miller on how we can all become broadcasters, eventually.
Trinity Mirror axes daily tablet edition after seven months: Back in June the Birmingham Post boldly announced its Business Daily tablet edition (cost to subscribers £9.99 a month) hoping to  "reinvent business journalism within the regional press". It is no more.
The Sun celebrates a Facebook million: and appoints its first social media editor, James Manning.
Instafax: Somebody, somewhere, is going to make short-form news videos work. NowThisNews is experimenting with the form, and now the BBC has come up with test service Instafax, which uses Instgram to generate quick news summaries for people on the go. TheNextWeb reports.
The WorldPost: a platform for global conversation: Huffington Post and the Berggruen Institute on Governance launched The WorldPost (keeping up the vogue for have one word where two might do better), a digital news publication with global reach. Peter S. Goodman introduces the ideas behind it.
The birth of newspaper: Splendid images of some of the first newspapers to accompany Andrew Pettegree's History Today piece on the birth and slow rise of the medium.
Are we in a new golden age of journalism?: Tom Engelhardt of tomdispatch.com reckons so.
And in case you missed it, the British Library published a podcast of James Harding's 'Journalism Today' speech.
The Newsroom blog recent posts
Tweets by @BL_newsroom
Other British Library blogs