01 June 2016
It's time for another edition in our occasional series on news about news, the St Pancras Intelligencer. Here are some of the recent stories on where news and where it might be going which have caught our eye.
Google's Accelerated Mobile Pages Project
Death to the Mass - Jeff Jarvis writes on the death of the traditional idea of the mass media as delivering the same content to everyone. What replaces it will be tailored to the individual, who is now the king over everything:
What has died is the mass-media business model — injuring, perhaps mortally, a host of institutions it symbiotically supported: publishing, broadcasting, mass marketing, mass production, political parties, possibly even our notion of a nation. We are coming at last to the end of the Gutenberg Age.
All well and good, says Roy Greenslade, but how in this brave new world are we to save public interest journalism?
When it comes to social media, news consumers tend to stick with 1 source - Media plurality is all very good, but humans still tend to stick with the familiar. The Pew Research Center and Knight Foundation find that 64 percent of social media news consumers get their news on just one favorite site.
43 percent of social media users don't know where the stories they read originally appeared - Some disheartening news for all news brands, as Digiday reports that 43% of social media users are unaware of them.Why China fakes 488 million social media posts a year - Mind-boggling report from Mashable on how China's government fills its social media with positive social media comments to distract its citizens from bad or politically sensitive news.
Digital archives of British national newspapers - Our own guide to current UK national newspapers available digitally at the British Library (and those which can't be found digitally anywhere).
A neighbor is better than a newspaper - A rather heartening report from Solutions Journalism Network, showing how the oldest form of news distribution - word-of-mouth - operates in rural Western mountain communities in the USA.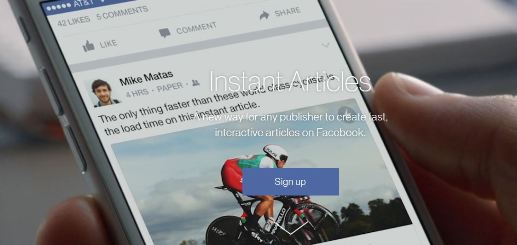 Facebook's Instant Articles
Facebook news selection is in hands of editors not algorithms, documents show - So many stories out there about how Facebook's algorithms are shaping the world's news. The Guardian reports on the humans behind the algorithms making selection decisions much like a traditional media organisation. Quartz has Facebook's news feed algorithm is so mysterious, users are developing "folk theories" about how it works; Will Cathcart at The Verge has a long talk with Facebook about its role in journalism; Fusion reminds us that the real 'news curators' at Facebook are the engineers who write its algorithms; while The Independent reports Facebook denies claims it suppressed conservative and controversial news on its 'Trending Topics' sidebar.
Facebook is the new paperboy - And there's more. Matt Carroll at Medium traces the history of news distribution from paperboys to platforms, and how this is changing how newsrooms work.
Social networks could do much more to protect eyewitnesses in breaking news - Josh Stearns at FirstDraftNews calls on Facebook, Twitter and Google to do more to help eyewitnesses supplying on-the-spot news at disasters to protect and understand their rights.
Beware the 'false consciousness' theory: newspapers won't decide this referendum - Charlie Beckett at LSE's Polis blog says that traditional newspapers no longer have the influence over something like the EU Referendum debate that campaigners imagine they have.
How the New York Times plans to conquer the world - Alex Spence at Politico reports on how the New York Times is eyeing Europe for new digital subscribers.
Suddenly, national newspapers are heading for that print cliff fall - The end has been nigh for a while now, but Roy Greenslade is now certain: newspapers "have no future".
A BBC for the future - And finally, among all the stories coming out the BBC White Paper - funding local journalists, cutting back on sections of its News website, no longer running local news index web pages, possibly merging the News and World channels - we were pleased to see this line lurking towards the back of the document: "There should be particular scope to do more to enable access to BBC historic news archive". Let's hope so.
15 June 2015
The UK General Election of 2015 was decided by television. Despite the ardent advocacy of some newspapers, and for all the claims being made about it being a social media election, television dominated perceptions, debates and the presentation of policies. A Panelbase survey of the UK audience said that 62% found TV coverage had been the most influential in informing them about the general election and the policies of the political parties, far more than newspapers at 25%, websites at 17% (mostly the BBC news website), radio at 14%, speaking to family and friends at 14%, and only 11% social media (primarily Facebook). 38% of the audience said they were influenced by the broadcast debates, 23% by TV news coverage and 10% by party political broadcasts.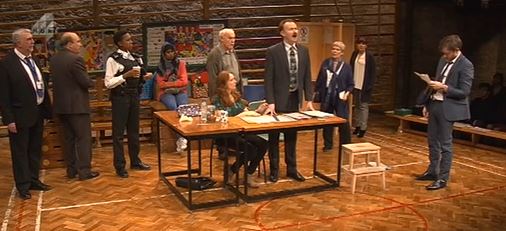 James Graham's The Vote, broadcast on More4 on election night 7 May 2015, with Judi Dench, Catherine Tate, Timothy West and Mark Gatiss
It is important therefore that to have an archive of what was broadcast on television over the general election period. The British Library's Broadcast News service usually takes in around 30 hours of TV news and 18 hours of radio news each day, from 22 channels. We expanded this significantly to capture every debate, party political broadcast, manifesto launch, campaign event, press conference, interview, leader profile and documentary that we could, plus the full election night broadcasts of each of the main broadcasters (including those from BBC Scotland, BBC Northern Ireland, BBC Wales and STV), as well as coverage given to the election from CNN, France 24, Al Jazeera English and RT (Russia Today). We also recorded the relevant TV dramas (Coalition, The Vote) and comedies (Ballot Monkeys, Newzoids, Have I Got News for You etc).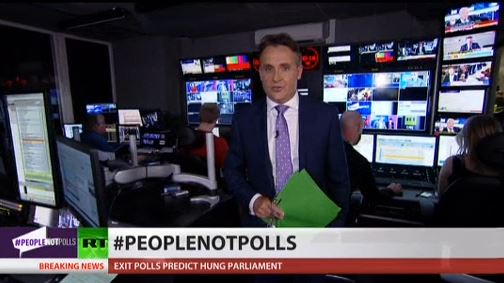 From RT's general election night coverage
Overall, between 26 March (the date of the first of the TV debates) and 8 May 2015, we recorded 1,775 television and radio news programmes. Not all touched on the election, but most did, and it makes for compelling evidence for how much energy and calculation went into using television as the forum for a national debate.
All of these recordings are available via the British Library's Broadcast News service, accessible at our St Pancras (London) and Boston Spa (Yorkshire) sites. We're also making available here a spreadsheet listing every programme we recorded between 26 March and 8 May. They are listed by date, medium, channel, type of programme, title, description and duration, and the data can be sorted by anyone interested to undertake some preliminary analysis or simply to see in one list which party political broadcasts were recorded.
Download Recordings 2015_general election

The programmes are also listed on a new Special Collections page on the Broadcast News site, with links to all the main recordings. Please note that these general election recordings do not as yet appear on the British Library's main Explore catalogue (but will do eventually).
We would be interested to hear from any researchers using this archive. Do get in touch via broadcastnews@bl.uk.
06 May 2015
Five years ago to this day, at 21:55, we threw on the switches for the first official television and radio news recordings for our Broadcast news service. It was, of course, the day of the General Election, and we decided to kick off our service the moment the polls closed - or five minutes beforehand, to be precise, as that it when the all-night news programmes began.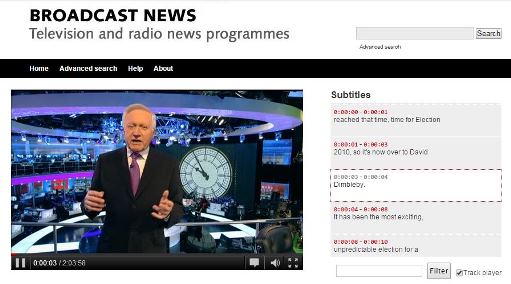 BBC1's election night broadcast, 6 May 2010
Things were simpler then. We had only just acquired the system for recording TV and radio programmes off-air, and there were a few teething troubles. So we started cautiously, and recorded just four programmes on that first day - the BBC 1, BBc Radio 4 and ITV election broadcasts, and Channel 4's Alternative Election. the following day we boldly upped the ante to record 15 programmes, adding broadcasts from the channels BBC News, World Service, Al Jazeera English and CNN.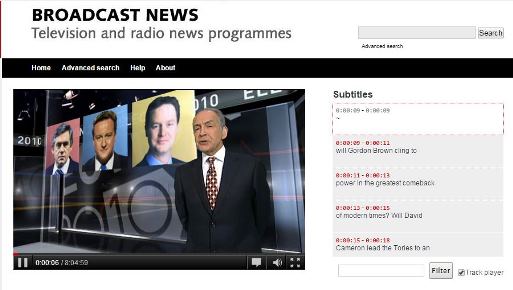 ITV's election night broadcast, 6 May 2010
Five years on, and things have grown. For 6 May 2015 we will be recording some fifty programmes from twenty-two channels: BBc1, BBC2, ITV, Channel 4, BBC 4, BBC News, BBC Parliament, Al Jazeera English, RT, CNN, Bloomberg, CCTV, Sky News, France 24, talkSport, BBc Radio 5 Live, BBC World Service, LBC, BBcCRadio 1, BBC London, BBC 1 Scotland and STV. We won't know until a day or two later how many programmes we've recorded, because we catch up on some unscheduled programmes after broadcast (such as the many General Election interviews and campaign events currently popping up on BBC Parliament), but it will amount to some 50 hours of TV and radio recorded for that day.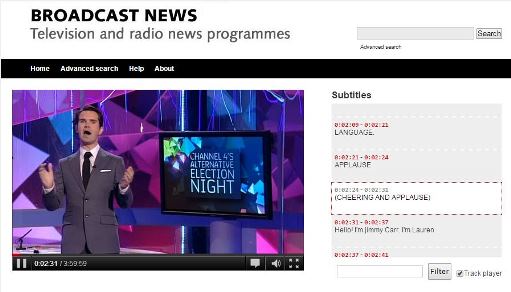 Channel 4's Alternative Election, 6 May 2010
Over the five years we have recorded some 45,700 television programmes and 12,100 radio programmes. We record mainly news programmes, though we interpret news quite broadly and include current affairs, interviews, documentaries, live broadcasts and so on. The top 10 most recorded channels are BBc 1 (6,410 programmes), BBC Radio 4 (6,144), ITV1 (5.604), BBC News (4,865), Sky News (3,457), Russia Today/RT (3,153), NHK world (2,995), CCTV [China] (2,918), BBC World Service (2,647) and Al Jazeera English (2,552).
All of the programmes are available on any Library terminal at our St Pancras and Boston Spa sites. For reasons of copyright we cannot make the programmes available online. You can find records of what we have on Broadcast News on the Explore catalogue, but for the most up-to-date records and the fullest service - including word-searchability of programme subtitles - it is best to go to the Broadcast News site, which you can find under the Sound and Moving Image services page on any Library terminal, or just look for http://videoserver.bl.uk (please note, this link only works if you are located at one of our sites and working from a British Library terminal).
And here's to the next five years of news.
22 April 2015
The UK General Election means that we have been busy with the video recorders. As well as our regular intake on newspapers and the special web archive collection being built up by the British Library and other legal deposit libraries, we have been recording many extra television programmes relating to the General Election for our Broadcast News service. In our multimedia, multiformat, mobile-driven world, television is still the medium which leads the news agenda in the UK and serves as the focal point for debate.
Here's a run-down of what we're recording, all of which is available soon after broadcast on Broadcast News, available in our Reading Rooms at St Pancras and Boston Spa.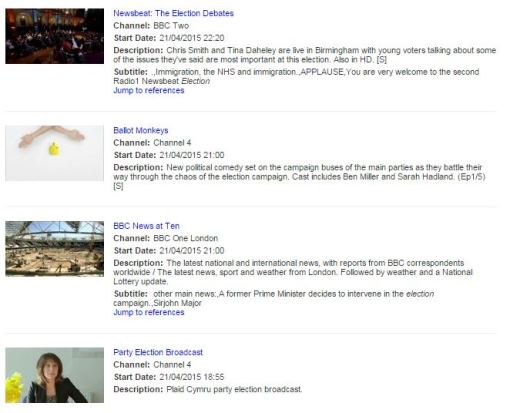 General news
We record selected television and radio news programmes from 22 channels on a regular basis, and so pick up on all the main news reporting on the election - from BBC1, BBC2, BBC4, ITV1, Channel 4 and Sky News, as well as the somewhat less intense election reporting from Al Jazeera English, CNN, RT, France 24 and others.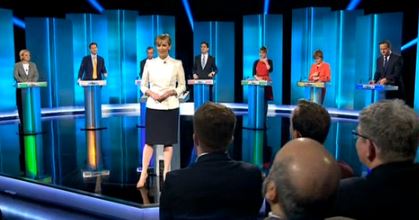 The ITV Leaders' Debate
Debates
The will-they, won't they arguments over the live debates with party leaders dominated media discussions in the run-up to the formal launch of the General Election period. There was no repeat of the three-way leader debates that so riveted the nation back in 2010, but the compromise solution for 2015 generated variety, much interest and plenty of online debate. We have had Cameron & Miliband: The Battle for No 10 (Channel 4 tx. 26/3/2015), with Jeremy Paxman grilling David Cameron and Ed Miliband and Kay Burley fielding questions from a studio audience; the ITV Leaders' Debate, with Julie Etchingham hosting a memorable seven-way debate between the leaders at their podiums (ITV tx. 2/4/2015); and the BBC Election Debate (BBC1 tx. 16/4/2015), hosted by David Dimbley, featuring the leaders of the five main opposition parties. We have also recorded Scotland Debates (STV tx. 7/4/2015) and the Leaders' Debate - Scotland (BBC1 Scotland tx. 8/4/2015), the Newsbeat Debates on TV and Radio 1, the Daily Politics Debates, and several others.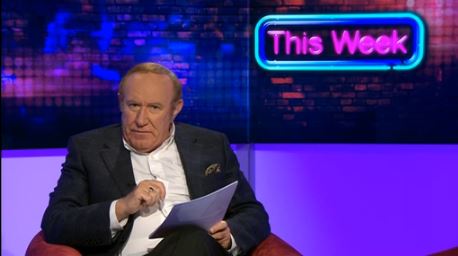 The ubiqitious Andrew Neil
Discussions and commentaries
Accompanying the news, we of course have the discussion programmes. Analysing it all have been the Daily Politics, Sunday Politics and This Week (all hosted by Andrew Neil), Election Tonight, Question Time, the Andrew Marr Show, The Agenda, Murnaghan, Newsnight, and even the Election Late Show. 
Interviews
The number of interviews with the party leaders seems prodigious. ITV has had its Spotlight interview series with Tom Bradbury, BBC1 had has the Leader Interviews with Evan Davies, there have been the Newsbeat Interviews on BBC TV and radio, numerous interviews on general news and current affairs programmes, and ad hoc pieces to camera being picked up by BBC Parliament.
BBC Parliament
The BBC Parliament channel has thrown open its schedules to capture many of the interviews, reactions, manifesto launches and campaign events of which we only see highlights in the main news programmes. So, for example, the manifesto launches include those of the Conservatives, Labour and Liberal Democrats, Scottish National Party, Ulster Unionist Party, Alliance Party, SDLP, Green Party, UKIP, Democratic Unionist Party and the Christian People's Alliance, as well as the Scottish and Welsh branches of Conservatives, Labour, Liberal Democrats, Greens and UKIP, and assorted youth manifestos.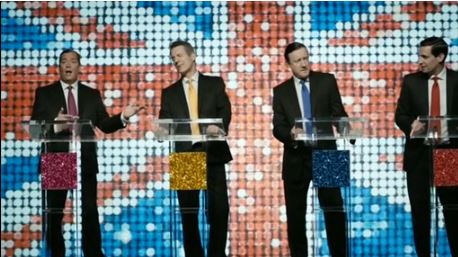 The Green Party's 'boy band' election broadcast
Election broadcasts
Party election broadcasts are a television staple, and for this election it is noticeable how stylishly made most of the broadcasts are, aiming as they are to attract not just television viewers but an online audience intent or liking or disliking the same videos on YouTube. So far we have broadcasts from the Conservative Party, Green Party, Labour Party, Liberal Democrats, Plaid Cymru, Scottish National Party, the Trade Unionist and Socialist Coalition, and UKIP.
All party election broadcasts shown on the BBC are currently available via iPlayer.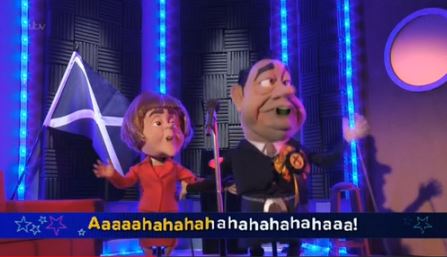 Nicola Sturgeon and Alex Salmond on Newzoids
Satire
We are also recording the many news satire programmes that are popping up: Have I Got News For You, ITV's new puppet show Newzoids, Channel 4's The Last Leg, which has a special focus on the election, and programmes created for the election period itself: Jack Dee's Election Help Desk and Charlie Brooker's Election Wipe on BBC2, Ballot Monkeys on Channel 4 with its up-to-the-minute gags, and the planned post- election programmes including Election Autopsy (with Frankie Boyle) and Rory Bremner's Election Report.
We will be producing a special collection page for the election recordings on Broadcast News, once the election is over.
27 February 2015
Here's the latest edition of the St Pancras Intelligencer, our now monthly round-up of news about news. So here are the highlights from February 2015. It's been a full month, what with one thing and another - Peter Oborne quitting the Telegraph, NBC's Brian Williams exposed, the Future of the BBC report, 10 million digitised newspaper pages, plunging circulations, and 64 ways t0 make a news homepage. Plus newspapers as poetry. Read on...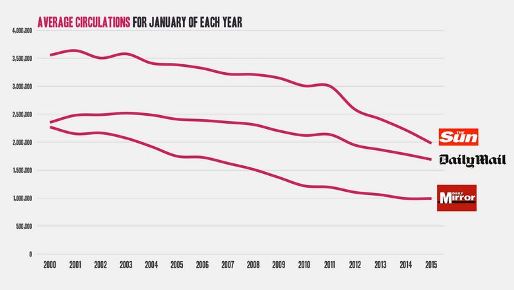 The UK's biggest newspapers are all dying: Graphic of the month from Dadaviz appears to say it all. As Roy Greenslade noted at The Guardian, regional newspaper titles are also suffering yet more substantial sales declines.
How the New York Times works: Terrific long article by Reeves Wiedeman at Popular Mechanics, with great illustrations, on how the New York Times gets published. Essential reading.
Why I have resigned from the Telegraph: Political commentator Peter Oborne quit the Daily Telegraph with this incendiary post from OpenDemocracy, in which he accuses the paper's owners, the Barclay Brothers, of suppressing reports about the HSBC scandal.
The Telegraph's promise to our readers: After Peter Oborne's explosive denunication of his former employers, the Telegraph came up with this much-commented-upon statement of principles.
Snapchat stories: Nieman Lab looks at how six news organisations are making use of the app whose messages disappear after your've read them. But, asks Mathew Ingram at Gigaom, are media companies building another house of cards on SnapChat?
Someone is handing out hand-drawn copies of The Guardian and no one knows why: Mysterious hand-drawn copies of The Guardian from four years ago were being handed out at London Bridge station. It turned out to be the work of artist Charlotte Mann.
Green Party's Natalie Bennett gives 'excruciating' radio interview: Natalie Bennett, leader of the Green Party, gave an agonisingly awkward radio interview for Nick Ferrari on LBC in which she struggled to answer basic questions about the party's economic policy.
NBC's Brian Williams recants Iraq story after soldiers protest: Scoop of the month came from American military paper Stars and Stripes, which revealed that NBC Nightly News anchor Brian Williams was not on board a helicopter hit and forced down by fire during the invasion of Iraq in 2003, as he had long claimed.
Brian Williams has gone, but false news is bigger business than ever: Emily Bell looks at the acceleration of untrue news stories in the web world, following the exposure of Brian Williams.
64 ways to think about a news homepage: Fantastic illustrated post from Melody Joy Kramer on different ways to present the news online - actual, or potential.
Cassetteboy remix the news: Irresistible mash-up of BBC news clips from the Cassetteboy remixing duo.
Jon Stewart to leave The Daily Show: Jon Stewart, host of Comedy Central's The Daily Show - an essential news source for many in America (and beyond) - is to step down.
Future of the BBC: The Culture, Media and Sport Committee's report Future of the BBC addresses the hot topic of the broadcaster's relationship with and effect upon regional newspapers, and comes up with these recommendations:
The BBC must not expect to receive others' news content without providing something in return. We are attracted by the idea of exchanges of content and information, where the BBC local websites link to the source of local material they have used, and in return the BBC allows others to use its content and embed BBC clips on their sites, where these would be of local interest, under a licence agreement. There need not be a financial transaction. However, we also see the case for the BBC outsourcing the supply of some local content on a commercial basis, where there is an ongoing requirement for such material, and it is a more cost-effective way of meeting this need. We recommend this be ensured by extending the BBC's independent production quota to cover local news.
Why is the BBC just so bad at TV news?: Meanwhile, a provocative opinion piece from Michael Church at The Independent, comparing the BBC News channel to Al Jazeera.
Fox News site embeds unedited Isis video showing brutal murder of Jordanian pilot: To show or not to show? Fox News chose to; The Guardian, reporting on this, and most other news sites, did not.
10 million newspaper pages are now fully searchable at the British Newspaper Archive: The British Newspaper Archive, which is digitising newspapers from the British Library's collection, has reached the magic milestone of 10 million digitised newspaper pages.
How about a search of only original news reporting on Google?: Hmm, interesting proposal from Jeff Jarvis, writing at Medium.
If UK newspapers wrote unhinged Twitter poetry: And finally, Journalism.co.uk offers us some poetic renditions of British newspapers, taken from their Twitter feeds, using the Poetweet site. Here's @MailOnline expressed in rondel form...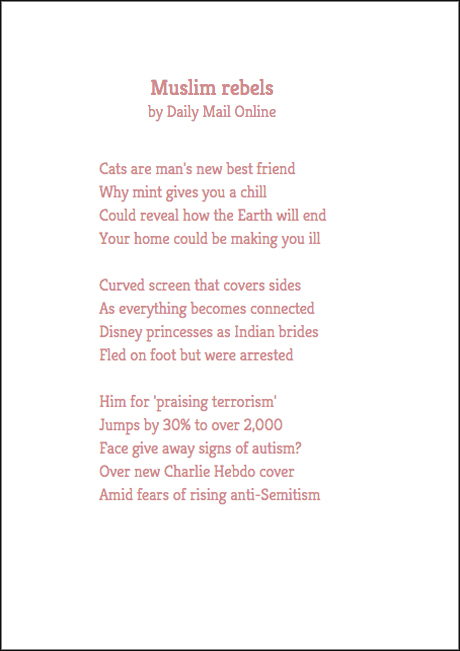 02 October 2014
Our television and radio news recording service, Broadcast News, has been busy over the past two months recording extra programmes on the Scottish independence referendum. Usually Broadcast News takes in some 60 hours of programmes per day (40 TV, 20 radio) from across 22 channels available via Freeview or Freesat. We record the same programmes at the same times each day, to provide a consistent research service. But when there are news specials, breaking news programmes or major news stories that spill over the schedules, then we record more.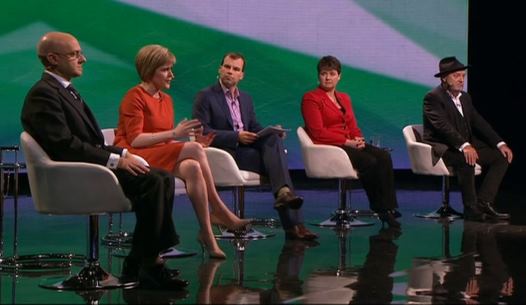 The Big, Big Debate, BBC1 tx 11 September 2014
For the Scottish referendum we added recordings from two further channels, BBC One Scotland and STV, for most of August through to the end of September. So, as well as the standard TV and radio news programmes from BBC, ITV, Sky, Channel 4, Al Jazeera, CNN, LBC and others, we recorded BBC one Scotland's Reporting Scotland and Kevin Bridges: Live at the Referendum, STV's STV News at Six and Scotland Tonight, BBC Parliament's Scotland 2014 and Reporting Scotland, special programmes such as the Salmond/Darling dates, referendum broadcasts from the Yes and No campaigns, Radio's 1's Big Conversation: Scotland Decides (16 Sep), STV's Scotland Decides - The Facebook Debate (12 Sep), BBC 1's The Big Big Debate (11 Sep), and several more.
The heaviest extra recording activity was inevitably over 18 September (the day of the referendum) and the the results and aftermath the following day. BBC TV broadcast two through-the-night programmes entitled Scotland Decides: one hosted by Hugh Edwards for BBC1 and one for BBC Scotland hosted by Glenn Campbell. Bernard Ponsonby and Aasmah Mir hosted ITV/STV's coverage, also named Scotland Decides. Sky News went with Decision Time Scotland, hosted by Adam Boulton, Kay Burley and Niall Paterson. For radio, BBC Radio 4 went through the night with Scotland Decides, hosted by James Naughtie and Rachel Burden, while BBC World Service had a special edition of its The Newsroom programme.
Not watched by so many people in the UK, but fascinating for their different perspectives, were the special programmes produced by France 24, RT (Russia Today) and CNN, the latter two broadcasting coverage throughout the night and early morning, evidence of the huge interest the referendum generated worldwide. Steering clear of value judgments, it was nevertheless most intriguing to see how international opinion ranged from disbelief that Scotland would ever consider breaking away from the United Kingdom, to incredulity that it would ever consider not doing so having been given the opportunity. They are among the most interesting programmes from referendum night, and likely to be of particular value to future researchers.
The result itself brought about a mixture of triumph, disappointment, and even a sense of anticlimax, as we know. Sally Magnusson hosted BBC One Scotland programmes which analysed the results overthe morning and afternoon of September 19th, STV had John MacKay and Andrea Brymer hosting Scotland This Morning: How the Nation Voted. And then gradually the dust settled, the story dropped from the news agenda, and we returned to the regular round of news recordings, carrying on with our BBC One Scotland and STV recordings to the end of September. Now normality reigns, until the next drama unfolds.
All of the Scottish referendum programmes that we recorded are available to view (or listen to) at the British Library's St Pancras and Boston Spa sites via the instant access Broadcast News service.
22 August 2014
Welcome to the latest edition of the St Pancras Intelligencer, our weekly round-up of news about news - stories about news production, publications, apps, digitised resources, events and what is happening with the newspaper collection (and other news collections) at the British Library.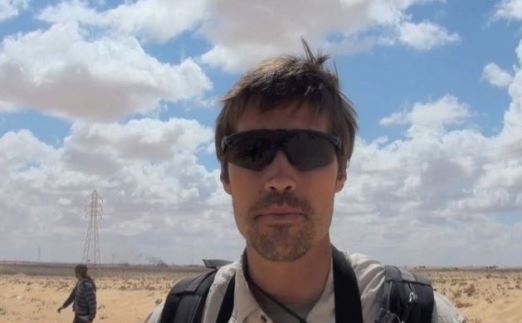 James Foley, via http://www.globalpost.com
Here's some of James Foley's finest reporting for GlobalPost: American journalist James Foley was murdered in Syria in an act that has revolted the world. The American online news site for which he did most of his work, GlobalPost, has published this tribute along with examples of some of his work.
View of #Ferguson Thrust Michael Brown Shooting to National Attention: David Carr at the New York Times looks at how the story of the shooting of Michael Brown spread through Twitter to national consciousness.
BBC's long struggle to present the facts without fear or favour: An excellent, thought-provoking historical overview of the BBC's striving to remain independent and impartial as a news provider, part of a nine-part series by Charlotte Higgins, 'The BBC Report', for The Guardian.
In depth: The 64 UK journalists arrested and/or charged following the News of the World hacking scandal: An astonishing line-up provided by Press Gazette.
Last call: Clay Shirky writes the obituary of the printed newspaper, and what it means for journalism, for Medium.
Contrary to the contrived ignorance of media reporters, the future of the daily newspaper is one of the few certainties in the current landscape: Most of them are going away, in this decade. (If you work at a paper and you don't know what's happened to your own circulation or revenue in the last few years, now might be a good time to ask.) We're late enough in the process that we can even predict the likely circumstance of its demise.
Bulgarians and Romanians in the British National Press: The Migration Observatory has produced a report on how British newspaper reported Bulgarians and Romanians leading up to the lifting of temporary restrictions on the right to work in the UK in January 2014.
Over 4,000 BuzzFeed posts have completely disappears: Gawker reports with alarm that BuzzFeed has deleted many post from its site. In an interview with Slate, BuzzFeed boss Jonah Peretti explains why (they were "technically broken, not sourced to our current standards, not worth improving or saving because the content isn't very good") and says it's because they were originally a tech company not a journalistic one, though they are a journalistic one now.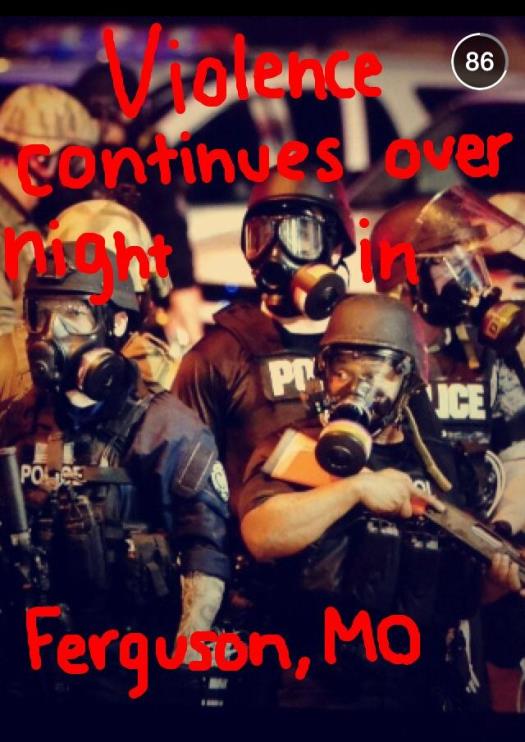 Snapnews
The weird new future of news: New York-based discussion site The Awl reports that NowThisNews is looking to place its fleeting news reports to the apps of others. It reproduces some alarming examples of what a 90-second news briefing from NowThis News on Snapchat, the messaging service which deletes messages once they have been read, looks like. On the same subject, the Wall Street Journal reports News and ads to debut on Snapchat: 
The product would let users read daily editions of publications as well as watch video clips of TV shows or movies by holding down a finger on the screen, like they do with photos and other messages on the app before disappearing.
Mathew Ingram at Gigaom reviews this trend towards publishing on apps rather than a brand's own website, arguing that News needs to go where the people are, not the other way around.
The future of mobile apps for news: More on the mobile future for news in this useful summary of the technical issues by Frederic Filloux at Monday Note.
Teenagers and the news game: The BBC's Rory Cellan-Jones looks at how teenagers get their news and the challenge this presents for journalists.
Using Oculus Rift to build immersive news experiences: Wired reports on Nonny de la Peña from USC School of Cinematic Arts, who is creating immersive journalism experience using gaming platforms and virtual reality.
The Illustrated First World War: Illustrated London News Ltd has launched a handsomely-designed website featuring 1914-1918 archive material from the Illustrated London News, with other titles in its collection (such as The Graphic, The Sketch and The Sphere) in due course - all free, thanks to a £96K Heritage Lottery Fund grant.
The Guardian view of the Cliff Richard search: The controversial reporting by the BBC of a search of Cliff Richard's house is viewed by The Guardian as something that could could reopen issues about the police and the press that troubled Lord Justice Leveson.
Google removes 12 BBC News links in 'right to be forgotten: Fascinatingly this includes a 2009 item on the merits of hummus.
25 July 2014
Welcome to the latest edition of the St Pancras Intelligencer, our weekly round-up of news about news - stories about news production, publications, apps, digitised resources, events and what is happening with the newspaper collection (and other news collections) at the British Library.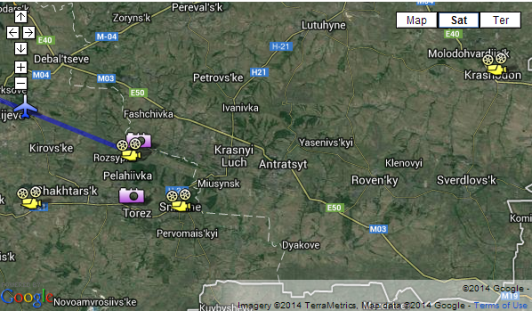 Map showing evidence of Buk surface-to-air missile position in Donetsk region of Ukraine, with geo-located links, created by Storyful
How social sleuthing uncovered evidence of surface-to-air missile systems in eastern Ukraine: News about news has been dominated this week by the shooting down of Malaysian Airlines flight MH17 over Ukraine. This powerful blog post from the NewsCorp-owned verification service Storyful shows how effective it has been at analysing information from social networks, YouTube and other sources to get at the truth behind the claims and counter-claims.
There have been a number of other pieces this week which focus on the verification of information, particularly images and videos, with a focus on Ukraine. The title of Julie Posetti's piece for PBS Mediashift, When Good People Share Bad Things: The Basics of Social Media Verification picks up on the worry people have about sharing false information and explains the verifcation process, which involves the source of a piece of content, and the content itself. Jihii Jolly at Columbia Journalism Review offers help  on How to check if that viral video is true, steessing that the rise in user-generated contents makes it imperative for journalists to question before using. Kevin Loker at American Press Institute gives us How to find out if a photo your friend posted online is fake, and at Gigaom Mathew Ingram says Want to help fact-check breaking news like the Malaysian airplane disaster? Here's how and where you can do it, providing a handy a guide to verification communities and tools.
Graphic content: when photographs of carnage are too upsetting to publish: Roger Tooth, The Guardian's Head of Photography, explains the decision-making process behind selection or otherwise of news images from stories such as Gaza and MH17. (Warning: graphic content).
RT "Covers" the Shooting Down of MH17: Adam Holland at The Interpreter (an online journal presented translated material from the Russian press and blogosphere) offers a scathing analysis of how RT, aka Russia Today, the state-owned TV channel, reacted to the downing of MH17.
Russia Today London correspondent resigns in protest at 'disrespect for facts' over Malaysian plane crash: Press Gazette piece on Sarah Firth who declared that RT's coverage of the air crash was the last straw. "[I]t's the level of disrespect for the facts that really bugs me." she says. RT commented:
Sara has declared that she chooses the truth; apparently we have different definitions of truth. We believe that truth is what our reporters see on the ground, with their own eyes, and not what's printed in the morning London newspaper. In our coverage, RT, unlike the rest of the media, did not draw conclusions before the official investigation has even begun. We show all sides of the story, even if everyone else has already decided which side is to blame.
From outrage to recrimination: How the media covered the Malaysia Airlines flight MH17 crash: Chris Boffey at The Drum looks at how the British news media reacted to the immediate news of the MH17 crash.
MH17, my error of judgment: Sky News' Colin Brazier has been roundly condemned for a live news broadcast, lunchimte July 20th, when he briefly looked through the content of the luggage of one of the victims of MH17. Here he apologies via The Guardian in a sincere and interesting piece of how a journalist faces up to horror, while live on air.
South Sudan humanitarian crisis: The poor media coverage highlights the flaws in news gathering: Perhaps the most powerful piece about news production this week has come from Ian Burrell at The Independent, looking at how the absence of media coverage in South Sudan has had a tragic impact on people's lives:
The tragedy of South Sudan highlights a number of basic flaws in modern news. Despite the breadth of online information, the major news providers still play an essential role in bringing humanitarian stories to the public's attention. It is the misfortune of the starving and homeless in South Sudan that their agony coincides with the appalling turmoil in Syria, Gaza and Ukraine.
Minus proper archives, news outlets risk losing years of backstories forever: Another essential read, this time from Columbia Journalism Review, looking at the possibility and dangers of losing news archives in the digital area.
The 'Fake Sheikh' Mazher Mahmood's extraordinary career: The career of The Sun and The News of the World's notorious entrapment specialist, Mazeer Mahmood - the 'fake Sheikh' - may have come to an end after the collapse of the trial of singer Tulisa Contostavlos. Ian Burrell tells his story.
High value, low income: report reveals trends in hyperlocal publishing: A handy summary from Journalism.co.uk of the key points from the recent academic report The State of Hyperlocal Community News in the UK.
Readers, viewers, browsers: it's time to count them all and unify the ratings: Peter Preston at The Observer calls for the unification of audience research.
Ashley Highfield - interview: InPublishing interviews Ashley Highfield, CEO of regional newspaper publisher Johnson Press, on the digital revolution he is bringing about.
I don't want cannabilisation of what is our biggest source of revenue (print). The great thing about the regional press is it's not like the Guardian where people stop buying print and consume online. Actually we have pretty much created a new audience online who never bought us in print.
Newspapers begin to challenge broadcasters in video storytelling: Douglas Grant at World News Publishing Focus explains how newspapers are marking their mark with online video.
Reddit Live is now official, lets anyone create their own breaking news live blog: This could could be a major step in the growth of alternative news publishing. The hugely popular social networking and news service Reddit has launched Reddit Live, which lets anyone create their own breaking news service (including tweets, videos etc).
The Sun says farewell to Wapping with special souvenir staff issue: The staff of The Sun left Wapping on 18 July, as they set up home in London Bridge. Roy Greenslade looks at the souvenir issue produced for staff to mark the momentous occasion.
18 July 2014
Welcome to the latest edition of the St Pancras Intelligencer, our weekly round-up of news about news - stories about news production, publications, apps, digitised resources, events and what is happening with the newspaper collection (and other news collections) at the British Library.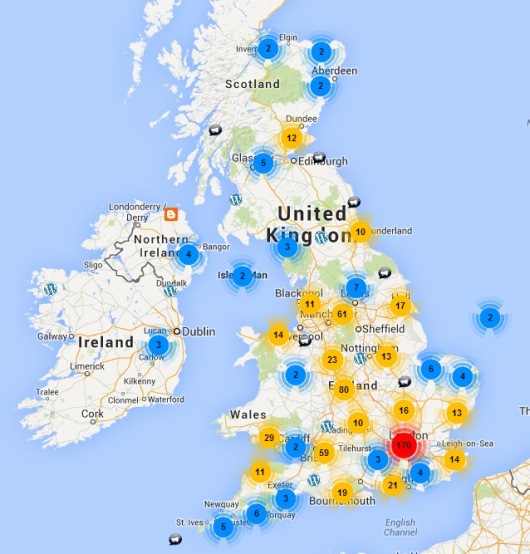 Hyperlocal map: Talk About Local has produced a 'heat map' of the hyperlocal sites around the UK, based on data from the Openly Local database. Delve in and see how the local news made locally revolution has spread.
Report around the clock: Fascinating piece by Joseph Lichterman at Nieman Journalism Lab on how news organisations use time zones to their advantage to operate a 24/7 service, including Bild, The Guardian and Wall Street Journal.
Hey, Publishers: Stop fooling us, and yourselves: David Boardman says too many newspaper companies says too many newspapers executives (in the US) are deluded about the financial future and maybe ought to stop printing newspapers altogether.
Robots are invading the news business, and it's great for journalists: So here's a piece of journalism for you:
Alcoa Inc. (AA) on Tuesday reported a second-quarter profit of $138 million, reversing a year-ago loss, and the results beat analysts' expectation. The company reported strong results in its engineered-products business, which makes parts for industrial customers, while looking to cut costs in its aluminum-smelting segment.
It was produced by a robot (a piece of software anywhere) which is generating business news stories for AP. Kevin Roose at New York magazine reckons this bright new future will give human journalists more time to concentrate on less humdrum stories.
The Daily Mail's 'historic 1914 edition' is not quite as billed...: The Daily Mail produced a First World War facsimile issue. Roy Greenslade takes in to task for not being up front about the fact that the 'paper' has been set like a modern newspaper.
Latest ABCs show newspaper market decline running at 8% a year: More from Greenslade, reporting on the latest ABC figures for newspapers, which show a general market decline, though some times (The Times, The Guardian) and beginning to buck the trend.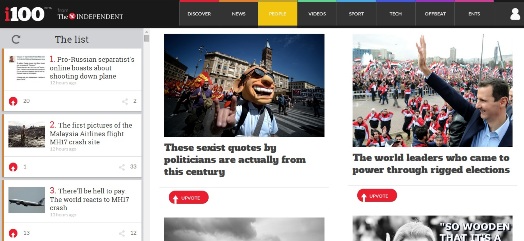 About i100: First there was The Independent, then there was i, now we have i100, a Buzzfeed-style news site launched this week by ESI Media with a list of numbered stories (called The List), the top one being the most popular (there's a voting system with each story having an 'upvote' button). The top 5 for today are all on the shooting down of MH17 over Ukraine.
BBC News to cut a further 415 jobs: BBC News currently employs 8,400 people. 415 jobs are to be cut as part of cost-saving measures. 195 new jobs will be created. Net loss = 220.
The tale of the women who turned vigilante: the BBC News Magazine has been running a series of entertaining pieces by Jeremy Clay on bizarre stories culled from nineteenth-century newspapers. Entitled 'Victorian Strangeness', this example from the series retells an incident from 1878, the moral of which is don't mess with the women of the Forest of Dean.
British blogger Brown Moses launches new site to train others in crowdsourced reporting: Self-taught investigative journalist Brown Moses (aka Elliott Higgins) is looking to pass on his skills to others through a new site called Bellingcat. The admiring Mathew Ingram at Gigaom tells the story.
If newspapers are dying, no one's told the Farnham Herald: Peter Preston agrees with local newspaper publisher Sir Ray Tindle's optimism that print's not dead, yet.
Journalism that matters: Jon Slattery at InPublishing writes in praises of the many examples of serious journalism practised in the UK that make a real difference to the communities that they serve.
The reading experience: This blog writes admiringly of the excellent Reading Experience Database, which reproduces written testimony of reading 1450-1945, including newspapers, and asks what sort of a newspaper history we have if it doesn't consider the readers.
11 July 2014
Welcome to the latest edition of the St Pancras Intelligencer, our weekly round-up of news about news. It may be summer holiday time, but there is so much going on - George Clooney taking on Mail Online (and winning), the fallout from the phone hacking trial, BBC TV news at 60 (supposedly), the rise of hyperlocal news, and lots of digitised newspapers being added online.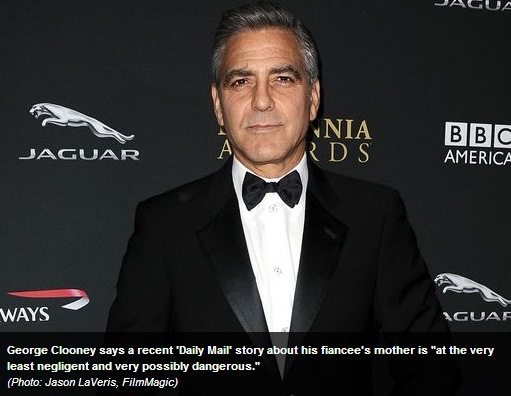 Via USA Today
Exclusive: Clooney responds to 'Daily Mail' report: This week's news lesson is that there are some things in this world that wield greater power than Mail Online, and one of those is George Clooney. The American actor reacted furiously to a story about his future mother-in-law via USA Today with a strong critique of its newsgathering ethos. An apology from Mail Online followed swiftly after, and the story was removed  from its website (it still exists, in reduced form, in the separately edited print version).
'Yes journalists have broken the law, and we should be pleased and proud that they did': An impassioned post-Coulson piece from Mick Hume for Press Gazette, on how journalists have broken the law or broken rules in the past to uncover the truth, from John Wilkes in the 18th century, to WT Stead in the 19th, to the Sunday Times investigative team in the 20th.
Of course journalists are "not above the law". But neither should they be subject to special prosecution and persecution, as has happened in the UK over the past three years with the arrest of more than 60 tabloid journalists. Strangely, few of those high-minded media types at the BBC or Channel 4 news now protesting about the jailing of journalists in Egypt have offered a peep of protest about the criminalisation of tabloid journalism in Britain – and not because anybody has taped over their mouths.
BBC TV News reaches 60-year milestone: BBC News celebrates the sixtienth anniversary of its first TV news bulletin  on 5 July 1954., with Richard Baker reading the headlines (he wouldn't be seen on screen for another three years). Strictly speaking, BBC TV news started in January 1948 with Television Newsreel, unmentioned in this anniversary piece, which is otherwise a great summary of how its news has developed into the age of 24-hour channels and the Internet.
Sun on Sunday editor Victoria Newton on Rebekah, Rupert, paywalls and filling the gap left by the News of the World: A great interview in Press Gazette with Victoria Newton, editor of Sun of Sunday, on thriving in a changing world:
Obviously in terms of print it's a declining market ... A huge chunk of readers went out of the market with the News of the World. About 800,000 readers just went, which is devastating because you find it very hard to get them back – especially in the digital world.
Newspaper industry to review audience count metrics: Interesting. The Drum reports that Newsworks, the marketing body for UK national newspapers is to conduct a review of audience measurement metrics for the industry to reflect the changing ways in which we now read the papers, from print and laptops to tablets and mobile. 
The New Yorker alters its online strategy: and while it does so, the magazine will be making making all the articles it has published since 2007 available free for three months before introducing a paywall for online subscribers. The offer starts 21 July.
Punch Historical Archive goes online: The Punch Historical Archive has gone online, with 7,900 issues (200,000 pages) from all volumes of the satirical magazine published between 1841–1992 now available via the Gale NewsVault to subscribing institutions.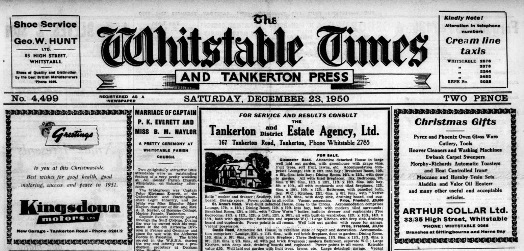 The Whitstable Times, 23 December 1950, Image © Local World Limited
240,000 extra newspaper pages from 1752-1954: Keen-eyed newspaper archive watchers will have noticed that the number of pages being added to the British Newspaper Archive is double or more per month what it used to be. 240,000 extra pages were added in June for the period 1752-1954, including the Lichfield Mercury, Selkirk's Southern Reporter, the Whitstable Times and Herne Bay Herald and the Illustrated Times.
Diving into newspaper archives: Chronicling America: We're big on digitised newspaper archives this week, which is great. Here's a really useful Europeana Newspapers interview with Deborah Thomas from the Library of Congress' online newspaper archive Chronicling America.
Newspapers in Europe and the Digital Agenda for Europe: Yet more on digitised newspapers: the British Library is hosting a Europeana Newspapers workshop 29-30 September, which will be in  two parts: What is the value of newspapers? and Barriers to improving access to digitised newspapers.
The state of hyperlocal community news in the UK: Two AHRC-funded projects at the universities of Cardiff, Birmingham City and Westminster have combined to produce this clear, useful and timely report into the state of hyperlocal news (including asking such pertinent questions as How local is hyperlocal?).
Press freedom is being frustrated as privacy becomes new libel: Thought-provoking piece in The Standard from Roy Greenslade on the threats to journalism he sees in the European Court of Justice's 'right to be forgotten' ruling and the UK's Data Protection Act:
Privacy has become the new libel, and the loser in the long run will be the people who misguidedly think of "the media" as some kind of homogeneous evil institution. In fact, it is there for them, not against them.
A $52 million loss, but a good year for The Guardian: Columbia Journalism Review looks admiringly at how The Guardian's ownership by the Scott Trust has enabled it to paper to experiment and expand digitally across the globe. On the same theme, Gideon Spanier at The Independent interviews Andrew Millar, chief executive of the Guardian Media Group in a post strikingly titled The death of the newspaper has been exaggerated (which is not the same thing as the print newspaper, please note). Having an £843M investment fund certainly helps.
Sir Ray Tindle 'totally convinced' of almost complete return to 'full viability' for local press: More from the newspaper optimism corner. Ray Tindle of publishing group Tindle Newspapers sees the turning of the corner for the local press.
Why you can no longer expect that the news will find you: Tom Krazit at Gigaom warns us on how corporations such as Facebook and Google control the flow of news they think we want to see. Talking of which, All Tech Considered looks at searching for news stories on the World Cup and discovers that in Google Newsroom, Brazil defeat is not a headline.
Beacon Reader's crowdfunding platform now lets supporters fund topics as well as journalists: There are crowdfunded journalism startups that let you fund specific journalists; now how about funding individual topics you'd like to see covered? Mathew Ingram at Gigaom looks at one example, Beacon Reader.
Rolf Harris sentencing made Saturday a good day to bury bad news about the jailing of a national newspaper editor: How Rolf helped bury Andy, with Press Gazette asking why.
The Newsroom blog recent posts
Tweets by @BL_newsroom
Other British Library blogs