08 August 2014
Welcome to the latest edition of the St Pancras Intelligencer, our weekly round-up of news about news - stories about news production, publications, apps, digitised resources, events and what is happening with the newspaper collection (and other news collections) at the British Library.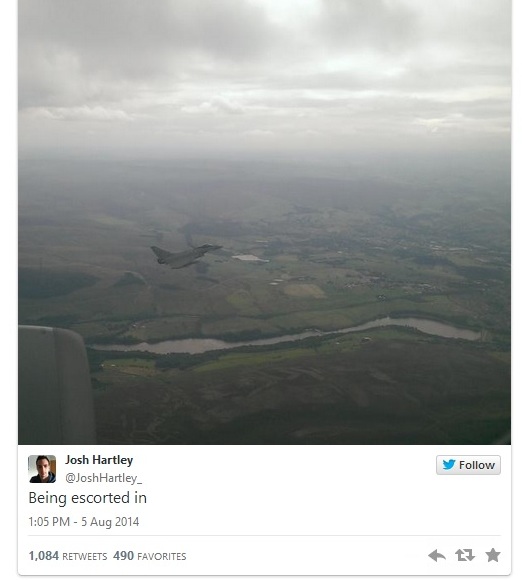 Passenger on plane escorted by RAF to Manchester Airport breaks bomb threat story - social scoops news media again: Anyone can be a journalist - you just have to be in the right place at the right time. Josh Hartley, a passenger on board a Qatar Aiways flight turned unwitting citizen journalist when he tweeted images of a fighter jet escorting the plane to Manchester airport after someone on board made a hoax bomb threat. The Drum reproduces his tweets and those of others and calls it "the latest example of how social media is changing the face of modern journalism". 
The bad guys hate me... but most journalists are decent people and are glad I exposed phone-hacking: Nick Davies book Hack Attack, on the phone hacking scandal, which he was instrumental in exposing, has been the hot topic of discussion this week. He doesn't mince his words in this incendiary interview for Press Gazette.
Anonymous sources are vital, but in the end we need to put a name to them: Peter Preston, commenting on Nick Davies' work, argues that the whole truth requires more than "faceless whistleblowers".
'I'm out of scoops' Daily Express veteran Chapman Pincher dies aged 100: One of the most celebrated of all British newspaper journalists and rooter-out of spies, Harry Chapman Pincher has died , aged 100. An obituaty from the newspaper where he made his name, the Daily Express.
How the smartphone ushered in a golden age of journalism: Frank Rose supplies a handy overview of the revolution in how we read the news today, for Wired.
First world war: newspaper editors bow their heads in remembrance: Roy Greenslade surveys the newspapers' solemn front page responses to the centenary of Britain entering the First World War.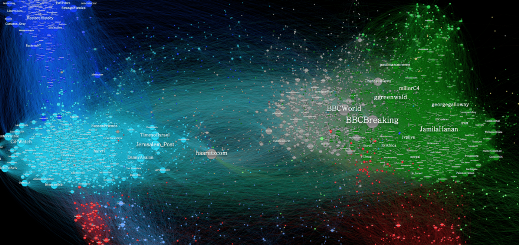 Map of connections between Twitter accounts responding to the bombing of a school in Gaza (in July)
There is only one major news site that both pro-Israelis and pro-Palestinians read: and it is left-wing Israeli paper Ha'aretz, according to Quartz, also our source for this striking graphic by Gilad Lotan for Betaworks.
What Ebola on a plane means for the U.S.: The Ebola outbreak in West Africa is causing alarmist headlines across the world. You wouldn't think Ebola would be high among the concerns of the average American, but it's exciting an obsessive amount of interest there, as in this Daily Beast piece.
One year in: 10 ways The Washington Post has changed under Jeff Bezos: So how has The Washington Post changed since Amazon's Jeff Bezos bought it last year? Not as much as some might have expected, to judge by this DigiDay piece.
8 new titles, including the London Evening Standard: New newspaper titles keep being added to the roster of the British Newspaper Archive, and new titles added including the Evening Standard (for 1860, 1861, 1862, 1866, 1867 so far) and Glasgow Daily Record (1914, 1915) with more to follow. There are 8 million pages on the site; the target is 40 million (by 2020).
How the BBC approaches longform, immersive storytelling: Giles Wilson, features editor for BBC News Online, tells journalism.co.uk about the art of multimedia online journalism work.
Russia enacts 'draconian' law for bloggers and online media: The BBC reports on the new law passed in Russia which says that bloggers with more than 3,000 daily readers must register with Roskomnadzor, the mass media regulator, and conform to regulations that govern the country's larger media outlets.
Should news get personal? Emotion and objectivity in the face of suffering: We were a bit late in discovering this post from Charlie Beckett at the LSE's Journalism and Society Think Tank Polis blog, but it's a thought-provoking (and comment-provoking) piece on whether journalists should get emotionally involved in their stories (with specific reference to Channel 4 News' Jon Snow's The Children of Gaza video.
25 July 2014
Welcome to the latest edition of the St Pancras Intelligencer, our weekly round-up of news about news - stories about news production, publications, apps, digitised resources, events and what is happening with the newspaper collection (and other news collections) at the British Library.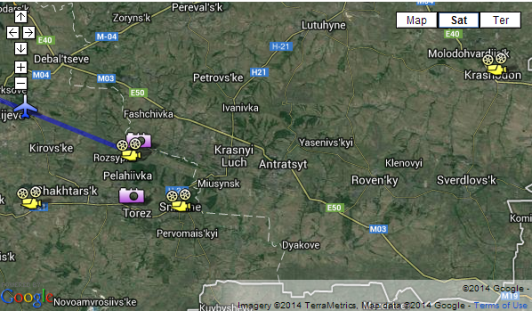 Map showing evidence of Buk surface-to-air missile position in Donetsk region of Ukraine, with geo-located links, created by Storyful
How social sleuthing uncovered evidence of surface-to-air missile systems in eastern Ukraine: News about news has been dominated this week by the shooting down of Malaysian Airlines flight MH17 over Ukraine. This powerful blog post from the NewsCorp-owned verification service Storyful shows how effective it has been at analysing information from social networks, YouTube and other sources to get at the truth behind the claims and counter-claims.
There have been a number of other pieces this week which focus on the verification of information, particularly images and videos, with a focus on Ukraine. The title of Julie Posetti's piece for PBS Mediashift, When Good People Share Bad Things: The Basics of Social Media Verification picks up on the worry people have about sharing false information and explains the verifcation process, which involves the source of a piece of content, and the content itself. Jihii Jolly at Columbia Journalism Review offers help  on How to check if that viral video is true, steessing that the rise in user-generated contents makes it imperative for journalists to question before using. Kevin Loker at American Press Institute gives us How to find out if a photo your friend posted online is fake, and at Gigaom Mathew Ingram says Want to help fact-check breaking news like the Malaysian airplane disaster? Here's how and where you can do it, providing a handy a guide to verification communities and tools.
Graphic content: when photographs of carnage are too upsetting to publish: Roger Tooth, The Guardian's Head of Photography, explains the decision-making process behind selection or otherwise of news images from stories such as Gaza and MH17. (Warning: graphic content).
RT "Covers" the Shooting Down of MH17: Adam Holland at The Interpreter (an online journal presented translated material from the Russian press and blogosphere) offers a scathing analysis of how RT, aka Russia Today, the state-owned TV channel, reacted to the downing of MH17.
Russia Today London correspondent resigns in protest at 'disrespect for facts' over Malaysian plane crash: Press Gazette piece on Sarah Firth who declared that RT's coverage of the air crash was the last straw. "[I]t's the level of disrespect for the facts that really bugs me." she says. RT commented:
Sara has declared that she chooses the truth; apparently we have different definitions of truth. We believe that truth is what our reporters see on the ground, with their own eyes, and not what's printed in the morning London newspaper. In our coverage, RT, unlike the rest of the media, did not draw conclusions before the official investigation has even begun. We show all sides of the story, even if everyone else has already decided which side is to blame.
From outrage to recrimination: How the media covered the Malaysia Airlines flight MH17 crash: Chris Boffey at The Drum looks at how the British news media reacted to the immediate news of the MH17 crash.
MH17, my error of judgment: Sky News' Colin Brazier has been roundly condemned for a live news broadcast, lunchimte July 20th, when he briefly looked through the content of the luggage of one of the victims of MH17. Here he apologies via The Guardian in a sincere and interesting piece of how a journalist faces up to horror, while live on air.
South Sudan humanitarian crisis: The poor media coverage highlights the flaws in news gathering: Perhaps the most powerful piece about news production this week has come from Ian Burrell at The Independent, looking at how the absence of media coverage in South Sudan has had a tragic impact on people's lives:
The tragedy of South Sudan highlights a number of basic flaws in modern news. Despite the breadth of online information, the major news providers still play an essential role in bringing humanitarian stories to the public's attention. It is the misfortune of the starving and homeless in South Sudan that their agony coincides with the appalling turmoil in Syria, Gaza and Ukraine.
Minus proper archives, news outlets risk losing years of backstories forever: Another essential read, this time from Columbia Journalism Review, looking at the possibility and dangers of losing news archives in the digital area.
The 'Fake Sheikh' Mazher Mahmood's extraordinary career: The career of The Sun and The News of the World's notorious entrapment specialist, Mazeer Mahmood - the 'fake Sheikh' - may have come to an end after the collapse of the trial of singer Tulisa Contostavlos. Ian Burrell tells his story.
High value, low income: report reveals trends in hyperlocal publishing: A handy summary from Journalism.co.uk of the key points from the recent academic report The State of Hyperlocal Community News in the UK.
Readers, viewers, browsers: it's time to count them all and unify the ratings: Peter Preston at The Observer calls for the unification of audience research.
Ashley Highfield - interview: InPublishing interviews Ashley Highfield, CEO of regional newspaper publisher Johnson Press, on the digital revolution he is bringing about.
I don't want cannabilisation of what is our biggest source of revenue (print). The great thing about the regional press is it's not like the Guardian where people stop buying print and consume online. Actually we have pretty much created a new audience online who never bought us in print.
Newspapers begin to challenge broadcasters in video storytelling: Douglas Grant at World News Publishing Focus explains how newspapers are marking their mark with online video.
Reddit Live is now official, lets anyone create their own breaking news live blog: This could could be a major step in the growth of alternative news publishing. The hugely popular social networking and news service Reddit has launched Reddit Live, which lets anyone create their own breaking news service (including tweets, videos etc).
The Sun says farewell to Wapping with special souvenir staff issue: The staff of The Sun left Wapping on 18 July, as they set up home in London Bridge. Roy Greenslade looks at the souvenir issue produced for staff to mark the momentous occasion.
06 June 2014
Welcome to the latest edition of the St Pancras Intelligencer, our weekly round-up of news about news - stories about news production, publications, apps, digitised resources, events and what is happening with the newspaper collection (and other news collections) at the British Library.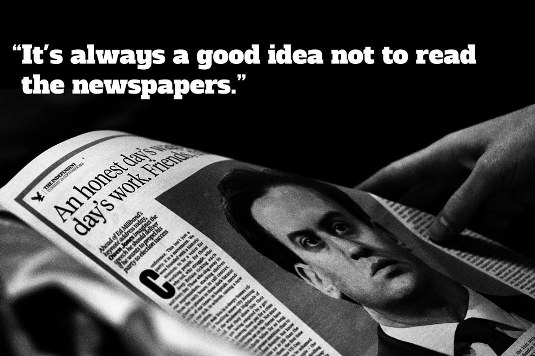 http://www.buzzfeed.com/jimwaterson/ed-miliband-on-the-road
Ed Miliband: "It's Important To Follow Your Own Path": Ed Miliband's comments on his news-reading in this Buzzfeed interview became the news about news debate of the week, in all the newspapers. None were impressed:
It's always a good idea not to read the newspapers ...  I don't read much British news. You get a lot of advice in the newspapers about what you should do. It's much more important to follow your own path and stick to your own path...
 Instead he prefers to get his information for the US site RealClearPolitics. The St Pancras Intelligencer would of course advise us all to read newspapers, TV news and news websites. The more and diverse news sources the better.
Benedict Cumberbatch reads the 8am news from D-Day: On the 70th anniversary of D-Day, June 6th, Benedict Cumberbatch is reading out original BBC radio news scripts of those events for the Today programme. The scripts have been taken from the British Library's collection. More on this anon.
Sensitive Words: June 4th: The twenty-fifth anniversary of the protests at Tiananmen Square has been widely covered by the world's news media, and in China not at all. The US-based China Digital Times provides an instructive list of search terms which have been blocked on the Chinese search engine Weibo. They include 'today', 'candle', 'six+four' and '占占点' (tanks crushing a protestor illustrated through Chinese letters).
How Hostwriter wants to connect journalists around the world: Journalism.co.uk reports on Hostwriter, a new platform enabling journalists to contact each other for world-wide collaboration opportunities.
A retiree digitizes 27 million old newspaper pages in his livingroom (and libraries fight to catch up): Anyone who has gone searching for newspapers online is likely to stumbled across Tom Tryniski's remarkable one-man effort, Old Fulton New York Post Cards, a collection of 27 million American newspapers digitised by this one retiree. This piece from Reason.com is actually about Brooklyn Public Library's struggle to find the funding to digitise all 115 years of the Brooklyn Daily Eagle - something that Trykiski did solo in five months. In the end they got Newspapers.com to do it for them, without payment, with the BPL being offered for free on the Library's portal but also as part of Newspaper.com's subscription package of 3,000 newspaper titles. 
Telegraph increases operating profit to £61.1m and is UK's most profitable 'quality' newspaper: Press Gazette reports that the Telegraph Media Group increased operating profit by £2.7m to £61.2m in 2013, making it "by far the most profitable of the UK's 'quality' newspaper titles", despite falling print circulation. No information has been revealed as yet about the performance of its website metered paywall, introduced in April 2013.
BBC News Division To Cut 500 Jobs: Neil Midgley at Forbes scored a major news media news scoop with his revelation that the BBC is to cut between 475 and 500 jobs from News, with a further 75 to 85 from Radio. The BBC is now indicating that this could be true.
BBC receives almost 1,200 complaints over Ukip election coverage: Talking of whom, The Guardian reports on the barrage of complaints sayig that it had been biased in favour of UKIP and/or Nigel Farage during the European and local elections. It also received 149 complaints that it was biased against UKIP.
Who's behind that tweet?: An interesting piece from Nieman Journalism Lab on how seven news organisations make use of Twitter and Facebook: ABC News, AP, CNN, NBC News, The New York Times, USA Today, and The Wall Street Journal,
Can anonymity app Whisper become a viable news source?: How can a mobile app that lets its lets users post messages anonymously work as a news source? DigiDay asks Whisper's Editor-in-Chief Neetzan Zimmerman.
Journalists face threats to press freedom across Europe: Roy Greenslade at The Guardian lists some of the examples of threats to press freedom across Europe, from information gathered by Index on Censorship and Osservatorio Balcani e Caucaso.
Punch Historical Archive 1841–1992: This month Cengage Gale Learning will be publishing the Punch Historical Archive 1841-1992, containing every issue of the hugely influential British humour magazine Punch. It will be included in the Gale News Vault collection of historical newspapers, which is free onsite to all British Library users.
Newsquest launches responsive mobile platform for each of its 140 titles across England and Wales: Regional newspapers in the UK are getting that bit more responsvie and smart with Newsquest's launch of a mobile platform for such titles as Northern Echo, Southern Daily Echo and The Argus.
Virtual Newsroom: getting journalism done in a digital age: Sandra Oshiro writes for Poynter on the challenges and opportunities for a journalist working remotely for a news organisation.
Digital archive of Isle of Wights history goes online: The Isle of Wight County Press Archive has been completed, with more than 160,000 pages from 6,000 editions now online (as a subscription service) of the Isle of Wight County Press.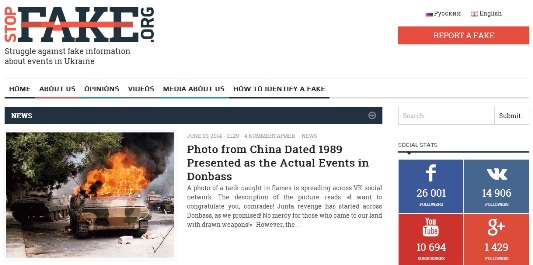 A Ukrainian factchecking site is trying to spot fake photos in social media — and building audience: Lydia Tomkiw at Nieman Journalism Lab has a good story on the success of Ukrainian fact-checking site StopFake. 30% of the donations the site receives come from Russia.
How the Kremlin is killing off the last of Russia's independent media: Russian-American journalist Masha Gessen reports for Quartz on the impending death of Russia's independent news media.
Media outlets love to use citizen journalism, but don't like to say where they got it or how: Mathew Ingram at Gigaom summarises a Tow Center report on the use of user-generated content by TV news organisations, including Al Jazeera, BBC World, CNN and France 24. It gets used, but it doesn't always get acknowledged - for various reasons.
The Art and Science of Data-Driven Journalism: Another Tow Center report, introduced by Alexander Howard, on the important trend towards data journalism, with 14 findings, recommendations and predictions, among which are:
Being digital first means being data-centric and mobile-friendly
Expect more robojournalism, but know that human relationships and storytelling still matter
More journalists will need to study the social sciences and statistics
Publishers: There's money in your archives: They are still going on about the New York Times' Innovation report (see previous St Pancras Intelligencers). Here DigiDay focusses on the report's complaint that insufficient advantage was being made of the newspaper's archives. "There may not be much money in reselling archived content, but at least it's not expensive to produce", says The Economist's Paul Rossi.
The news in India is all about the news: Handy piece from Quartz on news publishing in India.
India has 12,511 daily newspapers, 161 million TV households, some 2,000 multiplexes and 214 million internet users, according to a report by consulting firm KPMG, which estimates the size of the industry more than 1 trillion rupees ($16.9 billion) in 2014.
Who's Going to Buy The New York Times's New Opinion App?: The New York Times has lunched a $6-a-month app of its opinion columns, NYT Opinion. The Atlantic examines what's on offer.
Duchess to turn Hogwarts into school for cage-fighters: Thank you Daily Mirror for the headline of the week.
30 May 2014
Welcome to the latest edition of the St Pancras Intelligencer, our weekly round-up of news about news - stories about news production, publications, apps, digitised resources, events and what is happening with the newspaper collection (and other news collections) at the British Library.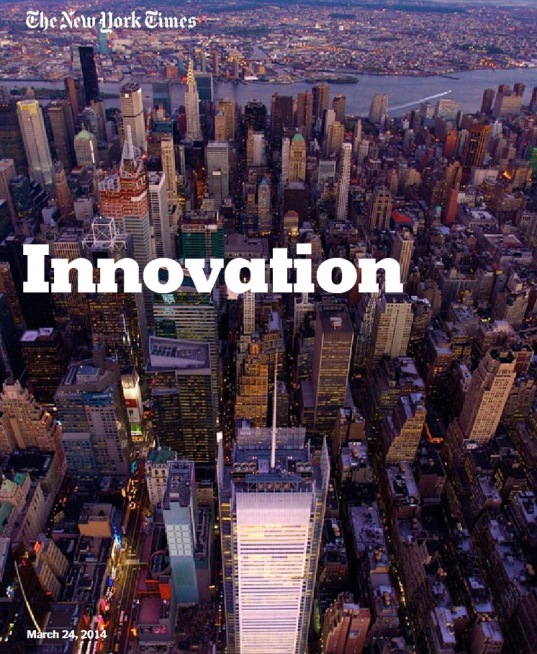 For the Times' innovation report to stick, its journalists need to be on board: Fascination with the leaked New York Times' digital innovation report continues unabated. Emily Bell from the Tow Center for Digital Journalism argues that journalists themselves are the crucial element behind any innovation plans.
The New York Times KPI's: In another piece on the NYT report, Frederic Filloux at Monday Note comes up with this thought-provoking quote: "In theory, the Times can get rid of print. Digital revenue far exceeds the cost of running the newsroom..."
The New York Times and innovation: are they asking the right question?: And there's more. George Brock points out that nowhere in the Innovation report does is say what journalism is, or that its authors graps that it is changing. He asks:
Is it actually possible for a big, mainstream newspaper to make the transition to being, principally, a digital platform for journalism? Not just make the transition slowly, painfully and with embarrassing mistakes but…not make it at all.
UK daily newspapers have doubled in price since 2004 and shrunk in size - no wonder sales are down: William Turvill at Press Gazette looks at the rise in cover prices for UK daily and Sunday national newspapers over the past ten years.
How Niuzly wants to put control into the hands of journalists: Journalism.co.uk reports on publishing platform Niuzly which  allows writers to sell their articles to readers on for individual micropayments.
Guardian launches redesigned app: The Guardian has issued a new version of its app, available across all Android and iOS phones and tablets running Android 4 and iOS 7, with increased personalisation features and incorporating the user-generated content platform GuardianWitness.
BBC issues new guidance for journalists on using Twitter: 'Don't do anything stupid': Sage advice after head of the BBC newsroom Mary Hockaday tweeted "#WhyImVotingUkip – to stand up for white, middle class, middle aged men w sexist/racist views, totally under represented in politics today", just ahead of the European elections. She subsequently took no part in the BBC's election coverage.
With Farage on the loose, broadcasters and newspapers must realise they are no longer king-makers: Reflecting on the results of said European elections in the UK, Ian Burrell at The Independent observes that the media's assumed power to influence voting (no UK national newspaper came out in support of UKIP) is waning.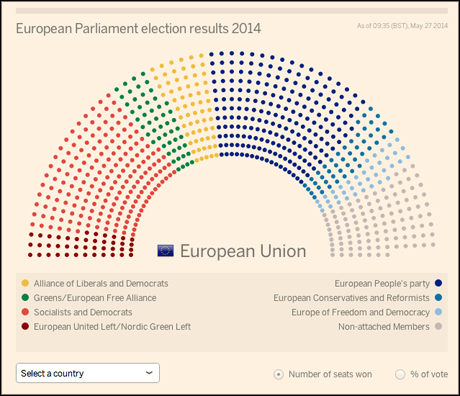 Screenshot from FT.com
7 engaging ways news outlets covered the European election: More on the elections for data visualization fans, from Journalism.co.uk.
Metaio unveils Thermal Touch technology for making user interfaces out of thin air: Let's face it, we're all still hoping for our newspapers to become fabulously interactive. German company Metaio may have made a significant step towards this by developing its 'Thermal Touch' interface concept which could make any surface a use interface through a combination of thermal imaging and augmented reality. Applications they see for this include newspaper ads with clickable links. We'll just have to wait five years until they develop it.
Watch Skype translate a video conversation in real time: Another potentially transformative technology is speech-to-text (coverting audio files into printed words), which could have a huge impact on the use of audiovisual news archives. Microsoft are applying the technology - along with translation software - to Skype. Watch the video on the Quartz site and ponder the possibilities.
Royal privacy row as German tabloid publishes picture of the Duchess of Cambridge's bare behind when her skirt blew up during Australia tour: Because it is news about news, we have to report the furore over the German magazine Bild's decision to publish a photograph of the Duchess of Cambridge's backside, and the decision by British newspapers not to do so. The Daily Mail report features a pixilated version of the image.
We're all aggregators now: Anyone can become a news publisher online simply by aggregating the news produced by others. Ann Friedman at Columbia Journalism Review comes up with three simple cardinal rules of being an ethical aggregator.
Preserving early periodicals and newspapers of Tamilnadu and Pondichery: The British Library's Endangered Archives Project has made 10,000 issues of rare periodicals from Tamilnadu & Pondicherry dating back to 1892 available online.
We just aggregated over 15.000 historical newspaper issues from Poland: More on digitised newspapers, which were already online but have now been incorporated in the Europeana portal. The Europeana Newspapers blog gives the background to these Polish additions.
John Humphrys offers advice to aspiring journalists: 'Don't do it': Today programme presenter John Humphrys tells Press Gazette he is advises not to go into journalism as a profession. "I am deeply pessimistic for the future of serious print journalism and I tell my own children and grandchildren to train for a profession where they're more likely to get a decent job with some hope of security". But Piers Morgan, Jon Snow, Ian Hislop, John Witherow and Kay Burley  and many others all disagree.
A journalist goes missing nearly every day in Ukraine: The week's most sobering news media statistic, from The Independent.
25 April 2014
Welcome to the latest edition of the St Pancras Intelligencer, our weekly round-up of news about news - stories about news production, publications, apps, digitised resources, events and what is happening with the newspaper collection (and other news collections) at the British Library. 
Graphic accompanying The Upshot's post 'Who will win the Senate? from its first issue
Here comes The Upshot, the new explanatory journalism effort from the New York Times: Exploratory journalism is the great craze among America's chattering classes, and this week the New York Times produced its rival to Vox and FiveThirtyEight. Mathew Ingram at Gigaom investigates.
The Upshot vs. Vox vs. FiveThirtyEight: A hands-on review of explanatory journalism: And from the source hand and the same source, a handy guide to the exploratory journalism phenomenon.
BuzzFeed: Cute cats and hard news? Ian Burrell at The Independent looks at Buzzfeed's ambitions to become a serious news providers (while still having a space in its New York offices called the NoNoNoNo Cat Room).
8 Digital Tools Every Journalist Should Try: A fascinating selection from Eric Newton of the Knight Foundation, including Creativist, Videolicious and Wickr.
FT favours one rule for itself, and another for everyone else, when it comes to press regulation: The Financial Times has decided to regulate itself rather than join the new Independent Press Standards Organisation (IPSO). Press Gazette asks why.
Ukrainian newspaper office burned down after threats: It has been a sorry week for respecting the rights of journalists and the press. The Newsroom of Ukraine's Provintsiya was burned down with Molotov cocktails, Pakistani news anchor Hamid Mir was shot and wounded, the trial in Egypt of the three al-Jazeera journalists continues, and American journalist Simon Ostrovsky from Vice was taken by militia in Eastern Ukraine. Happily he has now been released, as have been the four French journalists held captive in Syria for nearly a year.
Risk and Reporting: The Dangers of Freelance Journalism in Syria: Freelance journalist José Gonzalez provides a useful overview of the operations of freelancers in Syria: the risks, the questions and the imperatives.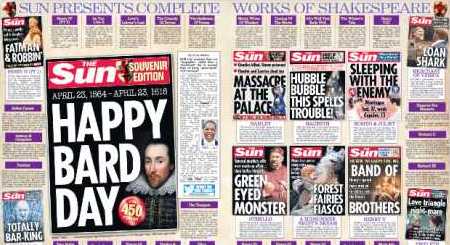 Happy Bard Day: Among the many newspaper tributes to William Shakespeare on his 450th, none matched  The Sun for wit, or surprise factor, with a classic spread containing potted summaries of all of the plays and spoof front pages: " "Massacre at the palace: Claudius killed, Queen poisoned. Hamlet and Laertes dead too ... Alas poor Yorick - skull found."
Four out of ten Britons think it was right to give Guardian a Pulitzer: Some might query whether four out of ten Britons have actually heard of the Pulitzer prize (or Edward Snowden for that matter), but a YouGov poll asked this question:
It was recently announced that The Guardian and US newspaper The Washington Post would receive the Pulitzer Prize, the biggest prize in US journalism, for their coverage of the NSA surveillance programmes as revealed by ex-CIA contractor Edward Snowden. Do you think it is right or wrong for the prize to be given to papers that publish stories like this?
and got these results: Right: 37 per cent; Wrong: 22 per cent; Don't know: 41 per cent.
Pathé goes to YouTube: There has been much rejoicing at the news that the British Pathé newsreel archive has been made available on YouTube. The Newsroom blog is pleased too, but asks some questions about how useful it is to historians in this form.
Blendle: Dutch news platform offers money-back guarantee: Not a week seems to go by without a new form of payment for online news being tried. Dutch government-funded news site Blendle asks you to pay for stories, giving you your money back if you are not completely satisfied.
How is user-generated content used in TV news?: A Tow Center report examines the ways television news organisations and online media companies employ user-generated content and finds much inconcistency of crediting, and use.
11 April 2014
Welcome to the latest edition of the St Pancras Intelligencer, our weekly round-up of news about news - stories about news production, publications, apps, digitised resources, events and what is happening with the newspaper collection (and other news collections) at the British Library.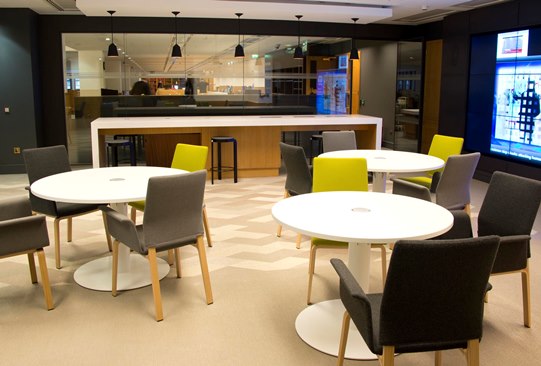 The Newsroom
Opening day: So of course the British Library tops the week's news about news with the opening on April 7th of the Newsroom, its new reading room for news. Newspapers, television news, radio news and web news can now all be found in the one physical space - though for newspapers that means microfilm and digital for now, until the print papers become available again in the autumn. It all looks very beautiful - and has a lot more people in it than in this photo taken just before it opened.
Shift 2014: It's all been happening here this week, with Newsworks, the marketing body for UK national newspapers, holding its Shift 2014 conference at the British Library. The live blog of the event includes reactions to star turns such as the editors of The Guardian (Alan Rusbridger), The Independent (Amol Rajan) and The Telegraph (Jason Seiken) and Sir Martin Sorrell, chief executive of WPP. Jason Seiken's speech is here.
Here & Then: And there's more. The British Newspaper Archive, which provides digitised copies of British Library newspapers online, has issued a free iPhone app, Here & Then, with articles, images and adverts from the collection. Oh, and 135,000 pages were added to the BNA site in March.
What will yesterday's news look like tomorrow?: Article of the week, by a mile. Adrienne LaFrance at Medium looks at the future of news archives, which focus on how they are catalogued and their data mapped for rediscovery in the future. "News organizations need to design archives that better mirror the experience of consuming news in real time, and reflect the idea that the fundamental nature of a story is ongoing".
The Press Freedom Issue: Contributoria, the community funded, collaborative journalism site, published a special issue on press freedom this month. Among the great articles available are Crowdfunding critical thought: How alternative finance builds alternative journalism, Court and council reporting - still a bedrock of local news?, Pirate journalism and The printing press created journalism. The Internet will destroy it. Read and learn.
News is still a man's world: A City University study reveals that male experts still outnumber female experts by a ratio of four to one on flagship radio and TV news programmes.
Has Thompson at the NYT given newspapers a new way to pull in extra cash and readers?: Mark Thompson, former BBC DG and now heading the New York Times, may have had a big idea - New York Times Premier, an added subscription to the online version of the newspaper, with additional content, offers (two free ebooks a month), even special crosswords. The Drum speculates.
Upvoting the news: long, engrossing article by Alex Leavitt for Medium on how news spreads across social media channels, with particular emphasis on Reddit.
The state of Egypt's news media: Al Jazeera's excellent news analysis programme The Listening Post looks at the "sorry state of journalism in Egypt".

A sample 'card' from Vox.com
Three good things about Ezra Klein's new site Vox, plus three challenges that it faces: The much-hyped Vox.com site, with celebrity news blogger Ezra Klein, launched on April 6th. Mathew Ingram at Gigaom says what he likes (especially the user-friendly 'cards' with background information to stories) then wonders how it will thrive.
Bristol Post editor baffled by fact that front page gay kiss costs thousands of sales: Press Gazette reports on what happened when Bristol Post editor Mike Norton decided to put same-sex marriage on his paper's front page.
'Video-checking' the Clegg and Farage debate: Fact-checking videos - where videos of speeches are analysed to see whether or not the statements made stand up - have been popularised by The Washington Post's Truth Teller. Now the fact-checking organisation Full Fact have done the same for LBC's Nick Clegg v Nigel Farage debate.
Peaches Geldof – was the coverage by newspapers, and TV, over the top?: Roy Greenslade ponders on what would have been proptionate news coverage for the sad death of Peaches Geldof.
More UGC, fewer photographers – and no paywalls:  Editors set out visions of future: Hold the Front Page reports on the Society of Editors Regional Conference, where likely changes to the regional newspaper world were set out: user-generated content, smaller offices, cover price rises,  no staff photographers, and no paywalls.
One easy, transparent way of making accuracy visible: open sourcing: George Brock argues that the way for news providers to build up trust is through links to source material - footnotes, sort of, though he prefers the term open sourcing. 
How some journalists are using anonymous secret-sharing apps: Using apps like Whisper and Secret to turn rumour into news.
We need to talk: Raju Narisetti, senior vice president of strategy at News Corp, poses 26 questions to ask news organisations about the move to digital. Fascinating insight into a business in transition.
The Newsroom blog recent posts
Tweets by @BL_newsroom
Other British Library blogs