27 February 2015
Here's the latest edition of the St Pancras Intelligencer, our now monthly round-up of news about news. So here are the highlights from February 2015. It's been a full month, what with one thing and another - Peter Oborne quitting the Telegraph, NBC's Brian Williams exposed, the Future of the BBC report, 10 million digitised newspaper pages, plunging circulations, and 64 ways t0 make a news homepage. Plus newspapers as poetry. Read on...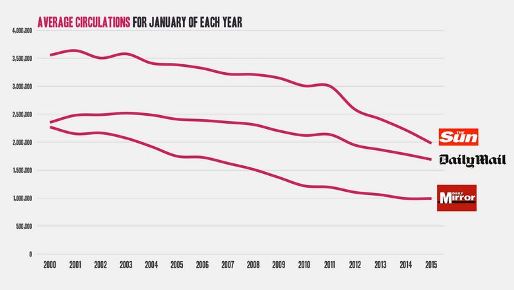 The UK's biggest newspapers are all dying: Graphic of the month from Dadaviz appears to say it all. As Roy Greenslade noted at The Guardian, regional newspaper titles are also suffering yet more substantial sales declines.
How the New York Times works: Terrific long article by Reeves Wiedeman at Popular Mechanics, with great illustrations, on how the New York Times gets published. Essential reading.
Why I have resigned from the Telegraph: Political commentator Peter Oborne quit the Daily Telegraph with this incendiary post from OpenDemocracy, in which he accuses the paper's owners, the Barclay Brothers, of suppressing reports about the HSBC scandal.
The Telegraph's promise to our readers: After Peter Oborne's explosive denunication of his former employers, the Telegraph came up with this much-commented-upon statement of principles.
Snapchat stories: Nieman Lab looks at how six news organisations are making use of the app whose messages disappear after your've read them. But, asks Mathew Ingram at Gigaom, are media companies building another house of cards on SnapChat?
Someone is handing out hand-drawn copies of The Guardian and no one knows why: Mysterious hand-drawn copies of The Guardian from four years ago were being handed out at London Bridge station. It turned out to be the work of artist Charlotte Mann.
Green Party's Natalie Bennett gives 'excruciating' radio interview: Natalie Bennett, leader of the Green Party, gave an agonisingly awkward radio interview for Nick Ferrari on LBC in which she struggled to answer basic questions about the party's economic policy.
NBC's Brian Williams recants Iraq story after soldiers protest: Scoop of the month came from American military paper Stars and Stripes, which revealed that NBC Nightly News anchor Brian Williams was not on board a helicopter hit and forced down by fire during the invasion of Iraq in 2003, as he had long claimed.
Brian Williams has gone, but false news is bigger business than ever: Emily Bell looks at the acceleration of untrue news stories in the web world, following the exposure of Brian Williams.
64 ways to think about a news homepage: Fantastic illustrated post from Melody Joy Kramer on different ways to present the news online - actual, or potential.
Cassetteboy remix the news: Irresistible mash-up of BBC news clips from the Cassetteboy remixing duo.
Jon Stewart to leave The Daily Show: Jon Stewart, host of Comedy Central's The Daily Show - an essential news source for many in America (and beyond) - is to step down.
Future of the BBC: The Culture, Media and Sport Committee's report Future of the BBC addresses the hot topic of the broadcaster's relationship with and effect upon regional newspapers, and comes up with these recommendations:
The BBC must not expect to receive others' news content without providing something in return. We are attracted by the idea of exchanges of content and information, where the BBC local websites link to the source of local material they have used, and in return the BBC allows others to use its content and embed BBC clips on their sites, where these would be of local interest, under a licence agreement. There need not be a financial transaction. However, we also see the case for the BBC outsourcing the supply of some local content on a commercial basis, where there is an ongoing requirement for such material, and it is a more cost-effective way of meeting this need. We recommend this be ensured by extending the BBC's independent production quota to cover local news.
Why is the BBC just so bad at TV news?: Meanwhile, a provocative opinion piece from Michael Church at The Independent, comparing the BBC News channel to Al Jazeera.
Fox News site embeds unedited Isis video showing brutal murder of Jordanian pilot: To show or not to show? Fox News chose to; The Guardian, reporting on this, and most other news sites, did not.
10 million newspaper pages are now fully searchable at the British Newspaper Archive: The British Newspaper Archive, which is digitising newspapers from the British Library's collection, has reached the magic milestone of 10 million digitised newspaper pages.
How about a search of only original news reporting on Google?: Hmm, interesting proposal from Jeff Jarvis, writing at Medium.
If UK newspapers wrote unhinged Twitter poetry: And finally, Journalism.co.uk offers us some poetic renditions of British newspapers, taken from their Twitter feeds, using the Poetweet site. Here's @MailOnline expressed in rondel form...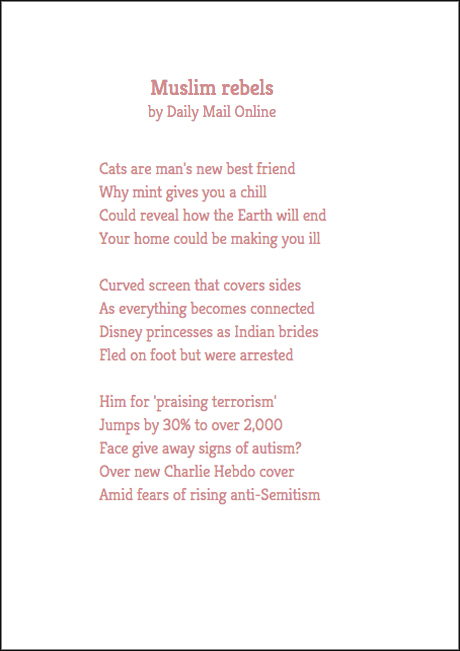 15 August 2014
Welcome to the latest edition of the St Pancras Intelligencer, our weekly round-up of news about news - stories about news production, publications, apps, digitised resources, events and what is happening with the newspaper collection (and other news collections) at the British Library.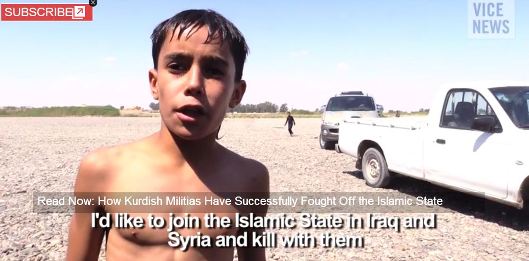 https://news.vice.com/video/the-islamic-state-full-length
The Islamic State: Medyan Dairieh scooped the world with his inside report on the Islamic State, the fruit of three weeks spent embedded with the group in Syria and Iraq. A notable coup for Vice News, the youth-oriented news service increasingly challenging the methods of the mainstream media companies. Originally released in five parts, linked here to the full forty-minute report (with some disturbing scenes, please note).
Print is down, and now out: David Carr's piece for the New York Times on how media companies are spinning off newpapers, which could be an indication of bad things for the medium, has been much discussed all week.
The persistent financial demands of Wall Street have trumped the informational needs of Main Street. For decades, investors wanted newspaper companies to become bigger and diversify, so they bought more newspapers and developed television divisions. Now print is too much of a drag on earnings, so media companies are dividing back up and print is being kicked to the curb.
See also Columbia Journalism Review's The great newspaper spin-off and Roy Greenslade's Will newsprint-only companies really hasten the demise of newspapers? On the other hand, News Corp's Robert Thomson announced ""We remain firm believers in the power of print", adding ""Print is a concentrated, intense reading experience with unique affinity in our digitally distracted age." So who really knows?
UK press coverage of the death of Robin Williams: The issue of tabloid and social media coverage of the suicide of Robin Williams is sensitively handled by David Banks at his Media Law blog.
Turning a profit in the Netherlands: How a Dutch hyperlocal network has grown: Joseph Lichterman at Nieman Journalism Lab on the success of Dutch hyperlocal website network Dichtbij.
The relentless trauma of covering Gaza: Jared Malsin at Columbia Journalism Reviews on how even seasoned war correspondents are feeling the impacts of witnessing continual civilian casualties.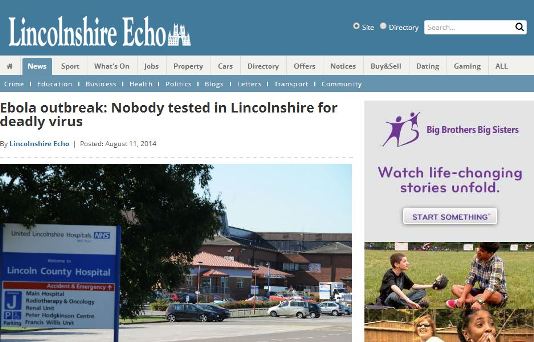 All quiet on the ebola front in Lincolnshire: Quite possibly the news story of the year, brought to the grateful residents of the county by the Lincolnshire Echo and noted by the Media Blog - though China's news agency Xinhua's confident assurance that "There is no evidence that coffee and onions cure Ebola" surely runs it very close.
6 things publishers need to know about UK media consumption, from Ofcom's latest report: They include the bald asertion that newspapers would not be missed by most of us: "just two percent of respondents saying a newspaper would be form of media they would miss the most", notes The Media Briefing.
Behind the BBC's interactive 'The rise of the Islamic State: Journalism.co.uk reports on the production of the BBC's innovative interactive video piece 'The rise of the Islamic State'.
160,000 newspaper pages added from 1787-1954: They continue to go full steam ahead at the British Newspaper Archive, adding 160,000 pages in July, including the London Evening Standard (for some years in the 1860s, please note), Glasgow's Daily Record and the Surrey Comet.
African American Newspapers, 1827-1998: A great new digital service just introduced into the British Library's Newsroom is this Readex World Newspaper Archive collection of around 270 US newspapers documenting the African American experience over a century and a half.
Graphic content: How media differ on use of Gaza images: BBC Monitoring shows how news organisations in different countries have approached the use of images about Gaza.
01 August 2014
Welcome to the latest edition of the St Pancras Intelligencer, our weekly round-up of news about news - stories about news production, publications, apps, digitised resources, events and what is happening with the newspaper collection (and other news collections) at the British Library.
Jon Snow has opinions, and they're fit for TV: Channel 4 News presenter Jon Snow's heartfelt account of the child victims in Gaza went viral this week. James Ball at The Guardian praises its sentiments, notes that such partiality would have probably breached Ofcom guidelines (the video was not shown on Channel 4 News itself, only its YouTube channel), and calls for more opinion to be allowed for broadcast journalists:
What then is gained by making people who have opinions withhold them? Journalists' views shape the questions they ask, the people they interview, the images they choose to show, and more. The current system requires those judgments, and the reasons behind them, to be hidden from the audience in a pretence of impartiality.
The conflict in Gaza has generated impassionated debate among academics and media practitioners around questions of bias, partiality and media control. Among these are Michael Chanan's Behind the news at Gaza at his Putney Debater blog, Justin Schlosberg's Media wars over Gaza at Open Democracy.net, Paul Mason's Why Israel is losing the social media war over Gaza for Channel 4 News, Surabhi Vaya at First Post, Gaza: How bias affects coverage of Israel-Palestine conflict, and Glenn Greenwald at Intercept, Terrorism in the Israeli Attack on Gaza. Some of the fiercest debate has been around the perceived role of the BBC. Ian Burrell at The Independent surveys this in With Charter Renewal on the horizon, complaints over Gaza are dangerous for BBC.
Net roots of BuzzFeed plagiarism: BuzzFeed apologised this week that one of its writers, Benny Johnson (now sacked) had been guilty of plagiarism - and provided links to all the affected stories. Dylan Byers at POLITICO puts the blame on the Internet, presssure of production and lack of journalism training (though in the same week The Times's tennis correspondent has been suspended after plagiarising work for a tennis yearbook and a reporter at the New York Times accused of copying from Wikipedia).
MH17: how Storyful's 'social sleuthing' helped verify evidence: Ben Carter at The Guardian on how News Corp-owned Storyful has been verifying content from Twitter and YouTube to get to the truth behind the shooting down of Malaysia Airlines Flight MH17.
Social media has changed the way that war reporting works - and that's a good thing: Mathew Ingram at Gigaom finds that the influence of social media on war reporting has made the news more personal, more chaotic, and more democratic.
Spain likely to pass 'Google Tax': Spain has approved a bill giving newspaper publishers the right to seek payment from any site that links to their content. TechDirt is sceptical, pointing out that a similar case in Belgium led to Google simply removing the affected newspapers from the local Google news, the result of which was the newspapers ended up asking to be let back in after they suffered a drop in revenue.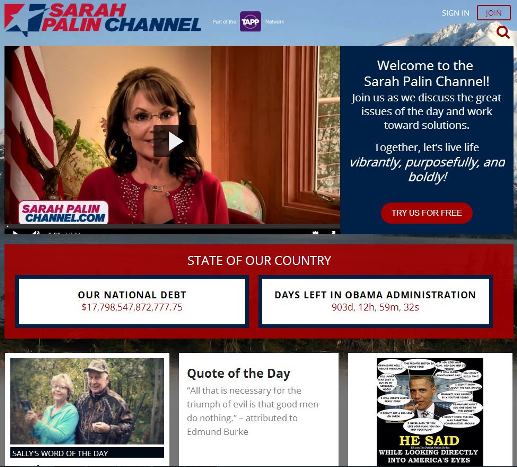 sarahpalinchannel.com
Sarah Palin's low-budget TV channel is pricier than Netflix: Sarah Palin has launched an online news channel, to widespread mockery. "We'll go beyond the sound bites and the media's politically correct filter to get to the truth," she promises. 
The newsonomics of how and why: Ken Doctor at Nieman Journalism Lab asks whether explanatory or data journalism (exciting much interest in the USA) can expand to cover news on a more local level.
Welcome to Storyline: Talking of which, though we're a bit late in reporting this, Washington Post has launched its own explanatory journalism site, Storyline.
At front lines, bearing witness in real time: David Carr at New York Times ponders what the impact is on us now that we can follow wars in real time, and the impact that it is having on journalists (including Anne Barnard at the New York Times, criticised by some for not tweeting from Gaza.
Drama in Crimea: From the days when war reports would take weeks to reach their public, but had a seismic effect once they did so, Roy Greenslade reviews a new collection, Battles in the Crimea, which gathers together William H. Russell's renowned reports for The Times on the Crimean war of 1854.
In 1858, people said the telegraph was 'too fast for the truth': Also on the theme of the speed by which information reaches us, Adrienne LaFrance at The Atlantic uncovers an 1858 New York Times article which complained that the telegraph brought the news too quickly too it public.
Superficial, sudden, unsifted, too fast for the truth, must be all telegraphic intelligence. Does it not render the popular mind too fast for the truth? Ten days bring us the mails from Europe. What need is there for the scraps of news in ten minutes? How trivial and paltry is the telegraphic column?
LaFrance points out how new technologies invariably upset our sense of time and control.
Boy, 4, has mark of devil: The Sun's bizarre choice of a front page story for 29 July 1914 ("A sinister Satan sign that mysteriously appeared on a four-year-old boy is proving a devil to explain") has generated reactions from bafflement to rage.
27 June 2014
Welcome to the latest edition of the St Pancras Intelligencer, our weekly round-up of news about news - stories about news production, publications, apps, digitised resources, events and what is happening with the newspaper collection (and other news collections) at the British Library.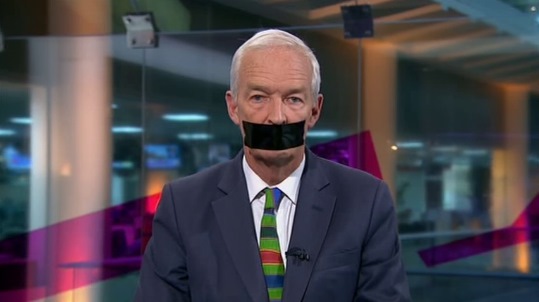 Jon Snow silenced. Screengrab from Channel 4 News tx 23/6/2014
Outrage as Egypt jails Al Jazeera staff: On Monday an Egyptian court sentence two Al Jazeera journalists to seven years in jail and one to ten years in jail for supposedly aiding the Muslim Brotherhood and producing false news reports of the situation in Egypt. Protests against the sentences handed down to Peter Greste, Mohamed Fahmy, and Baher Mohamed have been made worldwide, with journalists in many newsrooms taking part in a symbolic taping-up of mouths (as demonstrated by Channel 4 News) and the hashtags #journalismisnotacrime and #FreeAJStaff.
Inside the Rebekah Brooks and Andy Coulson Trial: At the end of the epic phone hacking trial former News of the World editor Andy Coulson was found guilty of a conspiracy to intercept voicemails, while former News International chief executive Mrs Brooks was found not guilty of conspiracy to hack voicemails, two counts of conspiracy to pay public officials and two counts of conspiracy to pervert the course of justice. The Drum's coverage of the phone hacking trial has been particularly interesting and clear in how it has presented the unfolding story.
Hacking trial verdict: Coulson guilty and Brooks cleared, but end of an era for the red tops: George Brocks' piece for Contributoria views the phone hacking trial verdict from an historical perspective and sees as marking the end of an era for the British tabloid press. From the same source, Steven Barnett says that the hacking trial was just round one in the fight to rescue journalism, while Richard Sambrook writes on how the hacking trial highlighted the cosy relationship between politicians and the press.
No ordinary newspaper: A good overview of the News of the World and how the hacking trial came about and unfolded from Dominic Casciani for BBC News Magazine. 
Everything You Need To Know About The Phone Hacking Trial: Or else sample Patrick Smith's handy Buzzfeed guide.
How many media academics does it take to work out what's going on?: A pithy analysis from David Hepworth on why reading news on a screen is not the same as reading as newspaper, and how we are never going to go back to such habits:
It's no longer anything to do with the news the papers happen to provide, which is what the world of media academics spends its time fretting about. It's entirely a question of how users behave. Tech understands this, which is why it changes its products all the time in response to the way they're used. No wonder it's stolen the media's lunch.
Digital news as popular as newspapers for first time: So here's the tipping point - 41% of people in the UK are using online news sources while 40% use newspapers, according to Ofcom's News Consumption in the UK report. But TV news remains by far and away the most used (75%).
CNN to study drone use in newsgathering: Are drones the future of newsgathering? CNN is investigating its further use and regulation, while concerns remain in the US over its legality.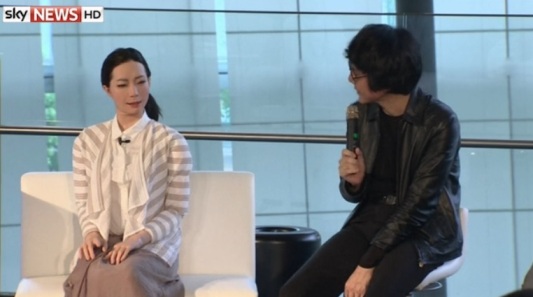 Kodomoroid (she's the one on the left), from Sky News
Android Anchorman: robot newsreader unveiled: More from the world of robot journalism, and Sky News reports on Kodomoroid, a Japanese invention claimed to be the world's first newsreading android (does no one remember Ananova?).
Who will produce stories for the Mail to copy if it drives its rivals to the wall?: News Corp has been protesting at the Mail Online's launch in Australia, with its practice of reusing others' news stories ('churnalism'). Roy Greenslade points out that 'copy theft' is nothing new in newspaper journalism, but wonders if the logical extension to the culture of re-use is ultimately self-defating, as the title of his piece indicates.
Mail Online stays top with 11m daily browsers: Meanwhile, Mail Online remains far and away the most popular UK news site, with just over 11m daily global browsers per day. Press Gazette's report on the latest ABC figures shows that all national newspaper websites which had figures available showed strong year on year growth in May, with Metro the fastest growing newspaper website audited by ABC.
Newsnight really doesn't make the weather any more: A sharp piece from Peter Preston at The Observer on how too much of current affairs television is failing to reinvent itself for the digital world.
No, the media didn't ignore your anti-austerity march – it just wasn't that interesting: There was much disappointment - and suspicion - among those involved in the anti-austerity march in London that it was little reported, despite going past the BBC on the march route. Some interesting questions arise about who decides what the news is, but The New Statesman isn't too impressed by the conspiracy theories.
Is Fox News more dangerous thatn ISIS?: Russell Brand was a speaker at the anti-austerity march. What has gained rather more attention has been this impassioned tirade on his YouTube account against Fox News commentator Judge Jeanine Pirro who called for the bombing of the ISIS insurgency in Syria and Iraq. Polemic of the week.
James Harding: BBC wants to work with regional press to 'drive the revival of local journalism': BBC news head James Harding, speaking at the Revival of Local Journalism conference in Salford, outs out the olive branch.
Guardian for Glass: The Guardian has been quick off the mark in providing an offering for the wearable technology. Guardian for Glass will provide headline news stories from its various international editions and breaking news notifications. Oh brave new world.
23 April 2014
The news that the entire British Pathé newsreel archive has been published on YouTube has made a huge impact. There have been news broadcasts, web news and newspaper reports, and the story has spread widely across social media, which is very much was British Pathé wanted. 85,000 videos, or 3,500 hours of film ranging from the 1890s to the 1970s has been made freely available on YouTube via http://www.youtube.com/user/britishpathe. This is very good news, of course, but for researchers it is good to know some of the background history, and to ask some questions about what we have in the form in which we have it.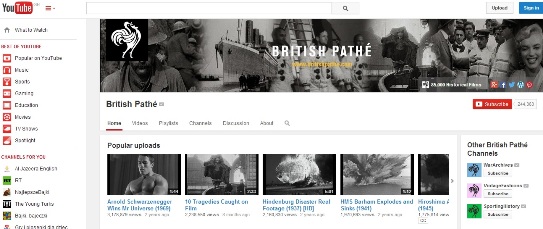 http://www.youtube.com/user/britishpathe
The Pathé Frères company was formed in France in 1896 by the brother Charles and Émile Pathé. Initially marketing  sound and motion picture products, the company gradually became dominant in the world film business before the First World War. It set up many subsidiaries, including a British office established in 1902, which turned to newsreel production in 1910. Pathé in France had come up with the idea of a reel of news stories, issued on a regular basis, much like a newspaper, in 1908. The British version was called Pathé's Animated Gazette, then Pathé Gazette, continuing under that title until 1946 when it became Pathé News, under which name it continued until its demise in 1970. 
Newsreels were a common feature of cinema programmes in Britain from the 1910s to the 1950s, when they started to die out on account of the competition from television. Alongside Pathé, there were British Movietone News, Gaumont-British News, Universal News and British Paramount News, as well as several other, shorter-lived newsreels. They served up British and world news, with a strong emphasis on entertainment through subjects such as sport, celebrity, royalty and the quirly side of life, though they could treat politics and social issues with a deft populist touch. They were hugely influential in how the twentieth-century mass audience understood its changing world.
The newsreels were issued twice a week, so between 1910 and 1970 Pathé produced over 6,000 issues of its main newsreel, as well as several ancillary magazine series such as Pathé Pictorial and Pathétone Weekly. It also served as a distributor for films made by other companies, and all of these films ended up in its archive.  There were other branches of Pathé, involved in feature film production and distribution, but they were separate from the newsreel operation, and their films are not held in the archive.
When the newsreels ceased to be a viable concern in the cinemas, they turned into footage libraries, serving the television market, in particular history programmes. This is a precarious business, particularly for a company no longer producing new films, and with a shrinking market for black-and-white footage. The archive was bought and sold several times, being owned by EMI for a time, then by the Daily Mail and General Trust, acquiring the name British Pathé in the process. It is now owned by an indepedent media company operating under the name British Pathé.
Review of the Year (Pathé News, issue 46/104, release date 30 December 1946. Pathé issued annual reviews of the year. This one for 1946 gives a good idea of the newsreel's typical content and has the added bonus of a sequence showing British newspaper editors who helped make the selection of stories for the review.
In 2002 the British Pathé archive was digitised and made available online for free thanks to a grant from the Heritage Lottery Fund, which supplied half the funding necessary. The deal was that the archive would remain freely available online for three years (including the facility to download low resolution copies), before the company could decide to charge if its wished, but in practice that didn't happen and its has remained free ever since. The entire archive has been available online to all for the past fourteen years, via http://www.britishpathe.com, so although the YouTube announcement is great news, there is nothing new that it being offered in terms of content. It is simply British Pathé opening up its existing online collection through a new platform.
British Pathé has been imaginative in how it has kept interest alive in its collection and ensured its relevance. It has done a special deal with the BBC for use of its footage, so that Pathé clips have become a regular occurence on BBC news and magazine programmes, and BBC4 produced a much-repeated four-part series The Story of British Pathé, which explored the history revealed by the British Pathé archive. Most recently it has made dynamic use of social media, with a strong Facebook and Twitter presence. The YouTube development will further spread their brand and use of the collection, making Pathé shareable, embeddable, relevant and fun. What was viewed as a quaint medium from cinema's past towards the end of the twentieth century now finds itself at the heart of communications in the twenty-first. There has been some very smart thinking going on.
However, there are some problems. The British Pathé collection has been around for over one hundred years, and has seen many changes. Its footage has been re-used, reissued, re-edited at times. Films have been lost. Films have been acquired which had nothing to do with Pathé but ended up in the collection anyway. Catalogue records have not always been kept, and where re-cataloguing has taken place (British Pathé had a major re-cataloguing programme in the early 2000s) the results have been variable, and not always historically informative. In short, the archive has been developed as a film library, not as a resource for historians or other academics.
World Cup Final - England v West Germany (Pathé News, issue 66/61, release date 31 July 1966)
It is therefore necessary for the serious researcher to treat the British Pathé archive with some caution. Every newsreel was issued on a particular date, with an issue number, and that is how to identify a Pathé newsreel. Individual stories always came with a title (which appeared on screen), so one might identify a typical newsreel story as, for example, World Cup Final - England v West Germany (Pathé News, issue 66/61, release date 31 July 1966).
But not all films in the British Pathé archive come with such details, particularly for the First World War period, for which records of issues of the newsreels do not survive. So while many of the films from 1914-18 exists, it is often difficult to put a precise date to them, which dilutes their value as historical record. Then there are the many films from this early period which are in the British Pathé archive but which were never produced by Pathé. How can one judge the provenance of these? Often British Pathé itself has no idea where the footage came from. It is in their archive, so they use it.
Take this clip for example. It is a compilation of First World War films. Some of it may have been filmed by Pathé at the time, but not much of it. There are clips from the 1916 documentary feature The Battle of the Somme (certainly not produced by Pathé) mixed with dramatised recreations of trench warfare filmed in the 1920s for films which Pathé may have distributed. The films are all silent, so they have added music and a commentary by John Humphrys, further altering the films from their original context. It has some value as an emotive depiction of the horrors of war, but for the historian its provenance has been shot to pieces, and its use is nil.
Of course British Pathé is a business, not a resource built for historians, and the tools for the serious researcher do exist to help them pinpoint Pathé's archive in time and place. The News on Screen database of the British Universities Film & Video Council lists most Pathé news stories 1910-1970 with correct titles, dates and issue numbers, crucially linking the stories to others released inthe same issue (the British Pathé site itself often has the release data but doesn't bring together the separate stories into the form in which they were released). News on Screen also links the records to digitised production documents (such as commentary scripts) and to the films themselves on the British Pathé site. Regretably the same links are not available for the YouTube versions, and there is no link back from the YouTube versions to the British Pathe site (the YouTube description merely reproduce the British Pathé catalogue description without further identifiers).
So the British Pathé archive is going to enjoy a much higher profile, and its films will be discovered and enjoyed by many more people now that they are on YouTube. But the link with their historical reality is being diminished, as they are separated from their catalogue, and indeed are not easily searchable as a discrete archive unless one leaves YouTube and goes to News on Screen or the British Pathé website. Historians must therefore look that little bit further and make use of the tools and data available. These will demonstrate that the British Pathé archive is of great and illuminating historical value, even if questions must be asked about the veracity of some of what is on display. It is as relevant now as ever it was when it played in cinemas across the land to an audience of millions, when its news was not history but news.
Further reading:
11 April 2014
Welcome to the latest edition of the St Pancras Intelligencer, our weekly round-up of news about news - stories about news production, publications, apps, digitised resources, events and what is happening with the newspaper collection (and other news collections) at the British Library.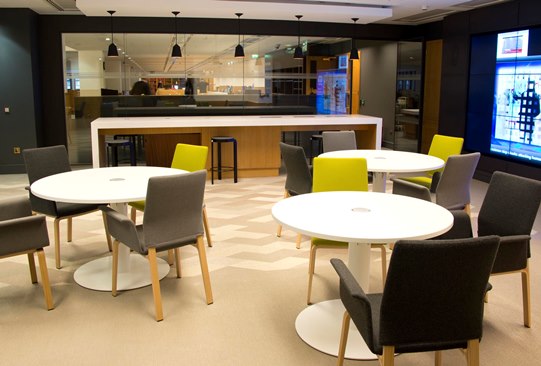 The Newsroom
Opening day: So of course the British Library tops the week's news about news with the opening on April 7th of the Newsroom, its new reading room for news. Newspapers, television news, radio news and web news can now all be found in the one physical space - though for newspapers that means microfilm and digital for now, until the print papers become available again in the autumn. It all looks very beautiful - and has a lot more people in it than in this photo taken just before it opened.
Shift 2014: It's all been happening here this week, with Newsworks, the marketing body for UK national newspapers, holding its Shift 2014 conference at the British Library. The live blog of the event includes reactions to star turns such as the editors of The Guardian (Alan Rusbridger), The Independent (Amol Rajan) and The Telegraph (Jason Seiken) and Sir Martin Sorrell, chief executive of WPP. Jason Seiken's speech is here.
Here & Then: And there's more. The British Newspaper Archive, which provides digitised copies of British Library newspapers online, has issued a free iPhone app, Here & Then, with articles, images and adverts from the collection. Oh, and 135,000 pages were added to the BNA site in March.
What will yesterday's news look like tomorrow?: Article of the week, by a mile. Adrienne LaFrance at Medium looks at the future of news archives, which focus on how they are catalogued and their data mapped for rediscovery in the future. "News organizations need to design archives that better mirror the experience of consuming news in real time, and reflect the idea that the fundamental nature of a story is ongoing".
The Press Freedom Issue: Contributoria, the community funded, collaborative journalism site, published a special issue on press freedom this month. Among the great articles available are Crowdfunding critical thought: How alternative finance builds alternative journalism, Court and council reporting - still a bedrock of local news?, Pirate journalism and The printing press created journalism. The Internet will destroy it. Read and learn.
News is still a man's world: A City University study reveals that male experts still outnumber female experts by a ratio of four to one on flagship radio and TV news programmes.
Has Thompson at the NYT given newspapers a new way to pull in extra cash and readers?: Mark Thompson, former BBC DG and now heading the New York Times, may have had a big idea - New York Times Premier, an added subscription to the online version of the newspaper, with additional content, offers (two free ebooks a month), even special crosswords. The Drum speculates.
Upvoting the news: long, engrossing article by Alex Leavitt for Medium on how news spreads across social media channels, with particular emphasis on Reddit.
The state of Egypt's news media: Al Jazeera's excellent news analysis programme The Listening Post looks at the "sorry state of journalism in Egypt".

A sample 'card' from Vox.com
Three good things about Ezra Klein's new site Vox, plus three challenges that it faces: The much-hyped Vox.com site, with celebrity news blogger Ezra Klein, launched on April 6th. Mathew Ingram at Gigaom says what he likes (especially the user-friendly 'cards' with background information to stories) then wonders how it will thrive.
Bristol Post editor baffled by fact that front page gay kiss costs thousands of sales: Press Gazette reports on what happened when Bristol Post editor Mike Norton decided to put same-sex marriage on his paper's front page.
'Video-checking' the Clegg and Farage debate: Fact-checking videos - where videos of speeches are analysed to see whether or not the statements made stand up - have been popularised by The Washington Post's Truth Teller. Now the fact-checking organisation Full Fact have done the same for LBC's Nick Clegg v Nigel Farage debate.
Peaches Geldof – was the coverage by newspapers, and TV, over the top?: Roy Greenslade ponders on what would have been proptionate news coverage for the sad death of Peaches Geldof.
More UGC, fewer photographers – and no paywalls:  Editors set out visions of future: Hold the Front Page reports on the Society of Editors Regional Conference, where likely changes to the regional newspaper world were set out: user-generated content, smaller offices, cover price rises,  no staff photographers, and no paywalls.
One easy, transparent way of making accuracy visible: open sourcing: George Brock argues that the way for news providers to build up trust is through links to source material - footnotes, sort of, though he prefers the term open sourcing. 
How some journalists are using anonymous secret-sharing apps: Using apps like Whisper and Secret to turn rumour into news.
We need to talk: Raju Narisetti, senior vice president of strategy at News Corp, poses 26 questions to ask news organisations about the move to digital. Fascinating insight into a business in transition.
04 April 2014
Welcome to the latest edition of the St Pancras Intelligencer, our weekly round-up of news about news - stories about news production, publications, apps, digitised resources, events and what is happening with the newspaper collection (and other news collections) at the British Library.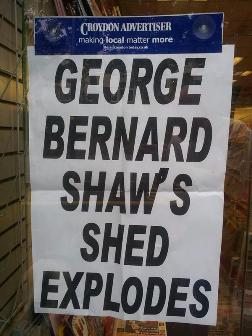 From The Poke via @jameshoggarth
45 local news stories that rocked the world: It started with Patrick Smith at Buzzfeed - now headlines from UK regional newspapers are fast becoming an Internet cult. The Poke collect 45 that show just why we love local newspapers so.
Against beautiful journalism: Thought-provoking article from Felix Salmon at the Reuter blog, who argues against the over-designed nature of some (mostly American) news sites. "Today, when you read a story at the New Republic, or Medium, or any of a thousand other sites, it looks great; every story looks great. Even something as simple as a competition announcement comes with a full-page header and whiz-bang scrollkit graphics. The result is a cognitive disconnect..."
How 3 publishers are innovating with online video: Journalism.co.uk looks at how Huffington Post, the Washington Post and BuzzFeed are taking different approaches to using video, as discussed at the FT Digital Media conference.
Harry Chapman Pincher: Perhaps the best-named journalist ever, certainly one of the most famous living British journalists, Chapman Pincher has turned 100 years old and is still writing. Nick Higham at BBC News profiles the man who became legendary for his espionage scoops.
Safeguarding the "first rough draft of history": How pleasant to have a history of newspapers (with thank yous to the British Library for its newspaper preservation work from Sylvia Morris at the excellent Shakespeare Blog.
In praise of the almost-journalists: A fine piece by Dan Gillmor at Slate on the distinctive contribution to online news made by advocacy organisations such as Human Rights Watch and Cato Institute.
News Corp boss brands Washington Post journalists 'high priests': Not such good times for journalists of the old school. The Guardian reports how News Corp's Chief Executive Robert Thomson feels that the Washington Post's journalists have failed to embrace the transition to digital.
Apple Adds Talk Radio And News To iTunes Radio Starting With NPR: iTunes Radio gets its first non-music offering with this team up with NPR (National Public Radio), Techcrunch reports.
Journalists increasingly under fire from hackers, Google researchers show: ArsTechnica reports that news organisations are increasingly being targeted by state-sponsored hackers.
The Evolution of Automated Breaking News Stories: Is this the future of news? Technology Review reports on how a Google engineer has developed an algorithm, Wikipedia Live Monitor, that spots breaking news stories on the Web and illustrates them with pictures. Now it is tweeting them.
Debugging the backlash to data journalism: Data journalism has been all the rage, so inevitably there has been a backlash. Alexander Howard at Tow Center provides a good overview of the phenomenon, its strengths and its limitations.
Taming the news beast: The Newsroom blog goes to an International Society for Knowledge Orgaization event on news archives and news metadata, and comes back thoughtful.
London Live – capital's first dedicated TV channel – takes to the air: The Evening Standard-backed TV channel went live on March 31st. Meanwhile, Jim Waterson at BuzzFeed provides an entertaining history of the last time someone tried to launch a TV station called London Live.
The Guardian crowned newspaper of the year at Press Awards for government surveillance reports: Press Gazette names all the winners at the Press Awards. Meanwhile, former Guardian columnist Glenn Greenwald has won the University of Georgia's McGill Medal for Journalistic Courage.
German officials ban journalist from naming his son #Wikileaks. No comment.
07 March 2014
Welcome to the latest edition of the St Pancras Intelligencer, our weekly round-up of news about news - stories about news production, publications, apps, digitised resources, events and what is happening with the newspaper collection (and other news collections) at the British Library.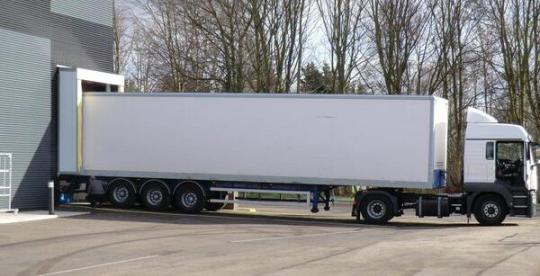 There's a long way to go, but the first lorry taking newspapers from Colindale, north London, to the British Library's Newspaper Storage Building, set off on March 4th. It'll take three such lorries every day for the next six months to move the entire collection to its new home.
7.5 million newspaper pages now online: Another milestone for British Library newspapers as the British Newspaper Archive reached 7.5 million pages available online (our target is 40 million).
Paparazzi! How an unloved profession has shaped us: Elizabeth Day at The Observer reports on a Paris exhibition dedicated to that most unloved (yet eagerly consumed)  part of news and magazine publishing, the paparazzi photographer.
Getty Images makes 35 million images free in fight against copyright infringement: Talking of photographs, here are 35 million of them, made available by Getty for  non-commercial usage by any one (the embedded images come with copyright information and link back to Getty). The British Journal of Photography explains why Getty is doing it. Doesn't work for Typepad though...
Reddit is having the same trouble as traditional media - defining what news is: Interesting piece from Mathew Ingram on how the use of moderators by Reddit is "no worse - and in some ways better - than that of a newspaper editor". The issue arose over a Glenn Greenwald piece entitled "How Covert Agents Infiltrate the Internet to Manipulate, Deceive, and Destroy Reputations", which Reddit decided didn't qualify as news.
Reddit embraces its role as a journalistic entity with new live-reporting feature: And more on Reddit from the same source, as it makes steps towards encouraging 'open source journalism' by allows users to create and update live blogs about breaking news events.
Can Greenwald's digital magazine Intercept help to reinvent journalism? Meanwhile, talking of Glenn Greenwald, here's Ben Cardew at The Guardian on First Look Media and its digital magazine The Intercept, aiming to reinvent journalism for the digital age, with Greenwald signed up as a contributor.
Russian propaganda and Ukrainian rumour fuel anger and hate in Crimea: Shaun Walker at The Guardian shows how the Russian's media's version of events in the Ukraine is fuelling hatreds. Meanwhile, not one but two American journalists working for the American version of Russia Today (now known as RT) have declared their opposition to reporting the Kremlin line, one of them resigning on air.
Propaganda, or the other side of the story?: But there is always the other side of things. Jay Pinho at The First Casualty looks at the sullied background of some of those who have been gleefully reporting the RT resignations.
Susanna Reid quits BBC for ITV as Daybreak is axed: A nation reels.
Newsweek makes its print return this week in the US and, soon, in Europe: When the US journal Newsweek went digital only, it was seen as a harbinger of doom for print journalism. Now it's is coming back in print, what are we to think about the future for digital age journalism?
Washington Post expands fact-checking project — and not just to movie trailers: Truth Teller is a Washington Post fact-checking platform in which ahows videos of speeches by politicians and the like, then runs text commentary underneath saying whether their assertions are true or not.
Business as usual on Page 3 as critics round on The Sun's breast cancer campaign: The Sun's Page 3 v Breast Cancer campaign does not impress the campaign site No More Page 3: "[W]e can't help but feel that it's a real shame the Sun has decided to use these sexualised images of young women to highlight breast cancer. They will say that they want to use the power of page 3 as a force for good – we say that a society in which sexualised images of young women are seen as that powerful has to change."
161 years a mistake: The New York Times solemnly referenced an article from 20 January 1853 in its Corrections column, noting that the name of Solomon Northup (subject of the Oscar-winning film 12 Years a Slave) had been misspelt twice.
28 February 2014
Welcome to the latest edition of the St Pancras Intelligencer, our weekly round-up of news about news - stories about news production, publications, apps, digitised resources, events and what is happening with the newspaper collection (and other news collections) at the British Library.  
With You All the Way: This totally charming local newspaper TV advertisement has been produced by  Weekly Independent Newspaper Association (WINA) which represents small independent local publishers, headed by Tindle Newspapers and backed by the Newspaper Society.

The future of the news business: Marc Andreessen's optimistic piece has been much shared and much discussed. "I am very interested to see how Journalism with a capital J can maintain its reputation for truth and accuracy versus upstart blogs and Wikipedia. For Journalism  – big J – the stakes  are very high if that reputation is lost. But it may be that all journalism wins. Maybe we are entering into a new golden age of journalism, and we just haven't recognized it yet.  We can have the best of all worlds, with both accuracy rising, and stories that hew closer to truth."
Is it 'too trivial' for complex geopolitical stories to use same techniques as for horses that look like Miley Cyrus?: Another much shared piece on the nature of news today from Emily Bell, specifically on how graphic images on social media could be a valuable way to make foreign news more accessible. "A serious challenge to the mainstream press is increasingly coming from new entrants who understand the mechanisms used for conveying mass market trivia and are adapting them to more serious issues. PolicyMic – a New York start-up run by Chris Altchek and Jake Horowitz – Vice and Buzzfeed are bringing a far younger audience to Venezuelan politics, Ukrainian riots and inequality."
Vice News, where video works: And so Dylan Byers at Politico reports on the beta invite-only launch of Vice News, a new video service from Vice, "the CNN for Generation Y".
St. Bride's Thanksgiving Service: To help mark the 150th anniversary of the Journalists' Charity, Sky News' Alex Crawford gave this funny, thoughtful address on her profession and why those like her pursue it. "To make a difference,  to have adventures, to expose lies, to hold Governments to account, to bear witness, to take on authorities all over the world, to educate, entertain, enchant, enthrall ... To have fun ..."
Why are all the House of Cards journalists so bad at journalism?: James Ball at The Guardian pokes fun at his small screen rivals.
The year most news home pages looked the same: The Atlantic notices that Bloomberg looks like NBC looks like New Republic looks like Vox Media looks like The Atlantic...
#newsVANE at BBC News Labs: It may sound like it's for techies only, but the work BBC News Labs is doing on scalable reference tools and semantic referencing of news - essentially making digital news content more discoverable by making the most of the knowledge digital content has about itself - has great importance for how we'll be able to research news archives in the future. The project is called #newsVANE.
Seeking a Lead on News, Network Turns to Data-Mining Media Group: More on the importance of news data, this time for the production of news itself. The New York Times reports on tools that mine the Internet for news, and why major news providers (News Corporation, MSNBC, CNN) are teaming up with some smart digital start-ups (Storyful, Vocativ, Dataminr).
Upworthy details why it fact-checks every post: Upworthy says that it curates news stories rather than produce them, but that it believes in fact-checking for all that. So there's hope for the new news media - and its audiences - after all.
Piers Morgan is a victim of arrogance and his accent: Piers Morgan was sacked by CNN and the knives have been out for for the man for whom no one, but no one, seems to have a good word. Gavin Haynes at Vice may have had the knife that dug the deepest.
Harman and Ed Miliband need to rethink how they handle the Daily Mail: Roy Greenslade offers advice to those Labour politicians who once again have taken on the Daily Mail and lost, this time over a 1970s misalliance with a paedophile advocacy group.
Top tips for searching the newspapers: The British Newspaper Archive published a sensible list of searching tips for those new to newspaper archives in search of family history (or any other sort of history).
Regional dailies lose third of readers as cover price rises hit sales: Hold the Front Page reports on the gloomy picture painted for regional newspapers by the latest ABC circulation figures.
How digital growth is countering print decline in regional press: But looking at the sameABC figures Press Gazette sees digital green shoots of recovery.
And finally, BBC Look North presenter Caroline Bilton went viral this week. It's that sinking feeling:
07 February 2014
Welcome to the latest edition of the St Pancras Intelligencer, our weekly round-up of news about news - stories about news production, publications, apps, digitised resources, events and what is happening with the newspaper collection (and other news collections) at the British Library.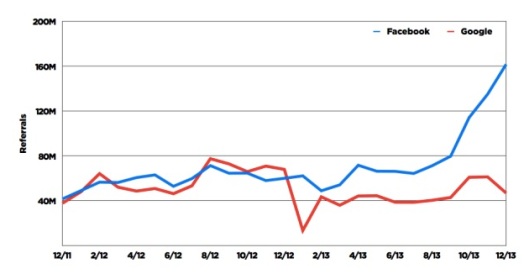 The year Facebook blew past Google: Peter Kafka notes how Facebook is now outstripping Google when its comes to referrals for Buzzfeed, which could have important implications for how web journalism works. Anyway, it's a great graph.
How I learned to stop worrying and love bite-sized news: Josh Stearns looks at short-form news services like Instafax, Circa and NowThis News and reckons they have their part to play in how we find news - "sometimes small pieces loosely joined can add up to more than the sum of their parts".
How the BBC and Guardian are innovating on Instagram: More on the use of Instagram by news outlets, with Rachel Bartlett reviewing Instafax and GuardianCam.
Help us improve the British Newspaper Archive: The BNA has a survey, asking you how you use the historical newspapers site and what you would like to see more of.
News Archive Connected Studio: Interesting things are being plotted at the BBC to open up its news archives. Peter Rippon reports on ways they might connected news archive to audiences.
UK Parliament considers allowing secret courts to issue orders to seize reporters' notebooks: The Deregulation Bill could lead to the seizure of journalists' notebooks, photographs and digital files in secret hearings, as opposed to open court as is the case now. Cory Doctorow is alarmed.
The secret to having a successful paywall around your news is simple - it's about community: Mathew Ingram looks at the success of Dutch crowdfunded journalism site De Correspondent, which is bringing in almost $2M per year in subscriptions.
News UK boss critical of Mail and measurement: It's been a week where those who see paywalls as the future of news journalism have been having their say. The Media Blog reports on Mike Darcey, CEO of News UK, criticising the Mail Online business model:
The Mail Online is the embodiment of the school of thought which says flooding the internet with tacky clickbait to attract huge audiences can be profitable while Darcey is clearly a man who believes in ringfencing smaller, more identifiable audiences behind paywalls, such as those imposed on The Sun and The Times.
Tim Franklin, incoming president of the Poynter Institute likewise praises the paywall models of the New York Times and the Wall Street Journal.
Have 24-hour news channels had their day?: This Guardian piece by Richard Sambrook and Sean McGuire makes some familiar arguments against 24-hour TV news (filling time when there is no news, becoming out-dated by social media, not really 'live' etc). Sky News' Adam Boulton tweeted angrily in response: "@sambrook's @mediaguardian blog on 24hr news: shoddy inaccurate generalizations timed for @SkyNews 25th but can hardly bear to mention us".
The Syrian opposition is disappearing from Facebook: Facebook's decision to shut down some pages of Syrian opposition has "dealt  significant blow to peaceful activists who have grown reliant on Facebook for communication and uncensored—if bloody and graphic—reporting on the war's atrocities", reports Michael Pizzi at The Atlantic.
How do hyperlocals contribute to local democracy and what do they need?: Those watching new news trends in the UK are excited by the hyperlocal trend for community-based websites. The Creative Citizens project at at Cardiff University and Birmingham City University has launched a survey aiming to learn more about the pratice and needs of neighbourhood websites.
Over one million TV and radio programmes now available for education: Previously we used to be thrilled when thousands of items were released online - now everyone seems to deal in millions. So one million TV and radio programmes are now available from the UK higher education service BoB National, thanks to collaboration with the BBC. Not available to general users though, alas.
The Newsroom blog recent posts
Tweets by @BL_newsroom
Other British Library blogs