Botanical discoveries and beastly bungalows
RHS National Gardening Week seems a good time to highlight the work of East India Company botanists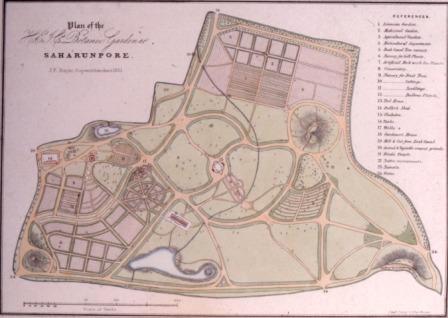 such as John Forbes Royle who from 1823 was Superintendent of Saharanpur Botanic Garden, located about 1,000 miles west of Calcutta. He was part of a network of people collecting and describing plants, managing botanic gardens and experimenting with plant transfers, often in difficult conditions. Their work led to changes to agricultural production in India and the introduction of new plants to British gardens.
Royle's article in the Journal of the Asiatic Society (1832) tells us that as well as appreciating the aesthetic qualities of plants, he valued botany for its usefulness to medicine and for developing new sources of food and economic products. He believed that the practical benefits of botany could only be realised if underpinned by a sound knowledge of the distinguishing characteristics of plants and an understanding of their geographical distribution and the implications of that for their requirements for healthy growth. He took advantage of Saharunpur's elevated position to experiment with growing plants that could not cope with the hotter conditions at the parent institution in Calcutta.
Royle lacked time to do much plant-hunting himself so he used his gardeners and his contacts with shawl merchants to acquire new specimens, using the knowledge he gained to compile his Illustrations of the Botany and other Branches of Natural History of the Himalayan Mountains and the Flora of Cashmere. The herbarium he developed was sent to Britain and I believe it is now in the care of Liverpool Museums.
Royle spent much of his own money on acquiring books to support his studies and rebuilding his home, which also housed his herbarium, as "the Garden Bungalow from being thatched and built of mud, swarmed with white ants and reptiles of every description". The East India Company provided him with a modest salary and practical support, but declined to cover these additional expenses, despite Nathaniel Wallich, Superintendent of the Calcutta Botanic Garden, putting in a heartfelt plea on Royle's behalf. Despite his disappointment about the lack of financial support, Royle seems to have continued his botanical career with undiminished enthusiasm.
Penny Brook
Lead Curator, India Office Records
Images are from Illustrations of the Botany and other Branches of Natural History of the Himalayan Mountains and the Flora of Cashmere Vol II
India Office Records sources relating to botany are listed in R Axelby and P Nair Science and the changing environment in India 1780-1920: a guide to sources in the India Office Records
Images of selected collection items relating to Nathaniel Wallich and the Calcutta Botanic Garden are available online
Catalogues of the India Office Records, which include the archives of the East India Company are in SOCAM
Explore the British Library to discover the British Library's printed collections