Whatever happened to Eliza Armstrong?
One hundred years ago William Thomas Stead died in the Titanic disaster aged 62.  He had enjoyed a long career as a journalist and newspaper editor, campaigning on political and social issues. 
   W T Stead © UIG/The British Library Board    BL Images Online 
In November 1885 Stead was sentenced at the Old Bailey to three months' imprisonment for his part in the Eliza Armstrong case. He had intended to highlight the scandal of child prostitution by arranging to buy 13-year old Eliza for £5 from her mother through an intermediary Rebecca Jarrett.   The story of the sale of 'Lily' was published by Stead in the Pall Mall Gazette in 'The Maiden Tribute of Modern Babylon'.
Eliza was the daughter of Charles Armstrong, a chimney sweep, and his wife Elizabeth who lived in Charles Street, Marylebone. The street was rebuilt and renamed as Ranston Street in the late 1890s. It survives today as a cobbled backwater of terraced cottages near the Edgware Road.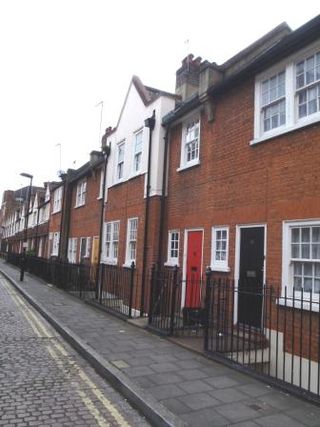 Ranston Street today - author's photograph
What happened to Eliza once the Old Bailey trial was over?  From census records, it appears that she forged a new life far away from her family.  In 1891 an Eliza Armstrong aged 19 and born in London was a nursemaid in the household of architect Charles Clement Hodges in Hexham Northumberland.  In 1893 Eliza Armstrong married Henry George West, a plumber and gas fitter born in Islington, London.  Eliza and Henry settled in South Shields and the 1901 census shows  three children: Alice Maud Mary aged 5, William Frederick 3, and Sybil Primrose 9 months. 
Henry George West died in 1906 aged 42. By 1911 Eliza had become the wife of Samuel O'Donnell, a lead worker from Donegal.  They were living in Jarrow with three West children (May 15, Henry 6, and Reginald 4); their own children (Maurice 2, and baby Frederick); and two lodgers.  A 10-year-old Sybil West was a pupil at the National Children's Home in Alverstoke Hampshire. 
UK birth registers suggest that Eliza and Samuel had two more children: Minnie (born 1913) and Norman (born 1915).  For these births the mother's maiden name is given as Armstrong.
Eliza was widowed for a second time when Samuel died in 1917 aged 48.  The death of Eliza O'Donnell at the age of 66 is recorded in County Durham in 1938.
Can anyone confirm that this is indeed Eliza's story?  According to Alison Plowden's book, Eliza wrote to Stead saying that she was married to a good man and had six children. Did she ever talk to her family about her childhood encounter with Stead and the experience of giving evidence at the Old Bailey? If you know, please get in touch!
Margaret Makepeace
Lead Curator, East India Company Records
Further reading
Alison Plowden, The case of Eliza Armstrong 'A child bought for £5' (London, 1974)
The Maiden Tribute of Modern Babylon: The Report of the "Pall Mall Gazette's" Secret Commission (1885)
Contemporary news reports in The British Newspaper Archive
Search for books in the British Library by and about W T Stead