Queens of the Silver Screen
As promised in the Untold Lives posting of 21 May featuring Engelbert Humperdinck and Cliff Richard, here are more revelations about celebrities from the world of entertainment.
It is a curious fact that during the second decade of the twentieth century no fewer than four baby girls were born in different parts of India who in their adult lives were to find enduring fame on the silver screen. Their birth and baptismal details can be traced in the 'N' series of the India Office Records, that treasure trove of genealogical data about Europeans who were born, married or died somewhere in the sub-continent prior to independence in 1947.  
 
The eldest of the quartet came into the world as Estelle Merle Thompson in Bombay on 18 February 1911 (IOR/N/3/105 f.27). As Merle Oberon, she starred in films such as The Private Life of Henry VIII (1933), The Dark Angel (1935) and Wuthering Heights (1939). Her nickname 'Queenie' is thought to derive from the visit of Queen Mary, along with her husband the King Emperor George V, to India for the Delhi Durbar when she was less than one year old.
 
The 'V. Mary Hartley' born in Darjeeling in Bengal on 5 November 1913 to new parents Ernest and Gertrude (IOR/N/1/392 f.165) is the only Oscar winner of the four. She was to leave the country of her birth in 1920 to be educated back in England and, taking the surname of her first husband, gained cinematic immortality as Vivien Leigh in Gone With The Wind (1939) and A Streetcar Named Desire (1952). She won the coveted statuette for her performances in these two films.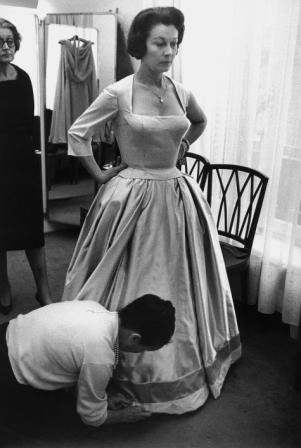 Fashion designer Pierre Balmain and Vivien Leigh, during a fitting in Paris,1960. Images Online
 
A mere six months separate the births of Margaret Lockwood and Googie Withers, on 15 September 1916 and 12 March 1917 respectively (IOR/ N/3/116 f.210 and IOR/N/1/420 f.210). Margaret Mary Lockwood was born in Karachi the daughter of Henry Lockwood, a District Traffic Superintendent on the North Western Railway. Edgar Withers served as an officer in the Indian Navy (IOR/L/MIL/16/4 ff.336-7), although by the time of his daughter Georgette Lizette's birth in Mussoorie in the United Provinces he had transferred to the Intelligence Department. This is almost certainly the Indian Political Intelligence Department (files in IOR/L/PJ/12). We know that the professional paths of the two actresses crossed on at least one occasion: Margaret Lockwood has the more important part in Alfred Hitchcock's classic film The Lady Vanishes, but Googie Withers takes one of the minor roles as her friend. It is perhaps not too fanciful to imagine the two of them reminiscing between takes on set about their different childhood experiences of India.   
 
Dorian Leveque and Hedley Sutton
Reference Specialists, Asian and African Studies