A Portrait of the Librarian as a Young Man
Humfrey Wanley (1672-1726) is a familiar figure to those who use the Harley Collection of manuscripts now in the British Library as the librarian employed by Robert and Edward Harley, who acquired these manuscripts around the turn of the 18th century.  Some of his catalogue descriptions are reproduced in the Catalogue of Harleian Manuscripts in the British Museum, and his diary and letters from his time as Harley librarian are important sources for fixing the provenance of Harley manuscripts.
The first page of another of Humfrey Wanley's teenage notebooks, dated August 1687 when Wanley was 15; from Harley MS 6030, f. 2r
In some cases, however, Wanley not only curated the manuscripts of his patrons, he created his own.  In Harley MS 7578, between pages of Chaucerian ballads and Middle English music, is a notebook of Wanley's, written in 1687, when he was only about 15 years old and employed as a draper's apprentice in Coventry.

Despite his day job in textiles, the notebook is that of an aspiring scholar, with a copied Latin vocabulary manual and explanations of Ancient Greek grammar, as well as notes on Latin meter and heroic epithets from Greek epic poetry. 

If such a personal reference book seems a bit blandly dutiful and studious for the future librarian, the last page of the notebook offers a more well-rounded view of Wanley's young life.  Apparently concerned about his budget, he has written out a record of his expenses: 'Moneys laid out by me since I have been an Apprentice'.  Some of the entries are predictably bookish: ½d for parchment, 2d for candles, 2d for a 'pencil of black lead', and a total of 5 ¾d for ink and quills.  Probably also to be counted among his stationery supplies are vermilion (1d), blue bice (2d), and the romantically-named sanguis draconis, or 'dragon's blood' (on which Wanley spent 2 ½d over three separate purchases), all pigments used in inks.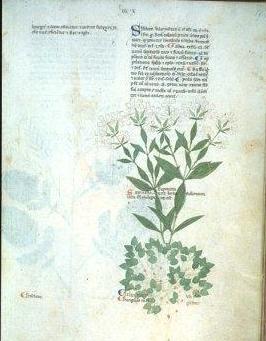 Miniature (below) of sanguis draconis ('dragon's blood');from Tractatus de herbis, Italy (Salerno), c. 1280-c. 1310,
Egerton MS 747, f.89r
It was not all work and no play for Wanley, though.  Other expenses include 2d spent on ale and 1s 'lost at Cards'.  And the single largest expense on the list?  2s, 'for seeing 2 plays'.  The notebook is not important for the texts it contains so much as it is for its window onto the life, entertainments, and scholarly ambition of a young Coventry apprentice.

Nicole Eddy, Intern in the department of History and Classics