French journalists and 'the greatest of all sedition-mongers'
In the wake of the Leveson Enquiry and discussions about the press, this story about French journalists' political activities in the Middle East provides food for thought. At the end of the nineteenth century Britain's position in the Gulf faced a potential threat from France's efforts to increase its influence in Oman. The strained relations between Britain and France were manifest in local press activity. In his Gazetteer of the Persian Gulf, Oman and Central Arabia, J.G. Lorimer tells the tale of a 'malicious press campaign against British proceedings in the Gulf'.  The culprit was thought to be Antoine Goguyer, a French arms dealer based in Muscat. According to Lorimer, Goguyer published anti-British 'tirades' in the French, Russian and Arabic press which 'showed bitter animus and an unscrupulous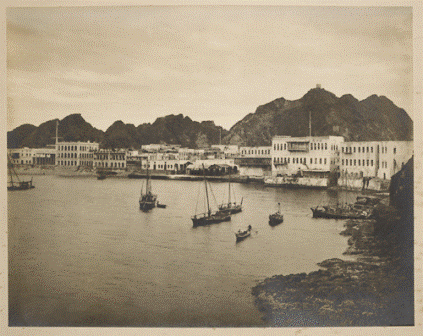 disregard of truth, but their style was pungent and some of them were undeniably witty'.
View of the waterfront at Muscat, Photo 206/(6)
© The British Library Board 

 British representatives and the Sultan of Oman eventually asked the French authorities to remove Goguyer. Although Goguyer had previously been in trouble with French officials in Tunis and Abyssinia, the authorities discreetly rebuffed the Sultan and Britain, claiming that he was 'not a man of violence, but an honest trader' but that in future he would be restrained from interesting himself in the internal affairs of Oman. Goguyer remained at Muscat and his anti-British activities continued into the early 20th century. 
© The British Library Board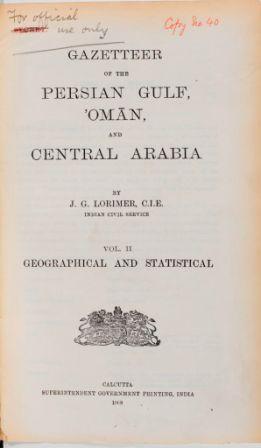 Lorimer also tells us about an Arabic newspaper purporting to be written by Muslims for Muslims, which was delivered free to a range of Islamic countries, with some copies being sent directly to their rulers. He says that 'British policy was represented in an odious light' and that the paper commonly used expressions such as 'the greatest of all sedition-mongers are the English' and 'dwelt exultantly on British discomfitures in any part of the world'. British attempts to intercept copies and prevent their delivery were often outwitted. The French connection with this newspaper came to light through the unfortunate experiences of Salim Qamri, son of a Zanzibar merchant, who took up an offer of employment made via the French Consul at Aden. He moved to Paris and worked on the newspaper as native editor, under M. Piat, formerly French Consul at Bushehr and now 'employed on special service' by the French Ministry of Foreign Affairs. Disliking the paper's methods of operation, Salim Qamri refused to work, was declared insane and confined to a lunatic asylum. With help from his Scottish missionary contacts, he appealed to the British Embassy in Paris, was released from the asylum and returned to Aden where he made a formal deposition about his experiences. The British Ambassador in Paris commented that although Salim Qamri's story was 'romantic and unusual it appears no invention or hallucination'. Of course, Lorimer talks only of French journalistic misdemeanours. It would be very interesting to know if anyone has discovered British journalistic malpractices recorded in French sources for the same period.
Lorimer's Gazetteer and thousands of documents relating to the history of the Gulf are being digitised and made accessible online as part of a major programme funded by the Qatar Foundation. Further information about this programme is available on the Library's press pages.
Penny Brook, Lead Curator, India Office Records