Japan400
2013 is the 400th anniversary of the establishment of trading relations between the English East India Company and Japan.  Captain John Saris in the Clove arrived at Hirado in June 1613. His mission was to deliver a letter and gifts from King James to the Emperor, with the aim of opening up diplomatic relations and securing permission to trade.  A factory, i.e. a trading post, was set up in Hirado. When Saris and the Clove sailed away in December 1613, seven English merchants were left behind: Richard Cocks, Tempest Peacock, Richard Wickham, William Eaton, Walter Carwarden, Edmund Sayers and William Nealson.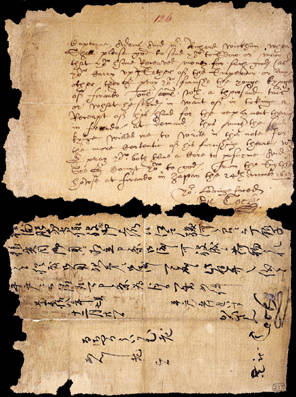 Letter from Richard Cocks at Hirado to William Adams and Richard Wickham at Edo 24 Dec 1613 IOR/E/3/1 no.126 


There was an Englishman already living in Japan to meet Saris and the merchants.  William Adams of Gillingham was serving on the Dutch ship Liefde when it was wrecked off the coast of Japan in 1600.  Adams, known to the Japanese as 'Anjin' (Pilot), became a confidante of the Shogun and came to act as a go-between for the East India Company.

I had the pleasure of attending the opening night of Anjin - the Shogun and the English Samurai at Sadler's Wells with Hamish Todd, Lead Curator for Japanese and Korean Studies at the British Library.  Performed in both Japanese and English, this splendid play tells the story of William Adams (played by Stephen Boxer) and his friendship with Ieyasu Tokugawa (Masachika Ichimura), against a background of intense and bloody rivalry amongst the Japanese nobility.  The East India Company merchants are portrayed as lazy, womanising drunkards.  Anyone wishing to judge the fairness of this interpretation should read the documents created in the Hirado factory which are held at the British Library!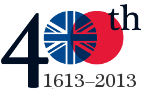 Anjin is the first of many events being held nationwide during 2013 under the Japan400 banner to celebrate the opening of trade, scientific, cultural and diplomatic ties. There will be a small exhibition in late summer at the British Library of items from the India Office Records and the Japanese Collections.


Margaret Makepeace
Lead Curator, East India Company Records   

 Further reading:
Anthony Farrington, The English Factory in Japan 1613-1623 (British Library , 1991)