Muslins, kincobs and choli cloths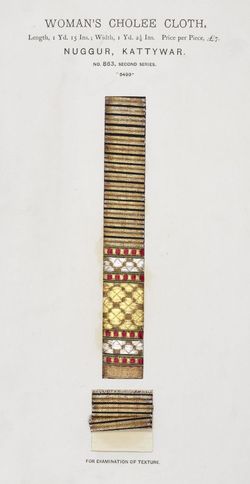 Our readers who liked the blog about the Persian silks might be interested to know of the volumes of beautiful Indian textile samples prepared under the direction of John Forbes Watson who was Director of the India Museum in London from 1858 to 1880. His compilation of textile samples and his works relating to a wide range of Indian products were part of his efforts to encourage commercial exchange between Britain and India.
These images are from the expanded set of textile samples compiled between 1872 and 1880. Typically they included a strip of fabric to indicate the overall design, and a small sample at the bottom of the page which could be touched to feel the texture of the fabric - not something we would wish to do now because of the risk of wear and tear.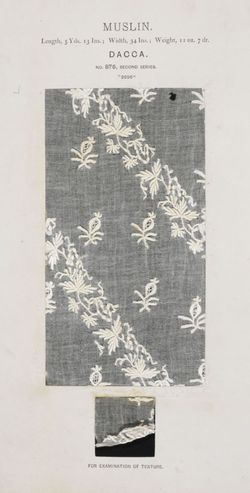 The volumes relating to kincobs (gold and silver-embroidered cloths) and choli cloths (for women's bodices) tend to be the most colourful, but I also like the quiet charm of some of the muslins, so reminiscent of Jane Austen novels.
Penny Brook
Lead Curator, India Office Records

Further reading
Collection of specimens and illustrations of the textile manufactures of India. Second series / prepared under the direction of J. Forbes Watson (London : India Museum, 1872-1880)
Oxford Dictionary of National Biography
See Explore the British Library for catalogue records of printed sources
See Search our Catalogues Archives and Manuscripts for details of the India Office Records. A search on Forbes Watson reveals his interests in public health, economic plants and their cultivation, the Indian Department of the International Exhibition of 1862 and the reorganisation of the India Museum and Library in London.