Nutrition in India
Today's story continues the themes of the new exhibition at the British Library: Propaganda and Persuasion.
The Government of India, in common with most governments, was concerned with the health and welfare of its citizens, and explored many avenues for addressing the health problems associated with poverty and food shortages. One method adopted was campaigns to disseminate information about the importance of a healthy diet.
The India Office Records contains many files on food production and the problems of food shortages. One such file on food is in the records of the Information Department of the India Office, which contains two attractively designed booklets produced by the Government of India'Äôs Department of Food. Entitled 'ÄúNutrition'ÄĚ, the booklets contain articles giving information on such subjects as food deficiency diseases, cabbage & cauliflowers, foods as sources of vitamin A, the value of shark liver oil, nutrition training and propaganda, and food facts on vegetables and milk.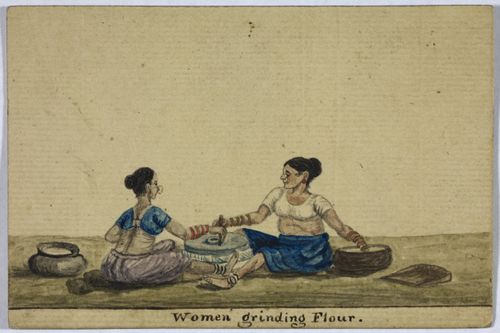 Women grinding flour WD 315 no.72  Images Online    

There is also a section on recipes headed 'ÄėOn the Kitchen Front'Äô and showing an illustration of an Indian woman happily cooking. There follows recipes for such Indian dishes as ragi satu, dahi rice, madras curry, jawar dosai, besan-ki-puri, and mixed wheat chappatis. The August 1945 issue gives the following recipe for bhajiyas:

Ingredients: jawar flour ¬ľ lb. (2 chatak), Bengal gram flour ¬ĺ lb. (6 chataks), onions ¬Ĺ lb. (4 chataks), tumeric (Haldi) 2 mashas, salt 1¬Ĺ ozs. (4 tolas), chilli powder 1 oz. (2¬Ĺ tolas), sweet oil ¬Ĺ lb. (4 chataks), water 1 lb. (8 chataks).

Method: mix the flour well in water. Add the salt and spices. Knead well into a paste. Shape into flattened cakes of equal size and fry in pure oil or butter. If desired, vegetable, like potatoes, spinach may be placed in the flattened cakes and then fried.

On the back cover of the June 1945 booklet is a food chart showing which foods help in three areas of activity:
building and repairing muscles (milk, cheese, eggs, fish, meat, pulses, nuts and beans)
protection against ill health (for vitamin A milk, cheese, oily fish, etc; for vitamin B peas, beans, lentils; and for vitamin C green leafy vegetables, sprouted pulses, and root vegetables)
foods for energy (fats such as milk fats and vegetable oil; for sugar jam, honey, dried fruits, and for starches cereals)
These booklets are an interesting example of the type of publications the Government produced in an attempt to address food shortages. I'm not sure who the intended audience was for them, certainly they were for internal government use, but as they were published with illustrations they may have been more widely available. The August 1945 issues states that the brochure was only published in English, but that anyone could publish any of the articles in any Indian language, which suggests the information they contain was intended for wide distribution to the public. Perhaps one of our Indian readers of this blog has come across them in the past?

John O'Brien
Post 1858 India Office Records   




Further reading:
India Office Information Department, File 462/102 Food (general), 1944-1945 [IOR/L/I/1/1103]