Shameful tales from the Raj
While researching an answer to an enquiry recently, my eye fell on a catalogue entry 'Acts of violence committed by British officers & soldiers against natives'.  I ordered the item to investigate further.

I almost wish I hadn't. A depressingly large file duly appeared, full of various outrages perpetrated by British troops against Indian civilians. A sixteen-page tabular summary provided brief details of no fewer than 190 clashes which took place between 1880 and 1899 involving personnel serving in British Army units and the local population. These acts of violence were not condoned by those in authority, although some of the punishments given to the soldiers appear very lenient.
One theme which emerges is the risk of granting soldiers permission to use the weaponry at their disposal to go off and exterminate some of the local wildlife. They may have been aiming at deer, or snipe, or sparrows, or peacocks, but tragically poor shots could and did have fatal consequences:
•    '10 November 1888, Sialkot. A soldier of the 2nd Queen's Dragoon Guards shot a Native, mistaking him for a pig, it being evening. The District Commissioner found that it was a pure accident. Rs. 29 was paid to the deceased's widow.'
•    'October 1896, Simla. Lieutenant Scott while out shooting birds ... accidentally lodged a few pellets of shot in a Native. The man lost his footing, and falling down the khud [steep hillside] was killed.'   (Echoes of the fate of the hapless Lewis Van Sandau from a previous story.)
There are some shocking examples of colonial arrogance and brutality, perpetrated by officers as well as by privates.
•    Early in 1898 an unnamed soldier assaulted a Bombay sweetmeat seller so badly 'the native is said to have nearly lost his life'. The guilty man received four months 'rigorous imprisonment'.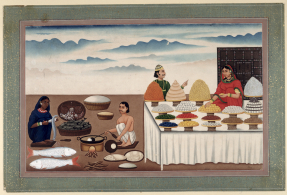 Fish seller, sweetmeat maker and sweetmeat seller with their wares (Add.Or.4000)  Images Online

•    On New Year's Eve 1898 in the Punjab: 'Four military officers assaulted Shaikh Ashgar Ali of the Indian Civil Service in a railway carriage. Their leave was stopped for the season. Those on leave were recalled to duty'.
•    In Sialkot in the spring of 1897: 'Two military officers were reported  ... to have assaulted a Native merchant. One called him a son of a pig and horse-whipped him, and the other twisted his arms till he admitted he was the son of a pig. One officer was fined Rs. 2 and the other Rs. 25'.
•    In Dum Dum on 7 November 1889: 'Four soldiers (one belonging to the Buffs, three to the Leinsters) broke out of barracks taking their rifles, and went to a 'toody-tope' after liquor. They created a disturbance because their demands were not complied with, and shot a Native in a wanton and brutal manner'.
•    On 8 March 1894 in Bareilly two gunners of the 48th Field Battery were rash enough to injure a performing bear, and when the animal's owners demanded compensation an affray broke out in which one person was shot.
A bear-keeper with his dancing bear (Add. 27255, f.125v)  Images Online 

British behaviour in Burma was no better:
•    A fracas broke out on 11 December 1886 at the Shwe Dagon Pagoda in Rangoon when Privates Potts and Lauchlin of the Royal Scots Fusiliers tried to steal two images of Buddha: though a watchman later died of wounds, the men were acquitted when the case came to court.
The file, reference IOR/L/MIL/7/13233, may be consulted in the Asian & African Studies Reading Room.
Hedley Sutton
Asian and African Studies Reference Team Leader