Christmas at Ladysmith 1899
Seasonal Greetings!  Today we're bringing you Christmas Day 1899 from the besieged town of Ladysmith in Natal.

The Second Anglo Boer War began on 11 October 1899.  After the battles of Dundee and Elandslaagte, General George Stuart White ordered the British troops to retreat to Ladysmith.  Having bombarded the town with shells from 30 October, the Boers besieged Ladysmith from 2 November, cutting off railway and telegraph communication.  Over 21,000 civilian and military personnel were trapped.  The threat of starvation and disease loomed large as the siege dragged on for 118 days.  Polluted water was an acute problem.

In his diary of the siege, Henry Nevinson of the Daily Chronicle noted that there was no ceasefire on Christmas Day 1899: 'The Boer guns gave us an early Christmas carol, and at intervals all day they joined in the religious and social festivities'.  There were about 250 European children left in the town so four enormous trees were set up and decorated.  Father Christmas decked out in swansdown braved the heat. In the evening each child was given a present. A dance for the adults was then held.


'Band' of Natal Mounted Rifles in red and gold paper tabards, with tin whistles and drums made from empty casks covered with raw hides. From H St J Tugman, The siege of Ladysmith in 120 pictures.

Nevinson reported that the soldiers' Christmas dinner was enough to mark the day.  Compared with ordinary short rations, a helping of pudding, a pinch of tobacco, and a drop of rum were rare treats. Food could still be purchased in Ladysmith but prices were sky-high: 28 potatoes sold in the market on Christmas Eve for 30s; a goose cost £3; a turkey £5.  

This Christmas Day menu comes from the papers of General Sir George Stuart White.  He seems to have dined somewhat better than his men.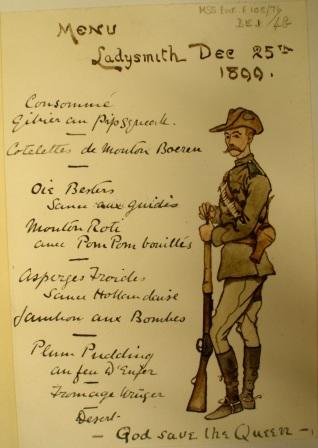 IOPP/MSS Eur F108/76
The menu is written in French and full of jokey references to the British predicament.  The meal opened with game soup 'au pipsqueak', a type of shell.  After this came mutton chops followed by goose with Guides sauce and roast mutton with boiled 'Pom Pom'. 'Pom Pom' was the name given to the 1lb shell being dropped on the town; others were known as 'Weary Willie', 'Nasty Knox', and 'Long Tom'. The next course was cold asparagus with Hollandaise sauce - surely a nod to the Dutch origins of the Boers?  This was accompanied by ham 'aux bombes'. The next two courses were hellfire plum pudding and Kruger cheese. And lastly 'desert' rather than 'dessert' to end a memorable Christmas meal.


Margaret Makepeace
Curator, East India Company Records




Further reading:
Papers of General Field Marshal Sir George Stuart White (1835-1912) IOPP/MSS Eur F108– Siege of Ladysmith IOPP/MSS Eur F108/76.
H W Nevinson, Ladysmith - The diary of a siege (1900)
H St J Tugman, The siege of Ladysmith in 120 pictures (1900)