Cultivator or inventor?
The cinchona plant was introduced from South America to India in 1860: a response to urgent need.  The Government of India was in search of a cheap drug for malaria, a disease that killed millions of people in India every year.  The most effective treatment was quinine, a chemical compound found in cinchona bark.
"Chinchona plants at Ootacamund": frontispiece to Clements R Markham, Travels in Peru and India (London, 1862)

Cinchona plantations were established across the Nilgiri Hills in southern India, where they quickly flourished.  By the end of 1866 the superintendent of plantations, William McIvor, was able to report a total of 1,785,303 plants under cultivation.
But McIvor came into conflict with his employers.  He had devised a technique to increase the quinine yield, known as 'mossing'.  Under this system, strips of bark were carefully removed and the exposed trunk was swaddled in moss (see illustration).  When the bark grew back again, it produced more quinine because it was thicker than before.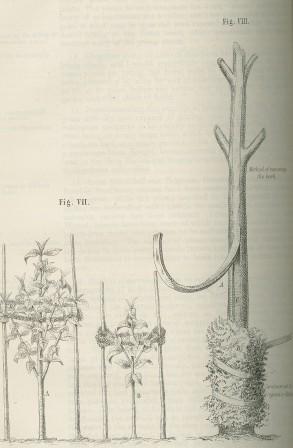 'Mossing' from Parliamentary Papers 1866: 53 ("Papers relating to the introduction of the Chinchona Plant into India", p. 500)

McIvor tried to patent the technique.  Aggrieved by his appointment as a mere cultivator rather than as a scientist, he argued that Government had no claim over his scientific expertise. It was this, he insisted, that had enabled him after many long experiments to 'render this great natural process entirely subservient to my will'. With quinine increasingly in demand on the London markets, he had a clear incentive to make the claim.
Government officials disagreed. They argued that what McIvor was trying to patent was a process of nature. In summing up the case, they raised the wider and ever-pertinent question: was drug research being conducted for private profit or the public good?  Their answer was emphatic:
Prejudice to the public would be caused by enabling a public servant, employed for the special purpose of increasing and cheapening the supply to the public of a rare and costly drug, to use the information and experience which he had acquired in the public service and at the public cost for his individual benefit and to the public detriment, by making his charge for the use of his patent an element in the market price of the medicine, and tending to restrict the use of the medicine by adding to its cost.
The India Office Records holds several files on the Nilgiri cinchona experiment, as it was known.  These are on-line (search under 'cinchona').
Antonia Moon
Curator, post-1858 India Office Records 


Further reading:
Clements R Markham, Peruvian Bark: a popular account of the introduction of chinchona cultivation into British India, 1860-1880 (London, 1880)