Pasteur benefits Indian livestock
Louis Pasteur was born on this day in 1822. How appropriate that a man who did so much to prevent disease was born at a time when gifts are traditionally exchanged, and unwittingly, germs! Pasteur's outstanding research uncovering major causes of disease, and his development of vaccination methods, were hugely important in improving human and animal health.
His work attracted international interest so it comes as no surprise to find that veterinary surgeons from India visited his laboratory in Paris. The India Office Records include a report by J Hallen, veterinary surgeon to the Government of India, on his visit to Louis Pasteur's laboratory in Paris during 1884 and 1885. This report was commissioned as part of the Government of India's drive to reduce the incidence of disease in cattle. Hallen describes Pasteur's innovative method of vaccinating sheep, cattle and horses against anthrax.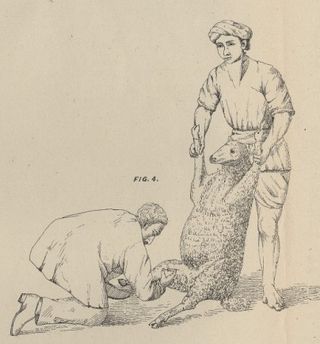 This illustration from the report shows a sheep demonstrating remarkable fortitude when faced with some fearsome-looking medical equipment!
The investigation into the work of Pasteur's laboratory is a good example of the care taken by the administrators in India to keep abreast of professional practices, as they gathered information from centres of expertise across the world. Pasteur Institutes were established in India and their annual reports for the early twentieth century can be found in the India Office Records.
Penny Brook
Lead Curator, India Office Records
Further reading:

R Axelby and SP Nair Science and the changing environment in India 1780-1920: a guide to sources in the India Office Records (The British Library, 2010)
India Proceedings. Civil Veterinary Administration: Cattle Breeding and Cattle Disease, 1885 
IOR/P/2524