King in Masquerade
George II succeeded his father as King of Great Britain in 1727, at the age of forty-four.  He has had a bad press ever since, for he is still seen as a dull, regimented, tight-fisted philistine. This image is far from being accurate.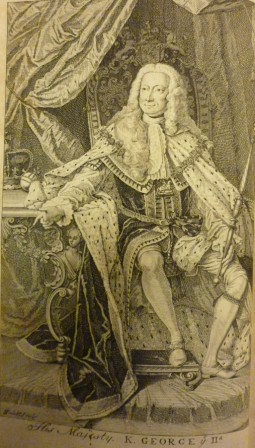 George II, frontispiece. Thomas Salmon. The Chronological Historian. 3rd ed. London, 1747. (291.f.22-23) 

When George I came to England in 1714 to claim his new throne, he was accompanied by his son and daughter-in-law, George and Caroline the new Prince and Princess of Wales.  The young couple quickly began to pursue an active cultural life, regularly attending public plays and operas and playing a key part in court life from drawing room receptions to balls.  When Prince George quarrelled with his father in 1717 (the two were not reconciled until 1720), he and his wife set up a rival court at Leicester House on the north side of what is now Leicester Square.  George I was forced to undertake an uncharacteristically lively programme of court entertainments to keep up with them.
George II was very fond of Hanover, where he had been born and grew up.  Once he became king he returned there as regularly as he could, usually during the summer months when the British parliament was not sitting and he could safely be absent from his kingdom.  On one such visit he showed that he was as capable of fun as any of his subjects.  In the summer of 1740, George had been widowed for some three years and had an acknowledged mistress, Amalie Sophie Marianne von Wallmoden who had recently been created Countess of Yarmouth.  His fourth daughter Mary had just been married to Friedrich II, Landgraf of Hessen-Kassel.  Her visit to Hanover with her new husband provided a perfect excuse for courtly festivities.
A description of some of the entertainments was provided by a visiting courtier and diplomat from Prussia, Baron Jakob Friedrich Bielfeld.  His letters were published in an English translation in London 1768-1770.  In the autumn of 1740, Beilfeld wrote of the 'grand entertainments' given by George II in Hanover, including a 'superb masked ball'.  However, an even greater entertainment was to come:   
Some days after we had a grand masquerade at the opera hous [sic] at Hannover, which was finely illuminated with wax lights.  The number of masks was prodigious.  The king was in Turkish dress, the turban of which was ornamented with a magnificent egret of brilliants: this mask was very proper for a prince … because it disguises well, and has a commanding aspect.  Lady Yarmouth was in the habit of a Sultana.
Bielfeld was clearly dazzled by royalty.  Even so, his account contradicts the image of George II as invariably boring and miserly.  When the mood took him, the king clearly knew how to royally entertain himself, his court and his subjects.
Moira Goff
Curator Printed Historical Sources 1501-1800

Visit our  exhibition Georgians Revealed