Missionaries caught up in World War One
World War One had an impact on some surprising people.  The Government of India reacted to the events in Europe by interning and repatriating Austrian and German citizens including missionaries and madams, who were the subject of an earlier story on Untold Lives. 
The expulsion of missionaries had a major impact on organisations like the Leipzig Evangelical Lutheran Mission. Removal of the German Jesuits from British India was reported in Ireland and William F. Dennehy, the outraged editor of The Irish Catholic,  even wrote to the India Office defending the priests.
Nathan Adderblom, Archbishop of Uppsala, wrote to the Royal British Minister at Stockholm to suggest sending Swedish ladies to help run eleven stations, 194 outstations, 57 schools with 3,405 pupils, and a medical mission. He recommended Ellen Hakansson, Malin (Amalia) Ribbing and Ingrid Söderberg, but these applications were initially refused on the grounds of a policy of exclusion while the war lasted. The agitation of the Indian National Party in Stockholm and its suspected links to the Germans was another obstacle. It must have been especially difficult for Ingrid Söderberg, who was engaged to Reverend Paul Sandegren, who was already working in Tranquebar.
After numerous interventions by the Swedish authorities and the involvement of the Archbishop of Canterbury, permission was granted to four missionaries to travel to India. By that time the war was over, the danger of German spies and of submarines torpedoing passenger liners was gone, and the Swedes could finally go. Detailed applications with photographs are in the India Office Records.
Ellen Josephina Hokannson came from Helsingborg, but was born in Malmo in 1881. She had worked in India before, serving at Pudukotah from 1907 to 1914. She wanted to go back there for another seven or eight years. She had good relations with the London Missionary Society, whose members Reverend  Parker and his wife were willing to recommend her.     
Ingrid Maria Söderberg was born in Uppsala in 1887. She wanted to work for the Mission of the Church of Sweden at Madura and hoped to marry Paul Sandegren after five years of waiting. Her dream came true when they took their vows at Virudupati on 6 April 1920. In 1955 Ingrid sailed to Bombay on the Chusan travelling with an Indian passport. It was her home.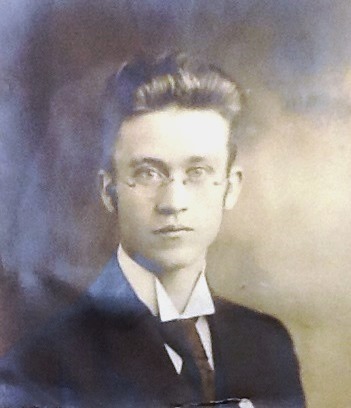 Bertil Gustav Israel Sjöstrand 


Bertil Gustav Israel Sjöstrand and his wife Rut Hedvig Sjöstrand both came from clergy families. They were a young and eager couple wanting to join Ellen Hokannson at Pudukotah. He was born in Tofteryd and her origins were in Oppeby. 
Bertil was educated in England at Cliff College Training Home and Mission in 1919. Both he and Rut had difficulties obtaining  visas but eventually, after intervention from the Conference of Missionary Societies and the Wesleyan Home Mission, they got permission to travel to India. They lived at a mission of the Church of Sweden at Kodaikand with their children.
Dorota Walker
Reference Specialist, Asian and African Studies

Furrther reading:
IOR/L/PJ/6/1441 File 2012 Case of seven Swedish missionaries requesting permits to enable them to proceed to Madras, Dec 1915-Jan 1920.
British in India Collection for baptisms, marriages and burials from the India Office Records