Pining for domestic bliss
A career in India could offer adventure and advancement, but sometimes this was at the expense of personal happiness. In 1821, Reginald Orton, Assistant Surgeon with HM 34th Regiment in India wrote to Anne Orton in Yorkshire about his improving career prospects and his wistful vision of a happier time in the future when he could return to family life, English moors and frosty mornings. It seems he had to persuade himself of the benefits of remaining in India when he wrote 'I should be very much to blame to sacrifice such an opportunity as I now have of making myself easy for life, by bearing the evils of this country a little longer. Rely on it however nothing shall induce me to stay more than about a couple of years more.'  He complained 'It is an age since I heard from you. Pray write oftener.  Best love to my mother and Betsy, who I hope has quite recovered.'


Extract from Reginald Orton's letter to Anne Orton, Mss Eur D1036  

Presumably Betsy and Anne were his sisters and he must have enjoyed their company when growing up as he continued rather poignantly 'My life is a mere blank at present, and hangs rather heavily on my hands. In this country very few have quiet domestic female society; and that is certainly the greatest charm of a man's life. My almost sole amusements are books, and laying schemes of happiness to be put in practice some couple of years hence at home. I think I should like to live in the country and have a few acres of land – keep a cow or two, some sheep and pigs – a horse, a few hives of bees ….'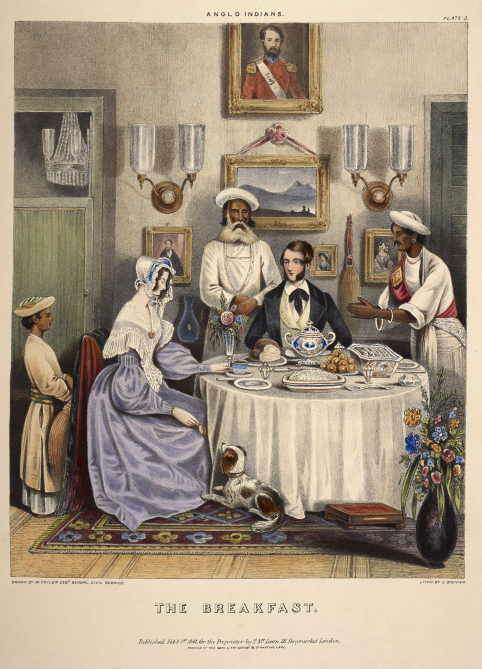 Maybe Orton would have been happier in India if he had enjoyed the domestic arrangements depicted in'The Breakfast', in William Tayler's Sketches Illustrating the Manners & Customs of the Indians and Anglo-Indians (1842)  


Images Online
In the absence of such comforts, he continued his modest dreams. 'I would take a trip to London now and then, and perhaps to France and Italy; or if I found myself cured of the itch of wandering, I might drive you or Betsy in a gig down to the sea-coast and come quietly back again'
'You would naturally be looking out for a wife for me, and I shouldn't be surprised if I found myself fairly coupled some fine morning – that is if I could find anybody whose society I could value to have me and it is not at all a clear thing with me that I should for you will find a vast change in my appearance since I saw you. I am always thin and between the sun and the Seringapatam fever, I have got a vile complexion. '
It is not surprising that Reginald Orton took a rather bleak view of life in India in 1821 as he had recently completed a study of the cholera epidemic which had swept across the country wreaking a terrible toll on its inhabitants. His painstaking research, published in An Essay on the Epidemic Cholera of India, documented the disease in gruesome detail and explored its possible causes, including the impact of the weather. After concentrating on such a depressing subject, no wonder he pined for domestic bliss and frosty mornings in England.
Penny Brook
India Office Records  

Further reading
Mss Eur D1036 Letters from Reginald Orton (d 1835), surgeon's mate on the East Indiaman `Arniston' 1810, assistant surgeon and surgeon with H M 34th Regiment 1810-27, telling his family about life in India and his career prospects, and about his book An Essay on the Epidemic Cholera of India (Madras 1820; 2nd edn London 1831).
Explore the British Library for printed collections
Search our Catalogues of Archives and Manuscripts