How an Indian performance troupe found itself destitute in Victorian London
In November 1899 Major General Chamier, Honorary Secretary of the Strangers' Home for Asiatics, Africans and South Sea Islanders in Poplar, East London, gave refuge to a troupe of 18 destitute performers. The troupe was comprised of men, women and children from India and Sri Lanka, and had been found at Marylebone Station, lost and penniless, after travelling by train from Grimsby.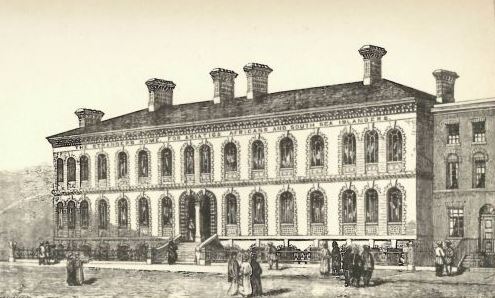 The Strangers' Home - from Joseph Salter, The Asiatic in England (1873)

At the Strangers' Home, Abeya Krania, the one member of the troupe who spoke English, made a statement to Chamier. Krania described how he and his associates had sailed from Singapore the previous March, under the care of their 'manager' Mr Fairlie, who had engaged the group as a travelling show, performing dances and demonstrations of Indian village life across Europe.  

Extract of a letter from Major General Chamier to the India Office, reporting the arrival of the eighteen persons, 'in a state of destitution', 30 November 1899. IOR/L/PJ/6/525, File 2273.

Such attractions, frequently described as Human Zoos or Ethnological Exhibits, were not uncommon across Britain and Europe at the end of nineteenth century. They were a product of Europe's colonial expansion, and an articulation of the European fascination with so-called 'primitive cultures'. Countless men, women and children from Africa and Asia were recruited by European impresarios and brought back to Europe's towns and cities, where they were exhibited for the amusement of a paying audience.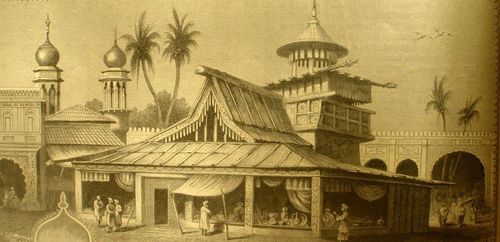 "Das 'Indische Dorf' im Albert-Palast in London" Die Gartenlaube No.6 (1886), p.100

Many, like the troupe that found themselves at Marylebone Station, were exploited by unscrupulous promoters. In his statement, Krania described how the troupe had travelled from Singapore to Vienna, where they had performed in the city's Tiergarten, and then onward to Hamburg, Kiel, Bremen and Magdeburg. Along the way however, Fairlie fell out with the troupe's 'proprietor', a Mr Bamburgh, the result being that the troupe were finally despatched by Fairlie to Hamburg, without having been paid for four months. With no means of getting home the troupe sought the help of the British Consul in Hamburg, who sent them to London via the Hamburg to Grimsby steamer service.
Chamier housed the troupe in the Strangers' Home – a Christian boarding house used by foreign sailors arriving on East Indiamen at London's docks – throughout January 1900. During that period five of its members were repatriated by the Government of India. In the meantime, two of the remaining 13 absconded to Paris, where they turned up at the offices of Thomas Cook & Son on Place de L'Opera, which they understood to be a forwarding address for Fairlie. Unsurprisingly, Fairlie declined to see the two, who were sent back to London by the British Consul in Paris.  

Extract of a letter to General Chamier, reporting the appearance of two of the troupe in Paris, 20 January 1900. IOR/L/PJ/5/525, File 2273.

Correspondence on the case in the India Office Records doesn't indicate what happened to the remaining members of the troupe, and if they ever got back to Singapore as they desired. However, Foreign Office correspondence on the case does suggest that one or more of the troupe did made it as far as Marseilles.
Mark Hobbs
Subject Specialist, Gulf History Project
Further reading:
British Library, London. 'Disposal of a troupe of 18 destitute performers from the Strangers Home for Asiatics' IOR/P/PJ/6/525, File 2273.
Robinson, Amy Elizabeth. 2005. Tinker, tailor, vagrant, sailor: Colonial mobility and the British imperial state, 1880-1914. Ph.D. diss., Stanford University.