'Fifth rate accommodation' in Sharjah
The Political Agent at Bahrain, Hugh Weightman, went on an official visit to the Trucial Coast in February 1940 to discuss the business of the British Overseas Airways Corporation. BOAC was the British state airline created in 1940 by the merger of Imperial Airways and British Airways. 
Weightman stayed as usual in the BOAC Rest House at the Fort in Sharjah which was built in 1932 to host airline guests who were stopping overnight. The airport and the Rest House were built in the form of a fort to protect travellers against the possibility of attacks from the Bedouin.  The Rest House was at that time the only hotel to guarantee 'Western' standards to travellers in Sharjah.
Air Outpost  A rare 1930s film showing a day at the Fort from youtube.com
Weightman was billed Rs 60 by BOAC for two nights spent at the Rest House.  He refused to pay the full tariff:  'they should understand that the Political Agent does not intend to pay luxury hotel rates for accommodation and food in the Sharjah Rest House, especially when he goes there mainly for the purpose of serving the interests of Imperial Airways' (IOR/R/15/2/502 f 93).
His superior, the Political Resident in the Persian Gulf Charles Geoffrey Prior, also confirmed: 'I refuse absolutely to pay luxury hotel rates for the fifth rate accommodation which one gets there'.
The maintenance of the air route to India was in fact one of the main purposes of their trips to Sharjah.  BOAC apologized and sent a refund, suggesting that in future the accommodation charge should be waived, local mess rates applied for food, and the cost of drinks paid.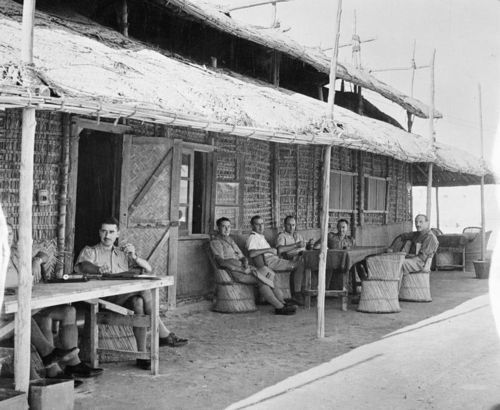 Officers relax outside the Officers' Mess at Sharjah, Trucial States. © IWM (CM 6008)
 Valentina Mirabella



BL/Qatar Foundation Partnership
@BLQatar
@miravale