ABBA's Waterloo at the Prince Regent's Stables
1974 saw ABBA win the Eurovision Song Contest for Sweden with their song 'Waterloo', one of the best remembered entries from the show's long history which quickly catapulted the group to international fame. But how many of us watching the live broadcast over four decades ago realised that Agnetha, Björn, Benny and Anni-Frid were performing in a space once graced by royal stallions?
ABBA winning the Eurovision Song Contest in 1974 courtesy of YouTube
In Eurovision land, the winning country hosts the following year's competition. Having won two years in a row, diminutive Luxembourg was in a fix and so Britain stepped in. Rather than hosting the show in London, the BBC chose one of the largest concert halls on the south coast, The Dome in Brighton.
The Dome at Brighton today
This yellow brick edifice with minarets and an impressive 24 metre cast iron dome was constructed in 1804-8 for George, Prince of Wales (soon to become Prince Regent, and later King George IV). The building's 'Indian-Saracenic' design, created by William Porden (ca. 1755-1822), pre-dates that of the neighbouring Royal Pavilion as we know it today, which at the time comprised only a smaller neo-classical structure. The purpose of Porden's monumental creation was as stabling for the prince's horses, with an adjacent hall – now the city's Corn Exchange – acting as a riding school. The stage where ABBA sang was built inside the circular stables where up to 60 royal horses were once housed and groomed. The balconies from which Europe's television broadcasters provided their live commentary held accommodation for stable-boys.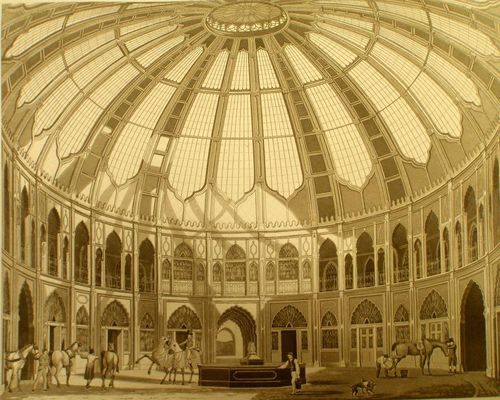 74/558*.h.12 John Nash, 'Her Majesty's Palace at Brighton' (London, 1838) 
Queen Victoria disliked the royal estate at Brighton, and in the 1850s the buildings were all sold to the town corporation. The circular stables were first concerted into a concert hall 1867-73, and the space has been remodelled several times since. Its most recent refurbishment was in 1998-2001, when a certain Björn Ulvaeus of ABBA stepped up to become one of its 50 famous patrons. He hasn't yet offered to give an updated performance of 'Waterloo' at the Dome, but here's hoping!
Adrian Edwards
Head of Printed Heritage Collections
Further reading:
Brighton and Hove, by Nicholas Antram and Richard Morrice. (Pevsner Architecture Guides.) [New Haven and London: Yale University Press, 2008].
The New Encyclopædia of Brighton, by Rose Collis. [Brighton: B&H City Council, 2010].
The Complete Eurovision Song Contest Companion, by Paul Gambaccini, Tim Rice, Jonathan Rice and Tony Brown. [London: Pavilion Books, 1998].
Illustrations of Her Majesty's Palace at Brighton, formerly the Pavilion, executed by the command of King George the Fourth under superintendence of John Nash Esq Architect (London, 1838).
A free display "Waterloo: War and Diplomacy" runs until 6 September 2015 in the British Library's Treasures Gallery.