Blessing cars and eating oysters
Two saints are remembered on 25 July in the United Kingdom - St Christopher and St James.  A number of very different customs and traditions are associated with this day.
St Christopher, a 3rd century Christian martyr, is commonly represented by a figure carrying the child Jesus across a river. He is most often claimed as the patron saint of travellers, but he is also the patron saint of sports, with figures wrestling or fishing accompanying his picture. Both travellers and athletes wear medallions bearing an image of St Christopher for protection and good fortune.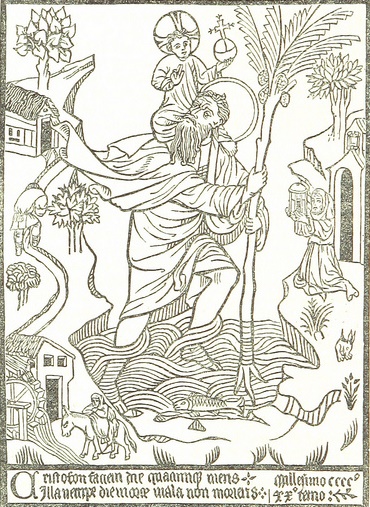 Image taken from Charles Knight, Pictorial Half-hours (1850) 
The link to travellers has prompted special church services to bless vehicles in honour of St Christopher's Day.  In July 1932, there was a ceremony held on St Christopher's Eve at St Augustine's Roman Catholic Church in Nottingham.  Each member of the congregation was presented with a St Christopher medal and after the service Canon Parmentier went outside to bless cars, motorcycles, and bicycles belonging to the worshippers.  In 1950 the vicar of St Botolph's in Northfleet Kent reported how he blessed all forms of transport outside his church on 25 July.
On St James's Day it was the tradition for the rector of the parish of Cliff in Kent to distribute a mutton pie and a loaf to however many people demanded this bounty.  The day was celebrated in many counties with customs aimed at increasing the apple crop.  Prayers or verses were said in the orchards and the trees were sprinkled with holy water.  In Sussex young men performed the ceremony of 'blowing the trees'. Cows' horns were blown under the apple trees and each man took hold of a tree and recited verses.
25 July was also considered a milestone for hop growers. There is an old saying concerning the likelihood of a good crop:
Till St James's Day is past and gone,
There may be hops, or there may be none.
Away from the countryside, St James's Day was the first day on which oysters were brought into the London market, thus flouting the notion that they should only be eaten when there is an 'r' in the month.  There was a superstition that anyone eating the oysters on 25 July would have plenty of money throughout the rest of the year.

An oyster market in England -Denis Dighton (1821) ©Jean Vigne/Kharbine-Tapabor/British Library Board
So it's time to drive your car or ride your bike to the nearest church before seeking out a plate of oysters. Happy St Christopher's and St James's Day!
Margaret Makepeace
India Office Records
Further reading:
John Timbs, Something for everybody (London, 1861)
British Newspaper Archive: Nottingham Evening Post 25 July 1932, Dundee Evening Telegraph 10 October 1950