A Caracal for the King
"The Keeper of the Beasts in the Tower is to wait upon you with the Indian who is to return to his country."  So began a letter from Robert Wood, Under-Secretary to the Secretary of State for the Southern Department, to Robert James, Secretary to the Court of Directors of the East India Company on 18 March 1760.
IOR/E/1/42 f 106 Letter from Robert Wood at Whitehall to the East India Company Court of Directors 18 March 1760 concerning Abdullah's visit to accompany the caracal and arranging his return to Bengal.
The Indian in question was Abdullah, a member of the household of Nawab Mir Jafar Ali Khan, who had recently been chosen as Ruler of Bengal by Sir Robert Clive. The Nawab had already presented valuable gifts to the Company of clothes, jewels, essences, weapons and portraits, which had been sent to London for the attention of the Court of Directors. The Company kept the jewels and presented the clothes and essences to the ladies of the Royal Family and the weapons and portraits to the British Museum. The Nawab however was also keen to establish his own more personal direct relations with King George II, and offered him as a gift a rare syagush (more commonly known as a caracal) for the King's menagerie, which he instructed Abdullah to accompany to London in 1759.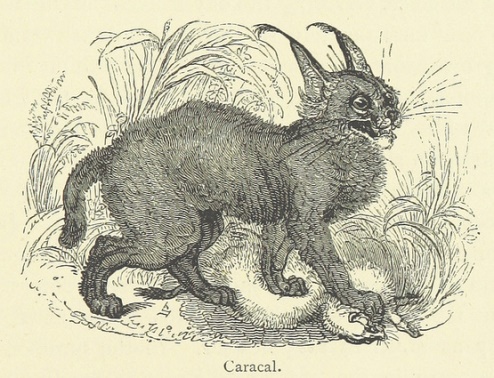 From The Land of the Lion; or, Adventures among the wild animals of Africa (London, 1876) BL flickr
On their arrival in London King George, who was reported to be very taken with the gift, instructed his Secretary of State William Pitt not only to oversee the installation of the caracal in the Tower of London's menagerie, but also to ensure that Abdullah received honoured treatment during his stay, paid for out of the royal treasury.  It fell to the Royal Keeper of the Beasts at the Tower of London not only to accept the caracal into his collection but also to personally escort Abdullah around London.
Abdullah spent a year in London before the East India Company were approached to assist in arranging his return to Bengal. The instructions given by Robert Wood to the Company on Mr Pitt's behalf were for Abdullah to receive a 'relatively luxurious' passage home with any diet, liquor and accommodation requirements being met, and that on his arrival in Bengal he was to be given a gift of 50 guineas from Mr Pitt.
Karen Stapley
Curator, India Office Records
Further reading:
IOR/E/1/42, f 106, f 208 Miscellaneous letters received 1760
Michael Herbert Fisher, Counterflows to Colonialism: Indian Travellers and Settlers in Britain 1600-1857 (Delhi: Permanent Black, 2004), pp.63-64.