All Lies
Today is the anniversary of Sir Edwin Landseer's (1802-1873) death.  One individual who, perhaps, might perhaps not have mourned Landseer's earthly departure was his one-time friend and colleague, the engraver Charles George Lewis (1808-1880). Landseer was good friends with Lewis's father and having known him since he was a child, Lewis went on to engrave a large number of paintings by Landseer, many of which were owned by Queen Victoria (r.1837-1901). Their close working relationship, however, was soured by petty squabbles and disputes over the engravings – disputes that would ultimately lead to the courts of law.
Envelope from a letter to Charles George Lewis from Sir Edwin Landseer, Add MS 38608


The British Library holds a volume of letters and beautifully addressed envelopes from Landseer to Lewis, Add MS 38608, which not only document the working relationship between the two men, but hint at their long-running battle tainted with bitterness and threats of legal action.
One letter dated 7 June 1855 is a frustrated plea from Landseer to Lewis asking to gain access to an engraving that Lewis had made after his work:
'I can only repeat my request to have the touched proof sent here. It appears quite feasible (and not unreasonable) . . . to add a little work to the engraving . . . I must have an opportunity of looking again at the work with the picture and that touched impression. . . Your lawyer wrote me a most improper letter to me last occasion . . .  I also requested you to show Mr Graves my touched proofs – he tells me he has not yet seen it . . . Send me the proof I ask you or take later . . . consequences of law.'
Across the top of the letter and along the bottom of the second page, Lewis has scrawled  'Lies  . . . All Lies'.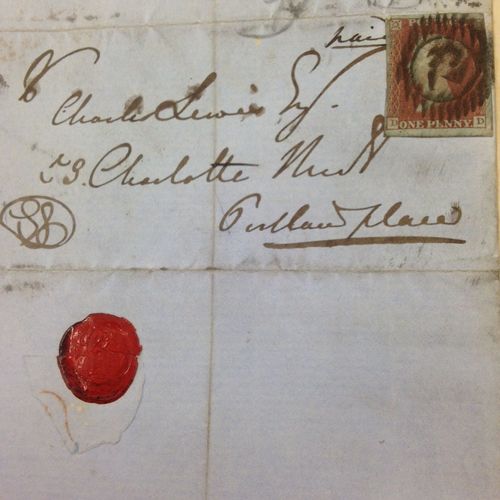 Envelope from a letter to Charles George Lewis from Sir Edwin Landseer, Add MS 38608

Landseer was not the only one Lewis managed to upset. Lewis' annotations on other letters in the volume hint at disagreements with patrons and dealers, notably with  the publisher and print seller Henry Graves (1806-1892) and the collector, MP, and chemist Jacob Bell (1810-1859). They should not have been surprised by Lewis's awkward nature. They were all friends with Landseer and had observed his frustrations. By the end, both sides appeared to wish the other dead. On the verso of a letter from Landseer dated October 1855, Lewis has triumphantly written '. . . concerning the lawsuit brought against me by Graves, Bell  . . .  told me "he would crave me to shuffle off my mortal coil". [But] He, Bell, was dead in a year after!!!!'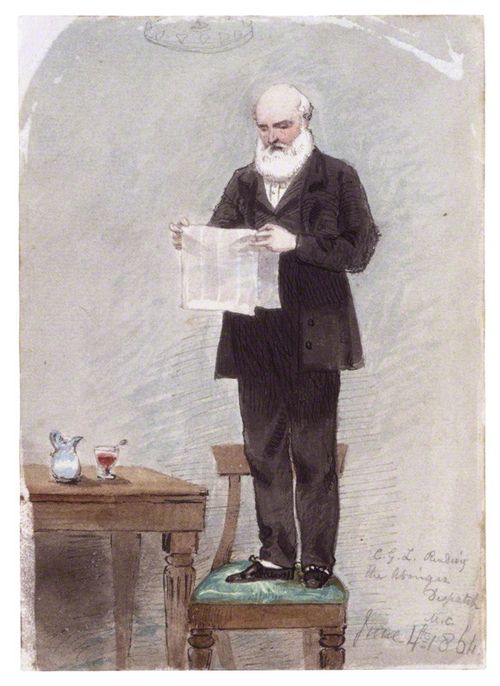 Charles George Lewis by Marshall Claxton, 1864, NPG 890, National Portrait Gallery, London

Alexandra Ault
Curator Modern Archive and Manuscripts 1601-1850