The Coronation of George II and Queen Caroline
On 11 October 1727 George II and his wife Caroline of Ansbach were crowned King and Queen of Great Britain and Ireland. The ceremony at Westminster Abbey was preceded by a magnificent procession.


  Part of an engraving of George II's coronation procession, artist unknown, reproduced in Parliament Past and Present by A. Wright and P. Smith (London, 1902). 9502.dd.2.

The leading composer of the day, George Frideric Handel, was commissioned to write four coronation anthems, including the mighty 'Zadok the Priest'. 
]

G.F. Handel: 'Zadok the Priest'. R.M.20.h.5.

The original manuscripts of all four coronation anthems are preserved in the British Library and can now be seen on our Digitised Manuscripts website.
'Zadok the Priest' has been sung at coronations ever since. Here is a vintage recording from the coronation of George VI  in 1937, courtesy of the CHARM project at King's College London.
Another document in the British Library reveals a more personal aspect of the ceremony for George II and Queen Caroline.  This account describes the moment that the Queen was anointed with oil and crowned:
There is a little handkerchief which the bedchamber-woman in waiting gives to the mistress of the robes, to wipe of any Oyl that might fall on the face. The Queen retires into St Edwards Chapel to offer her Crown and then the Mistress of the Robes assisted by the Bedchamber women pin on the Fine Crown appointed for her Majesty.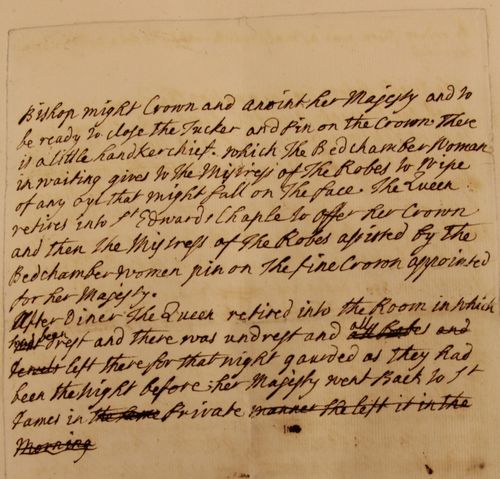 Account of Queen Caroline's coronation. Add MS 22627.

Sandra Tuppen
Lead Curator of Modern Archives and Manuscripts 1601-1850