'What language can impart the mournful feelings of a throbbing heart?': drawings and poetry by Paul and Thomas Sandby.
Here at the British Library we're not quite tripping over drawings and manuscripts by the brilliant draughtsmen and water-colourists Paul (1731-1809) and Thomas (1723-1798) Sandby, but we're not far off.
To mark Paul Sandby's death on this day (9 November) in 1809, I've chosen to share a few of the Sandby items we have in our Manuscripts and Topographical Collections. 
This panorama of Edinburgh looks towards the Firth of Forth from the Castle Bank with the poet Allan Ramsay's house in the lower centre.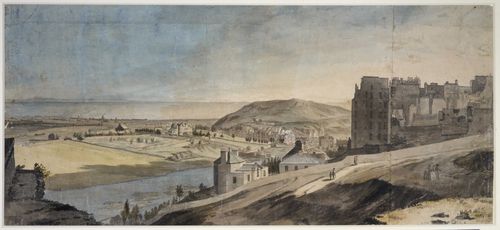 Edinburgh & the north lock with the bank on which the new town is built, by Paul Sandby, circa 1750, pen and black ink with watercolour. Maps K.Top.50.96.b.

Another example of Paul's varied career is the 'Surveying Party by Kinloch Rannoch' of 1749 in King George III's Topographical Collection. Sandby had been appointed draughtsman to the Board of Ordnance's survey of the Highlands in 1746 and this drawing shows one of the six military surveying parties undertaking the survey of Scotland after the Battle of Culloden. The detail in the drawing goes some way to showing us how the survey operated. It is possible to see one figure using a circumfrentor with another holding a flag. The pencil lines beneath the pen and ink around the horse's leg shows where Sandby was working out the composition.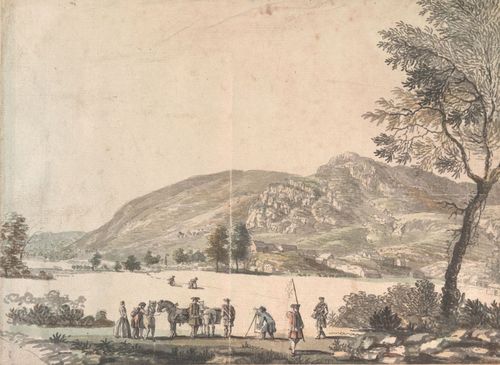 Surveying Party by Kinloch Rannoch, 1749 by Paul Sandby. Pen and black ink with watercolour over pencil. Maps K.Top.50.83.2. 

The Manuscripts Department also has a large number of Paul and Thomas Sandby drawings and archival material.  We've got a really exciting volume containing letters and poems as well as recipes for paints, glazes and aquatint at Add MS 36994, presented to the British Museum by William Arnold Sandby in 1904.
Within this volume are poems by Paul Sandby to his friend, Royal Academician and marine artist to King George III, Dominic Serres (1722-1793). Serres lived near Paul in St George's Row, London and Paul wrote a number of poems to mark his neighbour's birthdays.  Part of one poem reads:
'Paul Sandby, his good wife and Miss
Present their compliments with this
To all the family of Serres
If any mortal care has
They'l thro' it to the winds away
To celebrate Dom's natal day
For surely laughter, fun and glee
Will make the happy moments flee.'
This was written on 'Wednesday Evening, 16 Jany' and although undated, another poem written for Serres's birthday of 1787 bound nearby, suggests that this was written in the 1780s.
Paul Sandby also composed poems to mark Serres's death. One entitled 'Verse to the memory of Dominic Serres Esqr written by his sincere friend P Sandby' draws on maritime imagery to describe the tragedy of Serres's passing:
'Ah! Me, what language can impart
The mournful feelings of a throbbing heart?
No more the flag which royal Clarence gave
In ambient air its sportive colours wave
Cold is that hand which joyfull won't to raise
The splendid ensign upon gala days.'
A surprising addition to the volume  is a poem entitled 'on seeing a portrait of Dominic Serres Esquire painted by his Son Dom and a gold frame with an anchor and cable round design'd by his son John'. The poem begins:
'Wicked sons of Dom Serres, can you think it well done
Is this doing your duty, or marks of your fun?
To hand your poor father high up by a rope
And to leave him Depending on the anchor of hope?'
Evidently Sandby was unhappy with the portrait of his late friend and sent the poem to the sons Dominic M Serres (circa 1761-1804) and John Thomas Serres (1759-1825) as the outside of the manuscript is addressed 'Messrs John & Dom Serres'. It has not been possible to trace the whereabouts of the portrait of Serres by his son, if indeed it existed at all. Looking at these poems and letters it is clear that more research into the relationship between Paul Sandby and the Serres family can be undertaken.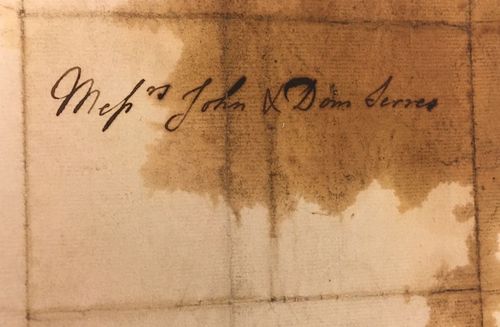 Poem by Paul Sandby, addressed to John and Dominic Serres after the death of their father, Dominic Serres. Add MS 36994 ff. 63. 

Also within Add MS 36994 is a drawing by Thomas Sandby of his cottage at Clay Hall, Windsor which is where he and his family lived when they first left London and moved to Windsor.
Clay Hall cottage by Thomas Sandby, circa 1755, pen and black ink with watercolour over pencil. Add MS 36995 ff. 3.

Another highlight also in Add MS 36994 is an entrance ticket to a Royal Academy Lecture in November 1788. It presents a mystery as it bears both Thomas Sandby's and William Beville's names.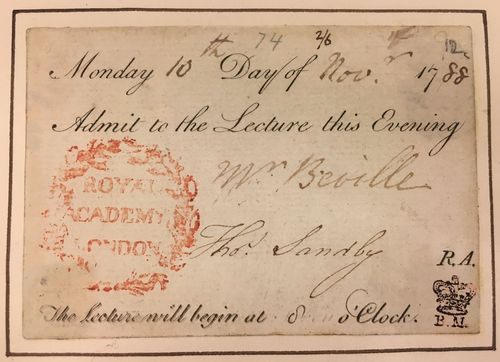 Admission ticket to a Royal Academy Lecture November 1788. Add MS 36995 ff 12.

Within Manuscripts there are countless Paul and Thomas Sandby drawings and manuscripts including a series of plans by Paul Sandby at Add MS 42572 A-H. 
We've also made a number of exciting discoveries of hitherto unrecorded drawings and watercolours by the Sandby brothers. They include a watercolour of Inveraray by Paul, a pencil sketch of Windsor by Paul and a view of Nottingham Marketplace by Thomas. We expect to uncover more treasures by the brothers in the coming months – so watch this space.  


Alexandra Ault, Curator, Manuscripts and Archives 1601-1850