Antarctic Anniversaries: Captains James Cook and Robert Scott
Today, 17 January, marks the anniversary of two major events in the history of Antarctic exploration. It was on this day that Captain James Cook (1728-1779), of His Majesty's Ship Resolution, made the first recorded crossing of the Antarctic Circle in 1773 and, 139 years later, that the explorer Captain Robert Falcon Scott (1868-1912), with his five man team, reached the South Pole in 1912. Though both Captains would ultimately lose their lives in the course of their explorations, they made a significant contribution to the exploration of Antarctica.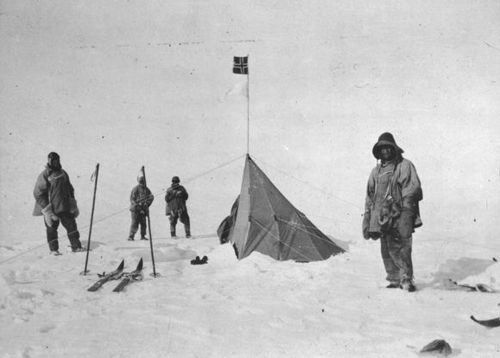 Robert Scott and his men at Amundsen's base, Polheim. Photograph taken by Lawrence Oates. 18 January 1912. Image via Wikimedia Commons.

Within a year of returning from his first voyage (Aug. 1768-Jul. 1771), that observed the transit of Venus, Captain James Cook was again commissioned by the Royal Society to lead another scientific expedition in search of the Terra Australis: an enormous land mass that had long been presumed to exist in the southern most extremities of the Southern Hemisphere. On his first voyage, Cook had chartered almost the entire eastern coastline of Australia and had circumnavigated New Zealand, demonstrating that neither was part of a larger southern continental landmass which all authorities now believed was to be found even further south. Setting out in July 1772 Cook and his crew circumnavigated the globe travelling as far south as possible to determine whether there actually was a great southern continent.
Ultimately, Cook's voyage did not succeed in its aim of discovering a great southern landmass nor did it reach Antarctica. But, just as importantly, by crossing the Antarctic Circle on 17 January 1773 the ship and its crew became the first in recorded history to cross the line and had travelled further south than anyone in the world. In the ship's journal, now held by the British Library, Cook confirmed that: 
At about a quarter  past 11 o'clock we cross'd the Antarctic Circle, for at Noon we were by observation four miles and a half south of it and are undoubtedly the first and only ship that ever cross'd that line.
Logbook of Lieut. James Cook (1770), The British Library, Add Ms 27885, f. 55. 

Cook and his crew would cross the Antarctic Circle three times during this voyage, and on its third attempt on the 30 January made their most southerly penetration but were ultimately forced back due to the solid sea ice. In his journal Cook admitted:
I who had ambition not only to go farther than anyone had been before, but as far as it was possible for man to go, was not sorry in meeting with this interruption…
Following Cook's voyage, the international fascination with Antarctica increased with several expeditions to reach and map Antarctica emerging in the 1820s, followed some 80 years later by explorers such as Scott and Ernest Shackleton (1874-1922), attempting to reach the South Pole.
Named the Terra Nova Expedition after the vessel which took them to the Antarctic, the first successful British expedition to the South Pole was that led by Captain Robert Falcon Scott and which reached the South Pole on this day, 17 January, 1912. Though the expedition aimed to fulfil a programme of scientific, zoological, geological, magnetic and meteorological studies it was principally motivated by a race to the Pole. However, when Scott's expedition finally reached their target, to their dismay, they learnt that they had been beaten by Norwegian explorers led by Roald Amundsen (1872-1928). In Scott's diary of 1912, now held at the British Library (and available online through 'Turning the Pages'), the team's disappointment at being beaten is palpable:
Wednesday, January 17 - Camp 69. THE POLE. Yes, but under very different circumstances from those expected. We have had a horrible day – add to our disappointment a head wind 4 to 5, with a temperature -22 degrees, and companions labouring on with cold feet and hands.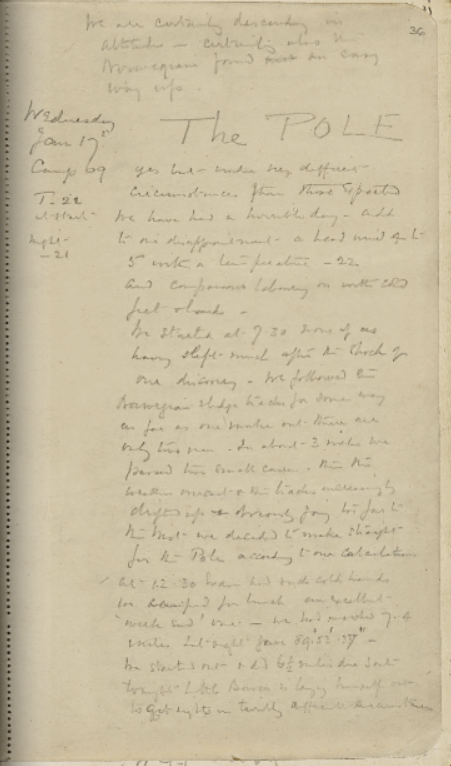 Captain Scott's diary (1912),  The British Library, Add Ms 51035, vol. 2, f. 36.

Having failed to be the first to reach the South Pole, Scott's team turned back. Losing two team members on their way to base, the remaining explorers were ultimately halted on 20 March by a fierce blizzard just 11 miles from their depot.  Scott's last diary entry, dated 29 March 1912, the presumed date of his death, ended famously with the words:
…we shall stick it out to the end, but we are getting weaker, of course, and the end cannot be far. It seems a pity but I do not think I can write more. R. Scott. Last entry. For God's sake look after our people.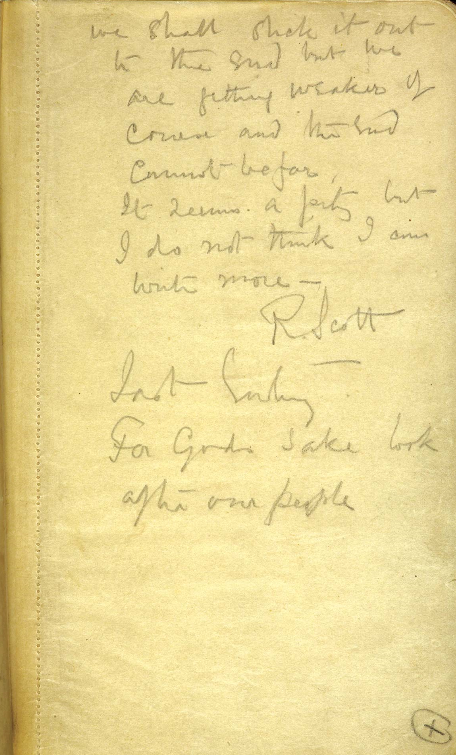 Captain Scott's diary (1912), The British Library, Add Ms 51035, vol. 3, f. 39. 

The British Library will be holding a major exhibition on the voyages of Captain James Cook in the summer of 2018.
Dr Alexander Lock, Curator of Modern Historical Manuscripts 1851-1950 @BL_magnacarta
#CaptainCook #Captain Cook #Antarctic