'Pretty, witty Nell', the 'Protestant whore': Nell Gwyn remembered
Nell Gwyn, actress and mistress of Charles II, was born on this day in 1650. Nell's short life didn't have a promising start. According to the diarist Samuel Pepys, she was brought up in a brothel, where she served strong liquor to clients. In 1663, at the age of about twelve, Nell became an 'orange girl' in the King's Theatre, selling fruit to theatregoers and probably passing secret messages between the actresses and their lovers. Within a short time Nell was herself elevated to the stage, where she proved a great hit. Pepys wrote admiringly of 'Pretty, witty Nell' and her performances in comic roles - as well as of her shapely figure.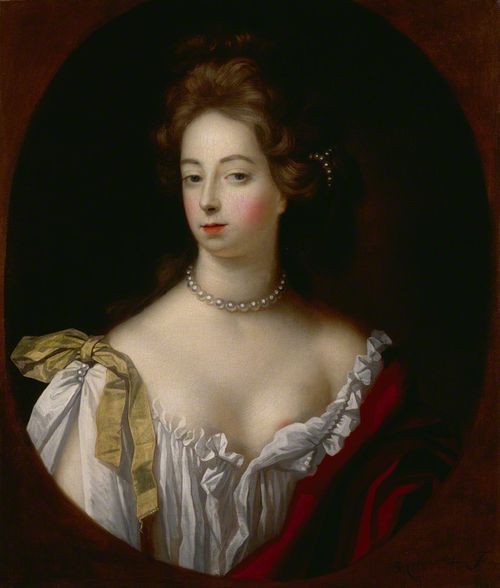 Eleanor ('Nell') Gwyn by Simon Verelst, circa 1680 © National Portrait Gallery, London   

It wasn't only Pepys who found Nell desirable. She had affairs with several men, before attracting the attention of the King himself. She became his mistress and eventually bore him two sons. The King was evidently very fond of her. On his deathbed he supposedly said to his brother, the future James II, 'Don't let poor Nelly starve'. Nell clearly didn't go short of money: when she died in 1687 she left several hundred pounds to family members, as well as money to help the poor and those in debt.
As Charles II's mistress, Nell had sometimes awkward relationships with the King's other lovers. A particular rival was Louise de Kéroualle, to whom Charles had given the title Duchess of Portsmouth. The British Library holds several contemporary publications satirising the spats between the two women, including A pleasant dialogue betwixt two wanton ladies of pleasure, A dialogue between the Duchess of Portsmouth and Madam Gwin at parting, and Madam Gwins answer to the Dutches of Portsmouths letter. The last of these is full of sexual innuendo: the fictionalised Nell says to Louise that the sea-god Neptune (presumably representing Charles II):
'proffer'd you Gold, and Pearl, and what not, if you would have let him stick his Trident in you.'
The Duchess of Portsmouth's Catholicism made her unpopular with some people. While Nell was riding through Oxford in a coach in 1681, she was reputedly mobbed by an angry crowd, who thought the coach contained the Duchess. Nell is supposed to have leaned out of the coach window and reassured the crowd by saying, 'Pray good people be silent, I am the Protestant whore'.
Fascination with Nell Gwyn and her exploits didn't end at her death. She has been the subject of plays, operas and stories in the centuries since, including a three-act play by Edward Jerningham, published in 1799 with the title The Peckham Frolic. In this comedy Charles II, in heavy disguise, meets Nell in Peckham, where all sorts of trickery ensues.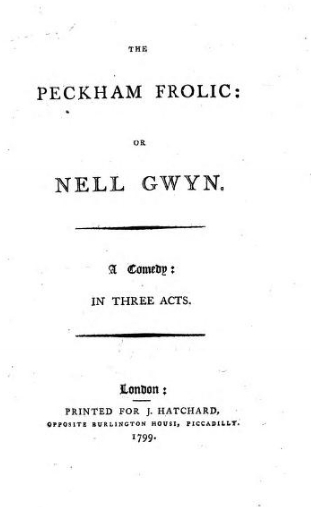 Edward Jerningham: The Peckham Frolic (London, 1799). BL shelfmark: 11778.d.1. 

Sandra Tuppen, Lead Curator Modern Archives and Manuscripts 1601-1850.