Wren's a good time to talk about architecture?
With apologies for the dreadful pun, this blog celebrates the architect Sir Christopher Wren who died on this day in 1723. The British Library holds a significant amount of Wren material, distributed across different collections within Manuscripts.  As well as his involvement in the design of the Monument to the Fire of London which I wrote about on Wren's birthday last year, Wren and his son were tasked with the design and building of Marlborough House in St James's, London, for Sarah Churchill, Duchess of Marlborough, a subject on which Arthur Searle wrote an article for the British Library Journal. 
Among the Marlborough House papers are a number of invoices and estimates including a bill for peach, cherry and fig trees, vines, red currants, honeysuckles and asparagus plants for the "use of his Grace, the Duke of Marlborough". This bill brings the house and gardens alive with scent, colour and most importantly, sustenance.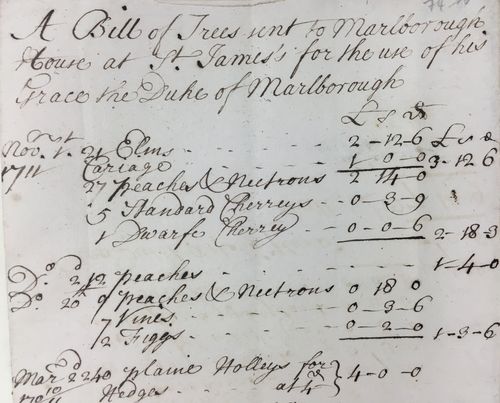 A bill for trees sent to Marlborough House', 1710-1715, Add MS 61357, f 74.

Marlborough House featured in Vitruvius Britannicus of 17 67, copies of which are in the British Library. This particular version was owned by King George III.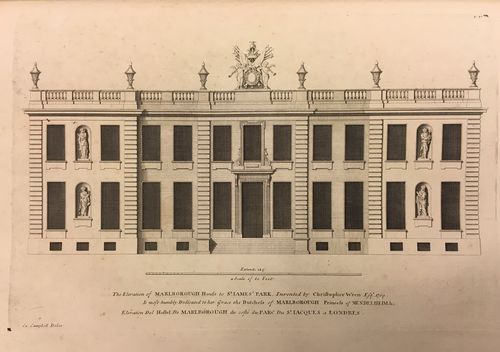 'Elevation of Marlborough House to St James' Park', in Vitruvius Britannicus, Colen Campbell, 1767, 71, Volume I. British Library 55.i.9-13.

The house also featured in a number of views by British artists, including this watercolour by John Chessell Buckler of 1827.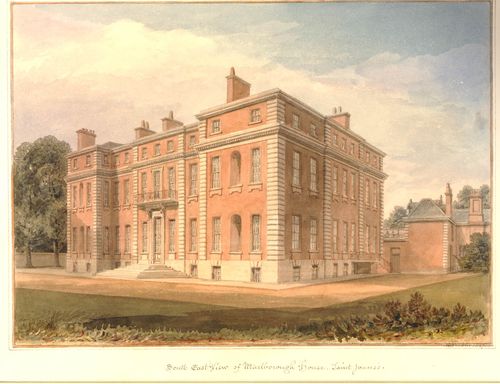 Marlborough House by John Chessell Buckler, 1827, watercolour, British Museum 1880,1113.2273.

Marlborough House still stands and is now inhabited by the Commonwealth Secretariat.
Alexandra Ault, Curator, Manuscripts and Archives 1601-1850