Falling from the skies in style: Early references to the parachuting in the British Library
Aviation is widely regarded as a major scientific and technological breakthrough but another low-tech invention associated with flying is the parachute.  Made of light, strong materials with a large surface area, the parachute slows the motion of an object through an atmosphere by creating drag or aerodynamic lift. Conceptual images depicting parachutes can be found within an anonymous Italian manuscript from the 1740s, showing a free-hanging man clutching a wooden frame attached to a small canopy. The more famous depiction by Leonardo da Vinci was made a decade later. Similar sketches appear in numerous printed works throughout the sixteenth and seventeenth centuries, however the first actual descent was not attempted until 1783 by Louis-Sebastien Lenormand in France. Together the Scott and Fitzgerald collections within the philatelic collections chart major milestones in British and Global aviation including early references to parachuting.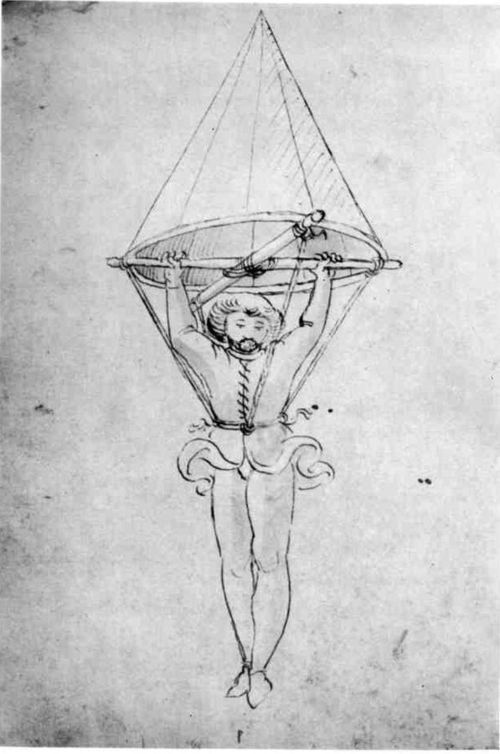 Oldest known depiction of a parachute, Add MS 34113, f. 200v, British Library

The first two successful parachute descents made in Britain were conducted by John Hampton; his first attempt being made at Montpelier Gardens in Cheltenham on the evening of 3 October 1838. According to an account published on page four of the Spectator dated 6 October 1838 he made an uneventful descent from 9,000 feet landing safely after thirteen minutes.  The H. Eric Scott collection contains a page from the Mirror of Literature, Amusement and Instruction No. 953, which illustrates Hampton's second descent by parachute at Crenmorne House, Chelsea the following year on 13 June 1839. These images depict the several phases of his attempt, beginning with his ascent in a basket attached to a closed umbrella like parachute secured by a cord to the hot air balloon. At a certain altitude the umbrella like parachute was opened and detached from the balloon by cutting the cord, allowing the parachute to descend slowly back to earth and touching down safely on the ground, a feat which looks far from comfortable.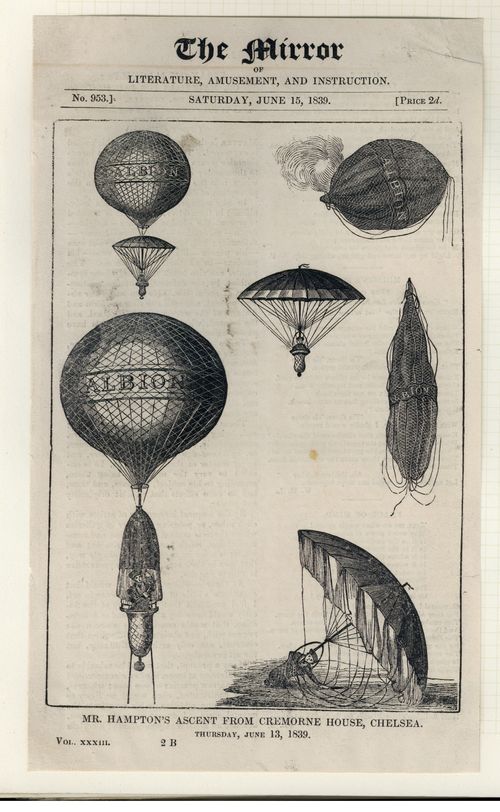 Mirror of Literature, Amusement and Instruction No. 953, H. Eric Scott Collection, British Library

Sybil Fitzgerald's global collection pioneer airmail contains material for India including an interesting sheet printed in November 1837 entitled Monsr. D. Robertson's Grand and Last Ascension at Calcutta. It contains details for a projected balloon voyage to Europe which sounds bizarre involving the use of balloons shaped like elephants and fish bearing the arms of the East India Company and Queen Victoria which would rise to a height of 12,000 feet (2000 fathoms). Prior to its departure on the winds to Europe, Robertson suggested that a small monkey would descend by parachute. Since nothing else can be found regarding this outlandish proposal it is hoped the monkey had a lucky escape!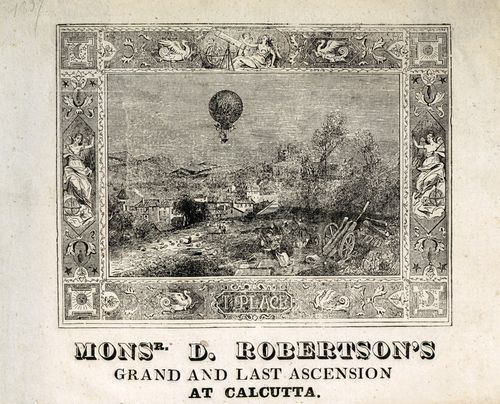 Monsr. D. Robertson's Grand and Last Ascension at Calcutta, November 1837. Sybil Fitzgerald Collection, British Library

The Scott and Fitzgerald collections can be viewed by appointment in the philatelic collections by emailing: [email protected]
Richard Scott Morel
Curator, Philatelic Collections
Sources:
'White, Lynn: Lynn White: The invention of the Parachute', in Technology and Culture, vol. 9, No. 3 (July 1968), pp. 462-467
The British Library, Add MS 34113, f. 200v
The H. Eric Scott Collection, volume 1
The Fitzgerald Collection, India