Art meets Science: Newton, Blake and the British Library
At the end of British Science Week I'm using arguably the British Library's most famous resident as a gateway into some of our manuscript collections. In case you hadn't guessed, I'm talking about Sir Isaac Newton, who died on this day in 1727.
The large statue of Newton, which sits outside the British Library, was made by Sir Eduardo Paolozzi in 1995. Rachel Huddart has written a brilliant blog about the statue here.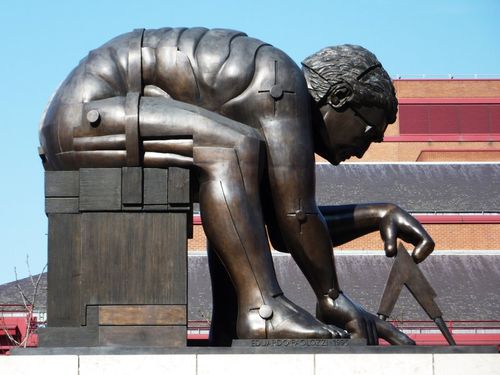 Statue of Sir Isaac Newton by Sir Eduardo Paolozzi, 1995, in the Piazza of the British Library.

The statue was based on an extremely rare colour print and watercolour of Newton by William Blake which is now in the Tate Gallery. So rare, in fact that only two versions of this print exist.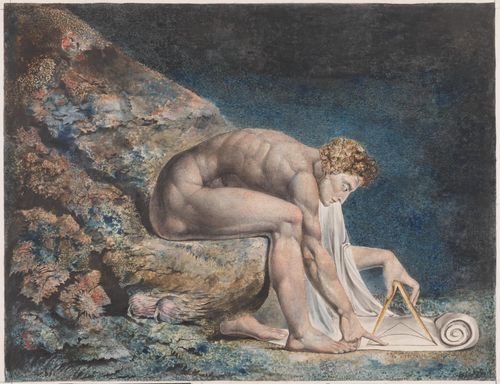 Newton by William Blake, 1795- circa 1805, colour print, ink and watercolour on paper,  © Tate  N05058 [image released under Creative Commons CC-BY-NC-ND 3.0 ]
One of the star items in the manuscripts collection at the British Library is William Blake's notebook which contains drafts of his poems as well as many drawings.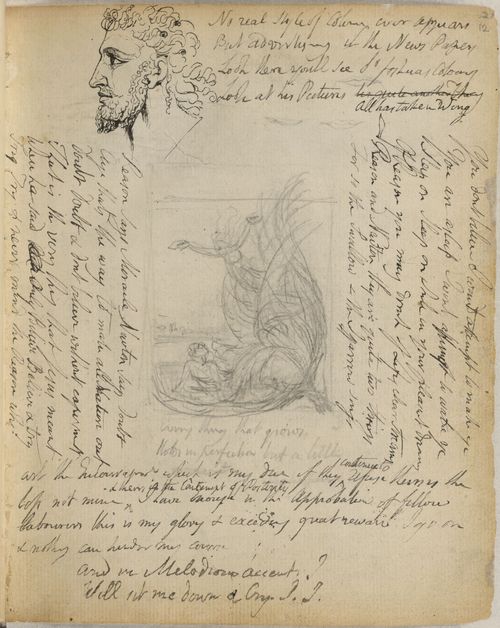 Folio 12 from The notebook of William Blake (The Rossetti Manuscrtipt), c irca 1787 - 1847, pen and black ink with pencil. Add MS 49460.

In folio 12, Blake has written part of the poem 'You don't believe' along the left-hand edge. The poem makes reference to Newton in the second verse:
Reason says 'Miracle': Newton says 'Doubt'.
Here, Blake's belief in miracles can be seen in contrast to what Andrew M. Cooper calls Newton's 'self-excluding observational stance'.
Newton came to London in 1696 to oversee the Royal Mint. The British Library also owns significant material relating to the Mint including account books and diaries.
Detail of a page from the account book of Thomas Simon, chief engraver to the Royal Mint (1660-1665) Add MS 45190.

Newton was also President of the Royal Society between 1703-1727. The British Library has important groups of manuscripts relating to the Society including the Thomas Birch and Hans Sloane Collections.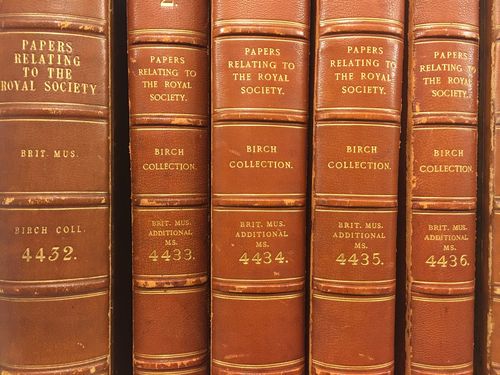 Volumes from the Birch Collection relating to the Royal Society. Add MS 4300-4323, British Library.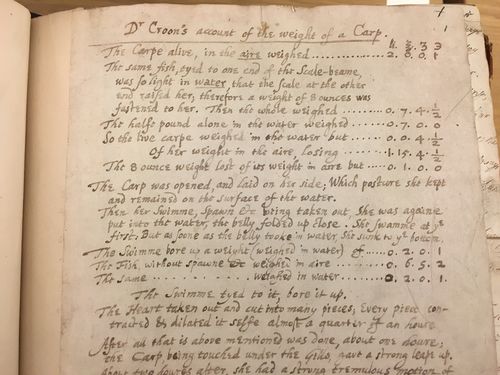 Dr William Croon's account of the weight of a carp, 1663, detail from Add MS 4432, f. 1, Royal Society Papers, Thomas Birch Collection.

The British Library has extensive scientific collections across all departments. Take some time to look at our contemporary pages, browse the Science blog as well as explore the earlier collections in the Manuscripts and Archives catalogue.
Alexandra Ault, Curator, Manuscripts and Archives 1601-1850