Mrs Ann Wood – an exceptional woman
Ann Wood is exceptional in the annals of the East India Company.  She was the first, and possibly only, woman approved by the directors to sign a charterparty agreement as Principal Managing Owner of an East Indiaman sailing for the Company. The ship was the Bridgewater commanded by her brother Captain Nicholas Skottowe. 'Ann Wood of Stanhope Street, May Fair, Widow' was approved on14 October 1772 together with Beeston Long of London, merchant.
The East India Company was an almost exclusively male preserve throughout its 250 year history. Women appear in its records as petitioners, wives, housekeepers, and charwomen. How was Ann able to hold her own in this man's world?
Ann's husband, Robert Wood MP, had built the Bridgewater, signing the charterparty agreement for the first voyage on 3 November 1769.  A few months earlier Robert had been involved in discussions with the Court about sending a ship and nominating a commander and officers for establishing a settlement at Balambangan, an island to the north of Borneo. This expedition was postponed but it appears he may have been using his position as Under-Secretary to Lord Weymouth, Secretary of State for the Northern Department, for his own interests. Wood is better known for his travels in the eastern Mediterranean. His publication on The Ruins of Palmyra in 1753 brought this magnificent site to the attention of the world.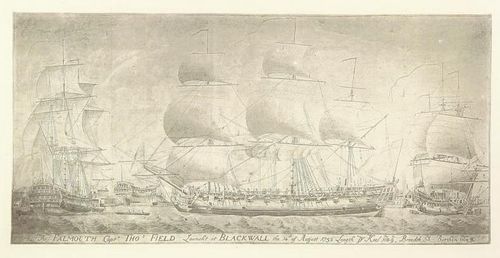 East Indiaman Falmouth launched 1752  from Henry Green and Robert Wigram, Chronicles of Blackwall Yard  Part 1 (London, 1881)
The East Indiaman Royal George under Captain Nicholas Skottowe had called at Balambangan on 22 May 1766. Perhaps this voyage had been part of early investigations into the feasibility of establishing the settlement?  Skottowe commanded the Bridgewater on her 1769/70 voyage to Madras and China (under PMO Robert Wood) and her 1772/3 voyage to Madras and Bengal (under PMO Ann Wood). These were the last voyages Nicholas Skottowe undertook on behalf of the Company but on retirement he took over as the Principal Managing Owner of the Bridgewater. Her last two voyages were under Captain William Parker and she visited Balambangan in March 1780 after completing the Company's trading in Madras and China.
Ann and Nicholas were children of Thomas Skottowe of Great Ayton (1695-1771). Their brother John was Governor of St Helena from 1764 to 1782, while another brother Thomas had been a senior official in South Carolina until the outbreak of the American War of Independence forced him to return home. They were clearly a family respected by the East India Company directors and her ability and willingness to take over after her husband died on 9 September 1771 shows that Ann had status in her own right.
When Ann died late in 1803 her will tells us that she was 'late of Putney, now of Saint Nicholas, Glamorganshire'. However she requested to be buried 'in the vault at Putney with my late dear husband Robert Wood Esq and my son Thomas Wood'. In 1784 Ann had made over the family mansion at Putney to her son Robert who also became an MP.  Her will also mentions a daughter Elizabeth Wood.
Georgina Green
Independent scholar
Further reading:
East India Company Court Books - IOR/B/85 pp.217, 287, 476; IOR/B/88  pp.202-203; IOR/B/92  p.374
East India Company correspondence - IOR/E/1/50 ff. 349-350v, 26 March 1768
Sir Lewis Namier and John Brooke, The House of Commons 1754 – 1790 (London, 1964) Vol 2, p.655
The East India Company slaving voyage of Nicholas Skottowe