"Pre-packed airports" for the Persian Gulf?
'We regret that no-one in Bahrain is interested in "pre-packed airports."' So ran the briefest and most succinct of letters from the Political Agent in Bahrain to the Board of Trade in London, in December 1949. What were "pre-packed airports", and why was no-one in Bahrain interested in them?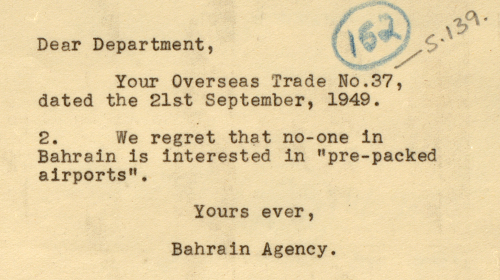 Extract of a letter from the Political Agency in Bahrain to the Commercial Relations and Exports Department of the Board of Trade, London, 1 December 1949. IOR/R/15/2/508, f 193 
The Political Agent's note was in response to a letter, sent by the Board of Trade in London in September 1949, reporting on a combined Dutch-US company that was comprised 'of specialists in each constituent field of airport construction', and who were offering the 'pre-packed airport', which could be built in any place as required.
This approach was in stark contrast to the way in which the British-administered airports in the Persian Gulf, at Bahrain and at Sharjah (in the United Arab Emirates), had developed. These sites, established by the British in the 1920s and 1930s, had grown up in an ad-hoc and oftentimes haphazard manner, in response to wartime as much as peacetime needs. Moreover, in the wake of India's independence in 1947, and as the Royal Air Force scaled back its operations in the Gulf, a host of commercial aviation concerns – both British and foreign – were demanding access to improved airport facilities across the region.
British officials in the Gulf were unprepared and uncertain about how to respond to these changes. One Government official in Bahrain noted in 1949 that 'we have no clear picture of the respective functions of the R.A.F., I.A.L. [International Aeradio Limited] and B.O.A.C. [British Overseas Airways Corporation] at Muharraq [in Bahrain].' In official correspondence of the same year the Political Resident Rupert Hay conceded that 'far more foreign aircraft are using the airfields without permission than with it'.

Extract of a letter from the Political Resident, William Rupert Hay, to the Foreign Office, 9 July 1949. IOR/R/15/2/508, ff 164-168
There was a gross underestimation on the part of British officials over the future potential of air travel, as well as a clear lack of understanding of the Gulf's future potential as an international hub for air travel, and of the safety implications this raised. In October 1949 the newly installed Political Officer in Doha concluded that the future prospects for an expansion of 'air traffic [in Qatar] is unlikely', and that he did not think 'there would ever be a demand in Qatar for a complete "pre-packed airport" installation.'


Extract of a letter from the Political Officer in Doha to the Political Agent in Bahrain, 29 October 1940. IOR/R/15/2/508, f 190
Meanwhile, British Government officials were meeting at the Ministry of Civil Aviation in London, to discuss airfield crash facilities at Bahrain. The facilities at Muharraq, the meeting's minutes noted, are 'quite hopeless for any aircraft emergency.' Proposals made during the meeting included the installation of 'two standard RAF foam tenders, plus two water bowsers'.


Extract of advance notes from a meeting held on 19 October 1949, on Bahrain (Muharraq) Airfield Crash Facilities. IOR/R/15/2/508, ff 185-189
Such equipment could deal with, but not prevent accidents occurring, and, less than a year later, in June 1950, a double tragedy occurred when two Douglas DC-4's, both operated by Air France, crashed on the approach to Bahrain within two days of each other. A total of eighty-six people died in the two incidents. While investigators attributed the cause of the accidents to bad weather, the tragedies were a wake-up call to British officials, who acted quickly to equip the airfield at Muharraq with radio landing aids and runway approach lights.
Mark Hobbs
Subject Specialist, Gulf History Project
British Library/Qatar Foundation Partnership
Further Reading:
British Library 'File 13/2 VIII Air facilities in Arab shaikhdoms' IOR/R/15/2/508