King George III's Topographical Collection, currently the subject of an ongoing cataloguing and digitisation project here at the British Library, contains some approximately 40,000 maps and topographical views from around the world. Amongst the collection are objects that suggest an interest, perhaps George's own, in engineering and other technical endeavours; there are plans, projected and realised, for canals, roads, military fortifications, siegeworks and so on.
One recently catalogued item within the collection could be seen to embody this combined interest in maps and engineering. It is an eighteenth-century manuscript map showing a powder mill, for the manufacture of gunpowder, in Germany.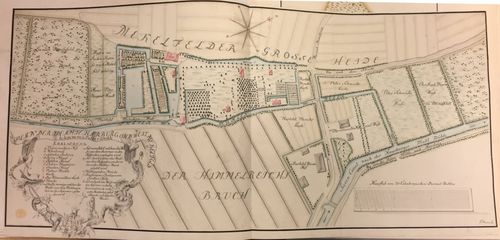 PLAN DER IM AMTE HARBURG OHNWEIT MEKELFELD belegenenen Pulver Mühle / G. Braun fec. Maps K.Top.100.34.

Entitled PLAN DER IM AMTE HARBURG OHNWEIT MEKELFELD belegenenen Pulver Mühle, this map is signed at lower right by "G. Braun". A date of about 1770 is attributed for the map's production based on comparison with another map in the collection (Maps K.Top.100.33.) that is dated and also signed by Braun.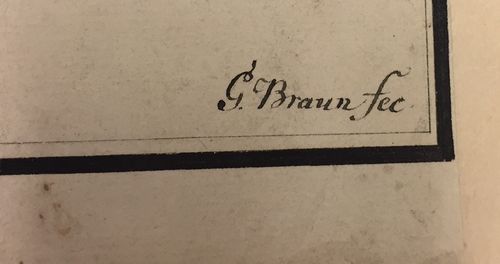 Maps K.Top.100.34. [detail showing signature]

The map shows the mill at Meckelfeld in present-day Lower Saxony, located south-east of Harburg in the borough of Hamburg. The mill buildings are shown on the river, the source of power driving the mill to grind the gunpowder.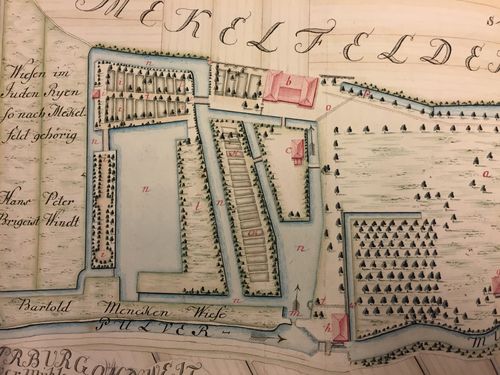 Maps K.Top.100.34. [detail of mill buildings]

The skill and care involved in the map's production (it is certainly not a preliminary sketch) could suggest that it was intended to be seen (and used?) by a person or persons of note. Had George III himself, perhaps as King of Hanover, expressed an interest in this mill?
It is the decorated title cartouche at lower left that emphasises the map's unusual subject matter.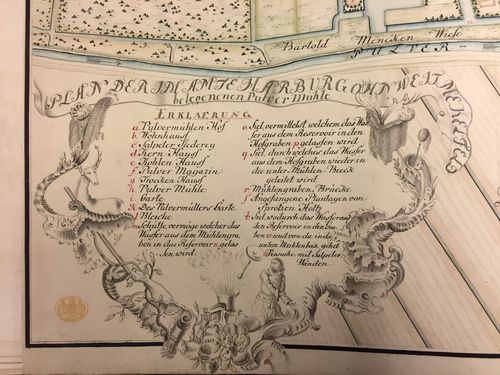 Maps K.Top.100.34. [title cartouche showing an explosion]

Not only does this cartouche include a lettered key to the individual buildings shown on the map, which comprise the powder magazine, the drying house, the coal house and the saltpetar store (?), amongst others, it also depicts, quite fabulously, what happens when things, perhaps, don't turn out exactly as planned. Given the look of mild surprise rather than abject horror and outright panic on the depicted gentleman's face within the cartouche, one might conclude that such explosions were not uncommon!
Kate Marshall, Maps Cataloguer, King George III's Topographical Collection