Ambassador, with these websites, you're really spoiling us
[A special guest post from Stella Wisdom, British Library Digital Curator at the British Library.]
A little help from our friends for the video games collection
In my post last month I discussed the challenges in obtaining permission from website owners for the sites I'm selecting for the new video games collection. I've decided to try a new approach, recruiting an ambassador who is well known and respected in the video game industry to champion the collection, who can help explain and promote the benefits of web archiving to site owners. I would hereby like to introduce Ian Livingstone, Life President of Eidos, the company behind the success of Lara Croft: Tomb Raider. Ian brings so much experience to the party, we don't even expect him to bring chocolates !
Ian's long history in the gaming industry started in 1975 when he co-founded Games Workshop,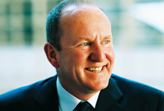 launching Dungeons & Dragons in Europe, then building a nationwide retail chain and publishing White Dwarf magazine. In 1982, with Games Workshop co-founder Steve Jackson, he created the Fighting Fantasy role-playing gamebook series, which has sold over 16 million copies to date. Fighting Fantasy is 30 years old this year, and Ian has written a new gamebook Blood of the Zombies to celebrate the anniversary, and it has also recently launched as an App on iOS and Android.

In 1984, Ian moved into computer games, designing Eureka, the first title released by publisher Domark. He then oversaw a merger that created Eidos Interactive, where he was Chairman for seven years. At Eidos he helped bring to market some of its most famous titles including Lara Croft: Tomb Raider. Ian became Life President of Eidos for Square Enix, which bought the publisher in 2009, and he continues to have creative input in all Eidos-label games.

Ian is known for actively supporting upcoming games talent; as an advisor and investor in indie studios such as Playdemic, Mediatonic and Playmob. He is vice chair of trade body UKIE, a trustee of industry charity GamesAid, chair of the Video Games Skills Council, chair of Next Gen Skills, a member of the Creative Industries Council and an advisor to the British Council.
In 2010 he was asked by Ed Vaizey, the UK Minister for Culture, Communications and Creative Industries, to become a government skills champion and was tasked with producing a report reviewing the UK video games industry. The NextGen review, co-authored with Alex Hope of visual effects firm Double Negative, was published by NESTA in 2011, recommending changes in education policy, the main one being to bring computer science into the schools National Curriculum as an essential discipline.
With this wealth of experience and connections, I can't think of anyone better to work with and I'm hopeful the collection will successfully grow with Ian's support. This is the first time the UK Web Archive has appointed an ambassador for a collection, so it will be interesting to follow its progress. If the use of a champion is successful, then other collections may benefit from the same approach.
I've also been doing some advocacy work of my own this week; talking about the video game collection at GameCity7 festival, meeting many interesting people there, discussing video game heritage and engaging them in web archiving.
As ever, I'm still seeking nominations, so if you know of any sites that you think should be included, then please get in touch (at Stella.Wisdom@bl.uk or via Twitter @miss_wisdom) or use the nomination form.